Looking for the best sales mapping software? Read on. 
Sales mapping software is an essential part of every field sales team's toolbox. 
No more drawing and sticking pins in paper maps. Today's sales reps rely on the latest technology to optimize their territories and increase sales.
A glance at several studies underlines the point:
In this guide, we'll show you what features to look for in sales mapping software and then highlight the best sales mapping solutions to consider in 2023.

What is Sales Mapping Software?
Sales mapping software is a business application that integrates sales data with geolocation. Sales managers use it to design territories and visualize leads, customers, and areas on a map. Sales reps also use it to manage their time in the field more efficiently by planning better routes and more effective schedules.
Managers can use sales mapping software to view:
The locations of customers and leads

The distribution of customers across target territories

The distribution of territories among individuals in a sales team
Plus, they can also verify if their sales reps are where they say they are and working all the accounts they are supposed to during a given time frame.
Why Field Sales Teams Should Invest in Mapping Software
Territory mapping has been around for ages. A few decades ago, your typical door-to-door sales rep used a paper map with a hand-drawn outline of their territory. 
Each neighborhood had prospects with distinct characteristics, personas, and buying potential. 
Nowadays, sales mapping software has replaced paper maps. 
Even though the role of a sales rep has changed dramatically, the characteristics behind a sale have not. Your sales reps still need to have clearly defined sales territories.
Sales mapping software brings a whole lot more to the table. So, let's take a look at the reasons your sales team should be using mapping software.
Assign sales territories strategically
It stands to reason, you want to squeeze the most sales out of each territory. That means you need to assign your sales resources to match the territory strategically and help your team work each territory more efficiently. 
With sales mapping software, you can verify there's no territory overlap between reps, ensure they all have enough accounts to manage, and confirm your top reps are working the most valuable territories.
Uncover new opportunities in existing territories 
You want to expand and move into new territories, but you know your team hasn't covered all potential leads within their existing sales territories.
With sales mapping software like SPOTIO, you can analyze insights about your existing territories to uncover new opportunities.
Increase time spent on sales activities
According to CSO Insights, just 33% of inside sales reps' time is spent actively selling.
Sales mapping software helps reps quickly identify new opportunities in their territory, as well as upsell potential in existing accounts. 
Also, integrated route planning features reduce windshield time, ensuring reps are spending more time in the field working their accounts and completing daily minimum sales activities.
You can also optimize your sales reps' routes, which may reduce their travel costs, increase the number of clients they can serve in their territories, and improve their fuel efficiency.
Improve sales tracking and performance 
Sales mapping software makes mapping territories an intelligent process, using important sales and geographical data points to help managers place their reps strategically.
Sales leaders can use software like SPOTIO to place reps where they can make the most impact based on valuable insights like sales activity reports, plus KPIs for leads, opportunities, and revenue at the rep, org, and territory levels, helping to spot weaknesses and areas for improvement. 
Sales mapping software also offers the intelligence you need to realign your territory as your reps and opportunities change.
Whether you want to deploy high performers where they're needed most, or you want to place average performers in an environment where they can reach their full potential, you can assign reps to improve sales performance.
Key Features to Look for in Sales Mapping Software
Not all sales mapping software is created equal, so here are the key features to consider for your business:
Customer mapping
Customer mapping brings your CRM data to life and finds gaps you didn't know existed. 
For instance, you can visualize leads and opportunities on a map, filter by a pipeline stage, and find new leads around existing customers.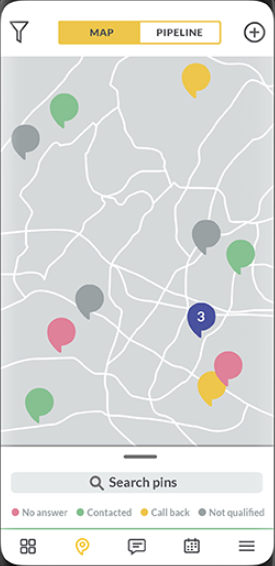 Image: Field reps can use SPOTIO to visualize customers while out in the field. 
To make sure reps follow up as expected (and don't annoy leads), you can filter by visit count/last visited date/days since the last visit.
Equally important, customer mapping also helps you segment territories by different demographic, firmographic, or industry data. For example, if you sell various products and services based on industry, then it makes sense to map your territory by industry data. 
Territory management
Territory management lets you allocate your sales team to match the territory properly.
You can assign territories by geographic boundaries at state, county, city, or ZIP code level, or by drawing an area on a map. Alternatively, you can assign your top performers to the highest value accounts and opportunities.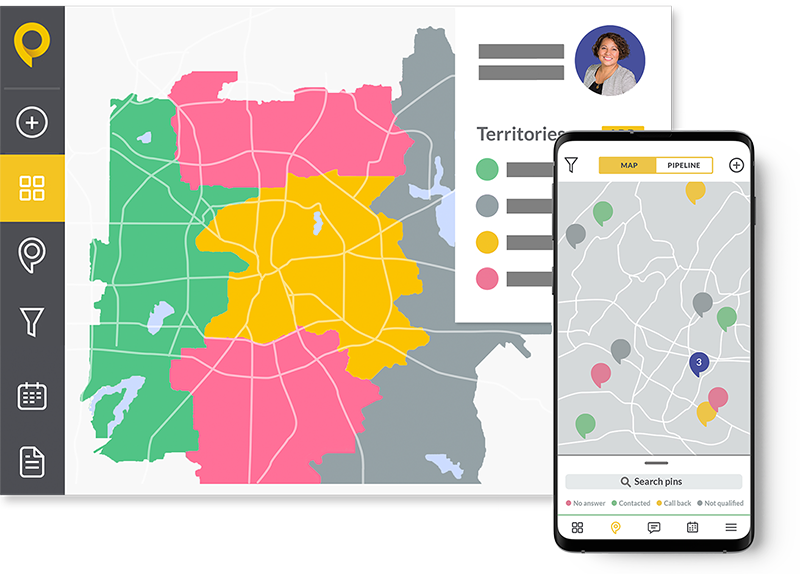 Image: Defining and assigning sales territories in SPOTIO. 
Additionally, you can clarify who owns which area, prevent unwanted territory overlaps, and ensure you have the optimal number of reps working a designated area.
Route planning
Sales mapping software can cut the time your sales reps spend planning routes. For example, SPOTIO quickly finds the best route to appointments and plans the entire day, so your sales reps can focus on closing deals instead of working out how to get from meeting to meeting.
Route planning makes it possible for you to optimize your sales reps' routes by reducing their travel costs, increasing the number of clients they can serve in their territories, and improving their fuel efficiency.
Rep tracking
One of the things that Sales Managers struggle with is not knowing if their reps are where they say they are, or if they are working all the accounts they should be in a given time frame.
Back in the office, it's not always possible to keep tabs on each team member. But for those managers who want to track reps on the map in real time, SPOTIO's GPS sales rep tracking holds everyone accountable, especially newer reps who you may want to monitor more closely. For the teams that prefer more privacy, you can turn the feature on and off. 
Permissions and controls
Sales mapping software like SPOTIO also allows you to control who can access each lead's data and keep everyone organized using parent/child hierarchies and permissions. 
No one wants their team to waste time arguing over who owns which leads. By using permissions and controls, you can prevent confusion and culture-eroding arguments, give ops and managers greater visibility, and keep reps focused on their allocated leads.
Sorting and filtering
It's important for reps to be able to stay organized, even when their maps contain dozens or hundreds of pins.
SPOTIO enables reps to colorize and sort pins based on any data point, such as pipeline stage or the result of a previous visit. This level of filtering and sorting makes it easy for reps to distinguish between leads, opportunities and existing customers while they are out in the field, and in the process, manage their days more efficiently.
CRM integration
Integrating your CRM and field sales data can save you loads of time and boost sales rep productivity by 46%.
SPOTIO lets you send field sales data directly into your existing CRM. (No need to worry if you don't have one, because SPOTIO comes with a basic CRM for field sales teams.)
The CRM integration automates those time-consuming tasks such as mileage tracking and routing, and automatically prompts every type of follow-up activity.
Performance reports
Without accurate sales performance reports, you can only guess whether your team is on track and if gaps might need plugging.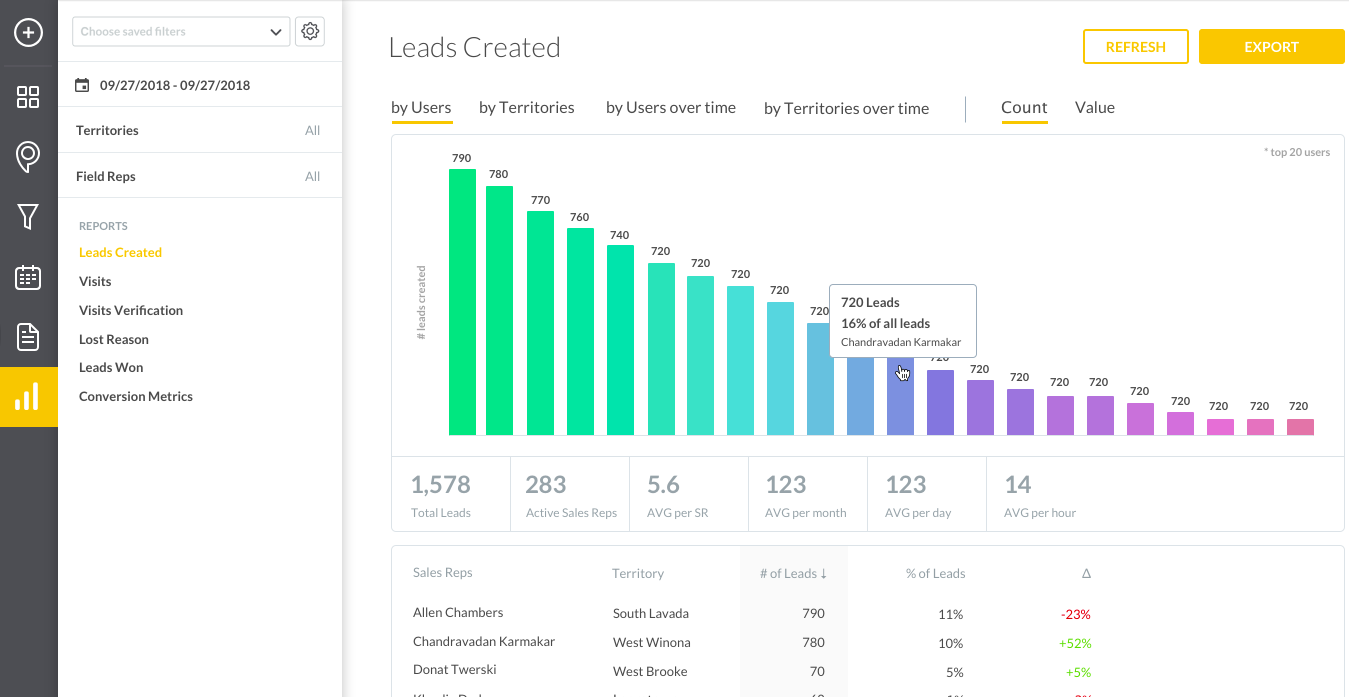 Image: Measuring leads and pipeline value by territory in SPOTIO. 
The best sales mapping software enable managers to track territory-specific sales activities and gather performance-based metrics. You can track territory performance across the organization and analyze what's working and what's not.
With SPOTIO's My Reports feature, sales managers can set custom parameters so that reports only include the most important sales data for a given user or territory, and then save the dashboard as a reusable template.
9 Best Sales Mapping Solutions to Consider in 2023
In this section, we'll look at the best free, freemium, and premium sales mapping solutions. We've included a brief overview of each sales mapping tool and highlighted some of its key features.
Choosing the best sales mapping software will depend on many factors, such as your budget, goals, and business size. Although some sales mapping tools are free, most of them don't have advanced features. 
The freemium options typically have basic sales mapping features, so if you need a sales mapping solution that covers everything, you'll need to consider a paid subscription. And if you need free sales mapping software for budget reasons, you should take advantage of the free trials that some of the premium tools offer. 
When selecting the best sales mapping software for your business, evaluate all the features and integrations on offer, and check the "best for" section to see if it fits your niche. 
SPOTIO
Source: SPOTIO 
Best for: Field sales teams. SPOTIO is ranked #1 in the Field Sales category and is a 2023 G2 Best Software Winner.
SPOTIO is the #1 field sales software for sales reps and managers that enables amazing productivity, increases sales by 23%, and shortens sales cycles.
Key sales mapping features:
Create sales territories by ZIP code, city, county, state, or hand-draw. 

Report on territory performance and maximize results.

Make sense of field data at a glance by visualizing CRM data on a map.

Organize pins based on different data points such as pipeline stage.

Customize, filter and sort pins based on your preferred workflow.

Increase accountability and find sales reps in the field when you need them.

Integrate with any CRM, including Salesforce and HubSpot.

Reduce windshield time by planning and routing each day.

Create role-based hierarchies and measure territories' performance.

Locate, monitor, and manage the activity and progress of your sales reps in real-time.
See how SPOTIO compares to other sales mapping solutions here.
Mapline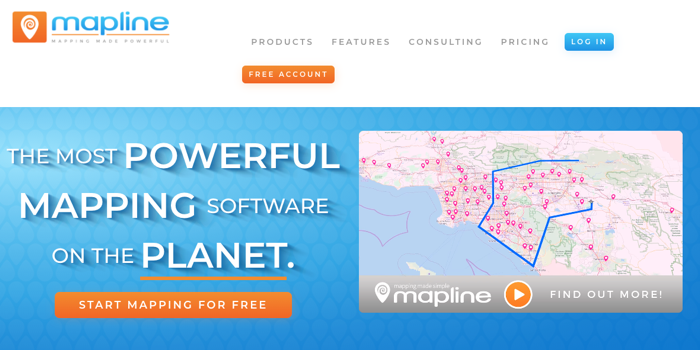 Source: Mapline
Best for: Academics, banking, insurance, manufacturing, retail, and real estate industries.
Mapline is a web-based mapping platform and data visualization tool. You can easily display data from Excel spreadsheets to optimize logistics, enhance market planning, identify growth opportunities, or reduce market risks.
Key sales mapping features:
Create a map from a spreadsheet in seconds.

Add boundaries, create heat maps, and plan routes.

Optimize sales territories by geographic boundaries or custom shapes.

Assign customers to sales territories automatically.

Improve performance reporting with dynamic charts, reports, and dashboards. 
Pricing: Request a price proposal or start mapping for free.
BatchGeo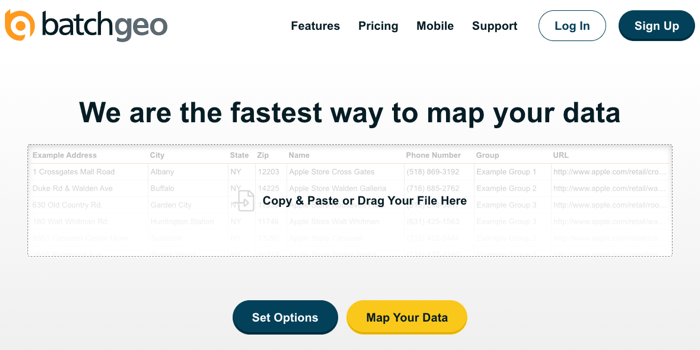 Source: BatchGeo 
Best for: Data analysts, marketers, journalists, real estate firms, and sales teams.
BatchGeo is the fastest way to create Google Maps from your spreadsheet. Just copy and paste your data, such as addresses, intersections, cities, states, and postal codes, into the tool. 
Key sales mapping features:
Convert spreadsheet data into interactive maps of customers, leads, and assets.

Find trends, hot spots, and cold zones.

Drill down to discover insights geographically, such as the total sales value, the number of sales, and the revenue per sale for each state.

Filter for a specific sales representative's territories.
Free Trial: Try BatchGeo (limited functionality) for free.
Pricing: Buy BatchGeo Pro for $99/month.
ZeeMaps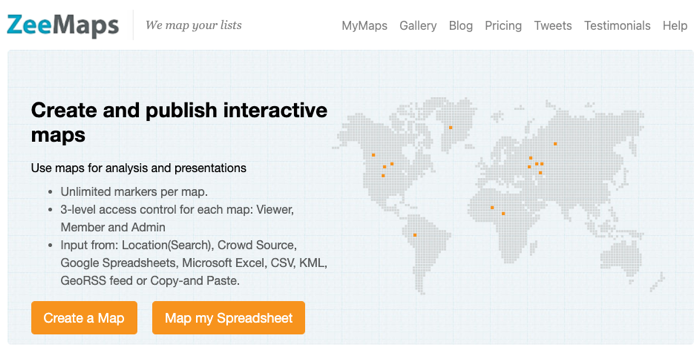 Source: ZeeMaps
Best for: Businesses of all sizes.
ZeeMaps allows you to create and publish interactive maps for analysis and presentations. You can color regions, show real-time traffic overlays, aggregate regional data, and more.
Key sales mapping features:
Add unlimited markers per map.

Select from 3-level access control for each map: Viewer, Member, and Admin.

Highlight countries, states, counties, cities, ZIP codes, or hand-drawn regions.

Optimize multi-point routes for distance or time.

Aggregate your regional data.
Free Trial: Try ZeeMaps (limited functionality) for free.
Pricing: Select from a range of subscription plans starting at $19/month.
Geopointe
Source: Geopointe
Best for: Marketing, operations, and sales teams and executives.
Geopointe is a leading geolocation application available on the Salesforce AppExchange. It location-enables Salesforce so that you can geographically visualize and manage your accounts, contacts, opportunities, and CRM data. 
Key sales mapping features:
Build territories visually from predefined boundaries.

Plan, create, and optimize your routes from any mappable data.

Distribute leads or manage territory assignments automatically.

Access real-time field sales activity.

Integrate with Salesforce CRM.
Pricing: Geopointe is available for $55/month or as a custom enterprise plan.
Maptive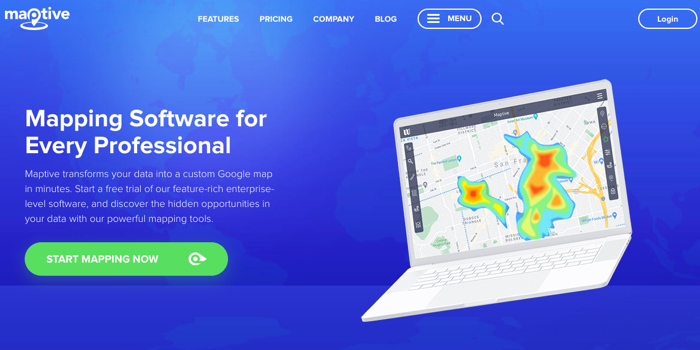 Source: Maptive
Best for: Real estate, sales, supply chain, and more.
Maptive is a global mapping platform that lets you transform any spreadsheet data into a customized Google Map in minutes. You can create custom maps from your data, including heat maps, sales density maps, territory maps, store locators, and more.
Key sales mapping features:
Draw custom sales territories based on your data. 

Access important information like sales numbers, demographic details, and customer profiles for each sales territory.

Create visual boundaries based on predefined regions like cities, states, ZIP codes, districts, territories, and more.

Draw a "lasso" around specific locations to create territories. 

Map the most efficient route between multiple locations.
Free Trial: Try Maptive free for 10 days.
Pricing: Choose from a range of subscription plans starting from $250/45 days.
Maptitude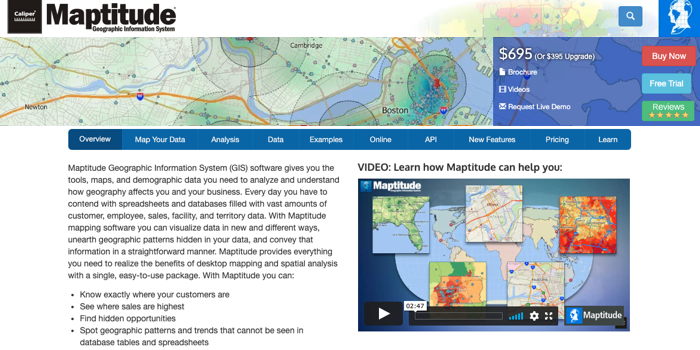 Source: Maptitude
Best for: Data analysts. 
Maptitude's GIS software gives you the tools, maps, and demographic data you need to analyze and understand how geography affects your business. You can create maps and map images from spreadsheets, plus you can see external data on the map from various sources, including Google Maps KML/KMZ files.
Key sales mapping features:
Find hidden opportunities.

See where sales are highest.

Know exactly where your customers are.

Answer geographic questions that impact your operations.

Spot geographic patterns and trends that you can't see in database tables and spreadsheets.
Pricing: Maptitude mapping software is available for $695.
MapBusinessOnline
Source: MapBusinessOnline
Best for: Marketing, sales, and resource management teams.
MapBusinessOnline is a cloud-based mapping tool you can use to analyze and visualize business data, explore new markets, manage sales territories, and optimize logistics.
Key sales mapping features:
Visualize customer locations.

Access advanced sales territory mapping.

Run market analysis with multiple drive time queries.

Optimize multi-stop route planning with time windows.

Share maps or conduct collaborative editing.
Pricing: MapBusinessOnline has a range of subscription plans starting at $600/user/year.
GeoMetrx
Source: GeoMetrx
Best for: Franchise organizations, retailers,  restaurants, commercial brokers, marketers, and sales teams.
GeoMetrx is sales territory mapping software that you can use for franchise territory map making, retail site selection, and territory building. Using the precision of mobile device GPS data, it can deliver expert analysis that provides a more accurate understanding of your sales territories or retail locations.
Key sales mapping features:
Upload data appended to standard geographies to create reports and thematic maps.

Select territories by market capture.

Share data, report formats, and map templates.

Compare different geographies, including radius versus drive time, or radius versus standard regions.

Customize maps with increased thematic ranges defined by: Equal Value, Equal Class Counts, Class Percent, Means and Standard Deviations, Individual Values.
Pricing: Available upon request.
Which Sales Mapping Software Are You Going To Try?
All of these sales mapping solutions are good options for customer mapping, territory management, and route planning.
If you're running a field sales team, then sign up for a free demo of SPOTIO to see how the platform can help you optimize your sales territories, track your reps, and increase sales.
---