In most verticals, competition is at an all-time high, and top sales organizations are looking to get the most value from their teams. Effective sales territory management ensures that each outside sales rep is focused on the activities that will have the most impact.
In this post, we'll explain how to create a winning sales territory plan, 10 best practices for managing sales territories, and finally, we'll introduce tools that are helpful for managing sales territories of any size.
What is Sales Territory Management?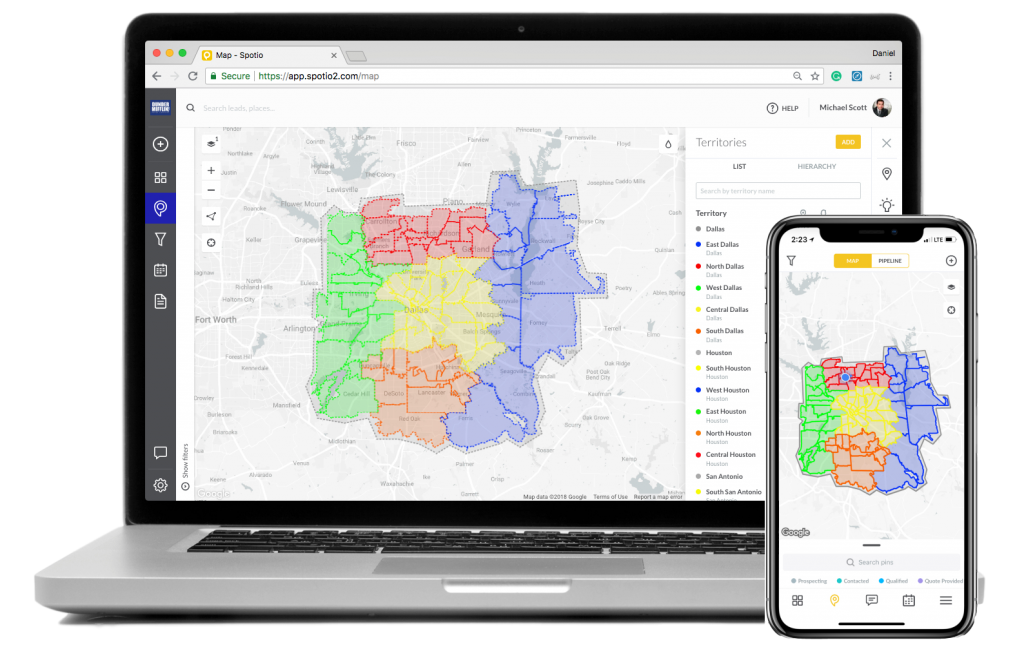 Territory management is the process of organizing and managing customers and prospects and sorting them by segment (such as geography, industry, or role).
Types of Territories
In addition to geographical area, territories can be based on other sales data such as:
Account type
Industry segment
Market Potential
Number of customer accounts
Many field sales teams neglect to prioritize solid sales territory planning; even when they do, they often have trouble adapting and revising based on sales performance.
Why is Territory Management Important for Outside Sales Teams?
Territory management helps sales managers more effectively allocate resources and improve opportunities for their team. These are some of the key advantages of territory management:
Cover territories more strategically
Territory management helps your reps be more productive and ensures you've got your best reps working the top territories and accounts.
Boost rep selling time
When reps have assigned territories and routes, as well as clear objectives, they can spend less time planning their day and more time selling.
Assign balanced workloads
Reassessing your territories can help you distribute work evenly across your sales team. You can use data to improve sales territory alignment.
Build stronger customer relationships
You can plan your territories to match reps with prospects and customers based on specific characteristics, such as personality or customer lifecycle.
8 Steps to Create a Winning Sales Territory Plan
1. Analyze Your Customers
The first step in the process is analyzing your current and prospective customers. Review what characteristics your customers have in common.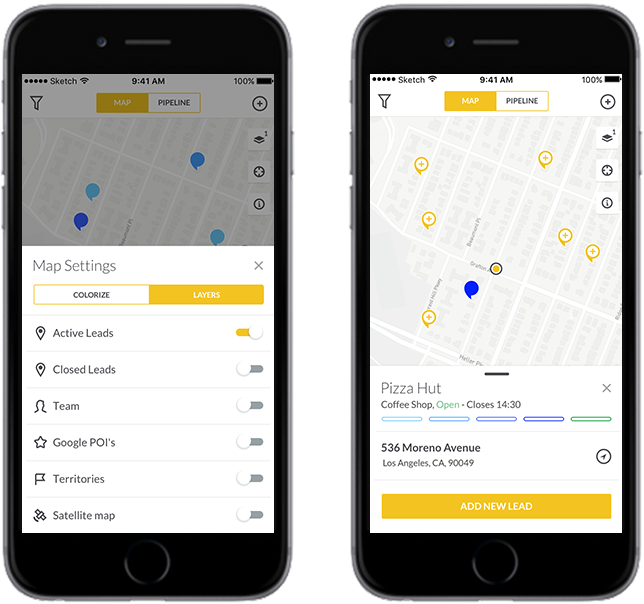 Some points to note about your customers are:
Their locations
The products or services they purchase from your business
What types of problems your products or services solve for them
What types of events lead customers to buy (or not buy) your products or services
It is also important to identify needs within the market that are not currently being fulfilled. This can help you to develop targeted messaging about your products or services.
2. Analyze and Develop Your Team and Resources
The next step is to analyze your business's resources and personnel. You should have an accurate picture of the type and volume of customers that your business is equipped to handle.
It's particularly important to note the strengths and weaknesses of your team to ensure that you can further develop and utilize strengths while simultaneously working to improve any weak areas.
3. Set Measurable Goals
Using the information you gathered about your customers, team, and resources, you should develop goals for your business. Some goals to consider are:
Income generated per month
Number of sales attempts per week or month
Number of sales closed per week or month
Ratio of leads to sales closed per week or month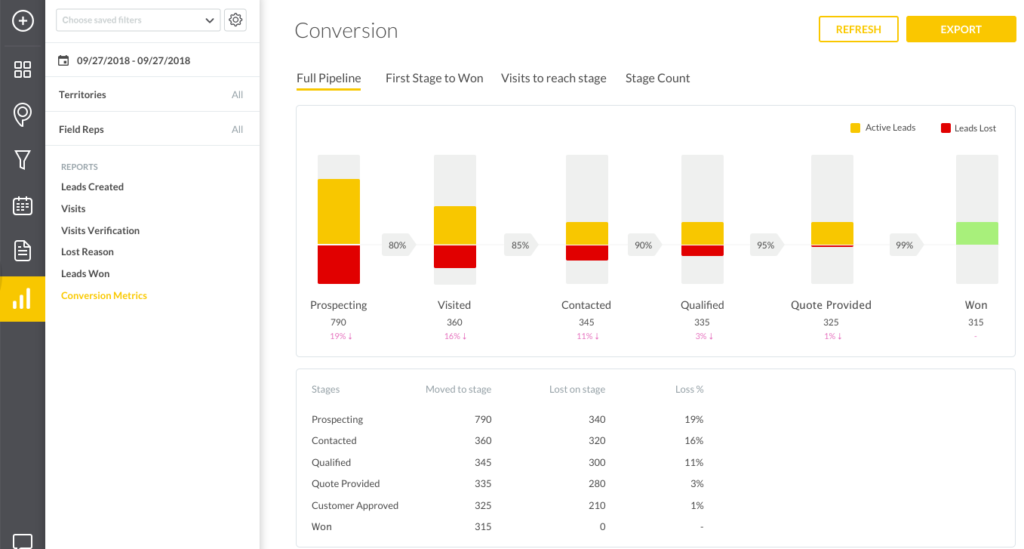 After identifying goals for your sales territory plan, you should create a measurable strategy for meeting each of these goals.
Each goal strategy should include:
Goal statement: Putting a goal on paper transforms it from abstract to concrete. The goal statement should address what you're planning to achieve with various sales activities and what is at stake.
Key milestones and deadline: The road to achieving a goal is much clearer when it can be broken into several smaller milestones. For example, if your goal is to attain $9k in monthly revenue for a given product, you can track progress by breaking the goal into smaller milestones, such as $3k by day 10, $6k by day 20, etc.
Metrics for measuring success in the field: Metrics such as leads created, leads contacted, and leads closed, available on the SPOTIO sales dashboard, offer great insight into productivity and can reveal how your team is working toward goals.
Goals should be realistic and manageable, but at the same time, they should push your business to expand and grow.
Need help hitting your goals? This free template will help:

4. Define Sales Territories
Based on the work you performed in the steps above, you should have an idea of how to divide territories. It's important to define the details of each territory, such as:
Geographic boundaries
Industry or segment boundaries (including any overlap and how that is addressed)
Revenue boundaries
Product boundaries
Anything else that may be applicable to your sales organization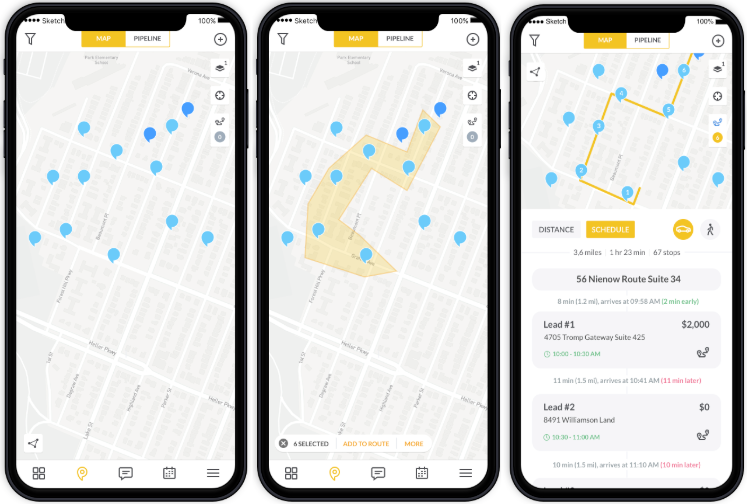 5. Create A Territory Routing Plan
In addition to creating boundaries for your sales territories, you'll need to create routes for your sales representatives. This will prevent any overlap between territories or reps.
As you create routes, set a schedule that ensures that all parties along the route are visited in a timely manner. Determine how often reps should call on each account and whether calls should be in person or by phone.
6. Assign Reps to New Sales Territories
Once you've determined your new sales territories, you'll need to decide which reps will cover them. Start this process by looking at the workload of your current team — you may already have the people you need to cover the new territories, or you might need to hire additional staff.
Ensure reps have the right experience for your new territories. For example, if you have a new territory that includes several warm leads, you might want to assign your best closer to that territory.
7. Monitor Rep and Territory Performance
To ensure you have the right people covering your new territories, you'll need to review certain sales targets, such as:
Sales per client — the dollar value of each rep's sales per client
New contacts — the number of contacts your sales reps are bringing into pipeline
Client acquisition rate — the percentage of leads that sales reps are converting into customers
Event rates — this could be the number of appointments or calls scheduled, follow-up visits, etc.
Average deal size — this is the average dollar amount per deal
8. Use Field Data Entry – "Notes as you go"
As you implement your sales territory plan, keep an accurate and up-to-date record of its outcomes using your CRM. This record will help you to track successful aspects of your plan, in addition to what parts of the plan are ineffective. Using this information, you can adjust and optimize your best sales territory plan as needed.
Entering meeting notes after each appointment is extremely valuable, both from a time savings and organizational perspective. Often, reps have multiple meeting blocks and forget valuable nuggets of information they learned from each meeting. With a sales tool like SPOTIO, reps can jot down notes using their mobile device and sync them directly into Salesforce.
These mobile field notes are immediately available to your entire team, so reps have complete insight into all communication with prospects and clients.

10 Sales Territory Management Best Practices
1. Set Territory-Level Sales Goals
Using the data you've gathered about new sales territories, you can define sales goals. These may be specific, quota-based goals — like closing a certain number of deals within a specific timeframe — or open-ended goals, such as building relationships.
2. Prevent Territory Conflict
As a manager, how can you fairly assign territories? And once assigned, how do you ensure reps are not poaching accounts from fellow reps? To reduce the risk of territory conflicts, consider the following:
Number of accounts. The reps who perform better with smaller businesses need to be assigned more accounts, while those who excel with large accounts should be assigned fewer accounts. Although the number of accounts varies, the total possible revenue goal for each rep should be equal.
ZIP code. Make sure sales routes include a reasonable number of stops, laid out in a way that minimizes travel time between appointments.
Vertical. Some people connect better with specific industries. Once you identify each rep's strong suit, give them more accounts with the business types they prefer.
3. Prioritize the Most Valuable Territories
Assign your top performers to your high-priority territories. Keep in mind, though, that the term "top performer" is relative — your rep with the highest sales-per-client may not be right for a territory containing several small businesses that are slower to make purchasing decisions.
4. Track Mileage and Expenses
Outside reps with a lot of ground to cover should receive some degree of compensation for their travel expenses (gas, meals, and basic vehicle maintenance).
Not sure what reimbursement plan is best? We've got you covered:
Mileage as a tax deduction
Full-time sales reps and independent salespeople can claim mileage as a tax deduction. The mileage works as an expense, and those with intensive sales routes can write off the standard rate for every mile they drive for work.
Standard mileage reimbursement
Mileage rates are subject to change in each tax year. The standard rates are determined based on market research that determines normal expense ranges for using a vehicle. The 2022 IRS rate for normal business use is 58.5 cents per mile.
Reimbursement based on sales routes
Salespeople are often reimbursed for mileage using the standard rates or a rate increase based on individual company policies.
Tracking mileage
Diligent mileage tracking is critical for reimbursement. Sales reps must document every mile in order to receive reimbursement or claim a tax deduction.
A spreadsheet that lists the date, starting mileage, ending mileage, total miles, and notes is easy to store on a clipboard and update each day. Mileage-tracking phone apps are also convenient; they track trips and allow reps to make notes about each trip. The best way to track mileage, however, is to use an automated feature — like SPOTIO Mileage Tracking — that records all trips without sales reps needing to remember to log their miles.
5. Create a Rotating Schedule for Contacting Customers
It's important that your sales representatives not contact prospects too often. However, your reps should contact customers on a regular basis to ensure that their needs are being met. Create a schedule that defines when to contact prospects and customers, and specify the medium — phone call, email, or in-person visit.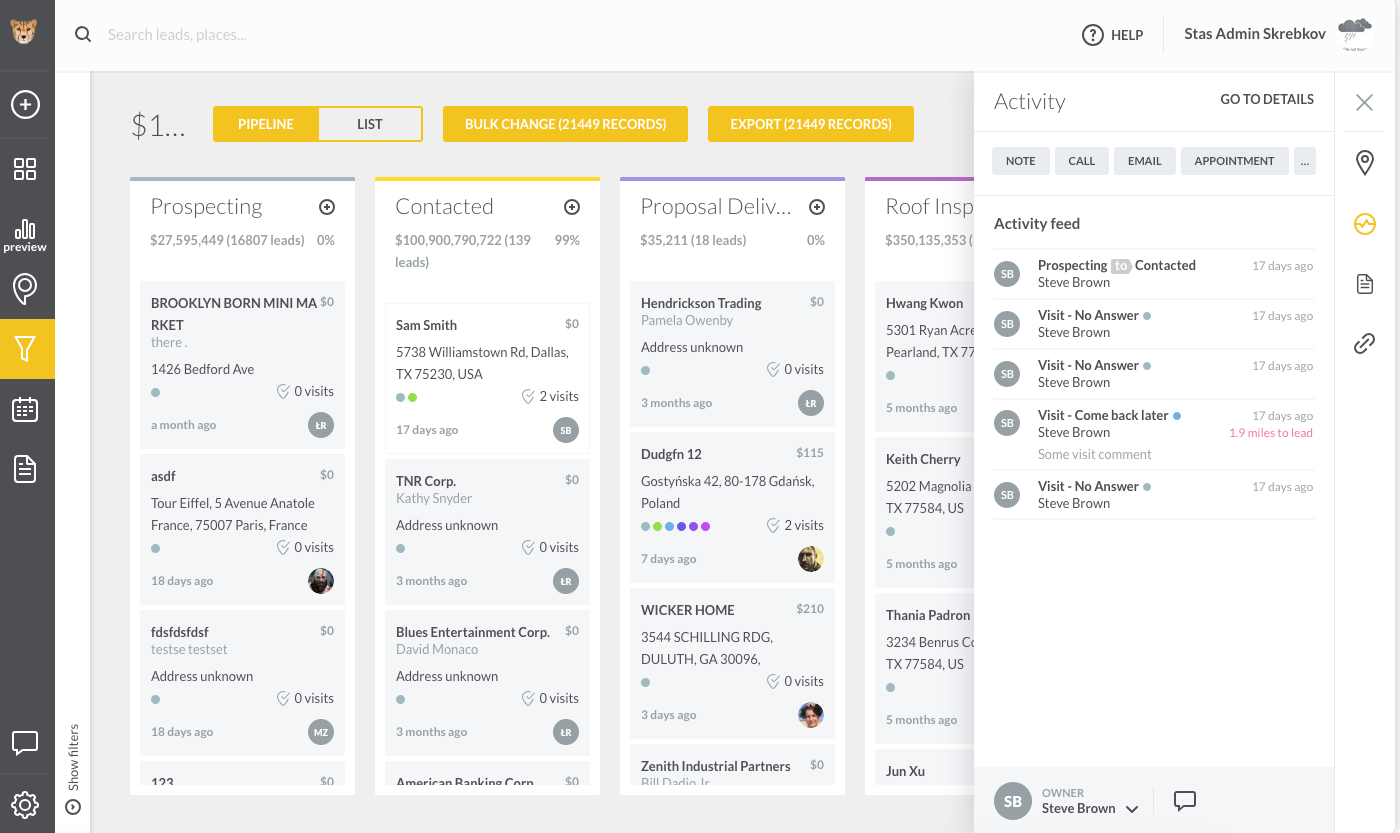 6. Meet Needs of Current Accounts While Finding New Leads
The best sales territory management plan should have a dual focus of providing services to high-value accounts while developing relationships with potential new accounts.
High-value accounts are those guaranteed to bring in higher volume sales in shorter amounts of time when compared to other accounts. While high-value accounts require attention, it is also important to cultivate new accounts that will help your company grow.
7. Consider the Seasonal Needs of Customers
Depending on the type of products or services your business provides, your customer base may have needs of a more seasonal nature. You should take care to recognize these seasonal needs when determining when to contact customers and prospects.
8. Ensure Reps Can Access and Update Data In Real Time
Use technology that allows your sales representatives to update and access customer data in real time, so all reps can view the most current customer information at any time.
9. Keep Thorough And Up-To-Date Customer Notes
Any communication with customers should be documented and accessible to sales representatives. Notes may include personal information such as the customer's favorite food, in addition to more sales-specific information such as the customer's budget.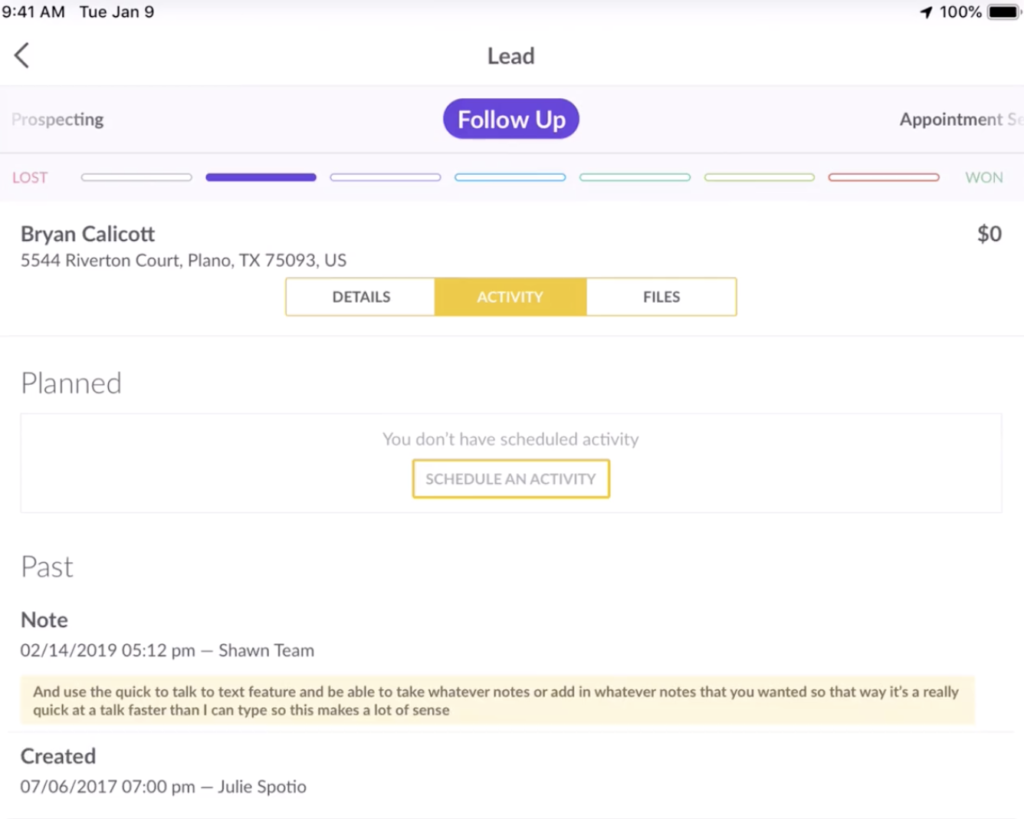 10. Monitor Sales Territory Performance
Frequently review the performance of sales territories and look for trends that might indicate adjustments are necessary. A territory that's not performing as expected may be a sign that some fundamental factors about it have changed (such as businesses in the area closing or relocating), or that the territory quality is not ideal.
6 SPOTIO Features to Manage Sales Territories of Any Size
What it does: Customer mapping software allows you to create a map of your territories. You can drop pins on specific locations, which allows you to track routes within territories.
Why it's important: Customer mapping software can help you to optimize sales routes. With SPOTIO's Precise Location Tool, you can drop pins on a map, creating a visual way to design the most logical sales routes. This saves valuable time and money, and helps your reps introduce more customers to your product or service.
What it does: Outside sales tracking enhances the sales process by providing real-time updates about the locations and activities of sales representatives in all your different territories.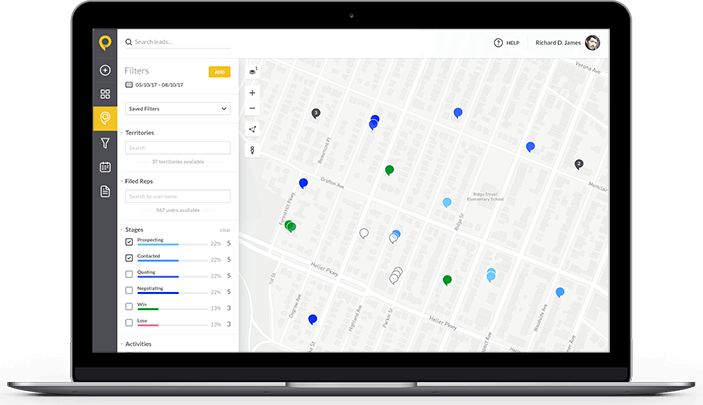 Why it's important: This feature saves time for managers by providing a quick and easy method to map out and assign territories to sales reps. It also helps managers quickly recognize any areas where sales reps may be struggling and highlight any need for additional coaching or training.
What it does:The SPOTIO Territory Manager enables managers to create custom maps of different territories for assignment to sales reps.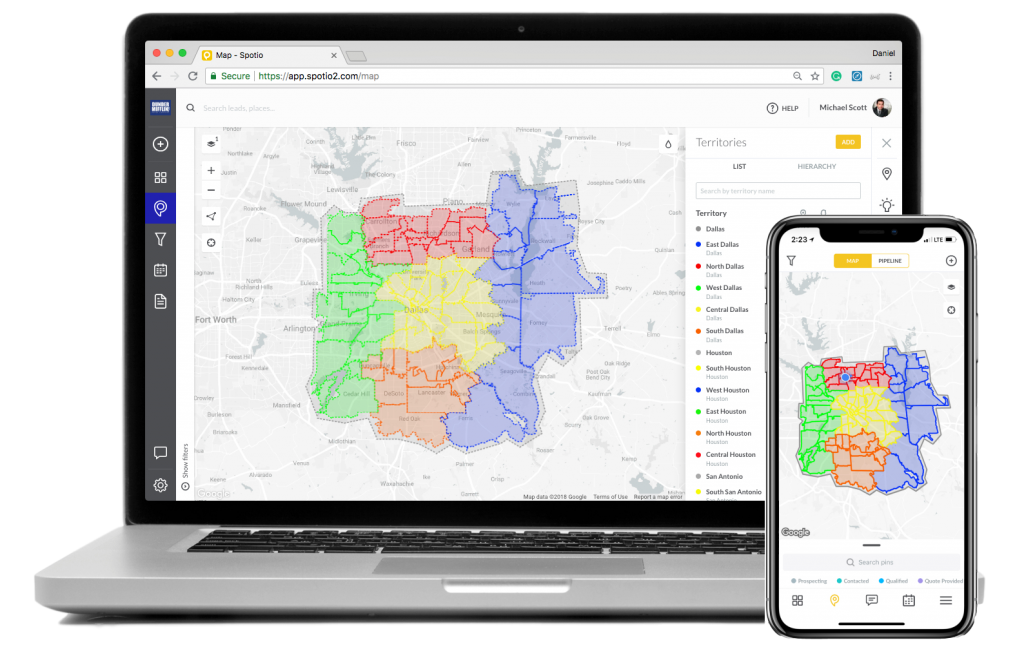 Why it's important: The ease with which territories can be created, assigned, and viewed means that managers will no longer have to spend hours reviewing physical maps and manually drawing out territories.
What it does: SPOTIO Route Planner simplifies routes, making each day in the field as efficient as possible.
Why it's important: This tool lets reps focus on driving and what they're going to say in their next meeting. In addition, it can help them avoid unexpected delays by automatically rerouting to account for street closures or heavy traffic.
What it does: Lead Machine is a lead management tool that organizes information related to leads and provides it to users in an easy-to-understand format.
Why it's important: This tool helps to generate more sales by ensuring that leads are organized and easy to access.
What it is: My Reports is a SPOTIO feature that lets managers and reps easily create reports using a variety of metrics. Once you set up your reports, you can store them in the cloud and share them with team members.
Why it's important: This new feature allows users to zero-in on the KPIs that are most important and access reports via mobile when in the field. Create reports by territory, by sales rep, or for specific metrics across your entire organization.
FAQ
How should I divide sales territories?
While managers generally think of geography when splitting up territories, you may also want to consider factors such as prospect company size, number of opportunities, and short-term versus long-term potential.
How do you manage territories in Salesforce?
Managing territories in Salesforce is easy, with SPOTIO's integration features. (See our blog post on this topic for more information).
A Better Way To Manage Sales Territories
Sales territory management can help your business grow by collecting and organizing all information and automating administrative tasks.
SPOTIO's cloud-based territory management software gives you the insights you need to effectively manage your sales team and helps reps keep track of important information when they're in the field.
________
SPOTIO is the #1 field sales engagement and territory management app to increase your revenue, maximize your profitability, and increase your team's productivity in just 2 weeks.
Want to see a product demonstration? Click here to see how SPOTIO can take your sales game to the next level.