A territory sales manager is an individual contributor that executes the sales process for an organization in a defined geographic area (or territory). They're required to develop effective sales strategies, meet territory sales quotas, and maintain excellent customer relationships.
Typically, territory sales managers hold a bachelor's degree along with some management experience. They also have exceptional communication, customer service, and problem-solving skills.
The significance of their role varies according to both the size of the territories and the company.
For instance, if you have a massive organization, you could assign a territory sales manager to an individual territory. But if you have a small organization with fewer prospects, a territory sales manager could oversee several different regions.
In this guide, we'll cover the salary, key responsibilities, and ways to be a more successful territory sales manager.

What Does a Territory Sales Manager Do?
As you may have picked up already, territory sales managers have a diverse range of responsibilities. Let's take a closer look at what's involved.
 
Territory sales managers analyze customers
Territory sales managers need to analyze their current and prospective customers.
An essential part of this analysis is customer mapping – i.e. finding new customers and understanding what makes a good customer by looking at the traits of existing customers.
For instance, you'll want to determine:
Their locations.
The products or services they purchase from your business.
The types of problems your products or services solve for them.
What types of events lead customers to buy (or not buy) your products or services.
This type of research will drive how you define the ideal customer profile (ICP) and prospect for new opportunities in your assigned territory.  
For example, in SPOTIO, you can tap a business on your map to get the basic contact info from Google Places quickly. Plus, you can find all the companies in any territory by business type, such as dentists or restaurants.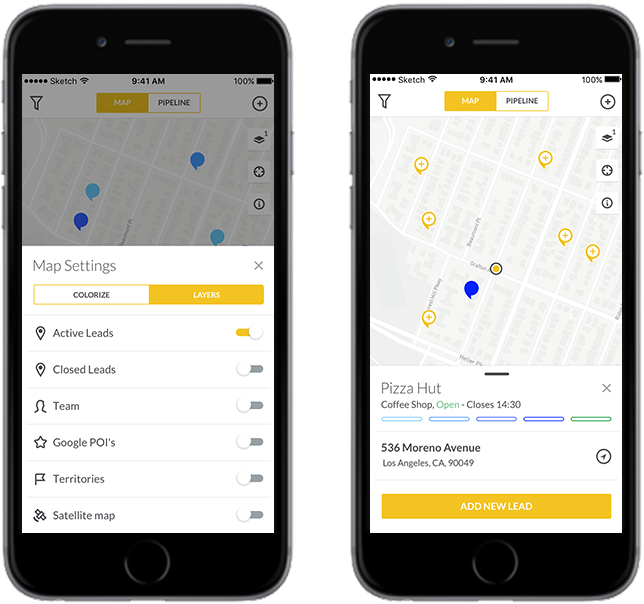 Image: Adding and removing map layers inside SPOTIO makes it easy to spot active and closed leads.


Territory sales managers set measurable goals
As a territory sales manager, it's important to align your sales goals with quotas at the territory and organizational levels.
The best way to set measurable goals is with the SMART goals framework. For example:
Specific: unambiguous, stating precisely what is expected.
For example, instead of saying "sell more" or "knock on more doors",  you say "sell x-amount more than last quarter" or "increase door knocks by 10 per day".
Measurable: concrete criteria for measuring progress toward goal attainment.
For example, "make customers happier" is not measurable, but "increase sales by 17% by the end of the next quarter" is.
Attainable: challenging and stretching, but ultimately can be achieved.
For example, "increase door knocks by 10 per day" is achievable, but "increase door knocks by 500" is unrealistic.
Relevant: in alignment with the individual and team goals.
For example, the goal is aligned to your business and also meets your customers' requirements.
Time-related: a committed deadline.
For example, there needs to be a time-bound date. "Increasing door knocks by 'X' amount by 'X' date" is how you set a SMART sales goal.
Setting SMART goals holds you accountable, keeps you motivated, and gives you a way to measure success.


Territory sales managers execute sales activities
Part of the territory sales manager's role is to outline and execute the minimum daily, weekly, and monthly sales activities needed to keep the pipeline full and achieve sales quota each month. These are the "controllable" actions and include things such as:
Phone calls made
Voicemails left
Emails sent
Social media connections
In-person visits completed
Each of the sales activities should be tracked on a daily basis. All should have a positive trickle-down effect to the weekly and monthly performance reports.
Daily sales reports communicate how much effort is being put in each day to ‌ continue filling ‌the ‌‌pipeline. Typically, these metrics include:
Number Of Prospects
Number Of Contacts
Number Of Visits
Number Of Follow-Ups
Number Of Referral Requests
Lead Response Time
Number Of Upsells
Weekly sales reports show how effective daily activities are in driving quality leads and opportunities into the pipeline. Typically, these metrics include:
Number Of New Leads
Number Of Meetings Booked
First Meeting Show Rate
Lead-Opportunity Rate
Number Of Proposals Sent
Monthly sales reports show how well territory managers are building sales pipeline and converting it into net new revenue. Typically, these metrics include:
Number Of Lost Deals
Number Of Won Deals
Pipeline Value (By Stage)
Close Rate
Average Deal Size
Net New Revenue
Revenue By Territory


Editor's note:
You can use a tool like SPOTIO's Territory Manager to set goals, define territories, assign reps and track revenue performance by territories: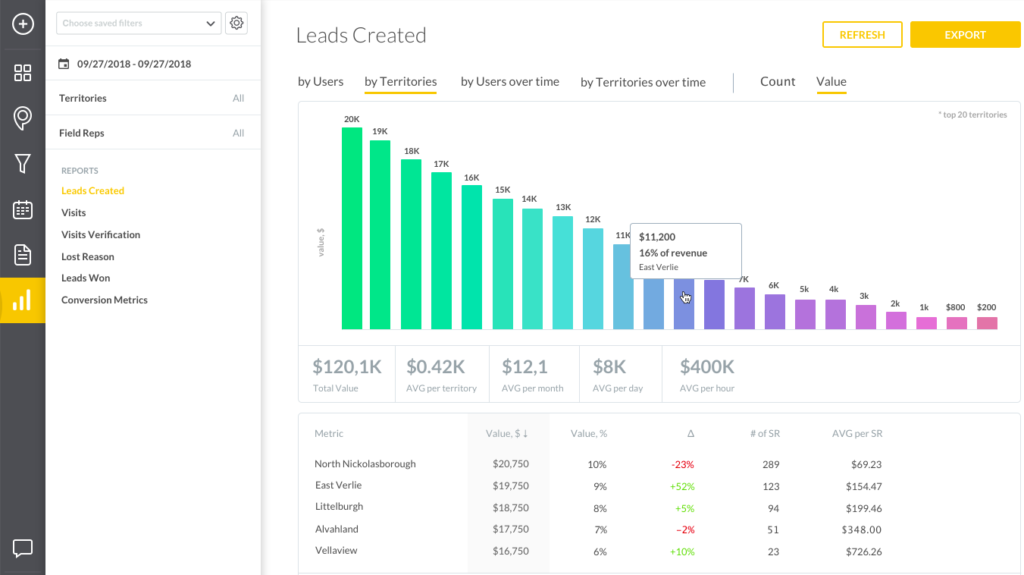 Territory sales managers use technology to improve efficiency
Territory sales managers need to hit their sales targets. And the best way to achieve that is by equipping themselves with the right tools.
TSMs will need to have access to the best tools to help them focus on selling. For example, software that helps automate tedious admin tasks, so they can spend more time selling.
SPOTIO uses the latest technology to help reps smash their sales quotas.


Task automation increases selling time
Auto data capture makes it easy for territory sales managers to automatically capture the data while in the field, such as:
Logging every prospect interaction automatically in real-time.
Taking timely notes and passing accurate data to your CRM.
Taking notes easily with talk-to-text (so reps can speak their notes as they walk).
Snapping photos onsite for your CRM notes​.
Integrate email, CRM and calendar data on your mobile device.
Eliminating the need to spend nights or weekends on manual data entry​.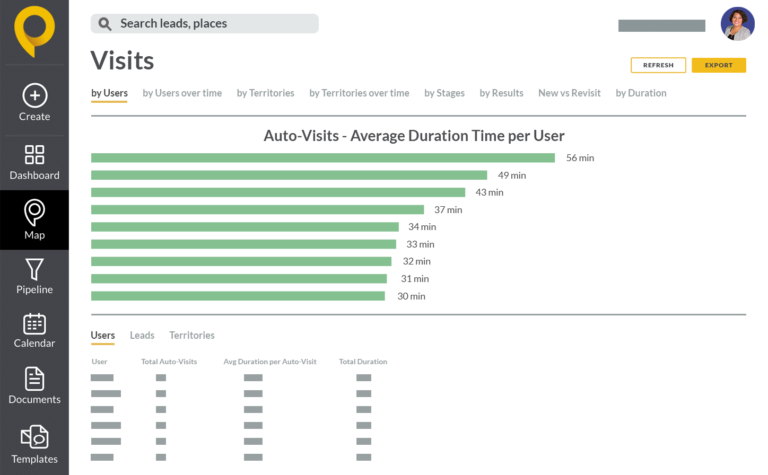 This level of task automation ensures TSMs spend less time on manual data entry, and more time selling.


Autoplays prevent leads from falling through the cracks
Autoplays prevents leads and opportunities from slipping through the cracks.
Territory sales managers can deploy automated sales sequences that identify who they should engage with, on which channel, and when they should engage. These sequences use machine learning to ensure that high-impact activities are executed at the right stage in sales process.
For example, it prompts TSMs when and where to follow up with leads and prospects.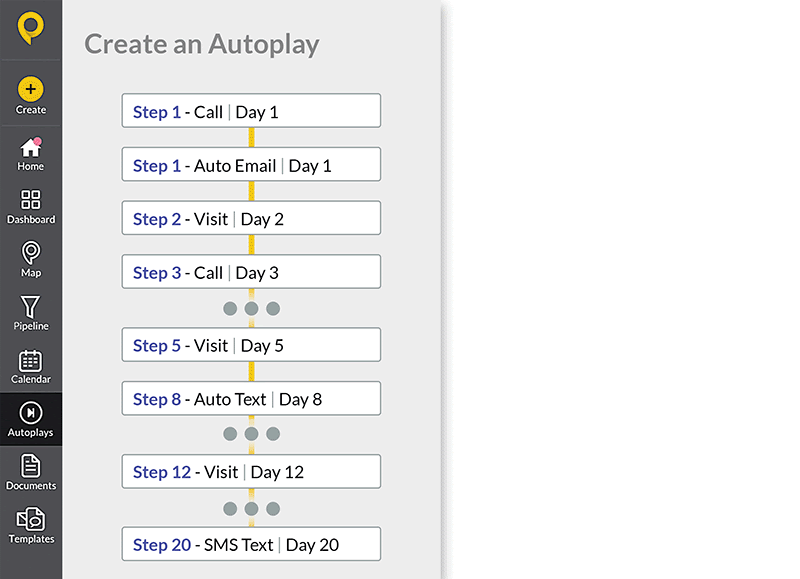 Message templates improve response rates
Messaging templates save TSMs having to type every message from scratch. Plus, you can create templates based on texts and emails that you know get high response rates.


Now you can:
Quickly send texts and emails on the go.
Dramatically cut the time it takes to send texts and emails.
TSMs can measure the effectiveness of different templates and use the insights to determine which messages are sent on each channel:



Route planning reduces windshield time
Route planning software helps dramatically reduce windshield time by allowing territory sales managers to quickly identify the best sales routes, whether there is one or multiple stops.
TSMs can lasso map pins with their finger, or leverage SPOTIOs Google Places integration to find new sales opportunities in their territory. Similarly, you can toggle to the Pipeline tab to see new and existing prospects on the map, and automatically plot the most efficient route.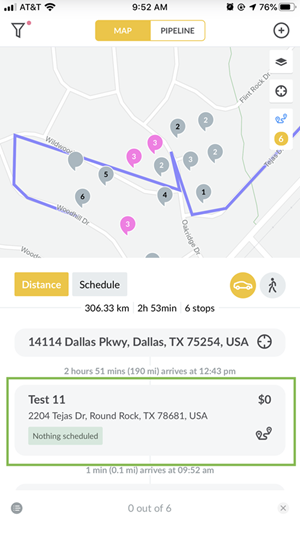 Route planning helps you focus on closing deals instead of figuring out the best way to drive from point A to point B, or C, D, E and F.

Territory sales managers map existing customers
As well as acquiring new customers, territory sales managers need to know where their existing customers are. Plus, they'll want to see where they are in the pipeline, and how much time has elapsed since the last interaction. All of this information can help with upsells and expansion revenue.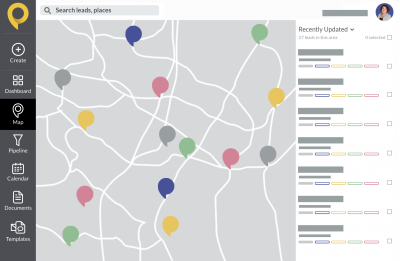 Territory sales managers can assist by mapping the existing customers alongside new prospects. For example, in SPOTIO, managers and reps can use color-coded pins to show the status of each account.


Territory sales managers nurture customer relationships
The job doesn't stop at the sale. TSMs need to nurture customers in their territory in order to create opportunities for repeat sales and upsells. In addition, they need to ask for referrals. All of these are only possible if there is a positive customer relationship.


Territory sales managers report on territory performance
Reporting on sales activity and performance is an essential task for territory sales managers. They need to report to their managers, and illustrate what they're doing well, and not so well.
Using SPOTIO, territory sales managers can create activity benchmarks to measure performance and identify weak points. Managers can create custom dashboard reports to track the performance of any data points gathered by their sales team to see where they're going right and wrong.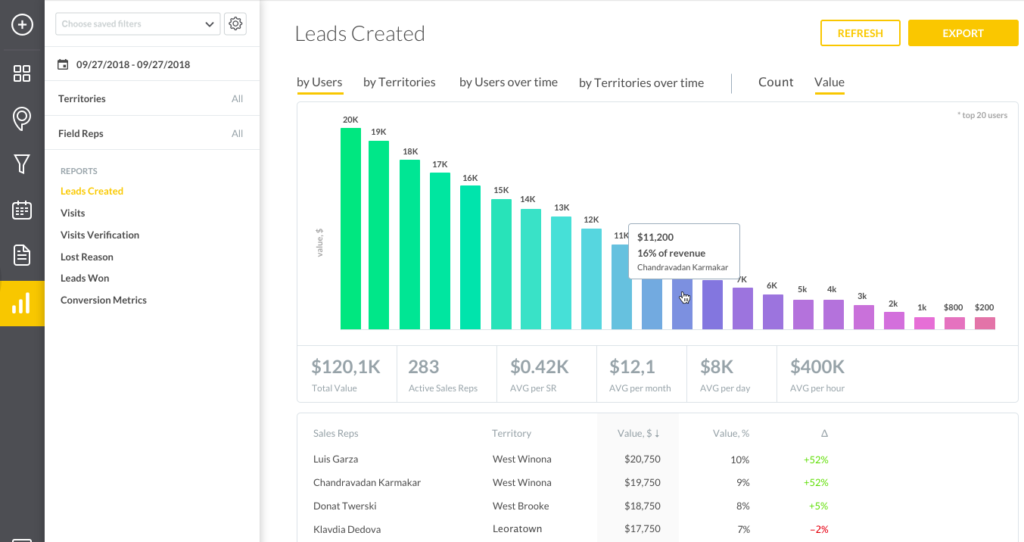 With this information, you can design new sales strategies when needed, double down on effective tactics, and forecast future sales with much greater accuracy.
Traits of a Successful Territory Sales Manager
We've already touched on some of the core skills that a territory sales manager requires: exceptional communication, customer service, and problem-solving skills.
But you'll also need to ensure you have the following skills and qualities if you want to be a successful territory sales manager.
Researcher
A successful territory sales manager needs to understand the market and ideal customer, and use those insights to devise a territory plan.
Planner
A successful territory sales manager needs the ability to figure out a repeatable sales process they can follow to bring in new leads and opportunities consistently.
Motivator
A successful territory sales manager has to find ways to motivate themselves to hit sales targets, whether through commission incentives, pep talks or gamification.
Nurturer
A successful territory sales manager is responsible for building and maintaining strong relationships with the customers in their assigned territory. This opens up opportunities for repeat sales, upsells, and a greater likelihood of getting referrals.
Analyzer
A successful territory sales manager needs to look through the sales performance data and identify the weaknesses and opportunities.
Accountable
Ultimately, the buck stops with the territory sales manager, so they need to take ownership of the end result.
Sample Territory Sales Manager Job Description
We are looking for an experienced territory sales manager to manage reps within the northwest Seattle region, maintain customer relationships and help meet monthly, quarterly and annual sales targets.
The territory sales manager will be tasked with recruiting, hiring and dismissing sales reps, mapping and assigning territories, monitoring sales activity, nurturing custom relationships, and building performance reports for executive leadership.
Territory Sales Manager Responsibilities
Travel with reps in assigned territories and provide training
Map out minimum daily sales activity to fill pipeline
Use data to refine sales processes
Nurture existing customers and ensure all needs are being met
Analyze sales activity data to determine team training needs
Motivate sales reps to hit quota
Review reports and forecast future sales targets
Prepare sales activity and performance reports for leadership team
Territory Sales Manager Requirements
5+ years of experience in a territory sales manager role
Proven record of meeting and exceeding sales targets
Strong organizational and leadership skills
Strong communication skills
Ability to analyze sales data and extract actionable insights
Bachelor's degree in business administration, marketing, or related field
Average Salary for Territory Sales Managers
According to Salary.com, the median territory sales manager salary is $99,151 per year.
Indeed reports that the average base salary for a territory sales manager is $69,152, plus $22,600 commission per year, totaling $91,752.
Elsewhere, Salary Expert says the average territory sales manager salary is $112,525.
Taking all three sources into account, the average salary for territory sales managers is around the $100K mark.
Final Thoughts
If you're looking to climb the sales career ladder, then it's fair to say that the territory sales manager role is both rewarding and challenging. You'll have plenty of autonomy, but your sales manager will also expect positive results.
If you've got the required qualification, skills, and qualities, and put in the hard work, then you'll be remunerated with a six-figure salary.
Equip yourself with the right tools for success. Schedule a demo of SPOTIO today!