Looking to level-up your door to door sales process in 2023? This guide is for you.
Let's be honest. Some people think door to door sales is an antiquated way of selling. As the next generation of outside sales reps join the workforce, the majority may be unaware just how powerful door to door selling can be.
We know the reason D2D prospecting is still relevant: It works. Today, 65% of outside sales reps attain quota, which is 10% higher than quota attainment for inside sales reps.
Door to door sales can be a rewarding sales career and drive the bottom line for businesses in many different industries. In this post, we'll cover the fundamentals of door to door selling, share some tips for success, and talk about technology that can help sales teams and managers achieve their objectives.
Let's get started.
What is Door to Door Sales?
Door to door sales is the process of canvassing a territory and speaking face to face with potential customers about the benefits of a product or service.
In a B2B context, door to door sales involves visiting a business to speak with a decision maker, book an appointment, or provide promotional material, such as sales sheets or a business card. B2C salespeople may target prospects in a specific neighborhood, knocking on doors to speak with residents.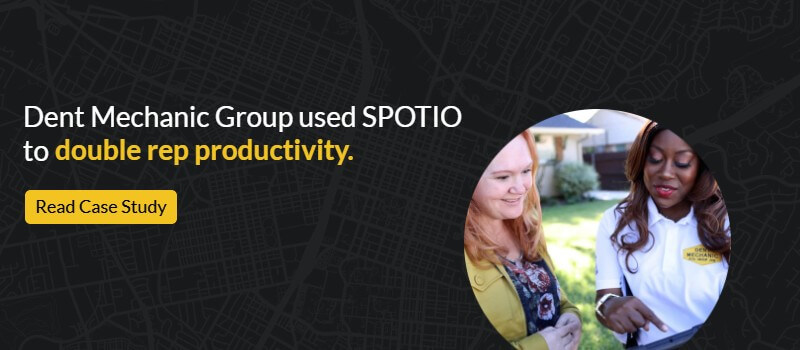 Pillars Of The Door To Door Sales Process
Wondering how to be a good door to door salesperson? Effective door to door sales processes are based on the following pillars:
Prospecting is the search for new customers. Prospects are essential to your sales funnel, because you need a steady stream of new customers in order to grow.
Qualifying means identifying a prospect's need that matches one of the features or benefits you offer. Qualifying is based on prospects' "pain" (enough pain to buy), budget (the money to buy), and decision power (authority to buy). It requires a door to door salesperson to ask a lot of open-ended questions, listen carefully, and respond appropriately.
Pitching: is when you make an offer and describe the benefits to your qualified prospect. You provide a solution for their pain points and explain how your product makes their lives or jobs easier. 
Closing is when you convince the potential customer to buy your product or service. There are numerous ways to close a deal, and finding the one that works best for you and each qualified prospect is a vital skill for successful door to door sales. 
Follow-up means that after the sale, the door to door salesperson contacts the customer to ensure they received what they ordered and are satisfied with their purchase. It's essential to establishing a relationship with your new customer, and the gateway to future opportunities with the customer, should their needs change.
How To Be A Successful Door To Door Salesperson
We have identified 11 traits that most successful door to door selling professionals share:
1. They know their product inside and out. To explain the features and benefits, or even to gauge need, a door to door salesperson must have thorough knowledge of their product or service.
2. Their expertise provides value to the customer. Customers are more educated than ever, with the resources available to them online. If sales reps tell them what they already know, they're not providing any value. HubSpot recommends that door to door sales professionals educate the prospect about what they can't discover on their own, thereby establishing credibility and trust.
3. They build rapport immediately. The most successful door to door salespeople have excellent emotional intelligence and are skillful in the art of finding connections with other people. Some people have these skills naturally and don't have to think about it; others have to research a prospect to find common ground.
4. They understand how to ask questions that qualify potential customers. The best sales reps ask open-ended questions to gather information and close-ended probes to establish needs.
5. They are expert listeners. Once they ask questions, they actively listen as the prospect answers.
6. They are excellent at WIFM, which stands for, "What's In It For Me?" The most successful sales reps are able to explain how their product or service will help the prospect.
7. They know how to establish expectations for the call. The most successful salespeople explain to the prospect what will happen next. InsightSquared suggests creating a buyer-seller agreement, which is a verbal agreement that outlines what will happen next in the call and makes the lead more comfortable.
8.They outline the purchasing process well. Honesty is key to building trust. Door to door sales reps that explain what the prospect will experience before, during, and after the sale will be successful at establishing that trust.
9. They are strategic about prospecting and manage their time well. Whether that means calling on current customers and looking for referrals or reviving lost opportunities, the most successful door to door sales reps are strategic in their prospecting manage their time well, and focus on the prospects most likely to convert.
10. They have a few ways to close. Knowing how and when to close is a critical skill for all sales reps, especially in door to door sales. Not all customers are the same, and neither are your prospects, so make sure you understand what appeals to your target audience. When you are presenting and handling objections, you should also be thinking of how you will ask for the order. (See our blog on specific strategies for closing deals).
11.They maintain excellent activity records. A successful door to door salesperson keeps detailed notes about potential customers, pain points, and meetings. With this information, they can continue to build rapport and move the prospect further into the sales funnel.
12 Door To Door Sales Tips To Crush Sales Quota
Below are some direct sales strategies that will help door to door salespeople succeed.
Master the Product
Why is this important?
Excellent product knowledge is paramount to your success. After all, you can't sell what you don't understand.
Actionable tip:
Practice explaining your product's features and benefits to someone who knows nothing about it (a friend or family member, for example)Then ask what questions they have or if they have feedback on your presentation.
Prospect Efficiently
Why is this important?
Qualified prospects are the best prospects that will lead to more revenue for your company's (and your) bottom line. By finding the fastest ways to identify qualified potential customers, you can shorten the selling cycle and close more sales.
Additionally, by having a solid lead qualification process in place, you can sell with confidence knowing you're not wasting valuable time pitching to someone that's a poor fit.
Actionable tip:
Ask your satisfied customers for referrals. Not only will a satisfied customer want to help you, but they are also likely to refer you to someone they know needs your product or service because they don't want to irritate their contacts with a pointless sales call.
Assign Sales Territories
Why is this important?
Outlining and assigning territories ensures there is no overlap, reps have enough leads to work, and the top reps are working the biggest accounts.
Actionable tip:
Use territory management software to reduce the manual work of assigning territories and create territory hierarchies with just a few clicks. You can also use it to gather data-backed insight into territory history and performance.

Automate Tedious Tasks
Why is this important?
Automating routine tasks can increase rep productivity by as much as 46%. And higher productivity correlates with more sales.
Actionable tip:
Use a tool that automates tasks such as CRM data entry, sending emails, updating contact info, logging activities, and planning a day in the field.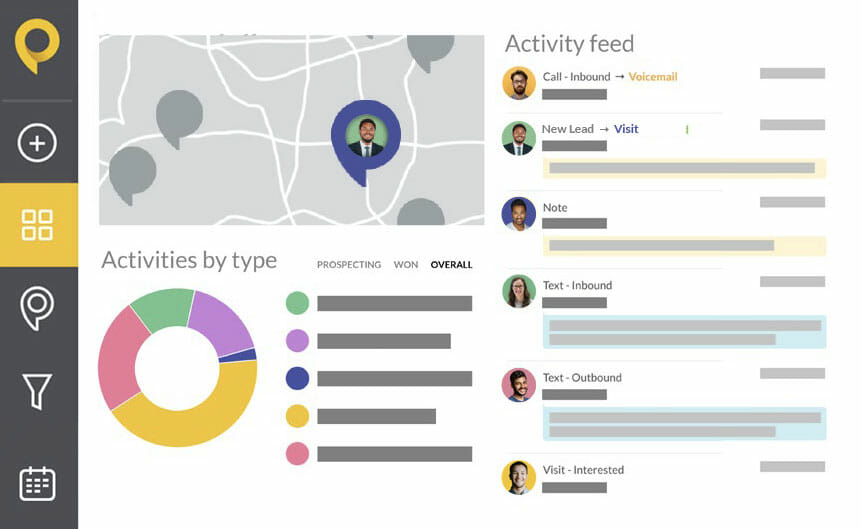 Find the Pain
Why is this important?
When the pain of change is less than the pain of the status quo, prospects will invest in solutions. Sometimes a prospect might have become accustomed to a pain point in their current situation and not realize that a better alternative exists.
Actionable tip:
Ask questions about how a prospect's challenges affect their productivity, resources, or profits, so they can begin to recognize the importance of resolving the issue.
Employing the Sandler Selling method here would be ideal because this technique is built around selling to a prospects pain points.
Pay Attention To Body Language
Why is this important?
People communicate with far more than their words. Recognizing and understanding the visual cues that people give you can tell you a lot about what they think of your product or service.
Actionable tip:
Know your pitch so well that you can deliver it while simultaneously assessing the signals your prospect is giving you. Observe facial expression, body position, and even breathing patterns to discern whether your cold-call is giving you the cold shoulder or warming up to your suggestions.
Pitch Perfectly
Why is this important?
People form impressions of you quickly — sometimes in as little as10 seconds. So, you need to communicate what you are selling and present your best information, quickly.
Actionable tip:
Structure your pitch to align with these four steps: introduction, questions, presentation, and close.
First, introduce yourself and your product while making eye contact and smiling. Then, ask open-ended questions and let the prospect do the talking. Present your product with the pertinent information first, and keep it short. Finally, ask for their business.
Get to the "No" Faster
Why is this important?
Many people are too polite to say "No," and they may let you pitch, even when they have no intention of buying.
Actionable tip:
Example: "If at any point you feel the product I'm selling is of no value to you, please don't hesitate to tell me so. You won't hurt my feelings, and I don't want to waste anyone's time."
Craft a Sales Script
Why is this important?
Knowing what you're going to say and what you need to find out will help when you're making cold calls. A sales script will help you seem eloquent and knowledgeable, and keep you on track and calm in a sales call.
Actionable tip:
Take notes about your calls as you work. Over time, you'll see what qualified leads had in common, and you can use that information as the basis for your sales script.
The script should include basic details, like the introduction and the pitch, along with questions you use to qualify leads. By putting together a script, you can navigate the sales call and quickly determine which potential customers are uninterested and which may be open to learning more.
Learn How to Handle Objections
Why is this important?
Objections are the reasons prospects have for not buying your product. In a D2D sales situation, these reasons might also be a way to put off a "Yes." Your job is to determine if the objection is really a "No," or just an obstacle to overcome.
Actionable tip:
Use the LAER model, an objection-handling concept created by Carew International (a leading provider of sales training, leadership development and customer service programs).
LAER stands for "Listen, acknowledge, explore, and respond." In other words, pay attention to their objection, acknowledge that you understand it, ask them why they feel the way they do, then reply to their feelings with empathy and an explanation that might resolve their objection.
Analyze The Data
Why is this important?
Data can help managers identify opportunities for improvement. Some key metrics to track: leads created by each rep, visits made, pipeline velocity, and number of activities per rep.
Actionable tip:
Keep a record of daily activity that includes how many calls you had, people you talked to, demos you performed, and units you sold. Then analyze your results to look for weak points in your process. For example, if you didn't sell a lot, maybe your demo needs work.
Always Follow Up
Why is this important?
Nearly half of sales reps never make a follow-up attempt, and that can result in lost sales. (See our blog post about why following up is important).
Actionable tip:
Use an appointment app or book to organize and optimize your call back schedule. Also, whenever possible, get prospect email addresses so you can add them to any automatic follow-up software you might be using.
Within SPOTIO's appointment setting feature you can easily organize and manage the follow-up process. From the field, you can capture lead notes, input a prospect's contact details, and view, set, and manage appointments. All this information will automatically sync to SPOTIO, eliminating the need to re-enter field notes at the end of the day.
How to Recruit High-Performing Door to Door Sales Reps
One of the first things you should do when hiring a D2D sales team is to decide who your ideal candidate is. What traits are you looking for, and what kind of skills do you require?
You should also decide early if you want experienced or inexperienced D2D sales professionals.
Experienced canvassers can get right to work and start delivering leads, but their sales techniques may not align with your goals. New canvassers might be slower to get results, but you have the opportunity to train them on exactly how you want them to work.
We recommend finding up to five candidates to interview before extending a job offer. You can look for candidates on LinkedIn, Indeed, and ZipRecruiter, as well as ask your professional network for any recommendations.
Determine Your Compensation Model
Here are a few of the most common compensation models for door to door sales reps:
Commission Only
Sales reps working on a commission-only structure are usually independent contractors, not full-time employees. This payment structure is best for people that are self-motivated and eager to sell.
Gross Margin
While it may or may not have a base salary, a gross margin commission structure pays the door to door salesperson on the amount of profit a sale generates. For example, if the deal is for $1,000, but the costs associated with the sale are $300, then the rep earns commission on $1,000 minus $300, or $700 gross margin.
Tiered Commission
When a company uses the tiered-commission compensation model, they pay higher commission on sales that exceed a certain threshold. For example, the sales rep might earn 5% commission on all sales up to $10,000, but then earn an additional 3% on any sales over that amount for a total of 8% commission.

Interview Questions For Door To Door Salespeople
Once you have a pool of appropriate candidates, it's time for you to screen for the best of the bunch.
Some examples of great questions include:
What do you do for fun?
What motivates you and why?
What streaming shows have you enjoyed the most?
Would you please describe for me a typical day for you on your last job?
Can you please share an example of when you convinced someone to do something they were not interested in doing at the time?
How do you set goals and hold yourself accountable?
What do you want to be doing a year from now? Three? Five?
Who was your best boss so far and what did you learn from him or her?
What is the best lesson you ever learned in a work training session that you still use today?
How do you deal with rejection?
How do you celebrate success?
Popular Door to Door Sales Industries

Many industries employ a door to door sales force. Some of the most prominent include the following:
Solar Energy
Door to door sales of residential rooftop solar panels work well for the solar energy industry, because the product is complicated and is best explained in a one-on-one, in-home consultation.
Roofing
Roofing is expensive, and a homeowner might be more likely to purchase a new roof if a sales rep explains the benefits of it in person.
Home Improvement
Door to door sales works well for home improvement services, because D2D sales professionals can demonstrate how homeowners can upgrade or maintain their homes. Sales reps also know that they're speaking with decision-makers, when they meet with homeowners and can typically know within minutes which leads are viable.
Alarm/Security
Alarms and security systems that protect a homeowner's property are other products that are best explained in person.
Telecom
Canvassing efforts have worked well for sellers of telecommunications services, because they can offer persuasive reasons to switch from a current provider to a new service.
The Ultimate Door to Door Sales Toolset
The technology you use is a crucial part of success in door to door sales. Following are some of the best tools for managing the D2D sales process:
Reps
A route planner optimizes route efficiency, so you make the most of your time in the field. SPOTIO's route planning feature automatically creates the best route for sales reps, tracks mileage, and syncs completed routes to your CRM.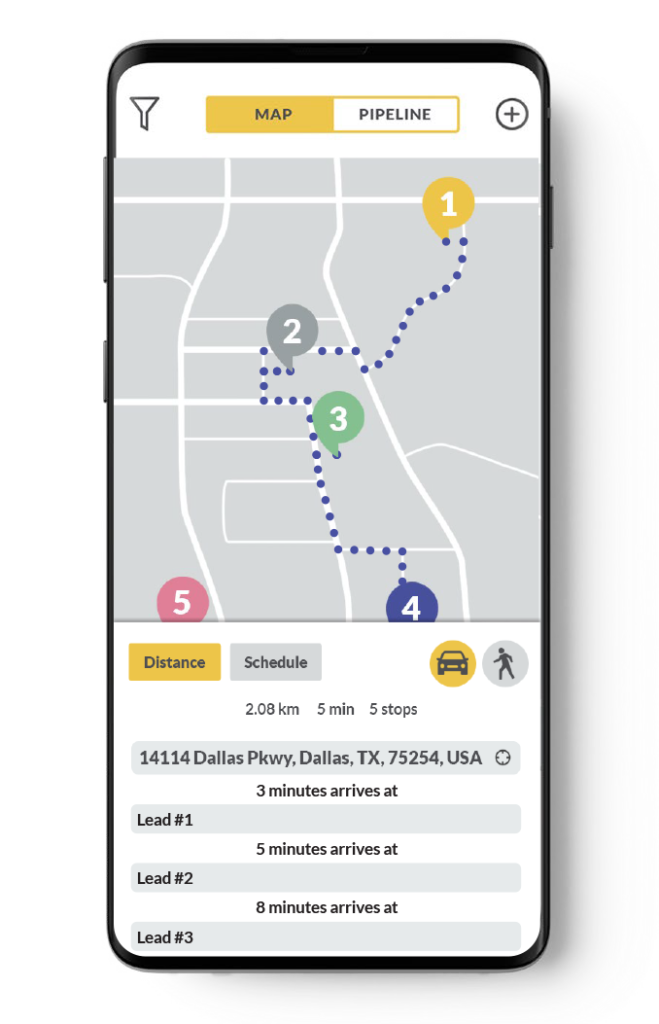 SPOTIO Lead Machine lets sales teams import existing customers and prospects, color-code map pins based on account type, and filter leads by more than 200 data points. With the user-friendly mobile app, reps can find contact information with a single tap while in the field.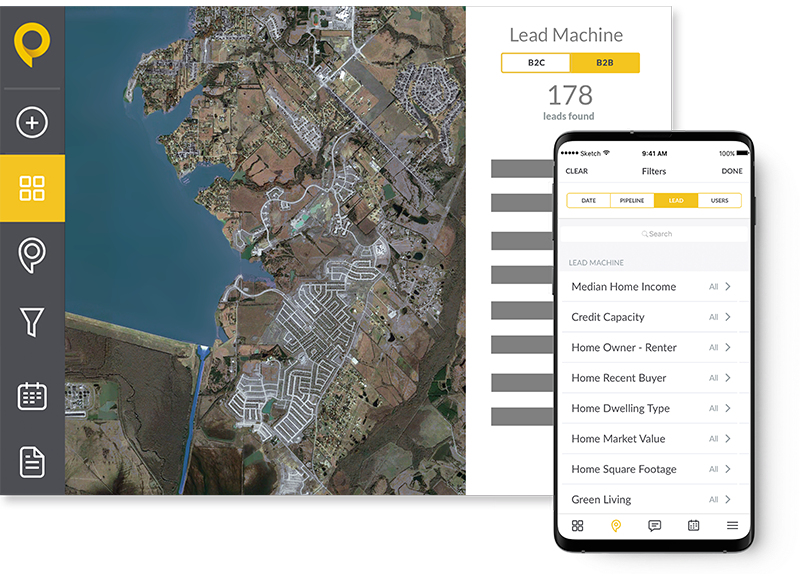 You need technology that makes it easy to schedule appointments — for yourself or for other members of the sales team. SPOTIO's appointment setting feature lets you see everyone's schedule and schedule demos or appointments from your mobile device.
A customer mapping solution takes complex data from your CRM and compiles it into an easy-to-view interactive map.
With a mapping tool, you can look at a map, zoom in on a territory, and tap it to see all prospect information and rep data.
Autoplays are like a roadmap for sales activities and next steps. They eliminate the need for a door to door salesperson to keep track of when they should follow up, where prospects are in the pipeline, and what activity comes next.
Whether it's a text, email, visit, or call, Autoplays deploys the right activity at the right time, keeping prospects engaged, reps productive, and leads moving through the pipeline.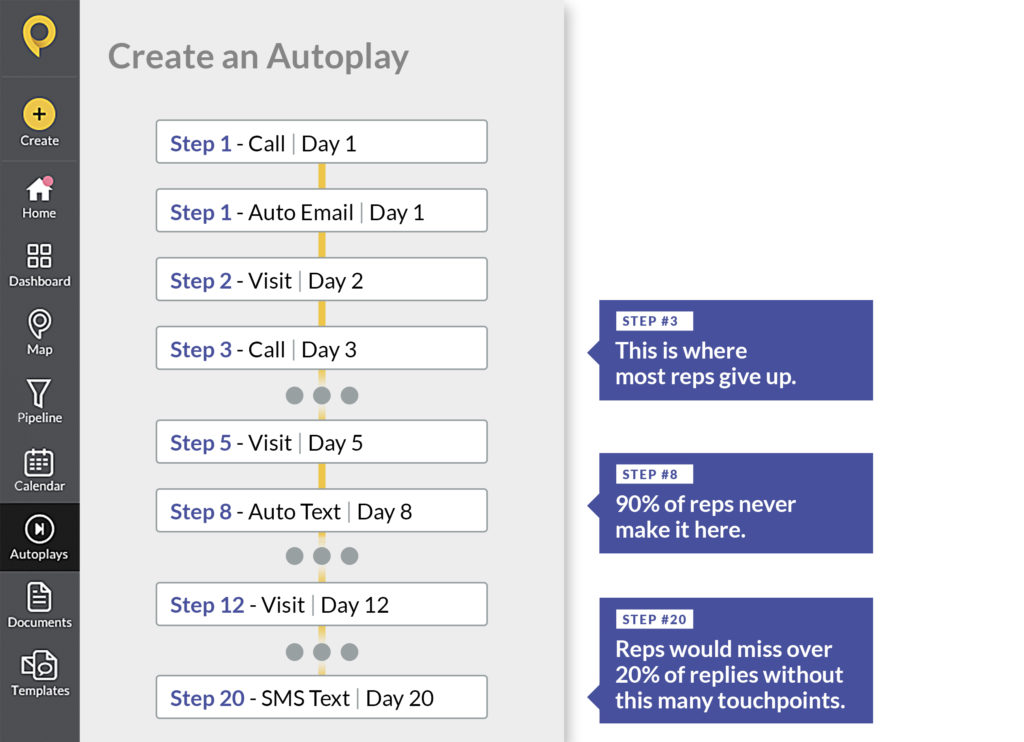 6. CRM Integration
Manual processes can be a drag on productivity. With CRM integration, any notes or data recorded while canvassing will automatically push to your CRM, ensuring sales reps are always working with the most recent information.
Managers
Territory management software allows you to determine strategic territories for your sales reps by geography, ZIP Code, and other factors. You can also define parent and child territories, set user permissions for territory views, and get detailed analytics for every territory.
Sales leaderboards encourage healthy competition between reps and boost engagement in contests and other incentives you use to motivate team members.
Rep tracking tools show you where reps are in real-time. Reps can drop pins on a map at each visit, so you can see the exact time of every sales call, how long reps met with a contact, and whether they completed their route for the day.
Sales tracking offers management and operations key insights into rep and territory performance, with activity metrics and KPIs.
Ready. Set. Sell.
Door to door sales isn't for everybody or for every type of business. But if you have the right combination of opportunity, talent, and technology, you can take your business development efforts to a new level.
____________
SPOTIO is the #1 field sales engagement and performance management software that will increase revenue, maximize profitability, and boost sales productivity.
Want to see a product demonstration? Click here to see how SPOTIO can take your sales game to the next level.