Looking for the best metrics to monitor the health of your sales pipeline?
A sales pipeline provides a high-level, visual overview of your where prospects are in the sales process.
Which deals are stalling? Which sales activities are generating the best results? How many deals have closed in the last week, month, or year? How will this impact top-line revenue?
You get the point: a sales pipeline provides valuable data, as well as direction to scale growth.
But, which metrics are the best for assessing the health of your sales pipeline?
We recently asked 28 sales experts to list the pipeline metrics they monitor on a weekly, monthly and annual basis. We also asked them to explain why they choose to monitor each metric.
Their responses are included below, but first, let's take a closer look at the most popular sales pipeline metrics.

Top 13 Metrics to Track Your Sales Pipeline (According to the Experts)
By tracking and regularly reviewing metrics – at the rep, team, and territory level – it's easier to identify what is and isn't working, pipeline bottlenecks, as well as strengths and weaknesses on the team.
Let's take a look at the metrics, including what they tell you about pipeline health, and the formulas for calculating them.
1. # New Qualified Leads per week
This is the first step that needs to be tracked in the pipeline. You can't close deals if you don't first fill the pipeline with qualified leads. I.e. people who are ready, willing and able to buy.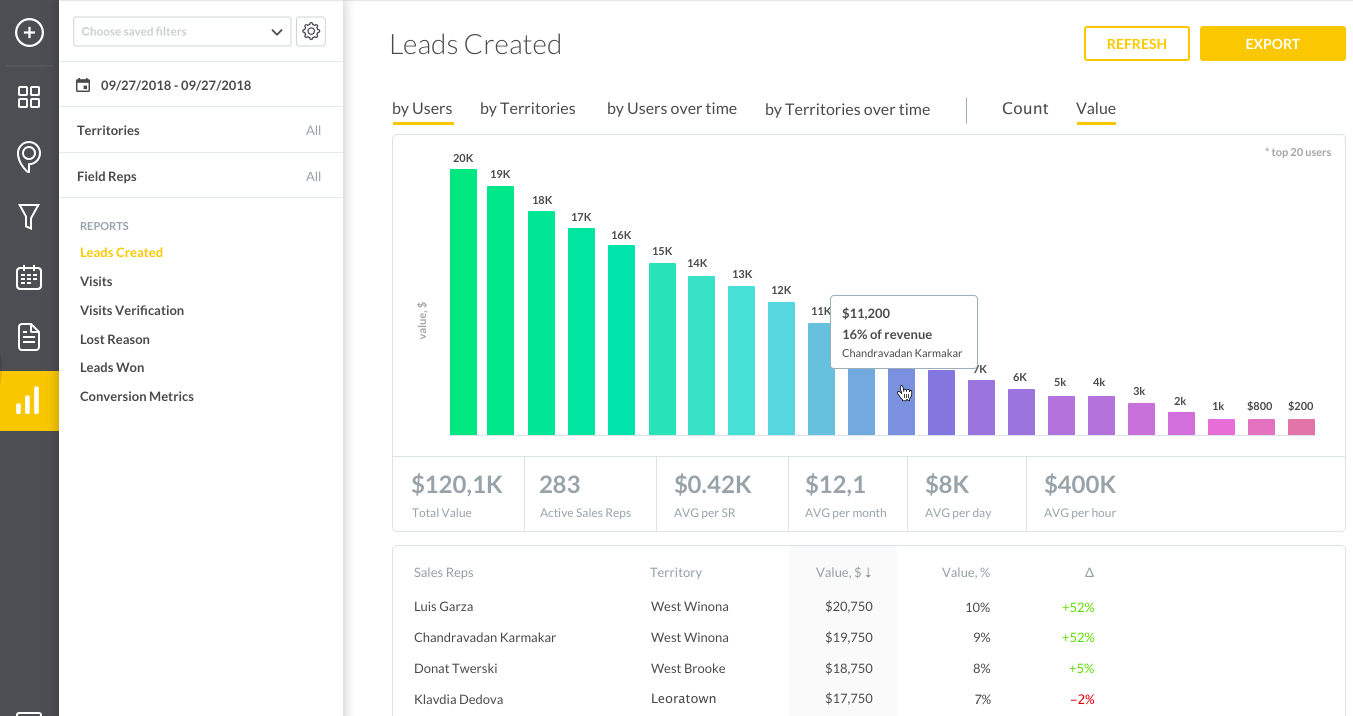 Image: Executive report inside SPOTIO showing the number of new leads created by users and territory over time.
This metric allows you to answer questions such as:
How well are sales activities generating new leads?
Based on historical conversion rates, does the company have enough lead volume to hit revenue goals?
Are sales reps focusing too much on lead quantity at the expense of quality?
A healthy pipeline is one that's consistently filled with new leads.
For many companies, such as Transcription Outsourcing, LLC, the number of new qualified leads is the most important metric. CEO Ben Walker shared the following:
"Most of our sales are very timely in nature, meaning people want transcription services now. We've been doing this for 10 years now and that is the best metric we have. So we simplified it and go with one very simple percentage: how many leads did we get and how many did we close on a monthly basis. That's it and that's all we need to know about our company and industry."
It may not be as simple for your company, but this metric can't be overlooked.
2. # New Opportunities per week
Sales opportunities are the next step in the pipeline.
An opportunity is a qualified contact. They've expressed interest in your product or service, spoke with you (or someone on your team), and are interested in learning more (via a proposal or presentation).
Every opportunity starts as a lead, but the people in this stage of your pipeline are more interested in moving forward.
Generally speaking, a higher number of qualified leads should translate into hot sales opportunities.
There's no one-size-fits-all formula for calculating new opportunities. This varies from person to person and company to company.
For example, you may move a prospect from lead to opportunity once they book a demo. Conversely, another company may not consider a prospect an opportunity until they request a formal proposal.
3. # New Meetings Booked
A booked meeting is typically defined as a face-to-face encounter, but in today's environment, it can come in other virtual forms, such as a Zoom meeting or conference call.
This metric is important because it signifies the number of serious opportunities in the pipeline. A booked meeting is often the final step in the process.
To track the number of new meetings booked, first start by defining what a meeting is, and then add it to your sales tracking software.
4. # New Closed Deals
A closed deal is the final step in the pipeline.
A deal is closed when you have a signed contract in hand or the prospect has made payment. A verbal agreement is good, but it's not yet a done deal.
Closed deals translate directly into revenue.
Sales organizations should track this metric both the rep and team levels to get a more granular understanding of strengths and weaknesses in the sales process.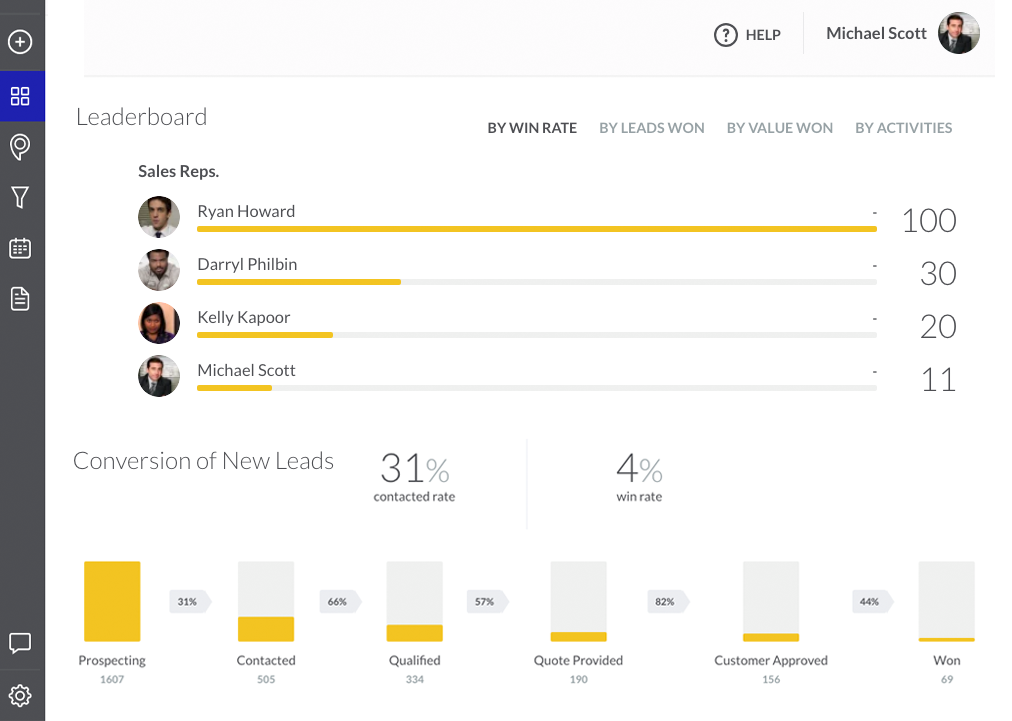 Image: SPOTIO sales leaderboard showing the top reps by win rate, leads won, value won and number of sales activities completed.
Closed deals can answer a number of questions, including:
Who are the top performers?
Are deals stalling late in the sales cycle? Why?
Are there training opportunities that can help close more deals?
With the number of new closed deals trending in the right direction, an increase in revenue will follow.
5. Lead-Opportunity Conversion Rate
Remember: it's not just the number of new leads, it's the number of new qualified leads.
Lead to opportunity conversion rate tells you two things:
The quality of the leads
How efficiently a sales team is converting leads into opportunities
Qualified leads have a much greater chance of turning into an opportunity, as well as a booked meeting and closed deal.
Calculate this by dividing the number of opportunities by the overall number of leads.
For example, if 10 leads out of 100 move to the opportunity stage, the lead to opportunity conversion rate is 10 percent.
The higher the rate, the better the lead qualification process.
If you have a high number of qualified leads that don't convert into opportunities, it may be a sign of deeper issues such as poor product-market fit, a weak value proposition, or inadequate sales training.
The point is, this metric can help you quickly isolate where the breakdown (or bottleneck) is occurring.
6. Win Rate %
Win rate is the percentage of leads that convert to sales.  It's important to track this pipeline metrics over a specific period of time, such as monthly, quarterly or annually, so you can track progress.
Eric Quanstrom, CMO of Cience, noted that he watches closed deals more than anything, but that this impacts other levels of the pipeline:
"We have a waterfall of conversion rates for each sales stage prior. A big conversion rate number is Discovery call to Closed Won (overall CR%) of our 5-step sales process. 
Win rate percentage is calculated by dividing the number of closed deals by the number of leads, opportunities, or meetings. It can also be calculated at each stage in the pipeline.
For example:
100 leads and 3 closed deals = win rate of 3 percent
25 opportunities and 3 closed deals = win rate of 12 percent
If you notice a low or declining win rate percentages at a specific stage in the pipeline, it's important to identify why, and then quickly formulate a plan to improve the conversion path.
Conversely, if you have a high win rate, but sales overall sales have fallen off, it may signal that there is actually a prospecting or marketing problem.
Dig deeper by calculating win rate percentage by channels or activities, such as cold calls and cold email. This provides a better idea of which source is generating the highest number of leads, opportunities and/or deals.
7. Deal Loss Reasons
Losing the deal hurts. But, it shouldn't be treated as a lost cause.
Use it as an opportunity to learn why you lost the deal, and use those insights to improve the sales process.
Was it price? Poor value proposition? Feature gap? Customer service? 
SPOTIO allows you to easily track the reason for every lost deal, which provides an opportunity to adjust your strategy and/or reallocate training resources.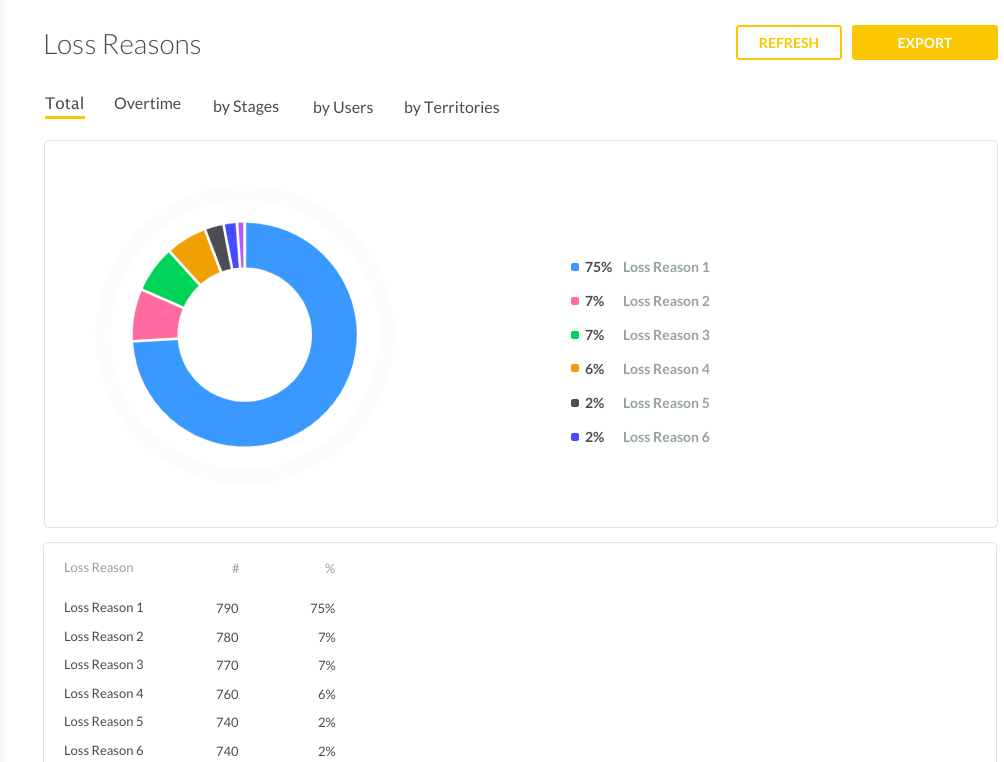 Closed deals are way more exciting than losses, but don't miss out on an invaluable learning experience. Use the insights to ensure you don't make the same mistake twice.
8. Average Sales Cycle
This is the length of time it takes to move a lead from initial contact to a closed deal.
If it takes too long for a lead to move through each stage of the sales pipeline, it can slow pipeline velocity (more on this below).
Calculating the sales cycle length for a particular deal is as simple as calculating the time interval between:
When the first contact was first made
When was the deal closed
If you want to then calculate the average sales cycle length, you simply divide the aggregate total days to close by the number of closed deals.
For example: if it took 100 days to close 20 different deals, your average sales cycle length is 5 days.
Once a baseline metric is set, you can use it to pinpoint stagnate deals, and divert more resources to those, especially if they are at a later stage in the pipeline.
9. Average Deal Size
The average value of a won deal will impact your sales strategy, as well as the velocity of your pipeline.
Typically, larger deals are slower to convert, as there's more money on the line and more people involved in the decision making process. Conversely, smaller deals move much more quickly.
Calculate average deal size by adding together the value of all closed deals and dividing it by the number of deals.
Here's an example:
$1,000,000 in value/50 closed deals = average deal size of $20,000
Understanding this metric allows you to pinpoint the deal size that converts most often. This helps you target leads with a budget that fits.
10. Sales Velocity
Pipeline velocity is the speed at which a lead moves through your sales pipeline. As a general rule of thumb, faster is better. The sooner a lead converts, the sooner you can allocate resources to other prospects.
Here's the formula for calculating sales velocity:
The number of deals in your pipeline x the overall win rate percentage x average deal size ($) / length of sales cycle (days) 
For example:
Suppose you have 100 opportunities in your sales pipeline. Your average win rate is 30%, and your average deal size is $5,000. Your average sales cycle is 20 days.
Your pipeline velocity = 100 x .3 x 5,000 / 20, or $7,500.
This means that every day your company has $7,500 moving through the pipeline.
In order to increase your sales pipeline velocity, you'll need to improve at least one of the levers in the equation. I.e. improve your win rate percentage, increase the deal size, or reduce the average sales cycle.
Sales pipeline velocity can provide countless insights. Angela Ash, Digital Marketing Specialist at Flow SEO, shared how understanding sales velocity can help customize outreach:
The sales velocity allows you to see the revenue that your sales team brings in on a daily basis – as opposed to an overall total. Knowing this can help you to see which times of the month are more productive than others. This can be important when it comes to anything from applying more outreach on certain days of the week to optimal weeks to encourage team members to take vacation time."
11. Total Pipeline Value (By Stage)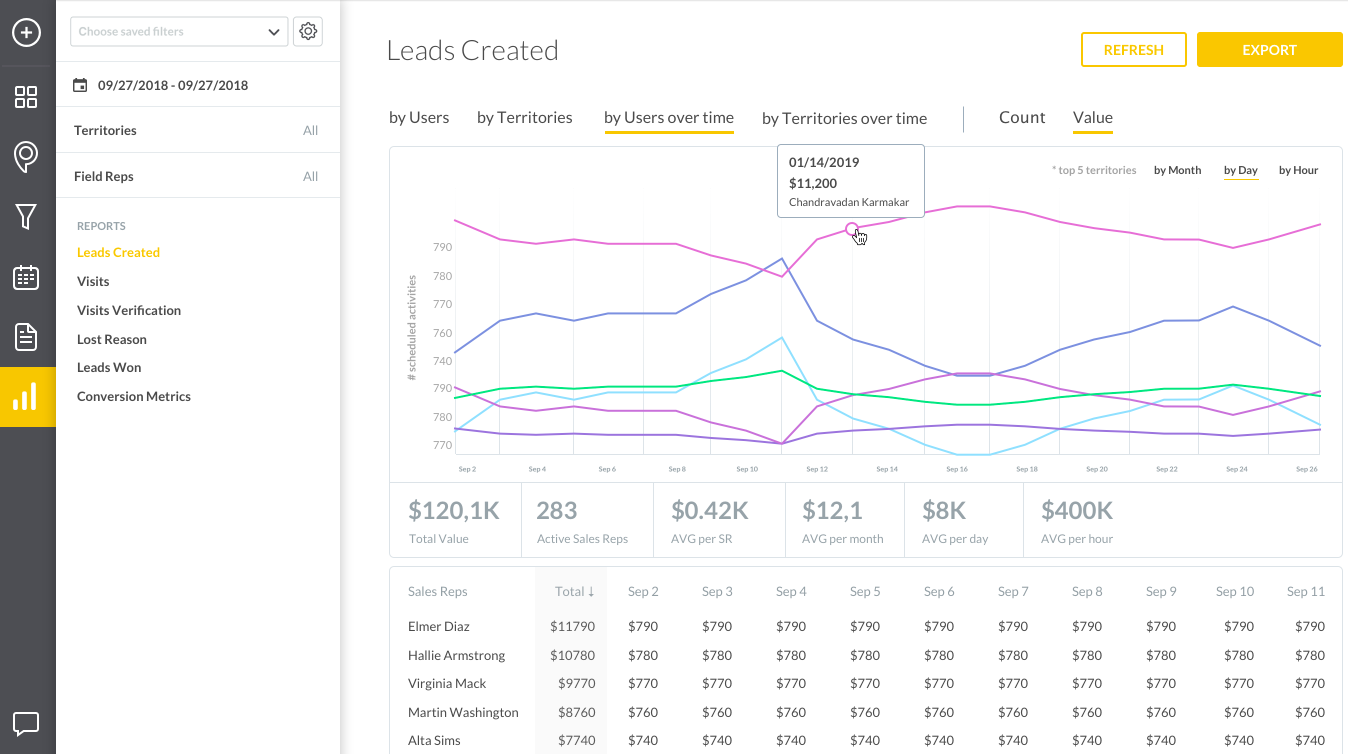 Image: SPOTIO report showing the total value of pipeline leads broken out by users and territories over time.
Add up the total value of every deal in the pipeline. This is your total pipeline value.
The higher the number the better, as it provides more opportunity to generate more revenue. However, you can't expect every deal to close. And even if they do, they won't all close on the same day.
Taking this one step further, break down total pipeline value by stage: lead, opportunity, and meetings booked.
As you make your way toward the end of the pipeline, you'll typically find the total value declining. However, these prospects are also closest to signing on the dotted line.
Tip: use total pipeline value to compare sales rep performance.
12. CLV:CAC Ratio
Customer lifetime value (CLV) and customer acquisition cost (CAC) are two unique metrics that go hand in hand.
This ratio helps you understand your return on investment. A higher number is always better, with a ratio of 1:1 as low as you want to see.
With a CLV:CAC ratio of 1:1, it means your customer pays you the same amount that it takes to acquire them. In other words, you break even.
If your ratio is less than 1:1, it means you're paying more to acquire customers than they're paying you. You're burning money.
You must track two data points to calculate this metric:
The amount of money you pay to acquire a customer
The total lifetime value of the customer
With these numbers, you can then use the following formula to accurately calculate your ratio:
CAC = the total acquisition spend/the number of customers acquired
Evaluate this number at an activity or channel level to ensure your dollars are invested in areas that are having the biggest impact on the bottom line.
13. # of Referrals
There's nothing more valuable than referrals. Not only do these prospects come highly recommended, but you don't have to spend any resources – time or money – to acquire them.
By providing current clients with an extraordinary experience and/or incentivizes, you can generate regular referrals.
Alex Birkett, a co-founder of Omniscient Digital, describes why referrals are so important:
"The referral rate is probably the most important and underrated metric, because it means the prospects are both well-qualified for our business and they're happy enough that they tell their well-qualified friends."
---
---