There are a lot of things you can't control in your business. For instance, trends can change in the marketplace, customers can adopt new buying habits, and disasters can happen, forcing your business to slow down.
However, there are some things that you can control, like the training you deliver to your employees to help them better serve your clients, the number of cold calls you complete each day, or the number of times you follow up with a new lead or existing customer.
Sales activity metrics are about measuring the things you can directly control. 
If your reps aren't performing at their best, then you can't hit your desired numbers. Unfortunately, with so many different metrics to track, it's difficult to know which ones you should be using to get the best insights.
To get the right guidance, we spoke to 33 top sales experts and asked them to list their top 3 sales activity metrics. 
We used the insights to compile a shortlist of the metrics you should definitely be paying attention to this year.
Let's take a closer look.

---
What Are Sales Activity Metrics?
Let's start simple. Sales activity metrics are data points that represent the performance and behavior of your sales team. They can include things like how many new prospects your salespeople speak to each day, or how many calls they make.
Crucially, sales metrics aren't the same as Sales KPIs. KPIs are the specific metrics that connect specifically to your company-wide goals, priorities, and objectives.
Although it's difficult to know for certain exactly which metrics you should be tracking, figuring out how to assess your sales activity metrics is well worth the effort. It's the only way to know for certain that you're taking the right steps to improve your bottom line, support your team, and deliver excellent experiences to your customers.
Get your reporting strategy right, and you can end up with a more successful, profitable, and engaging business, capable of outperforming your competition.
Who doesn't want that?
---
15 Important Sales Activity Metrics to Track in 2020:
Because your company is unique, it's important to note that some metrics will matter more to your team than others. As you begin considering and measuring the parameters listed below, it's essential to keep a close eye on how they affect your business and your growth.
The more you measure how different metrics are affecting your business, the easier it is for you to invest time and money into the things that matter.
With that in mind, let's get started.
1. Number of Leads Created
The number of new prospects your sales team interact with each day is crucial to the growth of your business. After all, you can't close deals unless you're filling the top of the pipeline with new prospects.
All sales reps should be setting daily sales prospect targets. i.e. finding new contacts that fit your ideal customer profile.
SPOTIO's Lead Machine makes this activity easy for field sales reps and managers. The user simply selects the target sales territory, selects from any of the 50 available demographic data points to build a customer profile, and then imports all the identified prospects into the pipeline to begin outreach.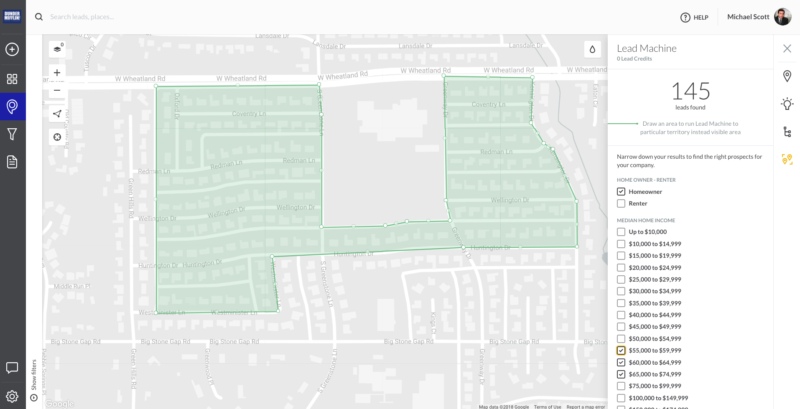 2. Number of Calls Made
Although the number of phone calls made in the business world is declining, it's still one of the most common methods of outreach for most sales teams. If you're invested in outbound marketing efforts, then the number of calls made is likely to give you an insight into how many prospects you could potentially reach.
You can also break down the number of calls that you make into different categories, such as:
Ratio of calls made to calls answered
Number of completed calls
Number of calls that lead to a prospect hanging up
If you know which conversations lead to completed calls, and which convince a customer to hang up, then you can provide better training for your team.
3. Number of Emails Sent
For many businesses, the number of emails sent will be just as valuable as the number of calls made. Remember, a lot of people prefer to receive offers and invitations via email these days.
Just like with number of calls sent, you can break your email metrics down into more focused KPIs, including:
Ratio of emails sent to messages opened
Click-through rates and open rates
Ratio of subscriptions to unsubscribes
It's also worth paying close attention to the number of emails that you send to unique prospects each month, compared to repeat emails sent to customers who have either already interacted with your brand, or are yet to respond.
4. Number of Follow Ups
According to guidance from Hubspot, it takes at least eight touches with a prospect to convert a visitor into a potential customer. Because of this, businesses can't afford to allow their sales reps to simply connect with customers once.
Measuring the average number of follow-up attempts that are made for each client helps you to see how much effort your team is making to close a sale.
While follow-up is important to ensure that your customers have multiple opportunities to buy, it's important to ensure that you're not annoying your prospects either. You need to ensure that your reps aren't going over the top with follow-ups, checking back with a customer a few times each day.
Additionally, switching the medium of follow-ups between things like phone, email, and social media can help to drive better results by reaching clients in new ways.
5. Number of Social Media Connections
Building relationships with customers is a crucial part of improving your sales ROI. With the right strategy, you could significantly increase your chances of not only sales but also word of mouth referrals.
31% of B2B professionals believe that social selling supports stronger customer relationships.
Keep a close eye on the number of social connections your team members are building, through things like regular social media updates, as well as instant messages and other forms of connectivity.
Taking steps to improve your social presence could improve both inbound and outbound sales opportunities.
6. Number of Logged Visits
Sometimes referred to as "unique traffic", logged visits can include the number of individuals that come to your website, check out your offer, or otherwise interact with your brand without necessarily engaging in a sale.
While these prospects don't always have a direct impact on your bottom line, they can make a huge difference to how successful your company is, because the more people who engage with your website, or sales assets, the more you'll have people who understand what your business is and what it can do.
Since customers often research businesses before engaging in a transaction, a high number of logged visits could mean a large number of opportunities.
7. Number of Conversations
Number of conversations goes beyond simply measuring the number of emails that you send, or the number of calls that you initiate, to track how many people you speak to. 
Conversations are crucial to answering customer questions, dealing with their concerns, and improving your chances of sales. The more conversations you have, the more opportunities you have for conversions and sales.
Dividing your conversations into won and lost opportunities can also help you to analyze which kinds of conversations are most likely to drive successful outcomes. You could even record some positive conversations to use them as training for agents.
8. Number of Discovery Call Summaries
A discovery call in the sales landscape determines whether you and your potential customer are a good fit for each other. These summaries can also give you useful information when you go back to continue your conversation with a customer.
For instance, you could use your discovery calls to determine the pain points and priorities of a customer, so you know which points you need to address when you come to actually selling to them. Using call summaries can be as simple as creating scripts for your agents that look like this.
"Based on what you've told me about (topic), my recommendation is (product)."
9. Number of Meetings Scheduled
Sometimes, your business will need to engage in deeper conversations with clients to understand what they need. This means engaging in in-depth meetings with team members and decision makers.
A request to schedule a meeting can be an excellent sign that you have a warm lead in your midst that's keen to learn more about you and what your company has to offer.
Tracking the number of meetings that you schedule vs. complete each month could help you to analyze whether your new sales pitches and strategies are having the right effects on your audience.
Perhaps you'll discover that your team needs to try a different kind of conversation.
10. Discovery Call to Meeting Rate
Discovery calls are a great first step, but you still need to get the prospect into a meeting to close the deal.
Measuring your discovery call to meeting rate is a great way to see whether your sales reps have what it takes to sell the benefits of your offering to potential prospects.
If your clients are engaging in discovery calls, but they're not willing to continue to more in-depth meetings, then there may be something missing in your sales messaging and/process.
11. Number of Demos or Sales Pitches
If a meeting or discovery call goes well, then one of the best ways to show potential customers that you have what they need is to offer them a demo of the product, or even a sales pitch.
Measuring the number of sales pitches or demonstrations that your agents deliver will help you to figure out exactly how many possible leads are turning into potential customers.
This will give you a much better idea on the health of your sales pipeline.
If you see a high number of meetings and discovery calls, but a low number of demos or sales pitches, then you know that something is wrong with the conversations your teams are having at an earlier stage.
12. Number of Proposals Sent 
Proposals sent is a metric that tracks the number of potential quotes and sales packages sent to customers after discover calls, meetings, and demonstrations are finished.
Proposals are often the doorway to sales, sent only after your agents have come to learn exactly what customers need.
It's important to track proposals for a number of reasons. First, examining the number of proposals sent will help you see if you're demonstrating enough value to actually get the prospect to the point of sale.
You can also use proposals sent to measure whether the sales tactics that you're using at the "closing" stage of the buyer journey are successful.
13. Close Ratio
Close ratio is very similar to conversion rate.
Ultimately, it demonstrates how effective your team is at turning prospects into paying customers. A low close rate can tell you a lot of things:
Maybe you're not properly qualifying leads?
Maybe reps need additional training?
Maybe the unique selling proposition isn't clear enough?
Regardless, a low close rate is a huge red flag that needs to be investigated and addressed quickly.
SPOTIO makes it easy for managers to track close rates at both the team and rep levels: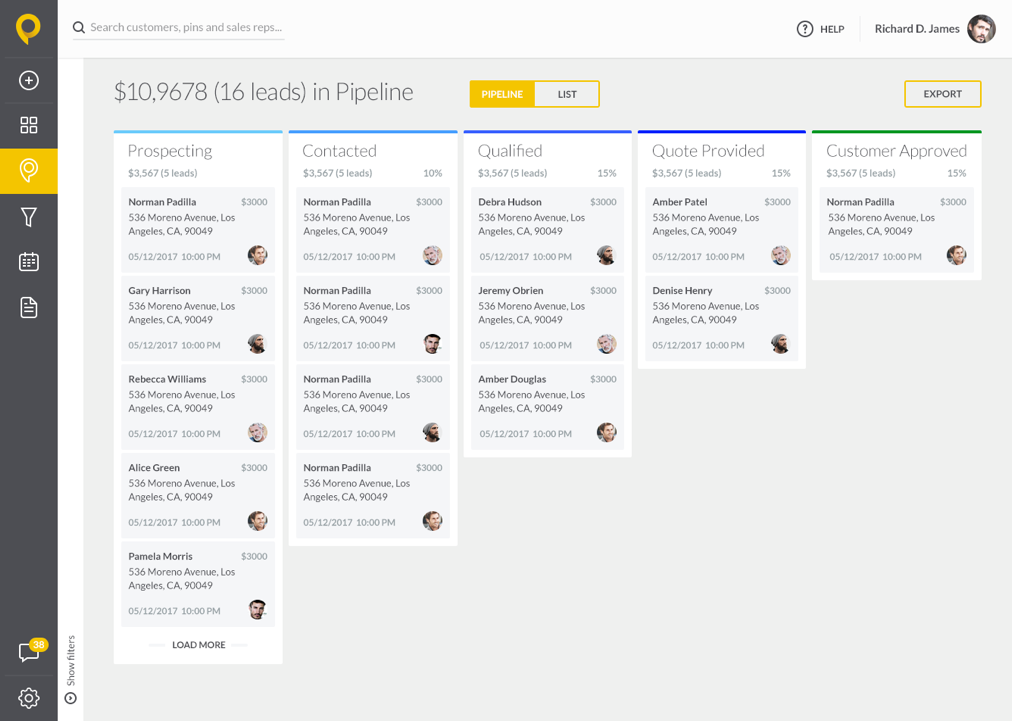 Image: tracking the entire sales pipeline in SPOTIO's activity tracker.
14. Number of Referral Requests
Once you've closed a deal with a client, the work doesn't necessarily stop there for your sales team.
Not only do you need to make sure that you're following up with customers and keeping them as happy as possible, but you also need to ensure that you're leveraging any opportunity to turn those customers into marketers for your business.
Ask your existing clients to refer new customers to your business in exchange for discounts and other deals. Measuring the referral requests made by your team helps you to see how many potential advocates you could be building for your business.
15. Number of Attempted Upsells
Expansion revenue is the lifeblood of many businesses. It's how companies are able to increase the Customer Lifetime Value, which in turn provides the funds for other sales and marketing campaigns.
How many existing customers are you turning into more valuable long-term clients. Can you use the information that you already have about your customers and the products or services that they need, and use it to sell them other relevant products?
Upsell attempts and conversion rates help you to track the number of customers you can turn into repeat customers.
The additional marketing costs of upsells is practically zero, which means that they can make a serious difference to your profitability.
---
33 Experts Reveal Top Sales Activity Metrics to Track in 2020
   Rene Grajales
Staples | Vice President, Inside Sales
Live Conversations: measures customer engagement.
Bookings: measures conversion on new business.
Billings: measures revenue from bookings. Report: daily, weekly, monthly.
Meetings held – nothing happens unless we have more client meetings. The clients are expecting it, it is in their calendar. We are able to make progress.
Leads generated – We need to watch how many leads come through and are one in ten leading to a sale? If we generate 60 leads and are not receiving 6 deals, where is the disconnect? Is it that people don't understand our value? Are they not properly lead qualified?
Proposals – how many clients are we getting to proposal stage? Is it more than two times the number of sales we need?
   Chad Burmeister
ScaleX.ai | CEO
Dial Attempts, Conversations, and Email/Social Activities
Dial Attempts – each sales professional on the ScaleX team is responsible for a minimum 3,000 dials/month.
Conversations – when leveraging Agent-Assisted Dialing, each sales professional will have at least 100 conversations, and schedule at least 8-12 meetings/month.
Email/Social Activity – the sales professional is responsible for collaborating with Operations to ensure that there are at least 3,000 active leads to be reached out to via email and social outreach. Once selected, virtual assistants execute ~250 emails/day on behalf of the sales professional, and another 150 social selling activities/day on behalf of the sales person.
The Additional Air – cover provided by ScaleX is impressions across multiple channels including LinkedIn, Instagram, and others to drive brand awareness. This is done automatically by the ScaleX AI for Sales Platform.
   Andrew Hatfield
Portworx | Director of Product Marketing
The top three sales activity metrics we are currently measuring are:
Meetings booked by SDRs – Reviewed Weekly in demand generation calls.A key indicator for qualification, our SDR team speaks directly with the inbound enquiry and determines their business and technical challenges, how suitable a fit we are for them, their timeframe and authority, and books a meeting with the appropriate account team, executive buyer.
Engaged – Reviewed Weekly in forecast calls.Once an opportunity is in flight, we focus heavily on ensuring the economic buyer is engaged. It is key to qualify and secure the endorsement of the executive sponsor and not just the technical influencers.
Proofs of Concept – Reviewed Weekly in forecast callsWe secure a technical win in a large majority of all proofs of concept, with a high rate of commercial success. More critically, we find that while a proof of concept's duration may vary from organization to organization, it does reduce the time to win deals by almost 30%.
Additionally, we find that those customers who undertook a rigorous proof of concept prior to production deployment also increase their adoption faster than others.
The most important sales activity metric is qualified calls. I don't care how many leads you get in the door or are working, in a B2B setting where it's not a "buy now" decision and the solution/product/service is 5 figures or higher, it's all about quality of leads. Sales people need to be smart where they invest their time and not chase leads just to show they are busy.
We have a 10 point check list we triage in a first call that looks at a variety of qualitative factors including fit, philosophy, decision makers, general attitude on the call, company culture and more.
We regard outcomes as more important than raw activities. Here are three of the most valuable indicators:
Number of calls / meetings that result in a time-specific next step being agreed with the prospective customer (this indicates the tangible progress that is actually being made)
Number and value of fully-qualified, forecastable opportunities added to the sales pipeline (ditto)
Number and value of qualified opportunities that have advanced to the next stage in the pipeline, as indicated by a customer-verifiable milestone (ditto)
We measure these on a weekly, monthly and quarterly basis. We do not believe it is useful or helpful to measure raw activity levels unless the quality of those activities is also being carefully assessed.
We measure both leading and lagging activity metrics. If I have to distill down to three activity metrics, I suggest:
Leading activity metrics: Measuring the number of referrals asked for and received from clients and referral partners each week. Also measure the number of introductions the seller makes for clients and referral partners.
Warm introductions are the shortest and most profitable way to connecting with new, qualified prospects. Sales organizations often don't include this sales activity in their prospecting plan because it isn't a shiny, new approach to sales.
The number of quality phone calls/emails sent to ideal prospects each week. The key qualifier on this activity set is the quality of the message. Many salespeople have not been taught how to write good sales copy, so the get caught up in the busy not productive scenario.
Lagging indicators: The number of new sales conversations held each week. I find this to be a key metric to track because it is an indicator of the quality and quantity of the leading sales activities.
If this number isn't being achieved, sales leaders need to ask three questions:
Are we targeting the right prospects?
Is our outreach compelling and customized?
Are we doing enough of the right sales activity?
Renewal Rates – We use this metric to ascertain opportunity within our current client portfolio. No organization these days can rely solely on new business – we need to ensure recurring business and customer LTV is at the heart of what we do.In my opinion, pushing for LTV is often overlooked compared to prospecting for new business which is a very short term view vs the sustainability that portfolio growth yields.
Forecast Accuracy – The most important skill for any busy team is going to be organization and prioritization. Forecasting revenue at the start of each month drives team members to look for opportunity and commit to their self-set targets.This then turns 'ideas' of where revenue can be found into an actual measurable roadmap of revenue that the business should expect to close. Accuracy is fundamental here to ensuring the management of expectations in regard to KPIs and resource planning.
Referrals – Another (often overlooked) approach to sales and growth is within referral opportunities. You can assume that each company you currently manage within your book, also knows another 5-10 companies or business owners.
If your teams are providing excellent service and results, why wouldn't your clients refer you additional business!?
We also take this same approach within our vast partner network to increase our reach.
   Lisamarie Monaco
InsuranceForBurial.com | Independent Life Insurance Agent/Senior Specialist
The sales activity metric we monitor the most is customer acquisition costs. There are a couple of reasons why. One reason being is we like to monitor what we are spending on our marketing to how many customers are buying our product. Each month will vary depending on the number of sales we have.
In addition, we also utilize customer acquisition to educate and inform our clients of the importance of our product and enhance their why they should buy. What we are doing is increasing are sales but most importantly, building engagement, educating our clients.
Prospects contacted – daily – if you are not building a funnel daily then you are going to run out of opportunities.
Current customer activity – daily – never lose site of your existing customers and the opportunity you have to grow your business with them
Sales pipeline opportunities – weekly – must have real deals that will close in the pipeline at all times.
# of demos set per week
Closing percentage per # of demos
Script grading adherence score: How closely did the rep adhere to the best practice approach?
   Eric Quanstrom
CIENCE | Chief Marketing Officer
At CIENCE, we monitor Conversion Rates at every stage of our Sales Cycle. These are the most important metrics by an order of magnitude:
SOWs signed (new deals closed).
Discovery appointments scheduled (Outbound & Inbound) helps to constantly track success of our Marketing Activities (Inbound) and internal Sales Development team efforts (Outbound).
Ideal Customer Profiles completed (Conversion Rate% into phase 2 from Discovery Meeting). All are measured Weekly. Thus, activities are trapped at each and every phase by outcomes measured.
   Nicole Sengers
Spitfire Inbound | Principal Inbound Marketing Strategist
Revenue Source – Start by looking at your biggest sources of revenue and focus on truly getting the most out of these areas. Use the revenue source to help guide marketing budgets and where you spend your time.
Win Rate – Understanding the number of deals you need to pursue on average to win one is crucial in understanding resource planning. This metric will assist with accurately forecasting and allow you to understand your opportunities better.
Overall Cost of Acquisition – While many people look at ROI, it would be better to look at this as the total or real cost of winning a deal and this includes marketing costs as well as the other costs that are less tangible like office costs, salaries etc – your business running costs can be factored into the cost to win deals.
Lead generation – what's working and what's not working for lead generation. If we find something that works we need to press on the gas harder and really go after whatever is working.If something isn't working we need to tweak it or scrap it so we can move on. These are done monthly and more detailed quarterly.
Follow up – how often are we following up with our prospects. These are huge for us as we with most businesses as timing is everything. When we are in our initial talks with a possible new client we ask them how they like to be followed up with, when they are making their decision, and how often they want to be followed up with.This is done monthly so we can see the overall activity levels.
Pipeline – do we have full pipelines or not? If not we need to see above to what needs to be changed or fixed. If we do and we can't handle more do we need to hire another new salesperson?This is definitely monitored monthly as it can be a precursor or what's to come in terms of growth and future needs of the company.
What we focus on are leading indicators. Yes we track lagging indicators like how much production we've done in each line of products and total sales, total contracts and total revenue but what we also do internally as well as with our clients we look at leading indicators so that we know where we are headed.
The odometer tells you how far you have gone. Your GPS and speedometer tell you if you are heading in the right direction and if you will get there on time.
First is Revenue. No matter what, we have to remember we're driving toward a revenue goal.
Next is Closing Ratio: The number of qualified appointments that convert to closed sales. If it's less than 50% I'll look to see if the appointments weren't truly qualified or if there is a challenge in presenting and closing skills.
Referrals: Referrals don't just come from happy clients, but good relationships. So they are my indicator as to how well a salesperson is developing relationships and how much the client feels they are there to help vs. make a sale.'
   Angela Ash
Flow SEO | Content Manager
First, the most obvious metric to check on is your company's sales revenues, as this will let you know if your strategies are working, and whether or not you will need to pivot.
Next, it's important to pay attention to the revenue from previous months, so that you can see if you are maintaining or achieving your goals.
Lastly, it's imperative to look at each salesperson's individual numbers to ensure that everyone is puling his or her own weight.
   Terril Fields
Blerd | CEO
We have both a B2B and B2C side of our business.
On the B2B side we mostly look at pipeline creation since we are a startup. This lets us know how much revenue we can potentially expect in the future.
On the B2C side we look at conversion ratios and average spend. Conversions on products let us know what products are the most popular and if our ad spend is being utilized properly. Average spend lets us know the value of each customer and will eventually let us know the lifetime value of each customer.
   Dario Sipos
Expert International | Digital StrategistQuota attainment

Quota attainment. Quota attainment is the percentage of salespeople achieving quota, telling whether quotas are too high or low. When quotas are less than 60% completed, then they are unrealistically defined.
Win rate. Win rate is the percentage of leads that become customers. This metric is useful to calculate how many leads are needed to make revenue. If the win rate is dropping and the quantity of deals is flat or decreasing then something is probably wrong with the process of sales.
Revenue. Revenue is the most important sales activity metric. It is simply how much money was received during a specific window of time, including discounts and returned merchandise/products.
Number of inbound lead submissions: of course on of the most important metric is the amount of leads we get through our inbound marketing machine. I recently contributed to an article on the Databox blog regarding how we increased the quality of these leads. We check this every week, so we can react in time.
MQL to SQL ratio: the next metric would be the MQL to SQL ratio. In our sales process we get a few dozen new leads every day, and usually like 5-6 new SQLs each week. We monthly check these ratio to determine whether we targeted the right audience in the last few weeks.If the ratio is higher, the we did a good job and our campaigns went great, but if it decreases, then we go back and check what did we miss.
SQL to new client ratio: and the last one would be the SQL (our hottest leads) to new client ratio. We often make changes in our marketing campaigns and content strategy, so we A/B test a lot of ideas we get. This usually works out great, but there are a few cases where the audience we bring in isn't as great quality as we'd like to. We check this monthly, too.
Close-ratio from Connect Call to Closed Won.
This one is a no-brainer. How many initial Contact Calls ultimately end up in a Closed Won client. This is a fundamental sales performance metric that we use as a launchpad for digging deeper into potential sales issues. Anywhere between 4% and 9% is a good performance in our organization.
We review this monthly.
Ratio of Lost Unqualified to Lost Qualified.
I like this metric because it helps me understand if we're marketing to, and prospecting the right people. If the number of Lost Unqualified deals increases, meaning that we are learning that a prospect isn't qualified somewhere after the initial Connect Call, then we are wasting our time.
Keeping an eye on this number helps us identify where in the sales process and or marketing process that we need to focus corrective action.
We review this monthly.
Distribution of revenue throughout the sales funnel.
I expect that we each stage along our four-part active deal pipeline should be approximately proportioned so that each stage has double the deal value and number of active deals as the stage after.
If that proportion deviates significantly, specifically if the earlier stages aren't at least double that of the stage after, then I know that I need to dig into the details, because we may be seeing a sales slowdown.
We review this weekly but only take action if we see three weeks in a row of deviation.
   Nicole Suther
Human Marketing | Marketing Manager
It's important to properly measure your sales funnel in order to find which areas need the most improvement. Our team closely monitors the website visit or call to lead conversion rate, the lead to opportunity conversion rate and the opportunity to customer conversion rate.
By looking at these conversions you can see where leads are dropping off and find opportunities to increase conversions.
We also look at average deal size and revenue for each deal to make sure that we are staying profitable with our sales and marketing efforts.
   Bryan Coles
RKD | Client Strategist
 Qualified Leads – We use qualified leads instead of just measuring leads to let us know if our marketing efforts are first, driving leads and second, driving the right leads.
Prospect activity – Tracking calls, email opens, newsletter engagements and returns to the website can give you insight into how engaged and interested a prospect is allowing you to make better follow up decisions.
Close % – Tracking a close %, especially over a long period of time, is a great way to set internal expectations of how many leads it takes to close business and important metric for marketing.
   Kim Garmon Hummel
Sauce Marketing | Chief Growth Strategist
At Sauce, we track:
The number of new leads who continue past the first conversation in order to measure how effectively we are attracting the right prospects. We look at these numbers on a monthly and quarterly basis.
The number of deals we close along with the sale amount. Here, we're measuring how many new leads result in a closed sale and how effectively we're tracking toward our revenue goals.
We look at these numbers on a weekly, monthly and quarterly basis.
Client progress and coaching calls to measure how effectively we're engaging with our customers in a meaningful way. The relationships we have with our clients is that of a strategic partnership. This means as their plans evolve, we work to ensure they stay on track to reach their growth goals and #GrowSmarter!
Primary focus in on the front-end prospecting experience. If you can't engage and convert that activity to X number of booked meetings with target qualified buyers, the rest of the sales process doesn't mean much.
We look at:
How our sales outreach converts to booked sales meetings with target qualified buyers.The focus is on QUALITY not simply the quantity of activity; i.e. emails, phone calls, LinkedIn connections, etc. If 50 emails sent to the right people with the right message leads to 50% of those buyers booking meetings – we believe that's a win.We think it is wasted effort to send 100 emails or make 100 phone calls that lead to zero meetings.Sales is no longer simply a numbers game, it is a quality and value to buyer game. Here we closely monitor the appropriateness of the sales messaging.
Length of time between initial engagement via phone, email or social and a conversation with a target buyer that leads to a booked meeting. We evaluate process, consistency, messaging, sales approach and timing.
Amount of selling time each week. This ties back to whether the quality of activity is leading to booked meetings.Estimates put average sales rep selling time at 14 hours a week. A few reasons why this happens is not enough sales calls are being booked, which means the default is to scurry into more activity already not working, their prospecting process is inconsistent and/or too much admin work and data entry is being expected of reps when their job is to SELL!
At IRC we operate remote sales forces where we provide strategy, training, and everything in between, so for us it's especially important to track:
Contact Attempts – The number of phone call or email attempts a rep makes per day. This shows us the amount of effort each rep is putting into revenue-generating activities.
Connections – The number of times per day a sales rep connects with a prospect or customer. This goes a step further than measuring effort and tells us how many "real" sales opportunities a rep is presenting themselves with per day.
Follow-up Task Completion % – Proper follow-up procedure is incredibly important to sales success, so our sales reps have follow-ups scheduled after each interaction with a rep. This metric tells us how well our reps are sticking to that schedule and following up on time (for follow-ups that aren't automated).
   Aristide Basque
SH1FT | Co-Founder
We focus on lead source to close ratio, average sales revenue per lead source as well as lead source to contact ratio. Our goal with the first metric is to see if a lead source brings better quality leads to focus on that, it's really important to focus on your best channels.
The second metric does the same thing, we can track how much we are willing to spend per lead for our paid traffic afterward.
The last metric is one we really like because we know that if someone answers us, it's a good step towards the right direction. This client might not work with us right now, but maybe later.
   Andrea Loubier
Mailbird | CEO and Founder
One of the most important things you can monitor on your sales reports is where the lead originated, so that you can continue to promote that lead strategy.
Secondly, we always make a real effort to keep on top of whether the revenue is coming from inbound or outbound sales. Again, this can help us to see where to place our efforts when it comes to advertising and marketing.
Lastly, it's imperative to ensure that the sales goals are being met. We like to keep an active comparison not only with previous months, but with that same month the previous year. Different seasons can place a real impact on sales, so we want to ensure that we work that into our decision-making process.
   Alexandra Zamolo
Beekeeper | Head of Content Marketing
When looking at our sales activity metrics, there are several that we place at the top of the chart.
Marketing – we need to stay on the pulse of our marketing efforts to make sure that they are transferring into sales. Even if we are reaching a growing number of leads, it doesn't matter too much if they aren't converting to sales.
The Bottom Line – Are our sales and marketing efforts financially less than the sales revenue itself? Not just as whole, but we try to keep a close watch on every dollar spent into each individual sale to ensure that we are implementing the best strategies.
Online Sales – Another very important metric is sales generated from our website. How many people are ordering online after they visit our site? This can help us to take a closer look at our site design and user-friendly rankings, so that we can make changes when needed.
   Andrew Ruditser
MAXBURST, Inc. | Co-Founder & Lead Technology Coordinator
The top 3 sales activity metrics that we measure are:
The overall time spent selling across all activity stages
Pipeline leads coverage to measure the amount of built up opportunities
Total monthly sales made for quota tracking and expectations
   Jenny Kelley
Kiwi Creative | Client Services Director
Number of new deals, number of closed deals, conversion rate.
Conversion Rates by Funnel Stage.
Results, results, results.
Use Software to Measure Sales Activity Performance
There are a lot of different sales metrics businesses can measure to make sure that they're staying ahead of the game with their customers. Unfortunately, tracking all of those different numbers at once can be complicated if you don't have the right tools.
With sales intelligence and sales activity performance tools from companies like SPOTIO, it's easier for business owners to generate insightful reports on the steps that your teams are taking to enhance your bottom line and deliver new opportunities.
With the right software, you can track down new chances for sales and determine where the potential bottlenecks are in your sales strategy, so you can improve your chances of future conversions.
_____
SPOTIO is the #1 field sales engagement software that will increase revenue, maximize profitability, and boost sales productivity.
Want to see a product demonstration? Click here to see how SPOTIO can take your sales game to the next level.