To succeed in sales management, you have to become intimately familiar with the many sales manager reports you'll be required to run and deliver.
While these reports may seem like a burden, they're actually very important! With them, you'll gain a deeper understanding of your ideal customers, help coach your reps to become better sellers, and steer your department in the right direction.
So, in this article, we'll explain what a sales management report is, how they help management professionals like yourself, and the nine most important report types.
What is a Sales Management Report?
A sales management report is a document that summarizes a sales department's activities and analyzes the success (or not) of each one.
The information your sales manager reports contain are essential to the success of your company. Why? Because they'll make it easy for you to evaluate the effectiveness of your sales strategy and the performance of your reps.
You can then use this information to either change your approach or double down on winning tactics, boosting your department's sales numbers in the process.
How Do Sales Reports Help Managers?
We've alluded to the benefits of sales management reporting. But let's dig deeper into these advantages, because there are a few really important ones.
Time Management: First, your sales reports will help you understand how your reps spend their time. What activities are they completing?
Productivity: Second, your sales reports will help you improve team productivity. Which tasks slow your team down?
Sales Numbers: Third, your sales reports will tell you if your reps' activities are translating into actual sales for your company.
The information in your sales reports will give you a full and detailed picture of your sales department. Without it, you won't be able to make the right decisions for your team and you could end up leading your reps down the wrong path.
9 Important Sales Manager Reports
Now that we've covered what sales management reports are and why they're important, let's talk about the nine most important types of reports.
Sales activity report
The sales activity report tracks sales rep effort.
How many visits have they made in the past week? How many calls did they make over that same period of time? Are they regularly emailing and texting prospects? Are they deploying follow-up and social selling strategies?
Your sales activity reports should include non-revenue generating, but still important, activities, too. Have your reps been updating CRM records?
Once you have access to sales activity data, you can better determine why your reps achieve the results they do. Is it because of poor effort or bad training? When you know the answer, you can make the necessary improvements.
Leads created report
If your reps aren't engaging new leads on a regular basis, there's very little chance your company will grow. That's why your leads created reports are vital.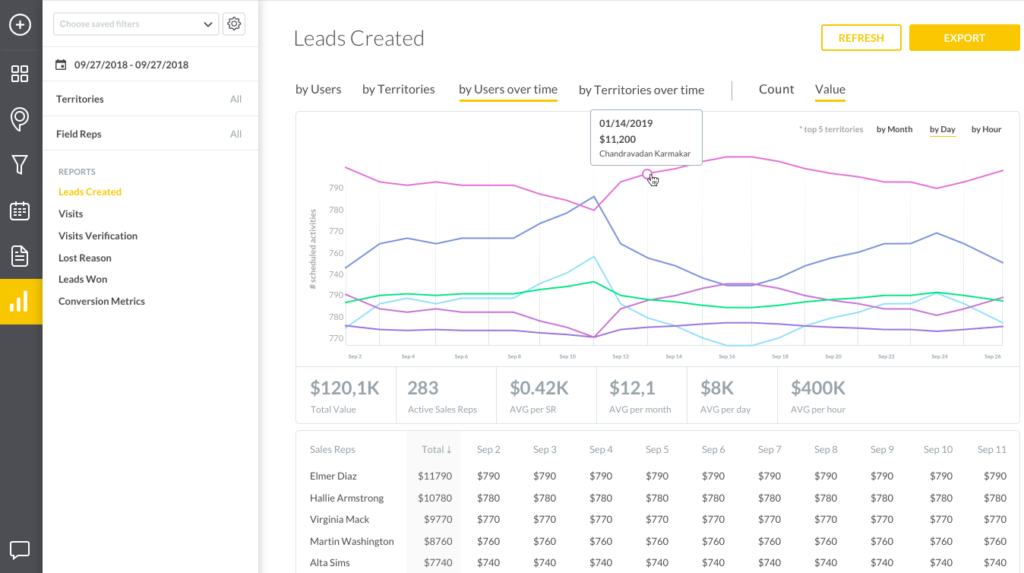 We suggest segmenting your reports by reps, teams, and territories. That way you learn exactly what's happening and where. Which reps bring in the most qualified leads? What territories do they work in? Is there a correlation between the two?
If you don't like what your leads created reports tell you, consider using SPOTIO's Lead Machine. With it, your reps will be able to quickly find potential leads, then weed out bad fits using 200+ filters.
Sales pipeline report
How's your sales pipeline doing? You won't really know until you run (and analyze!) the sales pipeline report for your department.
Think of your sales pipeline report as a visual representation of your sales process. As such, this report will show you how many leads, opportunities, and deals your reps have generated, helping you gauge the overall performance of your team.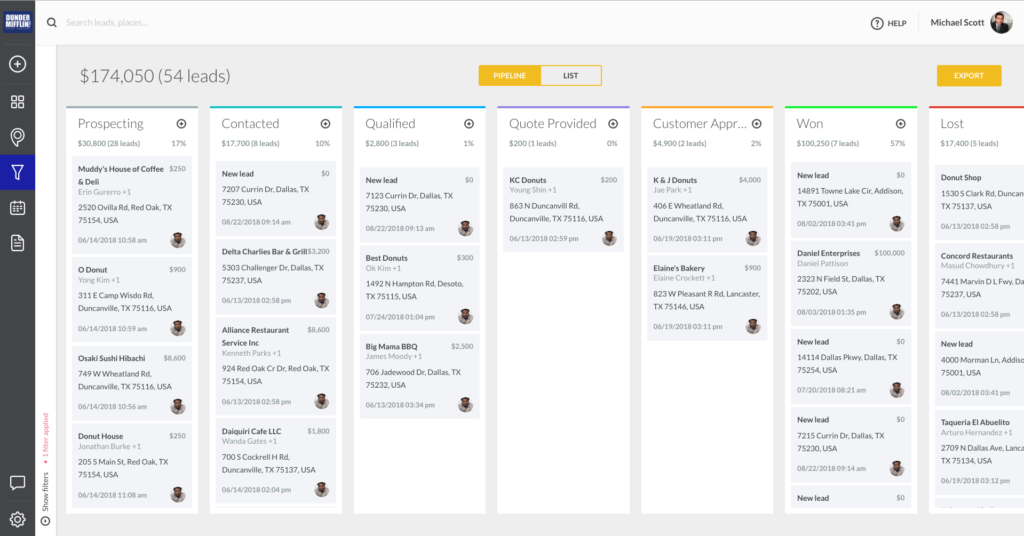 This is especially true in terms of conversion metrics. Analyze them at each stage of your funnel. That way you can spot minor issues before they become major ones.
For example, if you have a lot of leads, but very few opportunities, you might need to work on lead targeting. If your opportunity-to-win ratio is less than ideal, you might have a training issue on your hands.
In a nutshell, the data in your sales pipeline reports will help you understand the best ways to reach new prospects and close deals. You can use this important information to adjust your department's sales strategies and achieve more success.
Revenue by sales rep report
The best sales managers always know who their top sellers are. How do you learn this information? Simple: you run a revenue by sales rep report.
This report will help you determine which of your reps are underperforming. You can then coach them to better results. It will also help you see which of your reps totally crush quota. You can then put them in the most high-value situations.
Of course, there are other KPIs to factor in when determining sales rep performance—activities performed, number of deals closed, etc. But at the end of the day, revenue matters most, which is why this report is critical.
Revenue by territory report
The revenue by territory report is similar to the revenue by sales rep report we discussed above. But instead of evaluating the performance of individual reps on your team, you evaluate the performance of the territories your reps cover.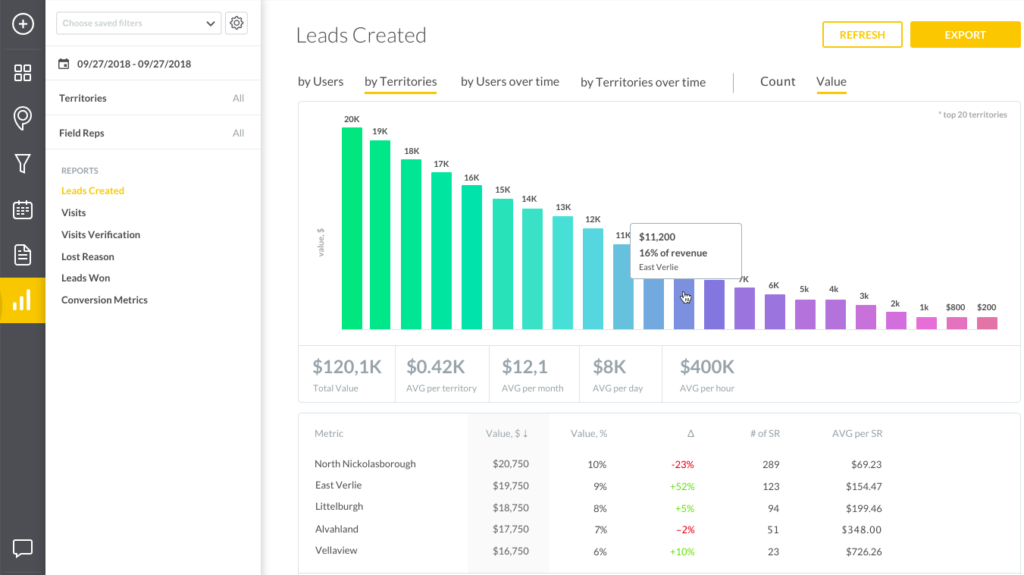 Why does this sales manager report matter? Because it will help you answer the question, "Which territories are most beneficial to my company?"
When you know the answer to this query, you can act accordingly. For example, you might decide to send an extra rep to your top performing territory. That way you can generate more sales in less time.
Sales conversion report
Earlier, we talked about sales activities. As a sales manager, you need to understand what your reps do on a daily basis. Knowledge of their activities will help you determine who needs to be motivated, who needs more training, etc.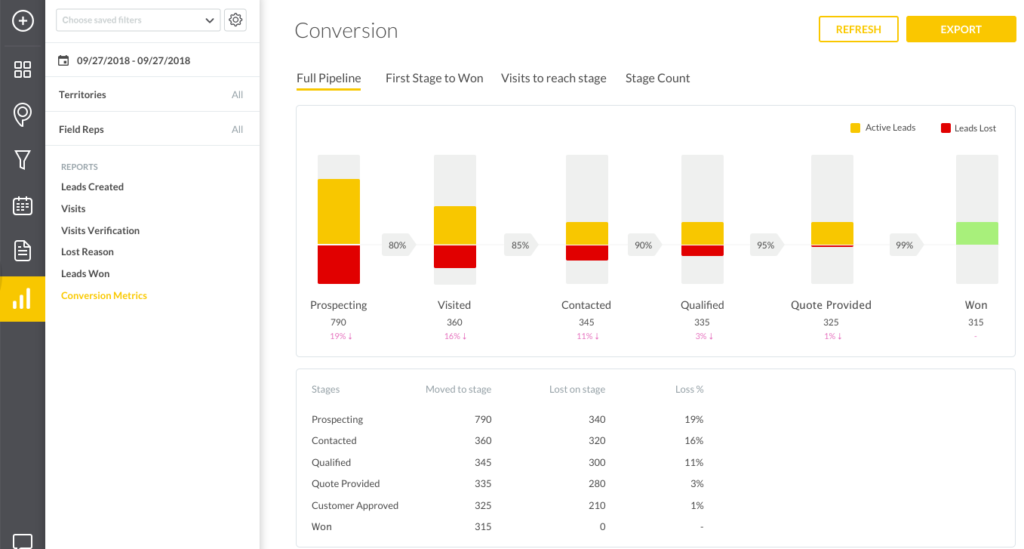 But here's the thing: sales activities are only beneficial if they produce sales. So make sure you run a sales conversion report for your department, too!
Your sales conversion report will tell you how often your reps close deals.
For example, Jack calls 50 prospects a day, while Mary only calls 25. But Jack's conversion rate is just 20%, which means he only converts 10 of the prospects he contacts. Mary, on the other hand, has a 40% conversion rate. So, even though she contacts fewer people, she makes just as many sales as Jack does.
With these details, you can talk to Mary and learn how she converts so many leads. You can then coach Jack and help him boost his conversion rate.
Win-loss report
Your win-loss report will tell you how many sales opportunities turned into actual sales—or not. Obviously, the higher your company's win rate is, the better.
Study your win-loss report closely. If you're happy with the numbers, double down on your sales approach. If the numbers make you sick to your stomach, take action. Change your sales strategies immediately to try and boost your team's win rate.
Average deal size report
Your average deal size report will tell you how much revenue, on average, your company generates when it closes a new deal.
Knowing your team's average deal size will make it much easier for you to predict future performance. For instance, if you want to generate $100k of new business this month, and your average deal is $10k, you know you need to close 10 deals.
You can also use the details in your average deal size reports to set appropriate quotas for your reps and help gauge their performance.
Sales leaderboard report
As a sales manager, you know how competitive sales can be. Use this to your advantage by running a sales leaderboard report!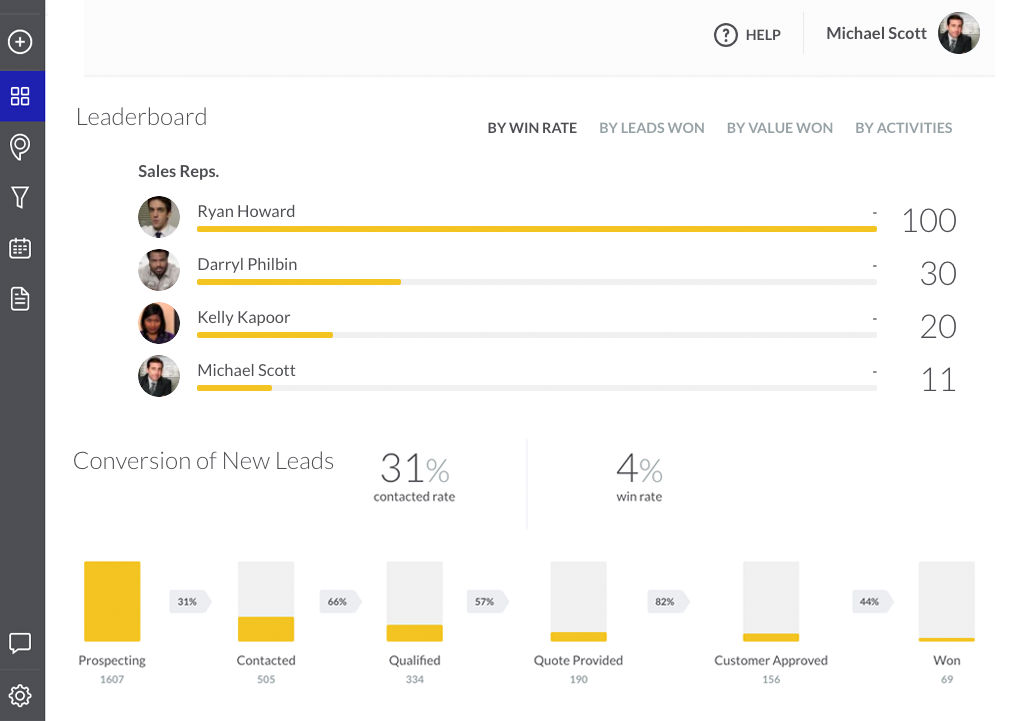 A sales leaderboard report will track the performance of each rep, then rank them from first to last. By distributing this report to your sales reps, you can stimulate friendly competition and, hopefully, help your team achieve more.
SPOTIO's Leaderboards feature is the perfect tool for this. Easily track rep performance based on specific sales metrics of your choosing. Then display them for all to see. If you want, you can even use Leaderboards to run competitions!
Introducing "My Reports" – The Data Sales Managers Need, When They Need It
We've covered a lot so far. But one question remains: how do you actually generate the sales management reports we outlined in this article.
Our suggestion: use SPOTIO's new "My Reports" feature.
My Reports enables sales managers to create custom reports inside their SPOTIO accounts, using the metrics and KPIs they care about. In other words, with My Reports, you'll be able to create each of the nine reports mentioned above.
The best part about My Reports is how easy it is to use:
Open SPOTIO on the Web and navigate to the reporting section.
Select "My Reports," then click the gray "New Report" button.
Name your report, then choose a date range and category.
Drag and drop your chosen metrics and KPIs into the report.
Add the appropriate calculations, then save your report.
My Reports is powerful and intuitive, which means you can use it for hard core calculations, but won't have to dedicate an entire afternoon to the task.
Request a free demo of SPOTIO today to see My Reports in action.