Let's be honest, managing a high-performance sales team is hard. Especially when you consider that 57% of sellers missed their sales quotas in 2019. How can anyone be expected to effectively lead a group of sales reps when over half of them are likely to underperform?
Missed quotas aren't even the worst of it. The average annual turnover rate for sales teams is a whopping 35%. Since the cost to replace a departing employee is, in general, 1.5 – 2x their annual salary, turnover gets expensive fast. No wonder upper management is always trying to raise sales quotas. 
Now, we're not trying to discourage you. We simply want to give you a clear understanding of the situation so that you can better prepare yourself for success as a sales team manager. Success is 100% possible. You just have to follow a few proven team management strategies.
Whether you manage an inside or outside sales team, improving your sales management process is the most critical step to increasing rep satisfaction, improving performance, and growing company revenue.
In this guide, we'll look at 19 sales team management strategies you can use to win at sales and propel your company forward in 2020 and beyond.
19 Sales Team Management Strategies to Follow in 2020
Ready to improve your sales  team management skills? Then follow the 19 strategies listed below. Let's dive in!
1. Set Sales Goals
Setting proper sales goals is an art. You want them to be ambitious enough to stretch your sales team and ensure they give you their best effort. But you also need them to be realistically attainable so that your reps don't continually miss quotas and get discouraged.
To find the perfect balance, set S.M.A.R.T. goals, an acronym that stands for Specific, Measurable, Attainable, Relevant, and Timely.
Specific: The more specific your goals are the better. This will give you and your team a tangible target to shoot for.

Measurable: Make sure the goals you set are easily trackable. That way you can gauge progress along the way.

Attainable: Like we mentioned, goals that are too ambitious will discourage your employees, which is definitely not what you want when managing a sales team.

Relevant: Don't simply choose goals at random. Aim for targets that are relevant to your company's overall objectives.

Timely: Lastly, goals without deadlines rarely get achieved. Make sure everything you aim for has a desired due date.
Set S.M.A.R.T goals for your sales team and you'll have more success managing salespeople.

2. Clarify Your Sales Model
There are two main sales models to choose from: the island and the assembly line. Let's look at each one in greater detail:
1. The Island: This is the traditional approach to sales where every salesperson on the team is responsible for each aspect of the sales process. They generate their own leads, make their own sales calls, close their own deals, etc. It's an easy model to implement and manage because there aren't a lot of moving parts to worry about.
2. The Assembly Line: The assembly line method splits sales duties between four different groups. There's the lead gen team, sales development reps, account executives, and customer success associates. Each group deals with leads and customers at different stages of the buyer's journey.
Both models described above can be effective. The one you choose for your organization largely depends on what phase your business is in. For example, the island method generally works better for startups, but the assembly line methodology is generally ideal for established brands.
3. Assign Clear Roles and Responsibilities
Everyone on your team should know exactly what their role is. If they don't, you can't possibly expect them to consistently achieve objectives. The trick is doling out responsibilities that correlate with personal skill sets. This is much easier if your company is using the assembly line sales model, described above.
For example, you might manage an employee who is dynamite when it comes to generating leads, but crumbles like a cookie any time he has to actually talk with a potential customer. This person should be asked to join the leads gen team and allowed to focus on what he does best.
Do your best to assign tasks and responsibilities to those who have the best chance of completing them successfully.
4. Create a Scalable Sales Process
One of the keys to managing a sales team effectively is creating systems and processes that can scale. By implementing a systematic approach, you'll enable your sales team to work more efficiently and increase margins.
Your sales process should be customer-centric, clearly defined, repeatable, predictable, goal-oriented, and measurable.
Develop a sales system that every one of your sales reps can follow. That way, when new reps join your company and are onboarded , they can immediately begin selling at a high level.
5. Configure an Onboarding Plan
Since we just mentioned it, let's talk about onboarding.
Onboarding is the process of integrating a new employee into a company. It includes all of the legal paperwork that must be signed, any training a new team member needs to go through, introductions to other employees within the organization, and more.
To improve your sales team management skills, configure a consistent onboarding plan for all new sales. Make sure it trains them properly and teaches them the scalable sales process you've implemented.
Lastly, look for ways to improve your onboarding the process. The easier it is for new reps to become comfortable selling your company's products, the more success your team will have.
6. Set up a Sales CRM
Unfortunately, most salespeople only spend 35% of their time selling. Which means your sales team is probably spending two thirds of its time on tasks that don't directly relate to selling products and boosting revenue.
A good sales CRM can help your team win back a significant portion of their day — especially if you invest in one with automation capabilities. Sometimes sales team management comes down to simply providing your reps with the tools they need to succeed.
7. Identify Activity Metrics and KPIs
So many things in business are out of our control. For example, we don't decide what the next big trend is or when natural disasters happen. If we did, trends would hardly ever change and hurricanes wouldn't exist.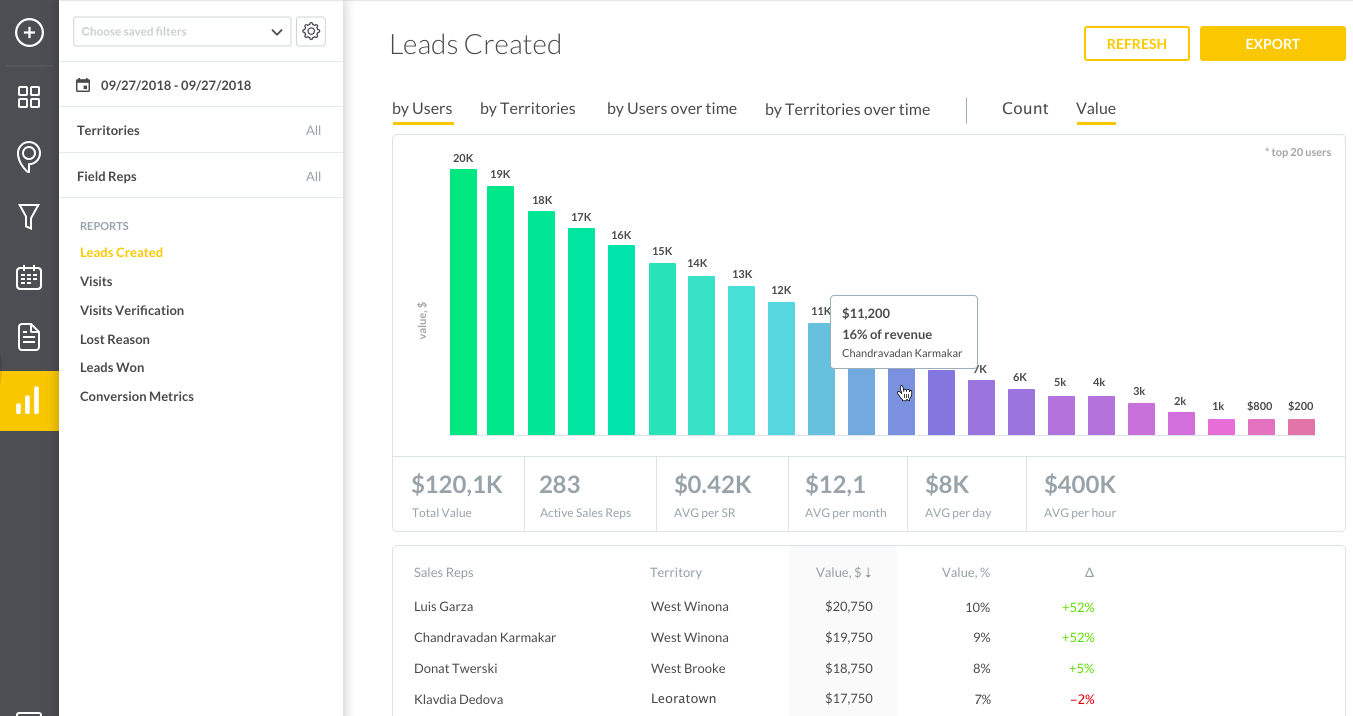 Sales activity metrics measure things that we can control. In most circumstances, we decide how many cold calls to make a day, the number of times we're willing to follow up with prospects, etc. When managing sales reps, it's important to take notice of these figures.
Track sales activity metrics like the number of leads created, number of calls made, and meetings scheduled for each of your reps, as well as standard KPIs.
8. Create Transparency
Marketing teams often talk about the need to be transparent with customers. As a sales team manager, you need to be transparent too — with your sales team.

Craft a selling environment that's focused on the key sales metrics you've identified for your company and allows the natural competitiveness of your team to work for the common good of your company. In other words, make each team member's sales numbers visible and allow them to compete with each other for top seller honors.
9. Confirm Commission Structures
There are many different ways to compensate your sales team. Should you pay them a base salary + commissions or commissions only? Should they make higher commissions for selling specific numbers of products? And what about residual and variable-rate commissions?
There is no one size fits all approach to sales team compensation. The key is finding the right commission structure for your specific organization. Study the different structures out there. Then choose one that fits your company's needs.

10. Incentivize Your Team
A commission is a percentage of a sale, awarded to the salesperson who closed the deal. For example, a $25 commission would be given to a seller everytime he or she sells a product worth $500 at a 5% commission.
An incentive, on the other hand, is a reward of some kind, granted to a salesperson who achieves some predetermined level of excellence. Incentives are used to motivate sellers.
When managing a sales team, part of your job is to motivate them to work as hard as they can. That's why incentives are so powerful. Choose an incentive plan for your team that will get them excited and want to put in extra effort.
11. Use the Volume-Versus-Value Ratio
The volume-versus-value ratio will help your sales team become more efficient. To implement it, task your top sellers with the lowest volume/most important jobs, such as building relationships and securing referrals. Then assign your lower performing sales reps with high volume/low pressure activities like generating leads.
This philosophy can also be applied to prospecting. Rather than trying to build giant lists of so-so leads, focus on finding ultra-targeted prospects who have a high probability of buying.
12. Assign Territories Strategically
Territory assignment is an important sales team management skill. You need to make sure your sales rep's territories don't overlap, that each rep has enough accounts to work, and that your top sellers are given the highest value areas.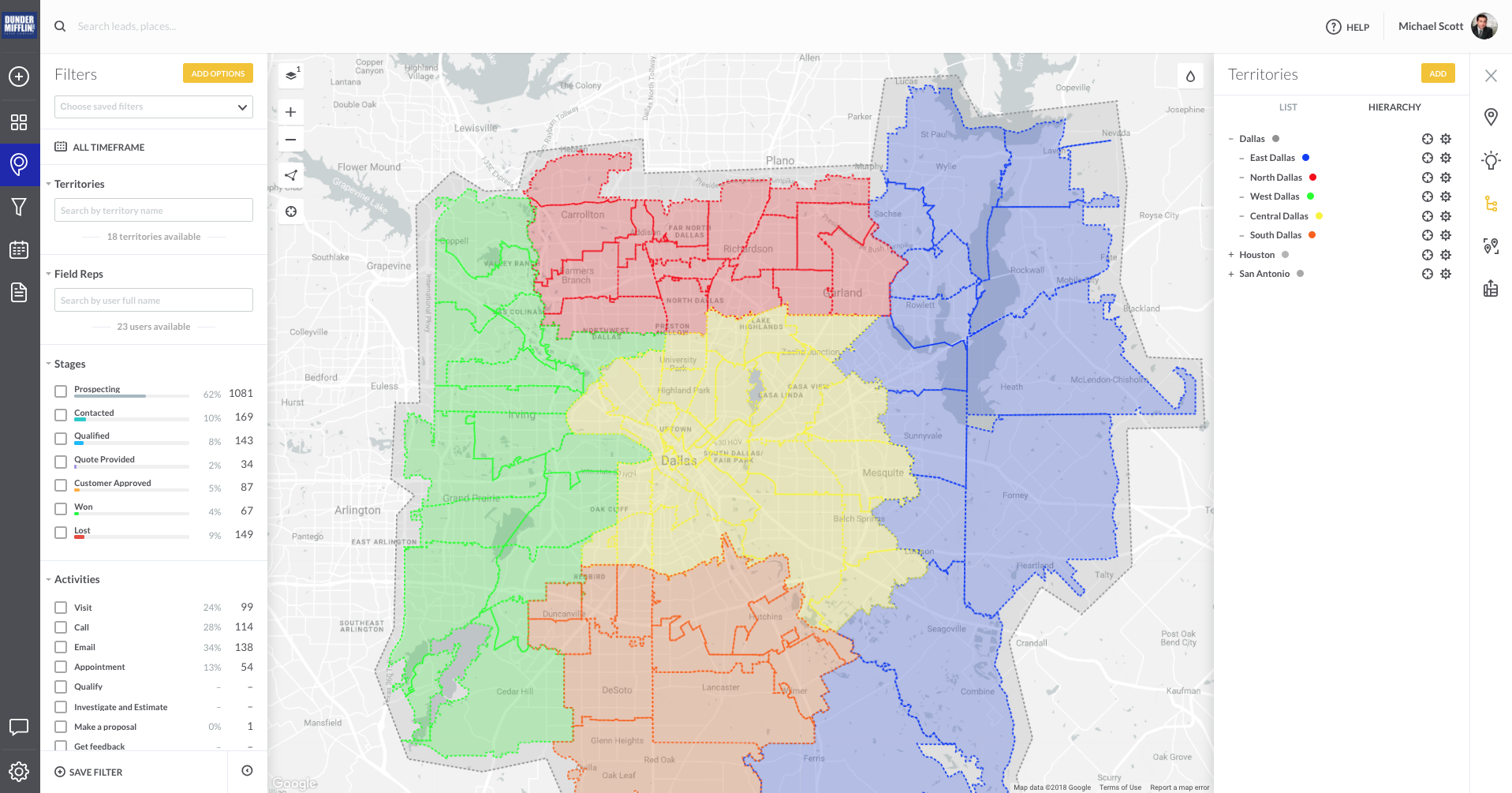 A tool like SPOTIO can help with this. The solution's territory management software will help assign sales territories effectively and boost results.

13. Empower Reps With Data
Data is the lifeblood of modern business. If your sales team doesn't have the ability to source up-to-date information for each and every lead they generate, they'll waste a lot of time.
SPOTIO's Lead Machine feature ensures this doesn't happen by giving sales reps the ability to tap into 50+ data points for their prospects instantaneously. This means that they only focus on high-value prospects with the greatest chance of becoming paying customers.
Succeed at sales team management by giving your reps the ability to quickly sort leads via income, credit capacity, age of home, and more.
14. Enable Cross-Training
One of the best ways to train new and/or struggling sales reps is to pair them with a top seller in your company. That way under performers can see, first hand, how to succeed at their jobs.
You do have to be careful with this sales team management strategy as not every sales master is interested in mentoring others. We don't suggest forcing your sales reps into mentorship roles. But if you find a few willing participants, take advantage of the opportunity.
15. Set up One-On-Ones
One-on-one meetings are the secret weapon for all management professionals. They will allow you to build solid relationships with your employees, get a general feel for team morale, provide constructive feedback, and learn new insights you can use to improve your sales processes.
Be sure to prioritize these get-togethers. It can be easy to shrug them off because of a busy schedule, but this is a mistake. Meet regularly with your team and watch your success soar.
16. Give Reps Detailed Feedback
As we just mentioned, one-on-one meetings are the perfect time to deliver feedback to your sales reps. Just make sure you're doing it the right way.
Feedback should be constructive and detailed. Tell your employees what they're doing right and where they can improve. As long as you're delivering criticism in a respectful way, your team will appreciate your candor. In fact, 65% of employees wish they received more feedback.
17. Invest in Ongoing Training
If the only training your reps receive is during the onboarding process, your sales team management approach needs work. Training should be an ongoing process.
Fortunately, there are plenty of ways to train your employees. You could, for example, send them to sales conferences, invest in sales training courses, and invite notable sales experts to come to your office and speak to your team.
You could also take a more DIY approach and ask your top sellers to share key strategies they've been using during lunch breaks.
18. Establish Communication Channels
Communication is key to sales team management success. If you can't contact your reps, or worse, they can't contact you, your company will fail to close as many deals as it could. Make sure your team has multiple channels to get in touch with you, from any device — even if they happen to be attending sales meetings in the field.
19. Prioritize Team Retention
Finally, if you want to retain your staff (trust us, you do!) then you need to make retention a priority. Fortunately, implementing the strategies listed above will do a lot of the heavy lifting for you in this regard.
Employees want to work at successful companies where they feel appreciated and engaged in their duties. By giving your team every chance to succeed, providing them with training opportunities, and giving them regular feedback, you'll create an environment they enjoy being a part of.
But if you're looking for bonus ways to retain sales reps, consider offering retention rewards for employees who stay for multiple years or giving your top sellers more autonomy.
How to Choose the Right Sales Management Platform
It will be much easier to implement the sales team management strategies listed above if you use a sales management platform. Make sure the solution you use allows you to:
Prospect Smarter
Have you ever spent time researching a lead, only to call them and realize that what your company offers isn't of any interest to them? All sellers have experienced this. Save your sales team time by empowering them to prospect smarter.
A tool like SPOTIO with its sales intelligence software will allow your reps to quickly and easily generate lists of warm prospects who are ready to buy.
Empower Your Reps with Sales Collateral
Want to know the key to  managing a successful sales team? Put your reps in a position to succeed. That's the secret! One of the best ways to do this is giving them access to sales enablement collateral.  We're talking about customer maps, pre-recorded sales presentations, contracts that can be signed electronically… Anything that can help your sales team close more deals in less time.
The sales management platform you choose for your company should make it easy to empower your reps with sales collateral.
Get Visibility at Rep and Team Levels
The best sales management platforms provide complete transparency and allow sales team managers to see, at a glance, how close each of their reps are to hitting their quotas. They also enable management to view their entire team at once and assess general effectiveness. This information can then be used to adjust strategy if need be.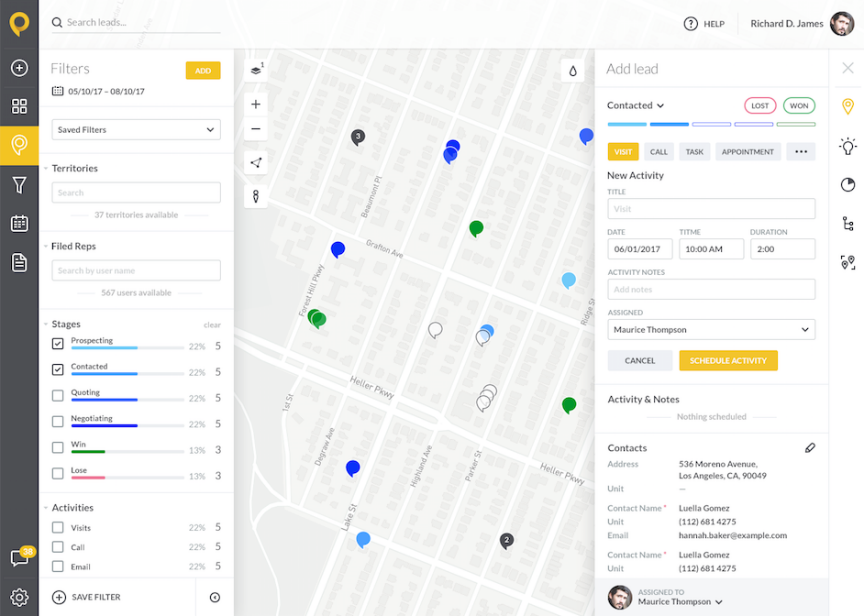 Assign Sales Territories
Do you manage outside sales reps? Then you know all about territory mapping. The sales management platform you use should allow you to easily assign sales territories to each member of your sales team.
The SPOTIO solution has been proven to save field sales rep management professionals up to three hours a day because it makes territory management so simple. Make sure the software you use when managing a sales team is just as intuitive.
Spot Pipeline Bottlenecks
It's important to track your company's sales pipeline and ensure it's free of bottlenecks. This is much easier to do with an intuitive sales management platform.
This kind of tool will usually feature CRM capabilities that will enable you to analyze customer journeys and remove common roadblocks, thus increasing sales. It will also allow you and your team to easily catalog new leads and classify them appropriately. 
Communicate With Reps
Sales is all about communication. Your reps need to properly communicate product information to their potential clients and you, as the sales team manager, need to clearly communicate goals, feedback, and praise to your team in order for them to improve and enjoy their jobs.
Choose a sales management platform that allows for quick communication between you and your sales team. If possible, choose an app that's also accessible on mobile devices so any outside sales associates on your team can contact you at any time.
Be the Sales Manager You Wish You Had
Managing sales people isn't an easy task. Fortunately, the 19 sales team management strategies listed above will help you do it effectively. We encourage you to read back through this guide and begin implementing the strategies that make sense for your organization.
And don't forget to invest in a proper sales management platform! If you're not sure which solution is right for your company, request a free demo of SPOTIO. Our solution is powerful, affordable, and loved by our many users.
______
Questions or comments? Contact SPOTIO at [email protected] or comment below.
SPOTIO is the #1 field sales acceleration and performance management software that will increase revenue, maximize profitability, and boost sales productivity.
Want to see a product demonstration? Click here to see how SPOTIO can take your sales game to the next level.