Looking for a set of tools to boost your sales productivity?
Between prospecting and cold outreach, data entry, disorganization, and getting stuck in the inbox, sales productivity is hard to come by.
The struggle isn't just in our heads, either–reps lose countless hours to activities with little connection to actual selling.
Here are a few grim statistics that back this up:
Reps spend just 35% of their time selling. The rest of that time is spent on email and other administrative tasks.
Sellers lose 30 hours a month, on average, searching for sales collateral and creating their own when they can't find what they're looking for. That's 15 full days every year.
81% of reps believe that it's important to have a connected view of the entire buyer's journey. In fact, high-performing teams are more than twice as likely to have a connected view of all customer data than underperformers. Yet, less than half of businesses report having fully-integrated systems. (Source)
The point is that salespeople waste a lot of time clicking around aimlessly, performing fruitless search missions, or failing to meet buyer expectations.
But–technology can help.
In this article, we'll look at the top sales productivity tools to streamline the sales stack and help reps spend more time where they're needed.
How Can Tools Help Maximize Sales Productivity?
Organizations can boost sales productivity by focusing on two main categories: efficiency and effectiveness. At a basic level, productivity boils down to spending more time on sales activities with the greatest impact on the top line.
Here's a quick look at what each term means within the context of sales productivity.
Efficiency. Sales efficiency refers to how well you maximize your resources–be it time or money. You might use technology that can eliminate low-value activities like data entry, double work, or time-spent in the CRM or your Gmail account to improve efficiency. Here, things like integration, automation, and a single view of all data help reps move faster and focus on what counts.
Effectiveness. While efficiency is about how you allocate resources, effectiveness is about how well you use those resources to reach your goals–often, that means the application of skills. So, for example, if you've improved efficiency by making 40 more calls each week. An effective seller might convert 15 of those prospects, while a less effective seller might only close five.
Increasing effectiveness with technology starts with great reporting tools and a connected view of employee performance, communication records, engagement, and revenue metrics.
In this next section, we'll look at 14 sales productivity tools that cover both efficiency and effectiveness.
14 Best Sales Productivity Tools
SPOTIO
SPOTIO is a multichannel sales engagement platform designed for field sales teams. Our app helps reps stay organized and connected on-the-go, and includes the following features that have helped 1,500+ outside sales teams boost productivity.
How SPOTIO helps increase sales productivity:
Advanced Prospecting: There's no shortage of prospecting tools on the market, but most are built specifically for inside teams. Our sales intelligence feature brings next-level prospecting to the field.
Users can tap businesses on a map and pull up contact info from Google Places, search by business type, and use 50+ data points and 200+ filters to quickly qualify the best prospects in their territory.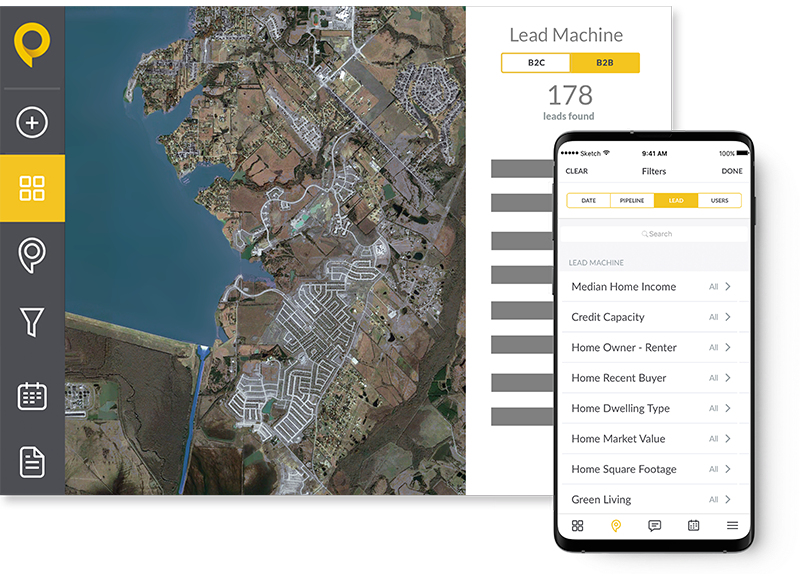 Route Planning: SPOTIO's built-in route planning software eliminates the need for sellers to map out their own stops and automatically optimizes routes to maximize efficiency. Sellers can plan their day and route all stops in a single tap.
Additionally, we're adding an automated mileage tracking feature that stands to save even more time by integrating with other expense tools —easier reimbursements with less data entry.
Automated Sales Sequences: Managers can quickly build automated multi-channel sales sequences that ensure leads don't slip through the cracks, and help generate new pipeline 24/7.
Territory Management. Our platform's territory management feature makes it easy for sales managers to assign territories, establish clarity around who is working which areas, and prevent rep overlap. This also makes it easier to ensure the top reps are working the highest value territories.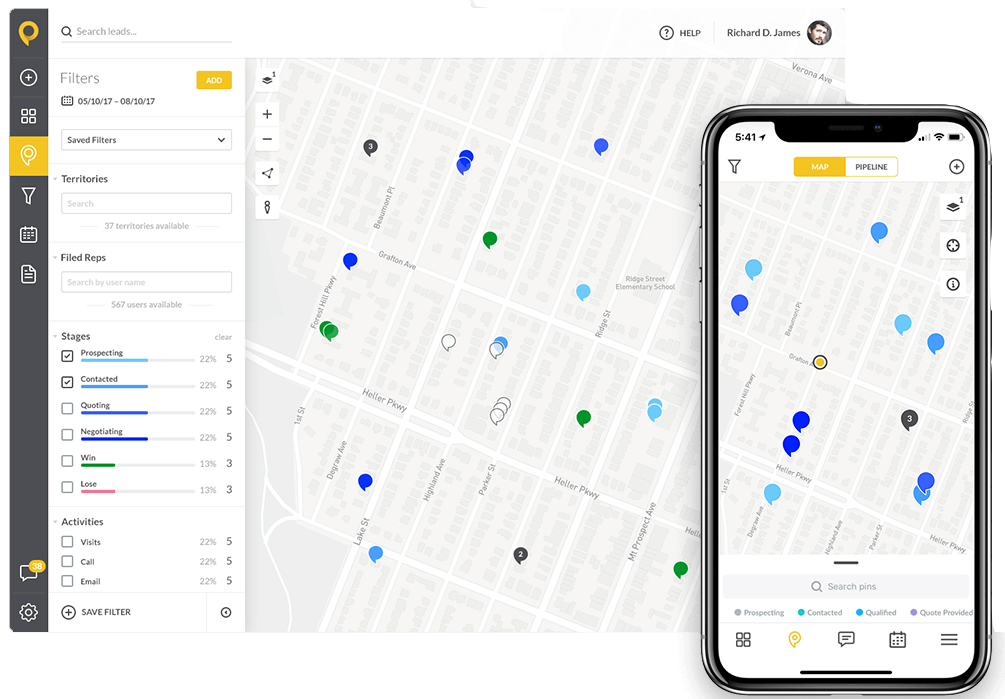 Customer Mapping: Visualize prospects, leads, opportunities and customers on a map to ensure reps are spotting all opportunities and performing the tasks needed to maintain pipeline velocity.
Reporting Tools: Reporting offers visibility into rep performance and activities by territory, allowing sales leaders to make strategic decisions about where to allocate resources and identify opportunities for improvement. SPOTIO's My Reports feature enables sales reps and managers to build custom reports that capture only the most important metrics.
Rep Tracking. Rep tracking allows sales leaders to improve accountability in the field. Use it to review travel paths, find reps in real-time, and gather performance insights—which can be used to optimize routes, deliver training content, map territories, and track performance.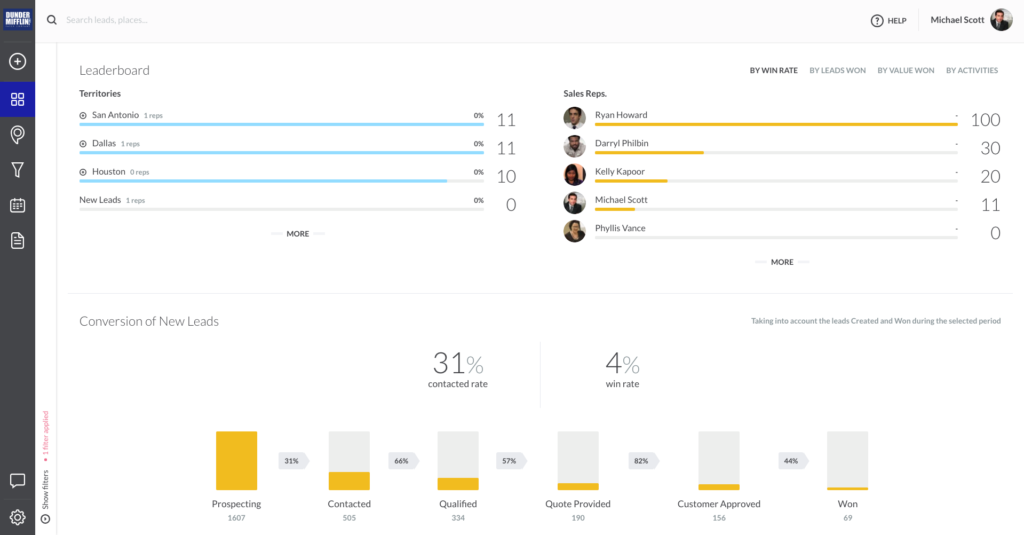 You can also sync data to your CRM, learning management system (LMS), ERP, and other tools.
Activity Tracking. Our activity tracking feature saves reps from data entry and email, while allowing sales managers and operations to gain real-time visibility into reps' activities. Users can capture the data that matters most and intervene before it's too late.
Additionally, managers can create leaderboards that motivate reps through competition and performance incentives.

LinkedIn Sales Navigator
LinkedIn Sales Navigator is one of the best prospecting and social selling tools around. According to LinkedIn, this tool is designed to help reps ID the right prospects and companies faster, track key sales triggers, and engage prospects in one place.
The platform allows users to identify perfect-fit leads using its advanced search feature and provides a wealth of information reps can use to understand prospects and warm up cold outreach efforts.
Key capabilities:
Lead recommendations. LinkedIn surfaces prospects that match your ideal customer profile as well as other decision-makers from your target accounts.
Smart Links. Smart Links allows users to share and present content to prospects who can access multimedia files without downloading.
TeamLink. The TeamLink feature is designed to help reps leverage their company network to find the best way to reach prospects–for instance, if one of your colleagues is a mutual connection, you might ask for an introduction.
Notes & tags. This feature allows you to organize leads via LinkedIn with custom tags and notes that sync to your CRM.
SellHack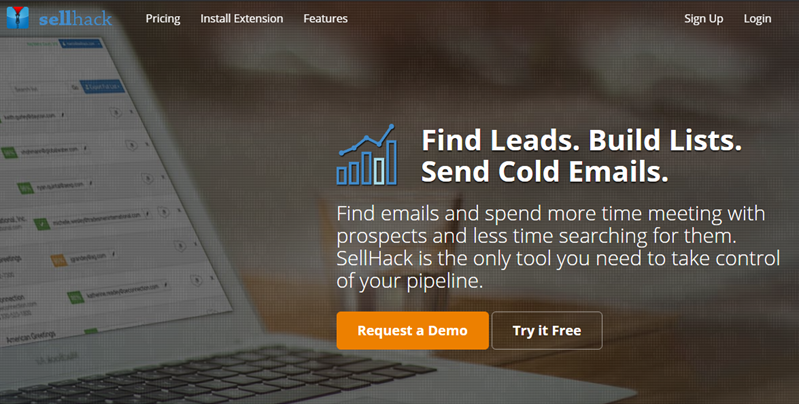 SellHack is a prospecting tool designed to help teams build lead lists, find & verify emails, and sync contact emails to your SalesForce account.
For sales teams, SellHack eliminates manual data entry associated with prospecting. It offers a Chrome extension that allows you to build customized prospect lists as you browse the web automatically.
At the same time, the platform's comprehensive verification algorithm ensures you have the right email before syncing data to the CRM.
SellHack supports lead generation, paid search & social campaigns, and content marketing, too.
Marketing teams can use the tool to create Custom Audiences on Google, Twitter, and Facebook using email addresses from sales' top prospects to increase the effectiveness of retargeting campaign conversion rates.
Zoominfo
Zoominfo is a sales intelligence tool/comprehensive business database that serves up actionable insights and provides a 360-degree view of your existing customers, prospects, and opportunities.
This platform supports a whole host of data-driven use cases–from warming up cold emails to targeting the right leads and improving lead qualification criteria.
Users can:
Quickly find up-to-date contact details for prospects
Identify decision-makers
Receive detailed org charts that breakdown internal hierarchy within a company
DataFox
(Source)
DataFox is another intelligence platform that makes business data accessible to sales organizations. However, while Zoominfo is more about uncovering contact info, DataFox aims to help you narrow in on the data you need to create accurate ideal customer profiles (ICPs), personalize outreach, and verify critical sales data.
Key capabilities:
Data enrichment. The platform allows users to enrich prospect & customer records with firmographics and sales triggers–allowing for improved personalization & persona segmentation.
Intelligent anomaly detection. DataFox also offers machine learning anomaly detection and human validation–which together, ensure data accuracy and integrity no matter how many opportunities are in your pipeline.
Real-time signal data. DataFox allows users to track real-time signal data on your target companies across 68 data points–this way, you can use news items and company milestones for more relevant outreach.
CRM data cleanup. DataFox's CRM cleanup makes it easy for users to spot inconsistencies, get rid of duplicates, map org charts, and update your CRM with accurate insights.
Right Inbox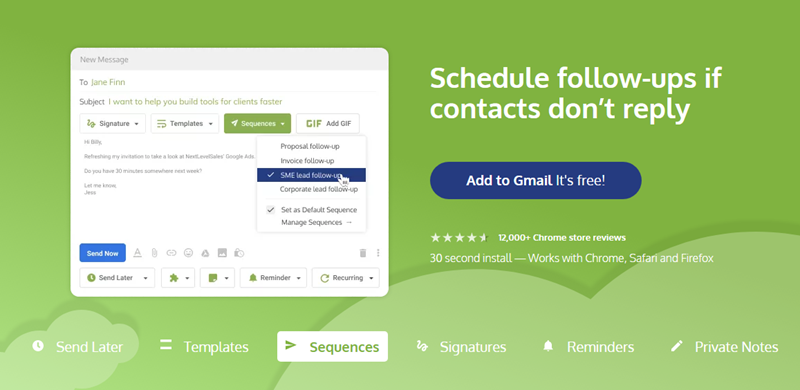 Right Inbox is a free Chrome extension that aims to help users get more from their Gmail account by adding some of the features Google didn't think of. The platform introduces several time-saving upgrades like the ability to schedule emails (and follow-ups)  in advance, create situational email signatures, save reusable templates, and add contextual notes only you can see.
Additionally, you can sync conversations to the CRM, track opens & clicks, and scale your cold outreach with mail merge.
AirCall
Aircall allows reps to manage all communication workflows from the CRM, eliminating manual call logging, streamlining dialing, recording, and automating post-call follow-up activities that don't generate revenue.
Aircall is packed with features that tackle broad categories like phone system management, collaboration, and productivity.
Notable features include:
Shared call inbox. Accounts come with a complete historic record of all calls requiring follow-ups or some other action–users can quickly archive old calls and revisit outstanding tasks.
Call commenting & assignment. Assign calls to reps and leave a comment to provide context–from there, they'll see the task in their to-do list.
Call whispering. Managers can listen in on reps' calls and secretly speak to them during live calls–offering advice and coaching in real-time.
Call analytics. Track missed calls, outgoing calls, wait time, and other key metrics that impact your bottom line.
Dooly
Dooly is an AI platform designed to speed up your workflow and eliminate admin tasks. No more ad hoc content that puts your brand at risk, no more time-sucking searches through your company's shared files, and most importantly–no more deals lost due to slow response times.
Dooly's main selling points include:
Automated data entry. It automatically syncs all notes, tasks, activities, and opportunities back to Salesforce without human intervention.
AI surfaces relevant content. Dooly automatically serves up sales and marketing content to reps based on context.
Guided selling. Dooly analyzes call logs and notes, then surfaces real-time insights from customer records, helping reps navigate questions, share insights, and overcome objections.
Zoom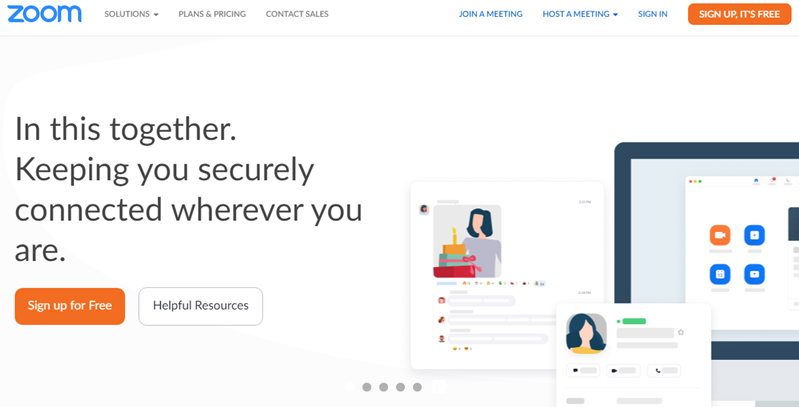 Okay, Zoom more or less runs our lives right now–we use it for happy hours, workouts, and the K-12 education system.
Still, Zoom is an essential sales tool–one that deserves a place on this list for its versatility and quality conferencing experience.
More than a video conferencing app, Zoom allows sellers to connect with prospects and customers in multiple ways–whether that means offering a guided demo via screen share, answering questions through the chat window, or hosting a virtual event.
Collaboration tools. Zoom offers several tools that enhance remote prospect interactions including live screen sharing, call recording, and in-app messaging & content sharing.
Syncs with existing tools. Zoom integrates with Gmail and Outlook calendars as well as Salesforce, Slack, and the entire G Suite–along with many others. Install the Zoom Scheduler Extension for faster scheduling.
Waiting room. Zoom's Waiting Room feature gives hosts control over when participants can join a meeting. You can send all participants to the Waiting Room ahead of the meeting or set permissions that allow certain users to bypass the Waiting Room and enter the meeting.
Reporting tools. Additionally, Zoom comes with detailed reporting tools that can be used on any device. Sync data back to the CRM, your email, and whatever else you use each day.
Quickvoice
We featured Quickvoice on our "best apps for sales reps" roundup but it's worth mentioning this gem again. This iOS app allows you to capture ideas, reminders, and even record meetings or presentations you'd like to revisit later.
Additionally, voice memos can sync with iTunes–so whatever you capture in the field can be found on your laptop when needed.
Proposify
Proposify is proposal software that makes it easy for sellers to quickly put together proposals, send them to prospects, and track how prospects interact with documents.
You can set alerts to let you know when a prospect opens or reads your proposal, signs, or shares with another decision-maker. Additionally, you can schedule automated reminders when prospects don't open your doc.
Proposify's key features include:
Branded templates. Design and save on-brand templates sellers can reuse and customize with buyer data.
Legally-binding contracts. Electronic signatures make it easier for prospects to sign off on a proposal and get other stakeholders to approve this decision. Once signed, Proposify docs are legally binding and eliminate the need for hard-copies and the extra work they create.
Interactive documents. Embed video, live chat, and interactive pricing into proposal documents.
Cloud storage. Proposify stores all proposal materials in a central location, allowing reps to find & send custom proposals in minutes.
Interaction data. Proposify also includes reporting tools that help you understand how prospects interact with the docs you're sending them. This helps reps identify the best time to reach out or find & fix the areas where prospects lose interest.
Calendly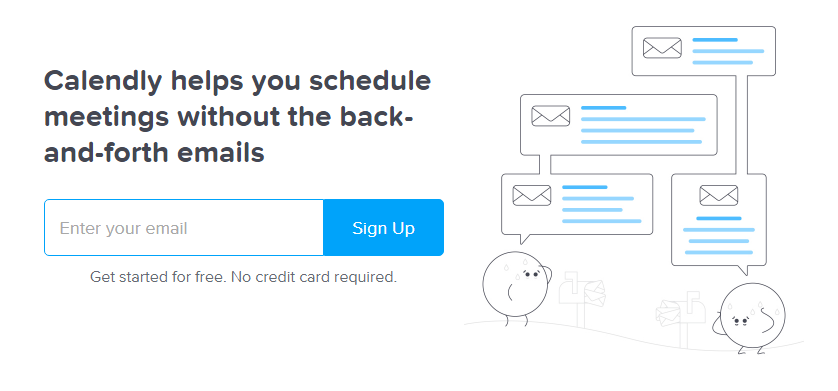 Another simple tool that can make a big difference for reps, Calendly is all about–you guessed it–managing your calendar.
From discovery calls and demos to follow-ups, Calendly makes it easy to manage multiple calendars, meetings, and events without all of the time-consuming work that comes with the territory.
It's easy to use–all you need to do is set your availability, share your calendar link with anyone you might meet with, and leads can select a time that works for them based on your pre-defined availability.
Process.st
Process Street is a workflow management platform that allows users to quickly create and distribute checklists and process documents to guide the sales training process and ensure consistency across all reps & locations.
Users can:
Use Process Street's pre-made templates–there's one for just about everything from office cleaning and podcasting to onboarding new reps.
Build dynamic checklists with if/then logic.
Streamline approval flows. Create multi-stage or sequential approvals and automatically route them to the right person.
Use forms to collect structured data from checklists–trainers might leave comments, new hires might leave questions, and reps might incorporate feedback from the field. Later, these insights can be used to improve internal processes.
Zapier
Zapier is an integration and automation platform designed to maximize productivity by connecting disparate applications and services to automate repetitive tasks with "Zaps."
Zaps are automated workflows that consist of a trigger event and a series of actions that carry out pre-defined steps when a trigger event occurs. The platform offers out-of-the-box integrations for upwards of 2000 web apps–allowing users to move info between them to build custom processes.
Things to Consider When Choosing Sales Productivity Software
Before committing to a whole new sales stack, you'll need to consider a few things to ensure you get the most out of your investment.
Identify your process gaps. Before you do anything, you'll want to evaluate all processes–prospecting, lead qualification, proposal generation, managing appointments, and so on–for bottlenecks holding sellers back.Where are you losing the most time? Where are reps getting frustrated or side-tracked?
Tackle data silos and organization issues. Once you've identified the process gaps slowing down your team, you'll want to find any data silos or organization issues that make it difficult for reps to find and use the information they need.Do you have a centralized content repository? Do communications records include all channels? Is data consistent across all connected platforms?
Integrations are critical. Finally, you'll want to make sure that whatever sales productivity platform you choose, that they all work together as one cohesive system. The tools outlined above (and many more we didn't mention) deliver the most value when they connect–seamlessly–with the rest of the tools in your stack.
Sign up for free trial or demo. Finally, it's important to note that you'll want to try before you buy. Most SaaS providers offer a free trial or demo–allowing potential customers to get a feel for the platform. In some cases, a tool might check all the boxes but it feels clunky or your reps find it overly complex.
Which Sales Productivity Tools Are You Going to Try?
The sales productivity tools outlined above barely scratches the surface. From sales enablement software and engagement platforms to handy Chrome extensions, AI-driven sales support, and a whole host of prospect intelligence tools–technology changes the game for productivity–if you choose wisely.
Not every tool makes sense for every sales team. For example, an organization focused primarily on inside sales might not get the full value offered by SPOTIO's field sales tools, but may see big improvements by adopting Aircall.
Ultimately, it's about understanding your inefficiencies and finding the tools that help best overcome them.
________