Optimizing your sales team requires continuous monitoring to evaluate the systems, processes, people, and technology at your disposal.
However, the fundamental difference between high and low performing sales teams, according to an HBR survey of 786 sales professionals, is the sales process:
"50% of participants from high-performing sales organizations said they had sales processes that were closely monitored, strictly enforced or automated."

But how do you optimize the sales process for your team?
In this article, we'll take a closer look at some actionable sales optimization techniques you can apply.
What is Sales Optimization?
Sales optimization is the discipline of maximizing your sales team's performance by analyzing past interactions, guiding sales reps how to sell effectively, and managing future sales incentives.
8 Ways to Optimize Sales Performance
In this section, we'll take a look at how you can optimize your sales performance by examining sales processes, communication strategy, and sales culture.
1. Establish Long-Term Goals
Every company wants to grow revenue year on year. But the only sustainable way to achieve this growth is by ignoring quick-wins and establishing long-term goals focused on quality.
The best way to achieve long-term growth is by creating the right sales culture. So, rather than emphasizing short-term goals like hitting monthly quotas, celebrate long-term milestones like client anniversaries or upsells.
For example, one of the core values at LinkedIn is to "act like an owner" which empowers employees to behave and make decisions as though it were their company.
This change in mindset empowers individuals to look for sustainable revenue streams instead of immediate revenue and commission:
Low-quality revenue creates short-term value
High-quality revenue drives long-term value
It's better to have predictable and profitable revenue streams to build long-term growth.
2. Build an Ideal Customer Profile
Building an ideal customer profile or buyer persona helps you focus on the right type of prospect. It's better to create long-term strategic relationships with ideal customers rather than chasing short-term quick wins elsewhere.
Building your buyer persona takes you past demographics and deeper into buying behaviors and emotional characteristics such as:
Likes/Dislikes
Buying patterns
Motivation to purchase services and products
Feelings and emotions that will trigger them to buy
Common objections (and how to handle them)
While a buyer persona is a fictional characterization of your ideal customer, it helps to put a face to the details, like this example of "Facility Manager Fred":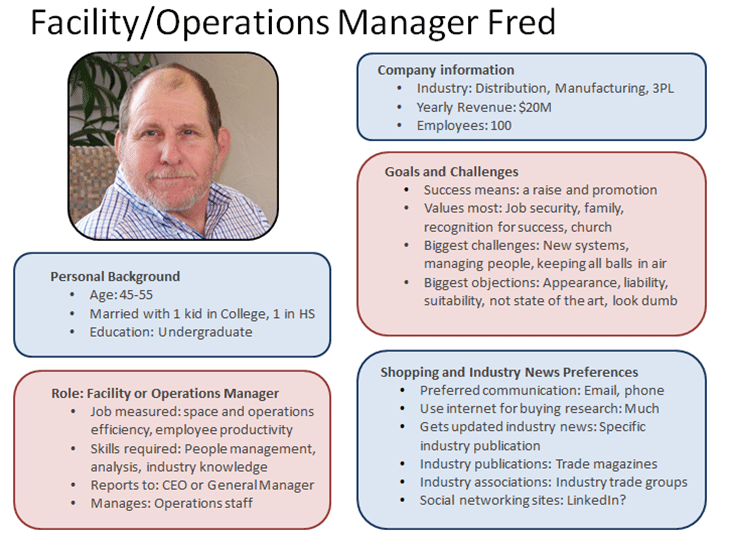 SPOTIO's Sales Intelligence tool helps you create an ideal customer profile that can drive the sales prospecting process. You can select from over 50 data points including income, credit capacity, the age of a home, eco-friendly, and square footage to target the best leads for your chosen territory.
3. Track and Analyze Sales Data
If you're going to optimize your sales team, then you need an effective way to track and analyze sales data.
Tracking sales leads gives your team access to metrics on what needs doing and what has already been done as part of the sales process: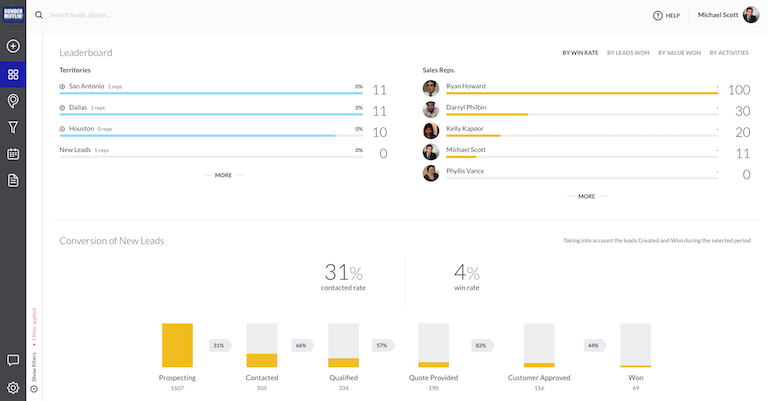 Image: Screenshot taken from SPOTIO sales tracking software.
Team members can also compare how they're performing against peers, which promotes healthy competition.
You can also track sales data with Google tools. For example:
Web traffic analysis – use Google Analytics to track visitors to your website. Check which pages get the most views and leads. Conversely, check under-performing pages to see what can be improved. You can also track the most successful sources of traffic, to see where your visitors are coming from.
Campaign tracking – use Google's URL Builder tool to add campaign parameters to URLs so you can track Custom Campaigns in Google Analytics.
Add the campaign source (e.g. Google, newsletter), campaign medium (e.g. banner, email), and campaign name (e.g. product, promo code):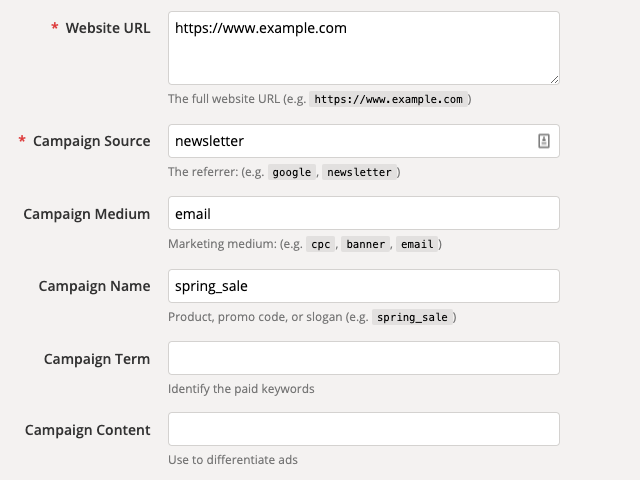 And the URL Builder generates a campaign URL:
https://www.example.com/?utm_source=newsletter&utm_medium=email&utm_campaign=spring_sale
Now you can use the URL in any promotional channels for this custom campaign, and check the results in Google Analytics.
4. Spot Holes in the Pipeline
Have you got issues in prospecting, nurturing, closing or upselling? It's important to check your sales pipeline regularly to ensure you don't have any holes.
For example, if it takes 200 days to convert a prospect to a new customer and your conversion rate is 10%, then you should have at least 200 prospects in your pipeline: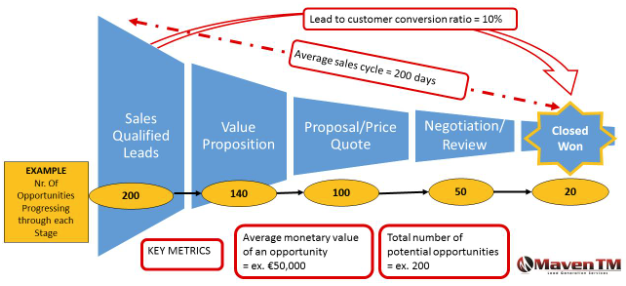 [Image SOURCE]
Without enough prospects, you won't hit  your sales target. If you spot a hole – i.e. you don't have enough prospects – then you can take action to fix the problem.
Depending on the size of your sales team, there are several tools you could use to monitor your pipeline.
For smaller teams, you could use a spreadsheet to spot any holes as you record your sales data:
For example: https://www.salesmate.io/free-sales-pipeline-template/
For larger teams, then consider using a CRM tool to track data:
For example: SPOTIO's Pipeline Management is built for outside sales teams: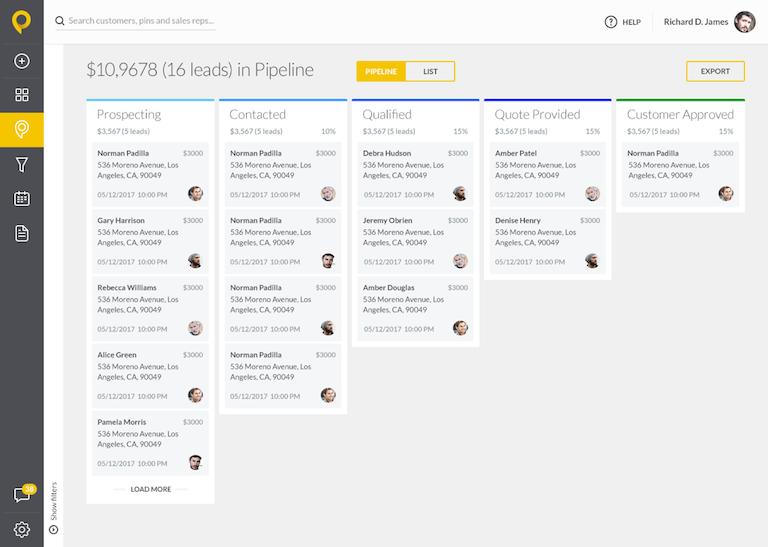 Note: Outside sales teams can use SPOTIO as a standalone CRM, or for larger companies already using a CRM like Salesforce for its inside sales team, it can be used as a bolt-on solution to provide specific field sales functionality.
5. Align Sales and Marketing Teams
Although sales and marketing teams have similar goals to increase revenue and growth, they often struggle to work together effectively.
According to a report from Marketo, sales reps ignore 50% of marketing leads.
Sales reps puzzle why they have to generate their own leads.
Marketing execs don't understand why sales ignore their leads.
Who's right and who's wrong doesn't matter. But finding a way to work together is essential.
MarketingProfs found that organizations with tightly aligned sales and marketing functions experience 36% higher customer retention rates and 38% higher sales win rates.
Three ways to align sales and marketing teams are:
Share funnels – Create one funnel, so each team knows what the other is doing.

Share accountability – Create joint goals and objectives, so both teams are accountable for results and have to perform to a high level.

Share planning – Create strategic and operational plans together, and hold regular review meetings.
By working together, marketing teams can provide the right type of content and qualified leads that enables sales teams to retain and win more customers.
6. Strategically Assign Territories
Many sales teams neglect to assign territories strategically and therefore miss a sales optimization opportunity.
Sales territory management aligns salespeople with the most appropriate customer base – whether that's by geography, vertical, expertise, or past relationship.
Each territory is unique. And in order to optimize sales, it's important to assign your top performing reps to the most valuable accounts in each territory.
Using SPOTIO's Territory Manager allows you to create custom maps of different territories and then assign them to the appropriate sales reps.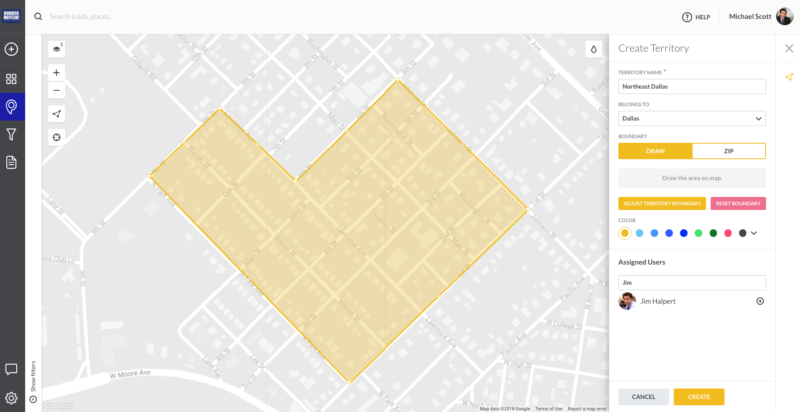 Furthermore, you can track their performance in the Sales Dashboard to ensure you assigned them the correct territory:
7. Nurture and Manage Leads Effectively
Nurturing and managing leads is an essential step in the sales optimization process.
Timing is crucial:
Contact leads too soon, and you may lose them and their business forever.
That's why building relationships is important. Investing time with the right prospects can lead to long-term customer relationships.
And remember, long-term relationships not only generate more revenue but also enhance your credibility in the market.
According to SBI, sales reps tend to give up on reaching a prospect after 3-4 unsuccessful attempts. But their research shows that on average prospects respond or decide to answer after 9x nurture impressions: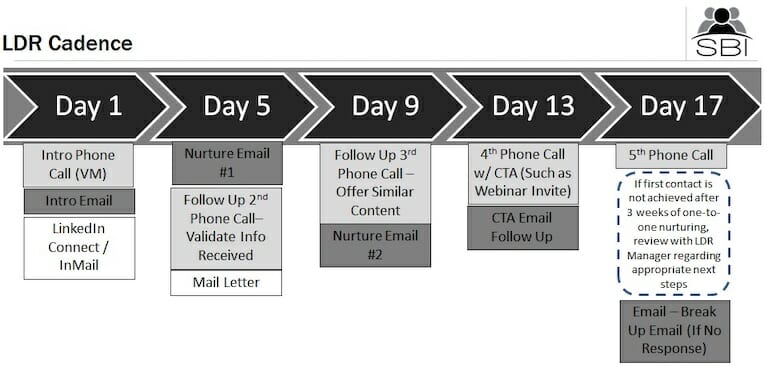 [Image SOURCE]
Here are three things to avoid when nurturing new leads:
Don't contact the prospect too early
Don't focus only on selling – build a long-term relationship with the prospect
Don't neglect your existing prospects
Bonus resource: This guide will show you how to structure your lead nurturing campaigns (sales email templates included).
8. Monitor and Provide Continuous Feedback
If you want your sales process to be effective you need to identify, track, and measure the right data. Salespeople need to know what KPIs they're working to, and you need to provide continuous feedback on their progress.
Identify KPIs: Use metrics that improve sales performance rather than vanity metrics. HBR lists 12 sales metrics that matter most.
Collect data: Use tools that make it easy for salespeople to input and update data. Or consider automating the process where possible. According to HubSpot: "Over 20% of sales professionals cited manual data entry as their top CRM challenge. Other issues included lack of integration with other tools and invalid or incorrect data."
Audit data: Remove any erroneous, outdated or irrelevant data so that metrics are accurate and salespeople are not distracted.
Keeping track of the right data over time will allow you to evaluate progress in the sales process.
Build a Winning Sales Optimization Toolset
Sales optimization software helps organizations to improve their sales performance, which generates more revenue.
Research by GetApp found that 86% of sales professionals saw an increase in revenue when they began using sales optimization software: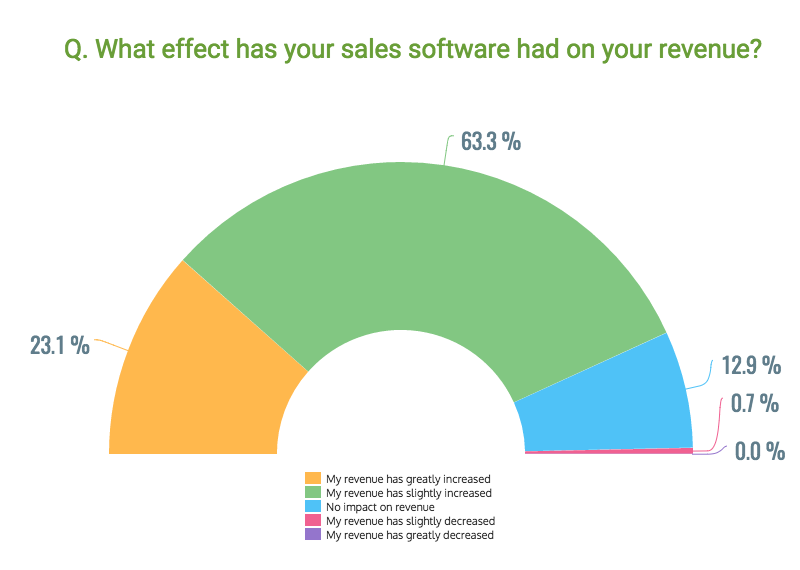 With relevant data stored in a single database, the software lets you manage your sales pipeline, track leads and contact information, plus streamline and automate workflows.
Despite the increase in revenue, 34% of the salespeople interviewed aren't using sales optimization software. Either because they prefer traditional sales methods or because their company has not invested in software.
Examples for outside sales teams:
Here are four ways your outside sales teams could benefit from using sales optimization software.
Prospecting:
SPOTIO's Lead Machine empowers you to work more effectively and close more sales by targeting the best leads within a chosen territory.
Because Lead Machine offers 50 unique data points (including age, credit score, home or business type, etc.) to target your ideal customer in any given area,  you can generate qualified leads for your door-to-door sales team in seconds.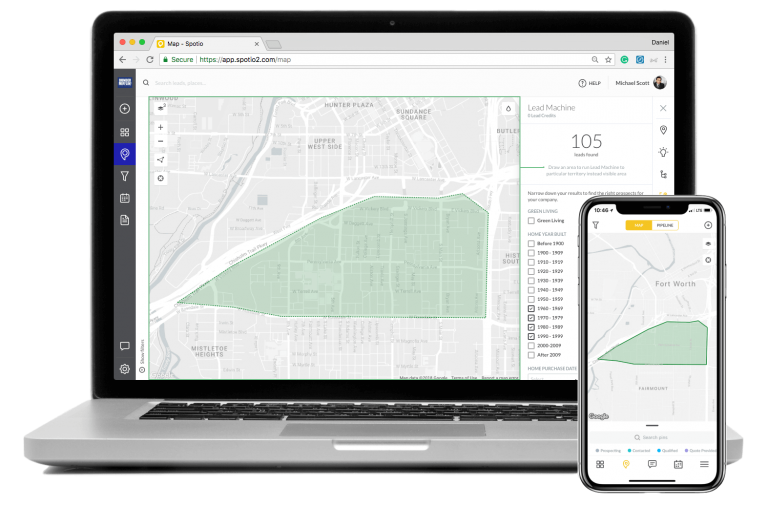 Territory Management:
Maximizing contact rate is the number one step in gaining sales efficiency. Using SPOTIO's territory management software to create strategic territories related to your target market means your sales reps spend more time in the field engaging in face-to-face meetings. So their contact rate is maximized, and as a result, sales increase.
You can create territories based on zip codes or by selecting a few streets in a neighborhood. And then assign territories strategically to individual sales reps:
Lead Management:
SPOTIO's lead management software helps your team focus on the right sales activities in the field. For example, sales reps can ignore the "Not Interested" leads (until it's time to follow-up) and focus on the red hot "Future" leads.
The software assigns a "stage" to each lead based your company's sales process and the data you want to track. You can also identify prospects by a color mapped to your sales funnel.
Sales reps can access and use this real-time "lead intelligence" out in the field as they interact with prospects to close more sales.
Tracking and Reporting:
The rep tracking software from SPOTIO monitors the performance and location of your sales reps:
Are your reps actually out in the field? Are they visiting the right locations? Are they where they say they are?  
With SPOTIO you can see where your reps are and check the results of their customer interactions.
The location verification tool tags each reps' location as "pins" are dropped, and then classified in one of two ways:
Verified = sales rep tracked within a 300-foot (100-yard) radius of the address of a dropped pin.

Unverified = sales rep not tracked within the 300-foot radius of the address they claimed to have dropped the pin.
Rep tracking takes accountability to a new level.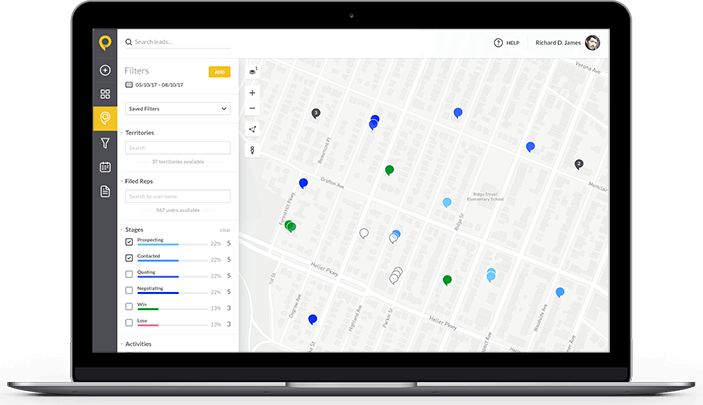 SPOTIO's sales tracking software gives you real-time visibility of your team's performance. From the dashboard you can see:
Team leaderboards – Measure the performance of individual sales reps, teams, or your entire field sales organization.
Executive insights – Discover the best times to prospect, best performing territories, etc. to maximize team efficiency.
CRM integrations – Automate and streamline your sales process further with integrations to more than 750 different apps, services, and software.
It also helps with the continuous improvement assessments of individuals as you can measure performance in relation to your sales funnel and map data from custom statuses and fields based on KPIs.
How Are You Going to Optimize Your Sales Process?
Optimizing your sales process is not a quick one-time fix.
Successful sales teams evaluate and refine their processes continuously to achieve long-term growth. And, where applicable, they invest in new technologies to help streamline their sales process and boost revenue.
What are you planning to optimize first?
_____
Questions or comments? Contact SPOTIO at [email protected] or comment below.
SPOTIO is the #1 field sales automation and performance management software that will increase revenue, maximize profitability, and boost sales productivity.
Want to see a product demonstration? Click here to see how SPOTIO can take your sales game to the next level.