Looking for a Microsoft Streets and Trips replacement?
A few years ago, Microsoft Streets and Trips users discovered their software was no longer supported. The exit of the software created a void for trip planners waiting for a new player to fill in where Microsoft left off.
SPOTIO provides an alternative for Microsoft Streets and Trips that fills that void with all the things Microsoft's product did well for route planning and then taking it to a new level of functionality and efficiency powered by the internet.
In this post, we'll look at the streets and trips features, discuss why Microsoft discontinued the product, and look at the best alternatives for field sales teams.
What is Microsoft Streets and Trips?
Before Google Maps or Siri, and before Bing Maps and all the other online navigation helpers, many people who needed to get around in the U.S. used a self-contained, offline navigation software called Microsoft Streets and Trips.
Streets and Trips was a sales mapping software designed for people unfamiliar with North America to navigate the U.S., Canada, and Mexico with a variety of services including route-mapping. You bought it on CD-ROM and loaded it into your computers, no internet required.
Streets and Trips provided a number of features, including:
Street-level maps of the U.S. and Canada which included 2.5 million points of interest along the way with easy-to-see icons of what restaurants and hotels are around your destination
Multi stop route planning functionality, as well as scenic detours and fuel and rest stop planning
One-click trip optimization to get the quickest way to your desired destination
Road type optimization feature, so you choose the way you want to go, e.g., freeways, scenic route, country backroads
Capacity to add notes, phone numbers, reservation codes to stops
Offline high-speed planning capability, which some users said was faster than their internet connection
Drag and Drop utility for re-routing on the fly, no internet connection required
The last version of the software also added customer ratings for businesses. However, you had to be online to see these.
What Happened to Streets and Trips?
As a DOS-Based program in an increasingly Internet-driven world, Microsoft Streets and Trips was discontinued at the end of 2014, with support ending a few months later in 2015.
Microsoft sought to migrate Streets and Trips users to Bing Maps, their online mapping system. The move to sunset both Streets and Trips, as well as the business version of the software MapPoint, was part of a broader strategy by CEO Satya Nadella to focus on software that was part of Microsoft's future rather than its past.
Microsoft purchased the program in 1994 from NextBase, a UK software development team based in a team member's garage, and developed the program for the next two decades. The European version of the software was called Microsoft AutoRoute, which was also discontinued.
Once Microsoft acquired the program, it commingled NextBase's route technology with the Encarta World Atlas mapping technology to create earlier programs that were separate, one for mapping and one for route planning that were released on Expedia in the mid to late 1990s.
In 2000, Microsoft evolved away from Expedia and merged the separate programs branding it Microsoft Streets and Trips (although in Europe, the AutoRoute brand remained). Today, the programming behind Streets and Trips and MapPoint was the basis for Bing Maps.
Microsoft Streets and Trips users who miss the software will find that new technology has filled the void and added to the features and benefits enjoyed by its users.
The Best Streets and Trips Replacement for Field Sales Teams
SPOTIO's route planning and mapping software does everything that Streets and Trips did, and more, making it an easy to use alternative for field sales teams.
Mobile enabled
Integrate with your calendar
Day planner
Custom fields
Mileage tracking
Route optimization
Constant updates so SPOTIO is always up-to-date with the latest features and functionality
Below, you'll see a table that highlights the feature gaps SPOTIO fills for field sales reps and managers:
SPOTIO was designed with the field sales rep in mind. From the mobile app, easily create routes, schedule appointments, and take notes. Our mobile application is easy to use from the field and updates your CRM in real-time with all sales activities.
When reps are back in the office or managers want monitor performance, our web versions provides dashboard filled with data back insights into performance.
This result: no leads fall through the cracks, managers have complete insight into rep performance, and sales reps don't have to waste valuable time logging activities at the end of each day.
5 Ways SPOTIO Can Replace Microsoft Streets and Trips
SPOTIO offers all the features of Streets and Trips, and then some. With the outside sales motion at the forefront, SPOTIO was designed to be used from a mobile device, giving you all the tools and functionality of a complex in a user-friendly mobile experience.
Give your team the tools needed to be more efficient and more productive so they can spend more time selling, rather than planning routes from appointment to appointment.
Route Optimization
Easily identify the best route between multiple locations so you can plan the most productive day. With our multiple stop planner, reps won't have to spend valuable time figuring out how to get around, SPOTIO's route planner software bears this brunt and generates the fastest routes for you.
Cut down the time it takes to plan routes and improve overall efficiency.
Automated Mileage Tracking
Manually having to put together mileage reports is an immense waste of time, which is why SPOTIO automates this task for you. SPOTIO tracks the miles driven for each rep and automatically compiles this data into exportable reports that can be submitted for reimbursement.
Map Visualization and Filtering
Quickly filter the map based on criteria you want to see, such as prospects vs. active customers, results from the last visit, any upcoming meetings, etc. With colorized pins and filterable fields, SPOTIO gives you an easy way to visualize what's going on in each territory.
Cloud-Based
SPOTIO is accessible from anywhere and on any mobile device. Because out application doesn't tether you to a desktop, you can easily make changes to your maps while you're on the road.
Automated Reports
Create customized reports in order to track sales activities and know how your team is performing. Not only do these reports provide key insight, but they're also automated.
Having a digest of each reps performance dashboard automatically sent to your inbox simplifies management and ensures you have the information you need to identify sales trends and spot any performance gaps.
Best Streets and Trips alternative

for sales route planning and optimization
What makes SPOTIO standout was that it's built for a field sales rep. As the best field sales software on the market, SPOTIO knows what's needed to provide valuable tools that will help grow your business.
Street level mapping is enhanced by Google Places, which integrates directly with SPOTIO and provides detailed business information and map views of surrounding businesses around your destination.
Routes can be calculated for multiple stops, allowing you to pre-plan your trip in great detail before you ever turn the key on your vehicle.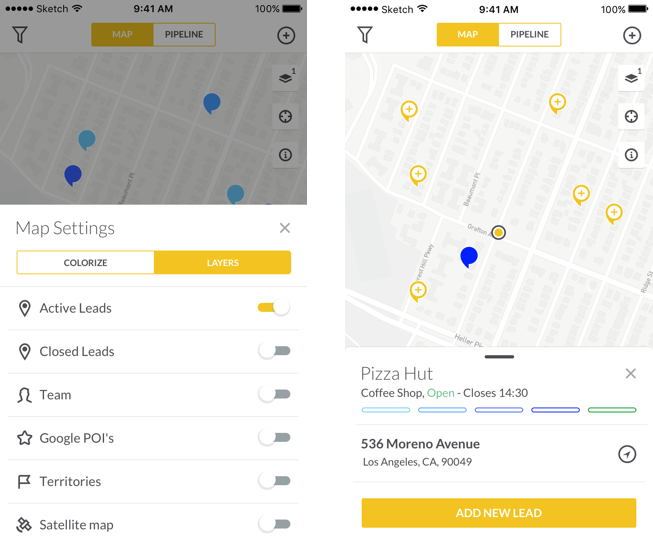 SPOTIO creates efficient routes based on distance from point to point, optimizing it by the shortest path, or by the scheduled stop times and arranging them by meeting durations and calculating arrival times based on start and end times for events.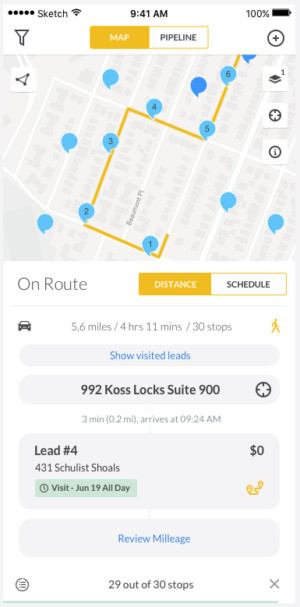 Captures notes about destinations, including pertinent trip information, which is available with a tap on the pin.
Just like Streets and Trips, sales teams can make changes to your route as you go. However, unlike Streets and Trips, you can use SPOTIO on your Android or iOS mobile devices and change your routes from them. Drop pins on the destinations and tap them later for their exact address or to add information about the stop.
SPOTIO also calculates driving and walking times to your destinations. It's up to you to figure out which will give you a better option for your day.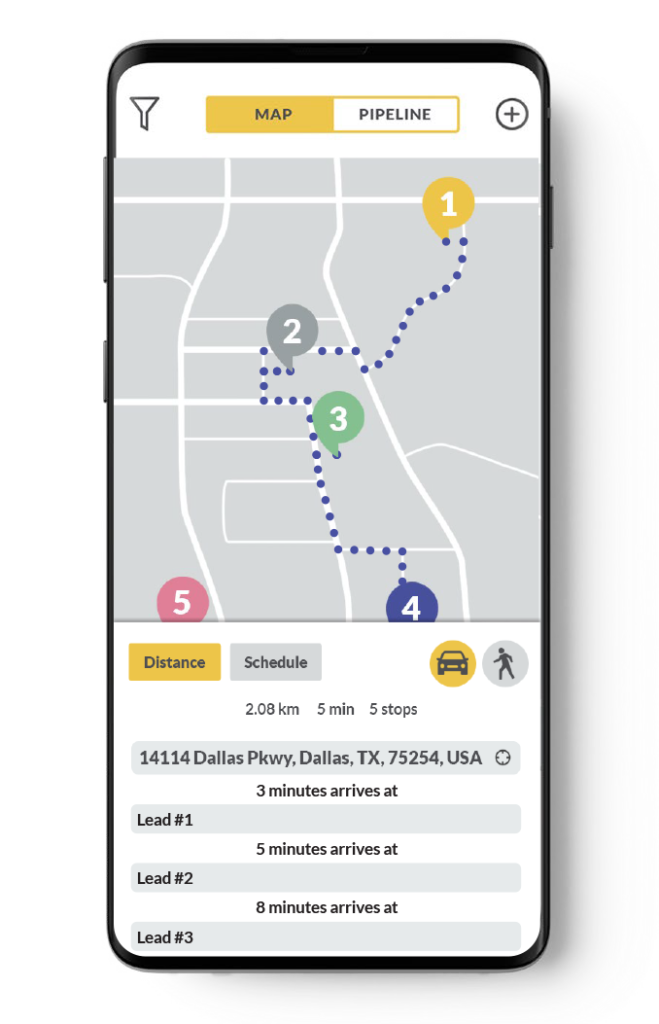 Unlike Streets and Trips, SPOTIO's app automates your planning.
For example, it automatically integrates into your calendar without ever leaving the app. You set the appointment in the SPOTIO calendar, and it goes to your Google or Outlook calendar, too.
Also, SPOTIO automatically calculates your mileage for easy tracking of distance and expenses.
Best Streets and Trips alternative for sales task automation
Outside sales reps waste a lot of time manually working through tasks. These time-consuming administrative to-do's eat up about 2/3 of a reps day, leaving them with much less time to sell. It goes without saying: the process of capturing and documenting sales activities is a time-waster.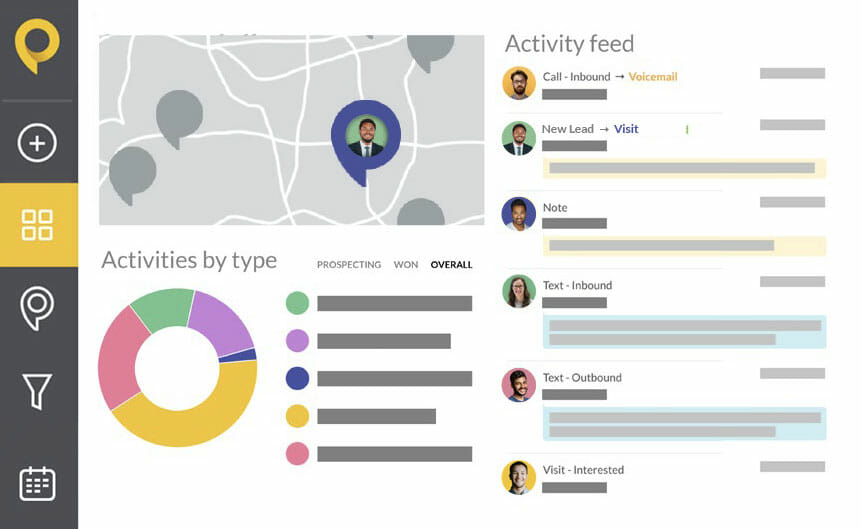 With SPOTIO, these non-revenue generating activities can be cut down drastically with our task automation functionality. Whether it's logging interactions from the field, auto-capturing visits with geofencing, using pre-templated text and email messages to quickly engage with prospects/customers, or getting deals signed on the spot with e-Contracts, SPOTIO captures these activities, populating your CRM with this data in real-time.
Best Streets and Trips alternative for mapping customer data
SPOTIO Customer Mapping makes it easy to identify locations of customers and prospects, design and distribute territories, and uncover new opportunities within an existing territory… all from a map.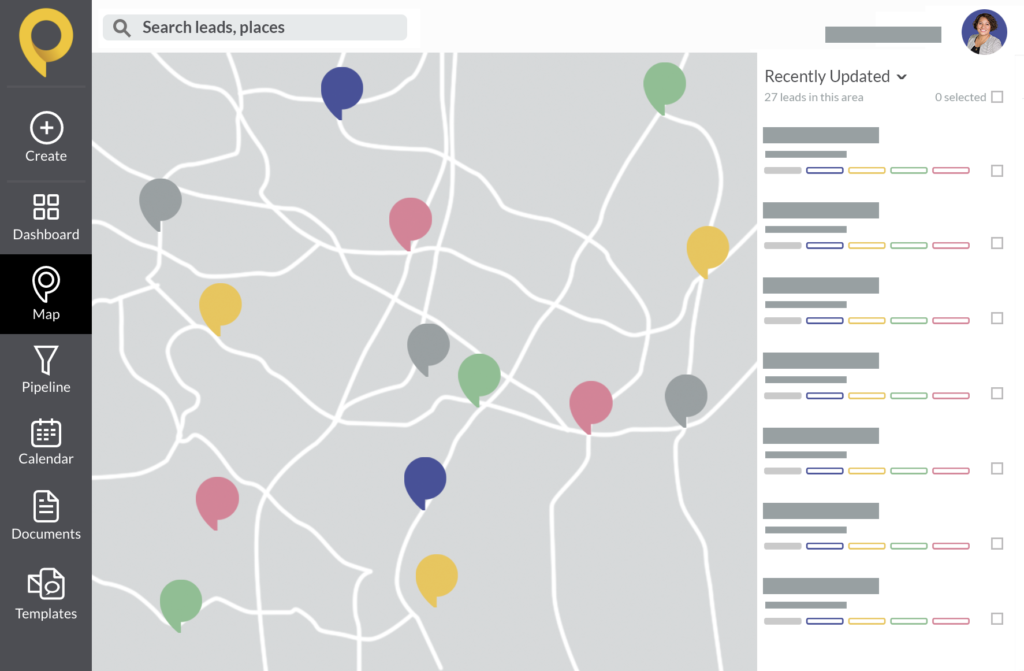 Being able to visualize and filter data from a map makes it easy to distinguish between territory ownership, locate prospects, find customers, and plan next steps in the sales process.
Best Streets and Trips alternative for sales lead generation
Maintaining a full and strong sales pipeline is a goal of any sales rep. In order for a rep to have a strong pipeline, they need a way to quickly and easily identify new prospects. SPOTIO's Sales Intelligence tools does just that.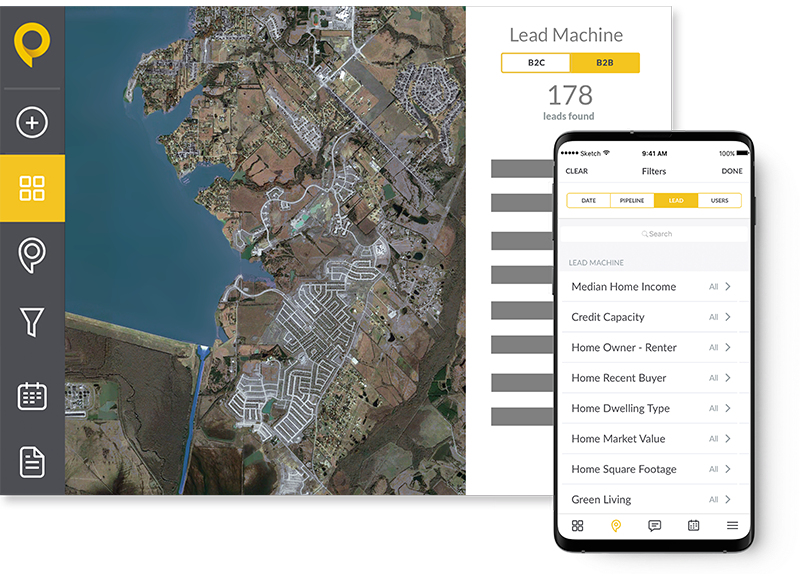 SPOTIO offers two sales intelligence tools so you can easily find new opportunities that are a fit for your business. Simply select your territory and choose from over 200 data points what criteria you'd like the prospect to meet so you don't waste time visiting a poor fit lead.
Lead Machine
If you're selling to a home or a business, SPOTIO Lead Machine makes filling your pipeline with qualified leads easy. Simply select your territory, choose from over 200 data points that match the criteria you'd like the prospect to meet – so you don't waste time visiting a poor fit lead –  and voila, in just a few taps in the app a list of ideal fit leads is now at your fingertips.
Google Places
SPOTIO has put Google Places data-rich technology in the palm of your hand. Open your map within SPOTIO and simply tap on any business you're interested in prospecting to and get their contact info. For those selling directly to consumers, reps can find the contact information for each home with just a tap. 
Make sure field sales reps have the information they need to fill their pipeline with quality leads.
Best Streets and Trips for sales territory mapping
With SPOTIO's Territory Mapping, sales managers can build, assign, and adjust sales territories based on data points such as postal code, city, or any demographic/firmographic information that's relevant to your business.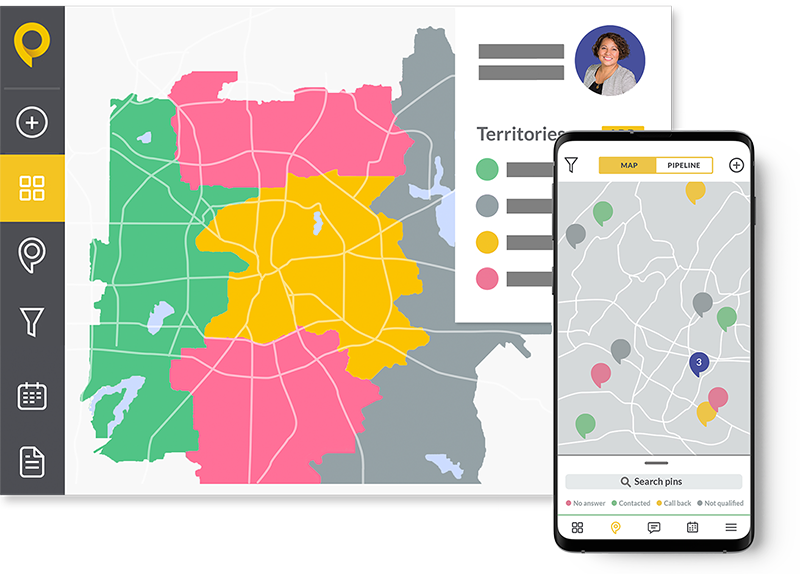 Once a territory has been mapped, field reps stay organized with colorized pins that are customizable to any data point you want to track. For managers, SPOTIO offers territory performance reports; there's not a simpler way to keep track of your team.
Harness The Power of Google Places Point of Interest Data
SPOTIO's integration with Google Places is one of the reasons it is the optimal Streets and Trips alternative for 2021. There are over 100 million "places" in Google Places, all with comprehensive points of interest data.
Also, Google Places data updates daily, to the tune of 25 million updates every day. Not only that, the Google Platform has one billion (that's with a "b") active users every month, giving the data a scale backed by an infrastructure that has no equal.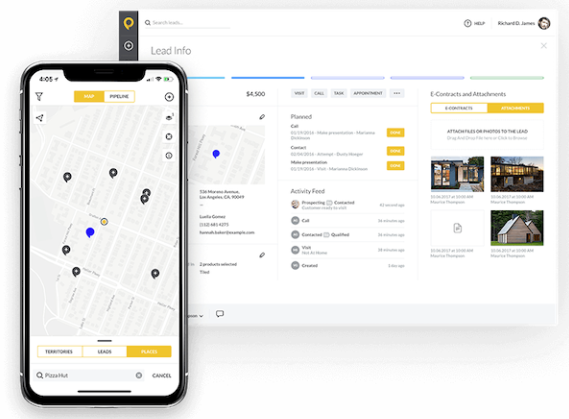 In other words, when you use SPOTIO's route planning software, you can trust that you have the most up-to-date information about your destination in real-time.
Replace Microsoft Streets and Trips Today
Microsoft Streets and Trips was a leading product, but had major feature limitations for sales teams. One of the biggest advantages of choosing a solution such as SPOTIO is you get all the features available in a web and mobile app. Team members can map territories and sales routes from any device, which is critical for field sales productivity.
_______
SPOTIO is the #1 field sales mapping software that will increase revenue, maximize profitability, and boost sales productivity.
Want to see a product demonstration? Click here to see how SPOTIO can take your sales game to the next level.
---
Sources:
"History of AutoRoute and Streets and Trips." www.laptopgpsworld. Web. 29 May 2019. <http://www.laptopgpsworld.com/3562-history-autoroute-streets-trips>.
Jung, Brian. "Microsoft MapPoint vs. Streets & Trips." Smallbusiness.chron.com. Web. 29 May 2019 <https://smallbusiness.chron.com/microsoft-mappoint-vs-streets-trips-55760.html>.
Smolaks, Max. "Microsoft. Plans to Retire MapPoint Software By The End of The Year." www.silicon.co.uk. 18 July 2014. Web. 29 May 2019. <https://www.silicon.co.uk/workspace/microsoft-to-retire-mappoint-149394>.
Protalinski, Emil. "Microsoft will discontinue MapPoint and Streets & Trips on December 31, 2014." Thenextweb.com. 7 July 2014. Web. 29 May 2019. <https://thenextweb.com/microsoft/2014/07/07/microsoft-will-discontinue-mappoint-streets-trips-december-31-2014/>.
Fried, Ina. "Microsoft Quietly Shutting Down MapPoint in Favor of Bing Maps." www.vox.com. 11 July 2014. Web. 29 May 2019. <https://www.vox.com/2014/7/11/11628758/microsoft-quietly-shutting-down-mappoint-in-favor-of-bing-maps>.