Sales Route Planning Software

SPOTIO Routing enables reps to see exactly where to go, what to do, and the most efficient way to get there. Set your meetings, update notes in real-time, then prospect new accounts in between meetings.
Eliminate busy work
Sales Reps get into sales because they enjoy the race and are motivated by the competition. But what happens when we inundate them with administrative tasks? They lose their motivation to sell, resulting in negative outcomes for all. In the "State of Field Sales Report - 2018" sales reps are spending 67% of their time on administrative tasks and only 1/3rd of their time actually selling.
SPOTIO eliminates the busy work for reps and still provides managers with the data they need.
Route Management
User can review and export all past routes

Users are able to view route history by day, week, month or a custom range

Managers can see route history for the sales reps assigned to their territories

Export the history of any route and share the file via standard "share" menu
Sales Efficiency
Route Planning. Optimize sales routes for maximum time efficiency - the #1 sales route planner
Sales Leaderboard. Measure performance of individual sales reps, teams, or your entire field sales organization.
Customizable Fields. Map your sales process and identify funnel leaks.
Creating routes for your reps will prevent any overlap between territories and other reps; maximizing time and reducing effort.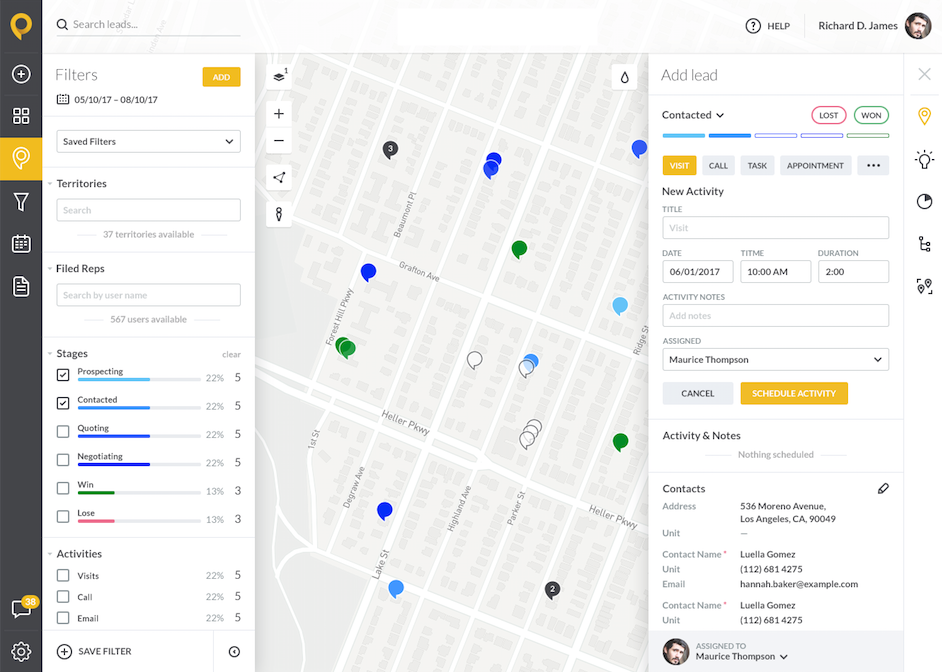 Sales Routing Features

To maximize efficiency and output in the field, SPOTIO provides a variety of route calculations based on multiple scheduling criteria:

By Distance:

Creates routes based on distance or scheduled activity, identifying the shortest path from destination to destination (pin to pin).

By Schedule:

Routes can be calculated from current user location to the pin with the nearest planned appointment.

By 'No' Schedule:

If route includes appointments without a particular time, these will be arranged by distance at the end of route.

By Meeting Length:

If a meeting duration is scheduled, route calculations will take meeting duration into account. SPOTIO will calculate arrival time based off one meetings end and then next meetings start.

By All Day Appointments:

If route includes appointments labeled as "all day", these meetings will be arranged by distance from one another.
Arrival times will be calculated for both driving and walking.