Sales isn't for the faint of heart. Once you embark on this career path, a flood of meetings, emails, text messages, and phone calls will become the norm.
Fortunately, there's a way to streamline certain tasks and make your life as a salesperson easier: invest in sales automation software.
One you do, you'll have fewer manual tasks to perform every day, become much more productive, produce higher quality leads, and generate more sales.
The question is, which sales automation platform should you use?
In this article, we cover why you should try to automate sales, the best sales automation tools on the market, and four tips to choose the right platform for your company's unique needs and budget.
Why should sales teams invest in automation tools?
Before we list the top sales automation solutions, let's dig into why your company needs one in the first place. There are three main reasons:
Greater Productivity
Every sales rep in the world wants to be more productive.
It makes sense. The more productive you are, the more leads you'll generate, deals you'll close, and money you'll earn. Who wouldn't want those things?
Sales automation software will turn you into a productivity powerhouse. In fact, this kind of tool has been proven to boost sales productivity by 14.5%. (As an added bonus, sales automation tools can reduce marketing overhead by 12.2%, too!)
Higher Quality Leads
If you want to make more sales you have to produce better leads.
This is easy to do with a quality sales automation platform, which can help you pinpoint buy-now leads in your territory and automatically score said leads based on predetermined criteria. The result? A better close rate. Speaking of…
More Closed Deals
Obvious fact: high-quality leads are easier to close than low-quality ones.
Once you invest in sales automation software and start producing better leads, your close rate will naturally rise. How much will it rise? According to Salesforce, sales automation can increase deal closures by a whopping 30%!
Imagine how much easier it will be to hit and exceed quota when you close 30% more deals. Our guess is way easier.
Simplified and Accurate Reporting
Finally, sales automation solutions can make the reporting process a breeze.
How many calls has Rep X made this week? What were the results of those calls? Did Rep X follow-up with any emails or text messages? Were those emails / text messages opened? And how close to quota is Rep X right now?
Sales automation can help you answer these questions quickly. Armed with this information, you'll be able to forecast future results with greater accuracy.
13 best sales automation tools
So, which sales automation software is right for you? We can't answer that question. But we can give you the inside scoop on 13 different tools.
After reading this selection, you'll have a pretty good idea of which platform you should invest in. Let's take a look!
SPOTIO
Best for: Empowering field sales teams
SPOTIO is the platform for field sales teams. Why? Because it was specifically created to boost productivity and effectiveness for field sellers.
With SPOTIO, users can easily automate tasks, generate leads, plan efficient routes between meetings, cut and manage territories, create powerful sales sequences that produce sales on autopilot, and generate sales reports in seconds.
The result is a 46% bump in individual sales rep productivity and a 23% bump in field sales revenue.
Automation features:
Overloop
Best for: Building multichannel outbound campaigns
Formerly known as Prospect.io, Overloop is the sales automation software of choice when building multichannel outbound campaigns.
With this tool, you can easily find your prospects' email addresses, build cold email campaigns and track their results, visualize your sales pipeline, create automated workflows, and report on the success of your efforts.
Automation features:
Find email addresses: Overloop will automatically search the internet for missing email addresses, allowing you to enrich your contact data.
Build email campaigns: Build custom email sequences that instantly start sending when predetermined criteria are met.
Grow your LinkedIn presence: Easily automate profile visits and send connection requests—and even direct messages—with Overloop.
Create workflows: Minimize repetitive tasks by creating powerful, customized, and automated workflows for yourself.
Analyze your approach: Generate reports to track your cold email campaigns, LinkedIn outreach efforts, and general sales activities.
Pipedrive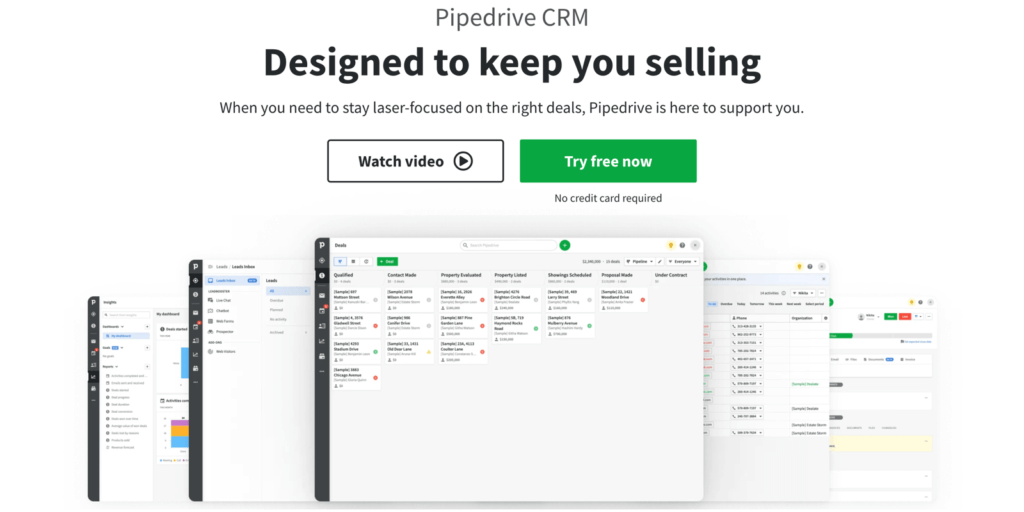 Best for: Visualizing your sales pipeline
Pipedrive is a popular CRM that includes numerous automation tools. It is, perhaps, best known for allowing users to visualize their sales pipelines. Because of this, Pipedrive is often considered one of the more intuitive sales tools.
Invest in Pipedrive to manage your leads, plan sales activities, eliminate time-consuming manual tasks, and track your sales efforts.
Automation features:
Minimize busywork: Take back your time by automating mind-numbing administrative tasks such as updating CRM records.
Pre-qualify leads: Use Pipedrive to uncover hidden details about your prospects, like where they work and what they're interested in.
Build email campaigns: Connect with prospects at all hours of the day through the power of automated email sequences.
Create detailed workflows: Make sure deals don't fall through the cracks by creating custom workflows that automate various processes.
Receive sales coaching: Improve your sales strategy with suggestions from Pipedrive's AI-powered Sales Assistant.
Integration: Want the best of both worlds? Integrate Pipedrive and SPOTIO. Doing so will give you access to the CRM capabilities of Pipedrive and the specific field sales automation features that are only available in SPOTIO.
Growbots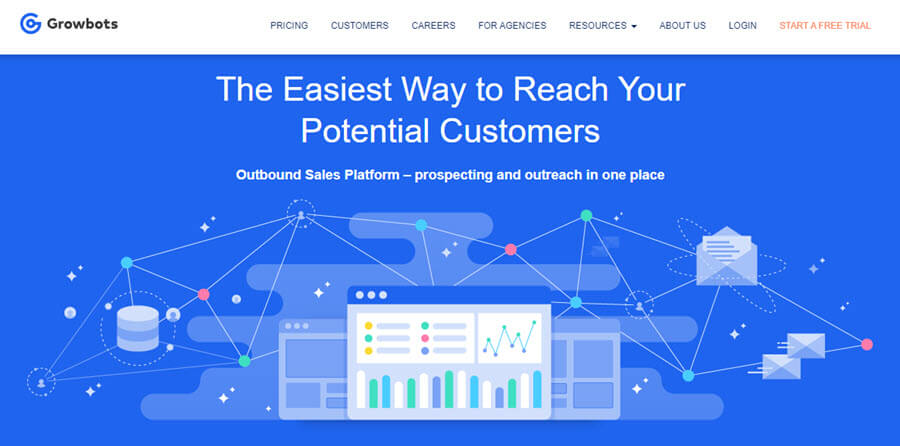 Best for: Building high-quality leads lists
Growbots is another tool you can use to automate sales—especially when it comes to prospecting. Use Growbots to generate a tailored list of leads (including contact details) in a matter of seconds. Then build and send customized email campaigns to reach said leads and turn them into paying customers.
Automation features:
Target the right people: As mentioned earlier, the best way to close deals is to generate high-quality leads. Automate your prospecting efforts with Growbots and its database of 100 million potential buyers.
Create outreach campaigns: Have your leads? Great, build automated sequences to connect with them via email, phone, or LinkedIn.
Monitor your results: Easily test and track the success of your efforts so that you can optimize your outreach campaigns.
Zapier
Best for: Integrating various web applications
Unless you've been living under a rock for the past few years, you've heard of Zapier, the platform that allows users to integrate over 5,000 different apps.
With Zapier, you can build detailed workflows using multiple pieces of software.
For example, you can use Zapier to update your CRM of choice with information you collect via a Jotform website form. You can then take said information and use it to trigger an email campaign with a tool like Mailchimp.
Automation features:
Integrate your tech suite: Zapier integrates with over 5,000 different apps, which means you can almost certainly connect all of your favorite sales tools.
Create completely custom workflows: Zapier isn't limited to the capabilities of one app. Automate your entire sales process by connecting multiple apps together. The result? Way less busywork.
Reply.io
Best for: Streamlining sales communication.
To close deals, you have to talk to prospects. Reply makes this easier to do than ever before, thanks to the platform's inbound and outbound outreach tools.
Use this sales automation software to communicate with your leads across multiple channels, including email, text, LinkedIn, and WhatsApp. Even better, use Reply to improve the quality of your communications.
The Sales Email Assistant by Reply will help you craft better, more human-like messages that truly resonate with their target audience.
Automation features:
Find contact details: Use the Reply Chrome extension to automatically find the email addresses of top decision makers on LinkedIn. Then verify said emails to make sure your deliverability rates remain high.
Build multichannel sequences: Create sales sequences that include email, text, calls, and social messages to make sure you always reach prospects.
Book more sales meetings: Easily schedule meetings with prospects. Simply sync Reply with your Google calendar and let your leads choose a meeting time that works for them based on your availability.
Automate tasks: Put a variety of tasks on autopilot. With Reply, sending messages and updating CRM records is much less time-consuming.
HubSpot Sales
Best for: An all-in-one marketing, sales, and customer service tool.
HubSpot is one of the most popular business apps on the planet. Marketing, sales, and customer service teams use the tool to accomplish a wide range of tasks.
When it comes to sales automation, users are able to streamline communication, schedule appointments, and report on their results with ease, though it should be noted that HubSpot Sales is one of the most expensive platforms on this list.
Automation features:
Send emails: Automate personalized email sequences, complete with follow-ups, and connect with prospects on a deeper level.
Schedule appointments: Allow prospects to book meetings at convenient times for you, according to your Google and/or Outlook calendars.
Simplify payments: Send recurring payment links that keep money flowing into your business at all times. (U.S. based customers only.)
Minimize admin tasks: Automate a variety of manual sales tasks such as sending quotes, building reports, and forecasting future results.
Integration: HubSpot is a powerful tool, but it wasn't built for field sales teams. Integrate it with SPOTIO to better connect with your prospects in a face-to-face manner and enjoy the awesome CRM features HubSpot is known for.
DemandScience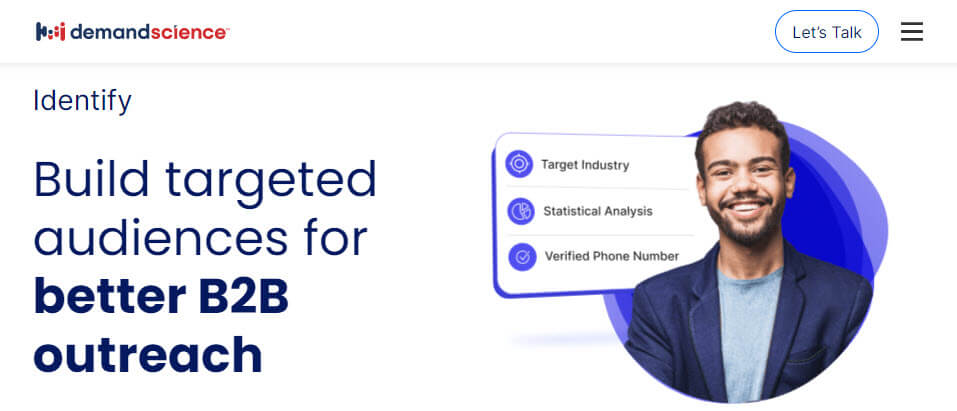 Best for: Reaching B2B decision-makers.
Next up, DemandScience. With this tool, users are able to build targeted outreach campaigns that connect them with high-quality B2B buyers. That way they can spend more of their time closing deals and driving revenue.
Automation features:
Pinpoint your audience: Search DemandScience's database of 70+ million verified contacts to find red-hot buyers for your company's products and/or services.
Target buy-now leads: Quickly discover who's ready to buy now so that you can spend more of your time on these specific prospects.
Understand the data: Get detailed reports on the success of your outreach campaigns. Then optimize your messages for better results.
Leadfeeder
Best for: Analyzing your company's website.
Leadfeeder is a unique sales automation software. Unlike the other tools we've covered thus far, Leadfeeder won't allow you to build automated outreach campaigns. Instead, it's designed to automatically identify the people who visit your company's website and present you with their contact information.
This is important because the people who visit your website are more likely to make a purchase. Once you know who they are, you can use a separate tool (like SPOTIO!) to contact them and close more deals.
Automation features:
Gather contact information: Discover who visits your company's website, what they do while they're there, and the best way to contact them.
Qualify your leads: Create behavioral and demographic filters to automatically segment prospects based on buying potential.
Power your outreach campaigns: Integrate Leadfeeder with a variety of CRMs and email marketing tools to send personalized messages to leads.
Outreach.io
Best for: Closing the sales execution gap.
Have you heard of the sales execution gap? It's the space between the revenue your company could be producing and the revenue it actually generates. Outreach includes powerful automation and AI features to help you close this gap.
Automation features:
Connect with more prospects: Maximize your productivity as a sales rep via automated workflows and sequences that help build pipeline.
Access deep sales insights: Use Outreach's AI powered virtual assistant to assess sales conversations and produce detailed information.
Forecast future results: Quickly analyze your pipeline to predict the future of your sales efforts with a high level of accuracy.
Minimize data entry tasks: Stop entering data into your CRM by hand. Let Outreach transfer data across email, calls, and LinkedIn for you.
Autoklose
Best for: Building email sequences for B2B customers.
Are you in B2B sales? Do you like contacting prospects and customers via email? Then Autoklose might be one of the best sales automation tools for you.
Autoklose is packed with features that make it easy to build winning email campaigns, including a database of verified B2B leads, customizable messaging templates, and real-time reporting you can rely on.
Automation features:
Identify prospects: Quickly scan through the Autoklose database, a collection of millions of clean, verified B2B contacts you can reach out to.
Build email campaigns: Use personalized templates and automation to send quality messages at the perfect times, every time.
Write better messages: Optimize your emails with the Template Analyzer, which will evaluate your messages and suggest ways to improve them.
Get the right data: Always know how your email campaigns are performing with real-time updates that only include the KPIs you care about.
Rollworks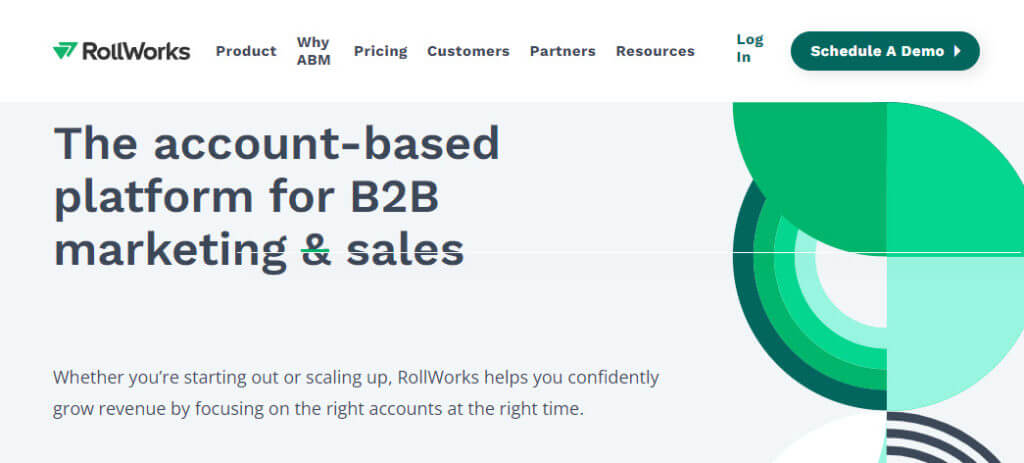 Best for: Winning at account-based B2B sales.
When it comes to sales automation software for account-based sales teams, you can't go wrong with Rollworks. With it, you'll be able to identify the right accounts, engage them across channels, and measure the impact of your campaigns.
Automation features:
Find quality accounts: Surface similarities between existing customers to ensure new prospects are of the highest quality for your brand.
Score each prospect: Use machine learning (ML) to score your target account list. That way you only reach out to accounts that are likely to close.
Automate your messages: Create automated email sequences, complete with follow-ups, that are both true to your voice and boost engagement.
Access analytics: Allow the Rollworks AI to analyze your email campaigns, assess what's working, and suggest improvements.
PredictLeads
Best for: Surfacing company intelligence data.
PredictLeads is another sales automation software that doesn't fit the typical mold.
This solution won't help you contact prospects. Instead, it will help you source valuable data about your prospects that you can use to better qualify and engage them. Armed with these details, your sales efforts will soar.
For example, sales teams can use PredictLeads to learn which of their prospects just launched a new product, has a job opening, and more. They can then use these details to customize their sales strategies and boost the likelihood of a sale.
Automation features:
Find buy-now leads: Use PredictLeads' detailed search parameters to pinpoint prospects who are ready to buy from you right now.
Follow specific companies: Interested in selling to a certain brand? Follow them with PredictLeads and learn when they launch a new product or need to hire a new employee. Then use this information to help close a deal.
Automate your sales engine
Sales automation software will boost your productivity, help you source higher-quality leads, and, ultimately, ensure you close more deals.
All you have to do now is choose the right platform for your needs.
If you're a field sales rep—or manage a team of field sales reps—consider SPOTIO, the only sales automation platform that was made specifically for field sales.
Our platform has everything you need to automate sales, including ways to minimize data entry tasks, pinpoint quality leads, streamline communication with prospects, track reps in the field, and generate in-depth reports.
Request a free demo of SPOTIO today to experience the power of our platform for yourself!