CRM mapping software can give your outside sales team a major competitive advantage.
How efficient is your outside sales team?
How many times have your sales reps walked into the office of a prospective lead, only to find that they've already spoken to another rep in your company?
Or, what about the times your reps go all the way out to the boondocks to meet with a lead, and realize only once they step back into the office that they could've visited another lead just a few miles down the road?
According to studies, sales reps spend only 34% of their time selling. The rest is split up into administrative tasks; for field reps, this includes manually mapping out the routes they'll take to speak to leads and customers.
Obviously, this is not an efficient way to work.
Thankfully, there's a solution that will save both field reps and managers a lot of time and effort: CRM mapping software.
What is CRM Mapping?
CRM mapping is the act of analyzing sales territories based on the data inside one's CRM software. Once you invest in CRM mapping, your field reps will be able to actually see where your customers and leads are physically located, on a digital map. This will make it much easier for them to plan their routes.
CRM mapping makes it easier for field sales teams to spot trends, too. This is because data represented on a geographic map gives reps access to more actionable data, allowing them to get the most out of their territories.
What is CRM Mapping Software?
CRM mapping software helps sales teams fully capitalize on their customer relationship management solution by representing prospects and customers on a geographical map
Once you start using this kind of tool, you'll be able to easily see where your prospects and customers are physically located, where each is in your company's sales pipeline, how much revenue they represent to your organization, and more.
In this day and age, CRM mapping software is an essential tool for most field sales teams. Without one, you'll have a hard time succeeding at territory management.
11 Benefits Of CRM Mapping Software For Field Sales Teams
Visualize Customer Data on a Map
First things first, CRM mapping software will allow you to visualize customer data, making it easier for your reps to understand and, more importantly, use.
When reps can see their leads and customers on a digital map, they'll be able to plan more efficient routes between them. (More on this below.) And when reps can see data points that relate to each lead and/or customer, such as their stage in your pipeline or past buying habits, they'll close deals more consistently.
Visualization helps sales managers, too. A quick look at your CRM mapping software will tell you which sales territories perform best and which are underserved. You can then adjust your strategy based on this information.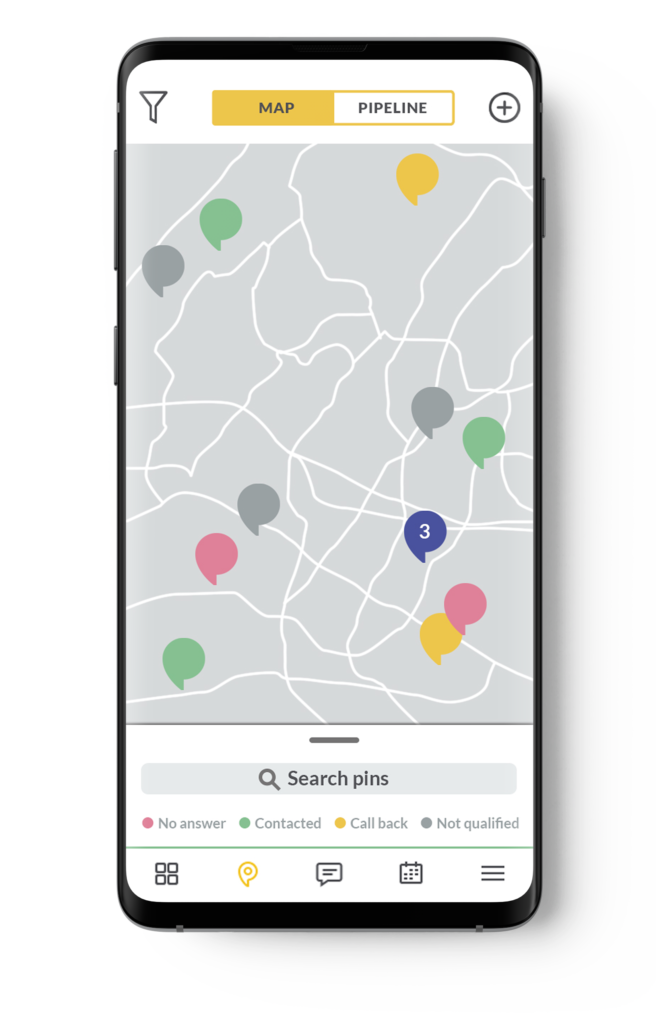 Distinguish between leads, opportunities and customers
Do your reps know the difference between a lead, an opportunity, and a customer? If they don't, they'll have a hard time making sales.
CRM mapping software like SPOTIO will make it easy for reps to distinguish leads from opportunities and customers. How? Every lead, opportunity, and customer in your pipeline can be color coded to reflect their place in your pipeline.
You could, for example, make leads yellow, opportunities green, and customer red. Then, when a rep looks at your department's CRM map, they'll be able to tell which prospects deserve their immediate attention. Win!
This is especially helpful if/when your pipeline contains hundreds of prospects. Reps won't have to manually sort through them, boosting their productivity levels.
Map more efficient sales routes
You manage an outside sales team, which means sales routes, i.e. the path your reps take from one prospect to the next, are extremely important.
The more efficient your reps' routes are, the more prospects they can meet with on a daily basis. And the more prospects they meet with, the more opportunities they'll have to close deals and boost revenue for your company.
CRM mapping software makes it super easy to plan efficient sales routes.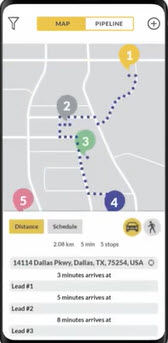 Reps will be able to see exactly where their prospects are located on a digital map. They'll also be able to see which prospects are the closest to making a purchase, as described above. With this information in hand, they can plan direct sales routes from one red-hot lead to another, without wasting valuable time.
But it gets better. Tools like SPOTIO will plan efficient routes for your reps and automatically track their mileage, turning them into productivity superheroes.
Improve territory management
As a sales manager, territory management is an essential part of your job. CRM mapping software will help you do it better and more efficiently.
Once you can see all of your territories on a digital map, the customers inside each territory, and the sales rep the territory has been assigned to—in one quick glance—you'll have all of the information you need to properly manage them.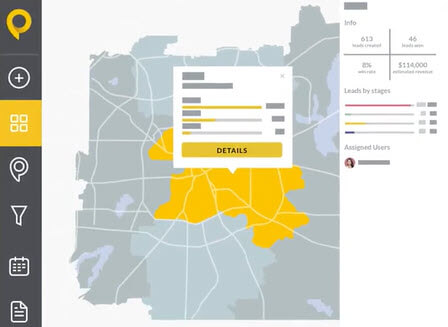 You may find that one territory is bursting with potential customers and decide to split it into two territories so that multiple reps can work the area.
Or that the rep you have assigned to territory XYZ is underperforming. You'll then be able to determine why. Do they need further training? Are they slacking on the job? CRM mapping software makes it easier to answer these kinds of questions.
We should mention that tools like SPOTIO make it easier to create territories, too.
Quickly create new territories by drawing on a map, or by using geographic boundaries like state, county, city, and zip code lines. Then quickly assign the territories you create to the most qualified sales rep on your team.
Automate sales activity capture
Every CRM mapping solution will tell you where your leads and customers are…
But only the best tools in this category will tell you what your reps do to connect with said leads and customers in order to drum up sales.
Knowing where your prospects are and which stage of the sales pipeline they're in is only half the battle. Your reps then need to act on this information by making calls, sending emails and texts, or visiting potential customers in person.
SPOTIO automatically captures sales activities so that you, a sales manager, always knows what your reps are up to in the field. This feature benefits sales reps, too, because they won't have to manually enter this kind of data into your CRM.
Less manual work equals more time to sell, which will result in greater revenue.
Want to see SPOTIO's CRM mapping software in action? Sign up for a free demo of our solution and a qualified expert will show you the ins and outs of our tool.
Identify existing customers
As stated throughout this article, CRM mapping software will show you where your current customers are, not just the red-hot prospects you're trying to convert.
Why is this important? Here are a couple of reasons why…
Current customers are easier to sell to. They've already bought one or more of your company's products. They might be willing to buy your new offering, too. You reps just have to contact them and explain its benefits.
Current customers provide social proof. Imagine how many more sales you'll make when your reps can say, "Your neighbor, Company ABC, just purchased from us and they've been able to accomplish XYZ." This bit of social proof will give customers the confidence they need to buy from you.
As you can see, knowing where your existing customers are is super valuable. Fortunately, CRM mapping software like SPOTIO will give you these details..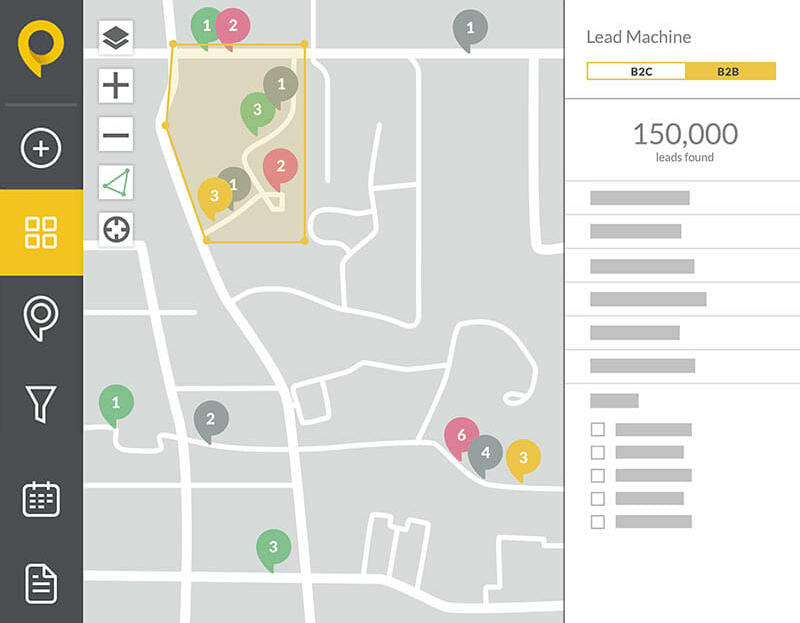 Spot trends and new opportunities in real-time
CRM mapping software visualizes the data inside your CRM. So, as long as your CRM of choice is up to date, you'll be able to see the information it contains via your digital map, making it easy to spot trends and new opportunities in real time.
For example, you may find that one territory, in particular, has been generating a lot of sales lately. To capitalize on this opportunity, you might assign a second rep to the area, doubling your chances to close deals.
When you know exactly what's happening and where, you can make smarter decisions that result in more sales. CRM mapping software is the key.
Use Google Places Data To Prospect Smarter And Faster
Some CRM mapping software, like SPOTIO, seamlessly integrate with Google Places as well. This means your reps will be able to pin-point the best prospects in their territory within seconds and stop wasting time on bad-fit leads.
Let's say, for example, that your business targets restaurants.
With SPOTIO, your reps can do a simple search and see all of the restaurants in their assigned territory. They'll also be able to see their contact information, business hours, and other details for each establishment. Finally, they can use the tools inside SPOTIO to plan the most efficient routes between new leads.
SPOTIO will give you and your reps access to the information of 150 million+ businesses worldwide, thanks to its integration with Google Places. In other words, it's the exact advantage your outside sales team needs to increase sales.
Move Sales Prospects From The Map Into The Pipeline
When your CRM includes mapping capabilities you can move seamlessly between the map of prospects and leads to the integrated sales pipeline.
So, when an outside sales rep contacts a new lead, for example, they can easily assign them a status that is color-coded and later appears directly on the map. The status assignments can be customized depending on your business process.
Later, reps can also add new events to their prospects, whether it's an upcoming meeting or an email they need to send with proposals or information.
That new event is then automatically synced to the rep's Google Calendar.
Stop Leads From Falling Through The Cracks
It's easy to forget about leads when you're constantly on the go. CRM mapping software keeps leads from falling through the cracks by reminding reps which ones are on their current route, and storing all of the important information in one place.
Imagine that one of your reps spoke to a lead, but they weren't interested in your company's product at the time. You can set this lead's status to "Not Interested". The rep will then receive a reminder to re-engage with them in a few months..
Also, because all leads stay on the map, sales reps can visit disengaged leads or opportunities that have failed to move through the pipeline.
And since top CRM mapping software stores important lead and customer data in one place, you won't have to switch between multiple tools to get the information you need. This will eliminate leads from falling through the cracks.
Work With The Systems You Have In Place
The best CRM mapping software is one that will integrate seamlessly with the tools that you and your team are already using.
What does this look like in real life? It means a good CRM mapping solution will connect to the customer relationship management tool you already use. Put simply, you won't have to invest in mapping software and a new CRM.
We should mention that CRM mapping software can integrate with other tools, too, like Google Calendar, Dropbox, DocuSign, etc. In fact, using Zapier integrations, you can connect CRM mapping software to over 750 different tools.
Hit bigger numbers with CRM mapping software
A CRM mapping solution will help your outside sales team boost efficiency and close more deals. It will give you, a sales manager, greater oversight over your reps and help you plan more effective sales strategies, too.
When it comes to sales mapping software, you can't go wrong with SPOTIO.
SPOTIO was specifically designed for outside sales teams. As such, it's loaded with features you and your reps actually need, including mapping technology.
Invest in SPOTIO today and instantly get access to:
Map Visualization: Bring your CRM data to life by visualizing it on a digital map. That way you always know where your prospects and customers are.
Filtering Capabilities: With SPOTIO, leads and customers become pins on a map. Said pins can be color coded to distinguish leads from opportunities, clarify pipeline stages, and reflect other information. You (or your reps) can then sort pins by data point to quickly find leads that meet specific criteria.
Constant Access: SPOTIO can be used on a computer, tablet, or smartphone. Basically, if a device has internet access, you and your reps will be able to use it to visualize CRM data and improve your sales processes.
SPOTIO is ranked #1 in the Field Sales category, and was a 2023 G2 Best Software Winner. Sign up for a free demo today to see what all the hype is about.