Sales management is one of the most critical roles in a sales organization. Sales managers are asked to manage the entire sales cycle, ensuring all tools, processes, and of course, people work in unison toward a common sales target.
As deals move through the sales cycle, the sales manager makes sure all players have what they need and are where they need to be to hit the target.
There are many sales management and productivity tools on the market, offering features like real-time visibility, territory mapping, and sales process management capabilities. In this article, we'll introduce 27 sales management tools that can help managers be more productive, and better prepare reps for success.
But, before we jump into the tools …
What is the Role of the Sales Manager?
Let's look at the critical job functions and responsibilities of the field sales manager.
People Manager: Motivating, training, conflict resolution, etc.
Customer Manager: Understanding customer needs and targeting.
Process Manager: Implementing and enforcing effective processes
Performance Manager: Monitoring analytics and tracking performance.
Now that we understand the core job responsibilities of the sales manager, let's look at the tools that support each of these categories/ functions: People, Customer, Process, Performance.
The 27 Best Tools for Field Sales Managers
Functions: People. Performance.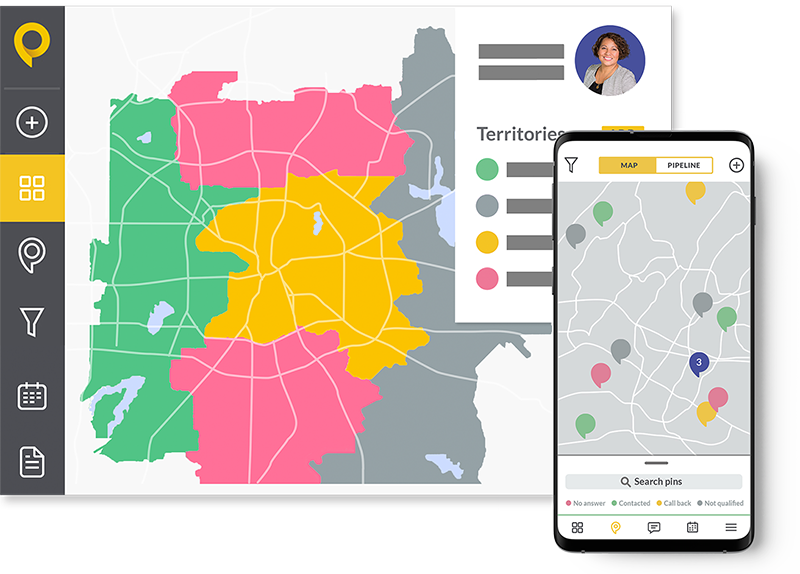 Best for: Field sales teams. SPOTIO is ranked #1 in the Field Sales category, and was a 2023 G2 Best Software Winner.
SPOTIO's Territory Manager allows sales managers to look after their teams more efficiently and accurately while achieving the highest possible contact rate. It enables the creation of territories based on ZIP Codes or a few targeted streets in a specific neighborhood.
Territories can be assigned to individual sales reps, mitigating the need for reps to drive around searching for the perfect neighborhood or business to prospect.
To reap maximum benefits from a territory, it must be worked and reworked. SPOTIO Territory Manager also provides historical data, giving sales management with background and insights to coach their sales team to success.
Functions: Customer. Process. Performance.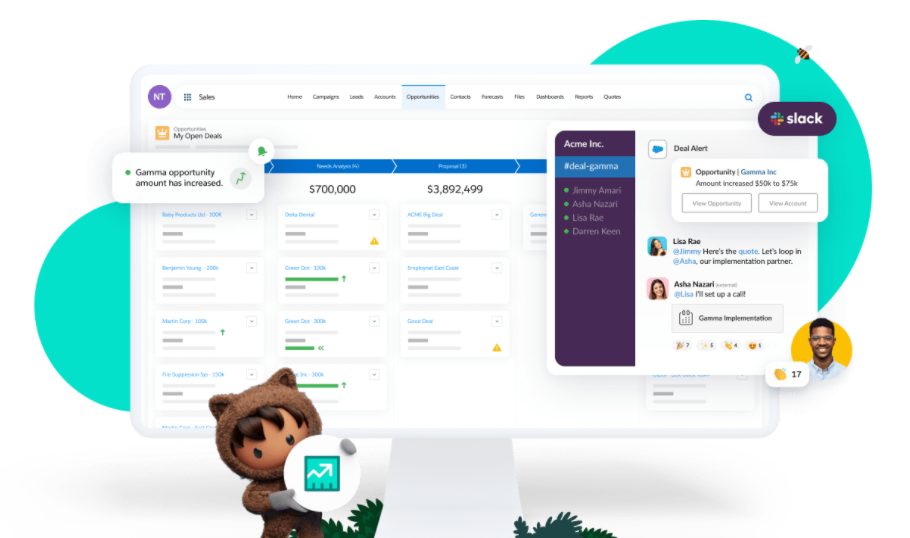 Sales Cloud, built on the Salesforce platform, is a modern cloud application platform that helps you run your entire sales process. Sales Cloud helps you connect your customer touchpoints across disparate systems, apps, and departments, giving you a single view of your customer.
Sales Cloud's artificial intelligence feature automatically captures data, reveals instant insights, and allows managers to proactively coach reps to win with predictive forecasting. With customer privacy prioritized, the platform offers a set of controls to manage the lifecycle of customer data and track preferences and consent of end users.
Four pricing plans are available:
Essentials | $25/month/user
Professional | $75/month/user
Enterprise | $150/month/user
Unlimited | $300/month/user
Functions: People. Process.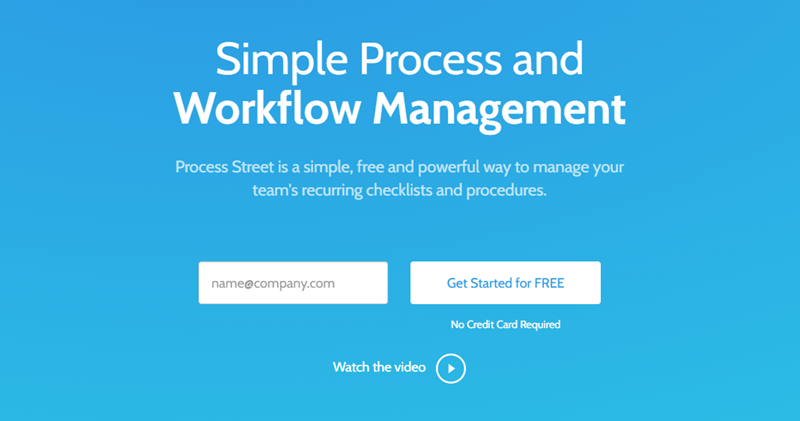 Process Street is a simple and free tool for documenting a sales team's recurring checklists and procedures. Using a drag-and-drop interface, intuitive keyboard shortcuts, collaborative workflows, and forms to capture structured data, users can quickly create and assign checklist workflows. Managers can track activity from the dashboard and receive notifications when tasks are complete.
Four pricing plans are available:
Free 
Business | $12.50/month/user
Business Pro | $25.00/month/user
Enterprise | Contact for Details
Functions: People. Customer. Process.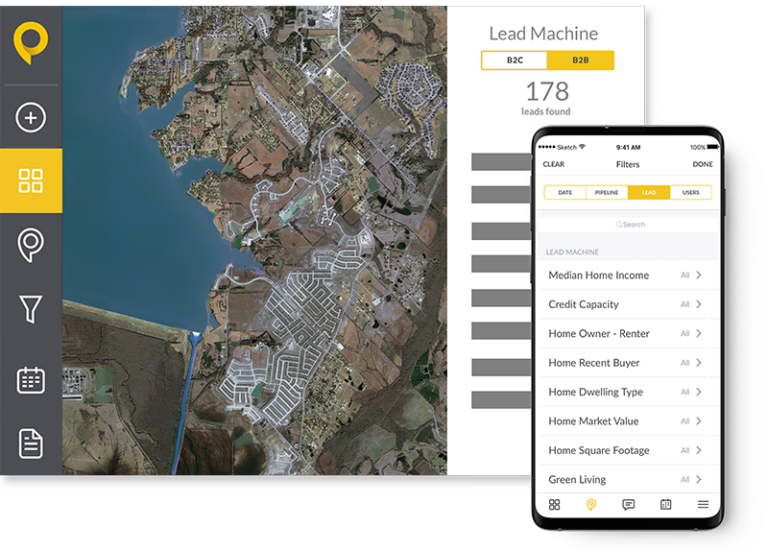 SPOTIO's Sales Intelligence offering, Lead Machine, is a one-stop shop for identifying strong leads, managing sales, and canvassing territories based on reliable, up-to-date data.
Lead Machine empowers residential sales teams to work more effectively and close more sales by targeting the best leads within a chosen territory.
Taking advantage of Lead Machine is simple. Draw your desired target area, establish an ideal customer profile (sort by income, home square footage, credit capacity of homeowner, etc.), and once your target area and prospects have been identified, simply import those 'best match' leads and start selling!
For those going after businesses and corporations, SPOTIO's integration with Google Places makes it easy for reps to find, filter, and target businesses in their territory. Imagine being able to search for all restaurants and retail stores in an area then route the best path to get there.
Functions: People. Performance.
Xceleration is a web-based platform offering the rewards, motivation, and knowledge necessary to create effective sales incentive programs.
Xceleration's RewardStation® platform can manage every aspect of a sales recognition program including day-to-day maintenance, comprehensive reporting and analytics, and rewards fulfillment. Xceleration allows users to design recognition solutions and reward options specifically tailored to each unique organization.
For pricing, contact Xceleration.
Functions: People. Performance.
Hoopla believes the number one way to engage today's employees is with transparency and appreciation. Hoopla's Motivation Platform provides the means to communicate across your entire organization, creating engaged, and motivated individuals and teams.
Using tools like Hoopla TV, Hoopla Mobile, and Hoopla Motivation Platform, managers can pull data from existing sales applications and post live updates for the organization to see.
Two pricing plans are available:
Silver | $199/month
Gold | $399/month
#7: My Reports by SPOTIO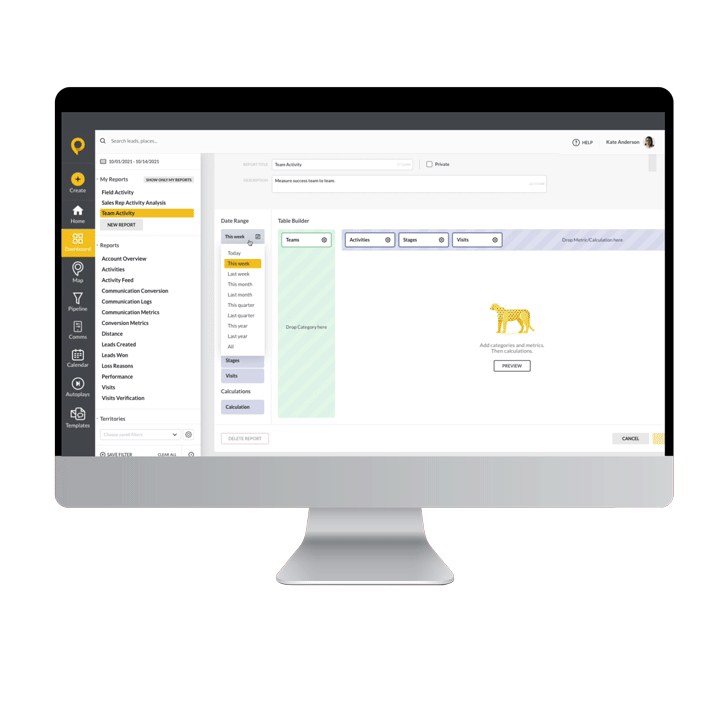 Functions: People. Process. Performance.
SPOTIO's My Reports feature gives account owners, sales managers, and sales reps that data they need to make the best decisions. With this tool, you can create custom reports based on metrics such as activities, stages, visits, territories, teams, or individual reps.
To set up a report, pick a name for your it, then define your date range and category, and drag-and-drop the KPIs you want to include — it's that simple. Then save your report as a template that you can reuse for future reports. You can access and share reports from your desktop, laptop, or SPOTIO's field sales app.
Functions: People. Process.
Brainshark provides a comprehensive platform for sales enablement and readiness, including onboarding, product launches, new markets, and competitive news.
Its sales training feature allows managers to deliver formal readiness paths for onboarding, provide learning content, and track progress.
Brainshark's content authoring solutions give managers the ability to create video-based learning content, add interactivity with quizzes or attachments, and ensure content is always up-to-date and accessible.
To learn more including how to access pricing information, see the Brainshark website.
Functions: People. Customer. Process. Performance.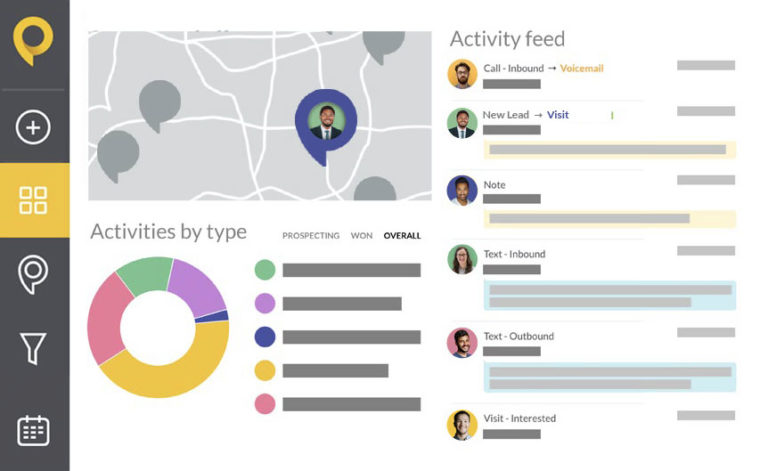 SPOTIO Sales Activity Management simplifies field sales management. It gives managers the insights they need to identify bottlenecks in the sales pipeline, evaluate rep performance by specific metrics, and gauge the amount of activity required to hit targets.
With this tool, you can see where reps are in real time, track their travel history, and verify visits. You can also use it to set up AutoPlays — just define the cadence for contacting leads and customers, and SPOTIO will notify reps when it's time to do so. 
Reps can communicate by email, text, or phone, all from within the SPOTIO platform, and SPOTIO automatically logs a record of all communication, syncing it to your CRM.    
This tool easily integrates with most CRM, ERP, and project management platforms to streamline internal processes. With SPOTIO's analytics, managers can evaluate which types of contact are most effective for building customer relationships, and troubleshoot any drop-offs in engagement.
Function: Customer.
ReferenceEdge is a native Salesforce application for managing customer reference/advocate information and automating the reference request workflow.
Users can track who is a reference, their attributes, and how often they may be used, and issue and redeem reward points for completed referral activities. Managers can measure program impact through extensive reports and dashboard charts, improve sales and marketing efficiency, shorten the "quote to cash" cycle, and win more deals.
Pricing starts at $5/month.
Functions: Customer. Performance.
FirstRain uses data science and real-time analytics to help managers make timely decisions, and machine learning to help sales leaders make sense of their internal content. Sales organizations can provide their reps with personalized reasons to call, key developments, and daily sales triggers.
For pricing information, see the FirstRain website.
Function: Customer.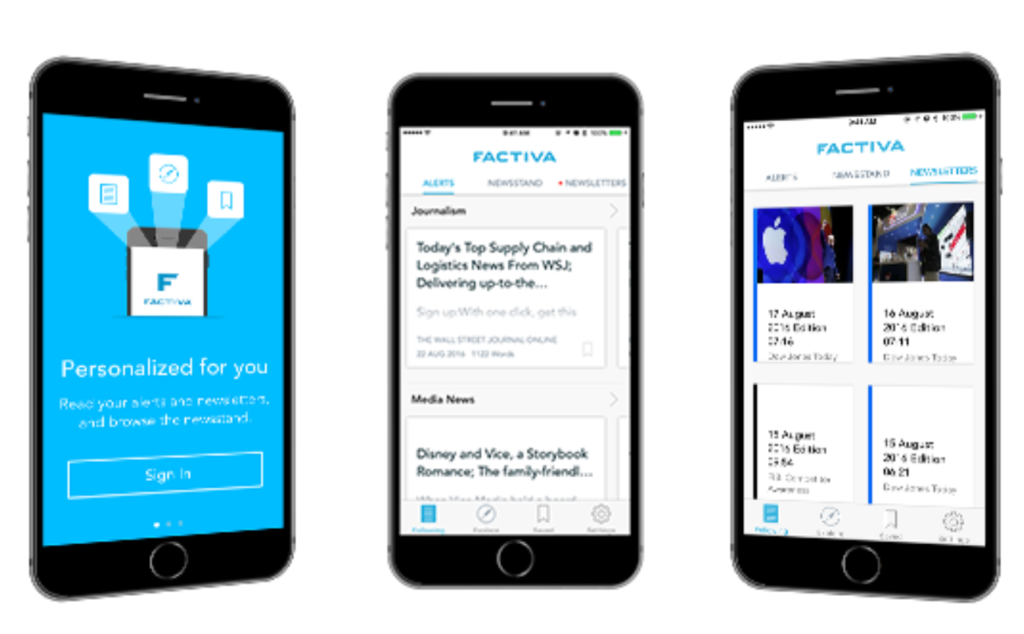 Factiva appeals to managers looking for a global point of view or to track news specific to prospects. Factiva's global database of nearly 33,000 premium sources — including licensed publications, influential websites, blogs, images, and video — gives users powerful insights.
74% of Factiva's premium news sources are not available on the free web, and thousands more are available via Factiva on or before the date of publication by the source.
For pricing information, see the Factiva website.
Functions: People. Process.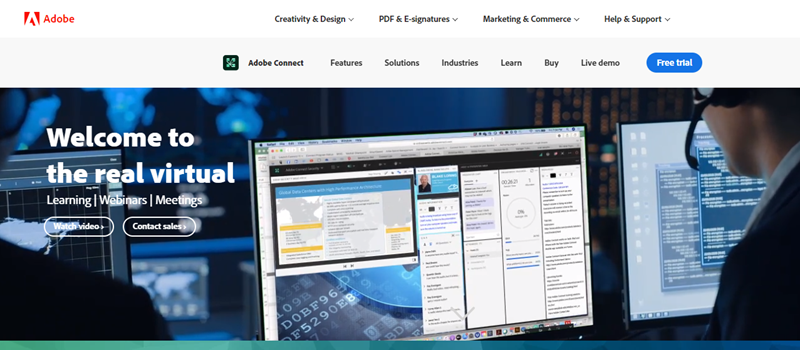 Adobe Connect allows you to create digital training, webinar, and collaboration experiences. You can create interactive learning experiences and compelling micro-sites, manage emails, and measure engagement.
Managers can bring their teams together using virtual rooms that can be customized with content, layouts, branding, and URL.
For pricing information, see the Adobe products website.
People. Customer. Process. Performance.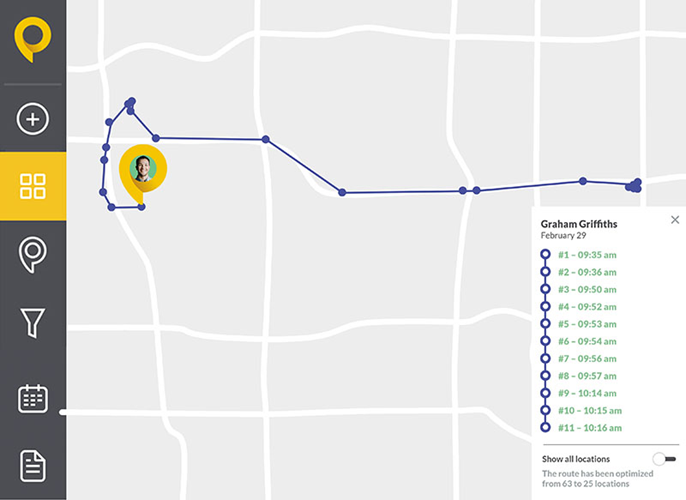 SPOTIO rep tracking allows managers and leaders to track their sales force in real time to ensure sales reps are completing territory assignments. SPOTIO's location verification tool tags each rep's location as pins are dropped to show:
Verified – Confirms the sales rep was within a 300-foot (100-yard) radius of the address of a dropped pin.
Unverified – Sales rep was not within the 300-foot radius.
Function: Customer.
Zoomforth is a communication tool that helps sales reps find and use personalized content to propel the buyer's journey forward. An easy-to-access repository and integrated email plugins to help users nurture leads and sell to existing accounts.
Zoomforth can improve team productivity by allowing reps to spend less time on administrative tasks and focus more on selling.
For more information including pricing, see the Zoomforth website.
Functions: Customer. Process.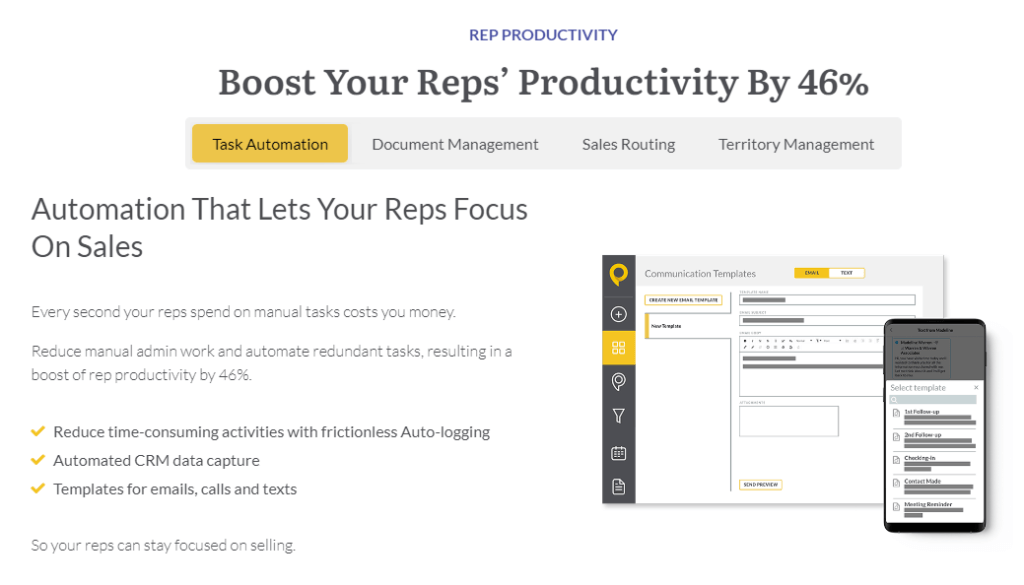 SPOTIO e-Contracts gives field sales reps immediate access to the files they need when they need them. Users can close deals on the spot, without emailing files back and forth to get contracts signed. Reps can also take pictures onsite as well as access needed files, such as product spec sheets and presentations, and managers are able to track their team's contract documents in one platform.
Functions: Customer. Process.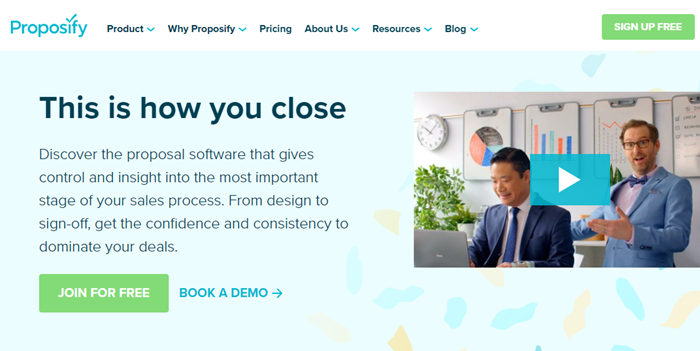 Proposify streamlines the creation of quotes, contracts, and other sales documents. Sales teams can quickly access and collaborate on proposal content while managers oversee activity with roles and permissions, commenting, and tracking through version history.
Proposify notifies sales teams every time the client interacts with the proposal, from opening the email to closing the deal.
Three pricing plans are available:
Free
Team | $49/month/user
Business | $590/month
Functions: People. Process.
Slack helps sales teams work smarter with cross-functional partners. Managers can set up public channels for improved visibility between sales, marketing, product, and support so all groups are working toward the same goals.
Managers can use Slack to boost morale by announcing deals and congratulating contributors across distributed teams and offices. Users can share context behind the deal, like challenges and lessons, so everyone can grow together.
Three pricing plans are available. To learn more, see the Slack website.
Function: Process.
QuickVoice by nFinity is an audio recording solution designed for iPad that's also compatible with Windows computers. Sales reps and managers can use QuickVoice to record memos, dictation, reminders, ideas, "to-do" lists, meetings, phone conferences, interviews, entire lectures, or seminars.
Users can drag and drop recordings into Word, Excel, PowerPoint, and other audio-supporting programs.
See the nFinity website for pricing information.
Functions: People. Process.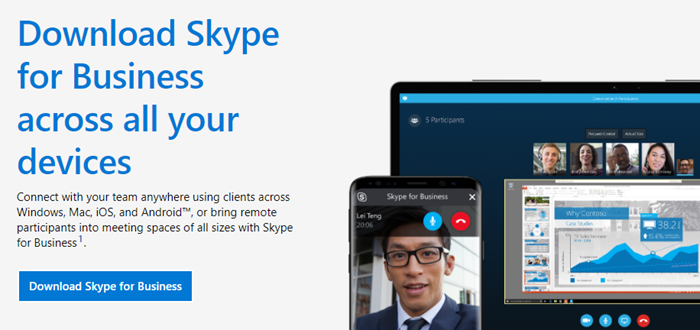 Skype helps sales organizations stay connected using instant messaging, video and audio chat, and online meetings with robust collaboration capabilities. Sales managers can use Skype to keep teams connected as well as to stay in touch with their sales teams in various ways.
With one click, anyone can join an online meeting from any device. Users can choose to meet right away, or schedule for later. The meeting URL is personalized for each user.
Skype for Business is a feature of Office 365.
Several Office 365 business pricing plans are available. For more information, see the Office 365 website.
Functions: People. Process. Customer.
LinkedIn Sales Navigator makes social selling easy with sales tools that focus on helping reps find the right prospects to build trusted relationships. Managers can scale their social selling strategies and start putting their sales team's network to work.
When you select individuals/organizations you want to go after, Sales Navigator will auto-suggest other similar profiles. This is beneficial in that it opens your eyes to organizations you didn't know about, helping you grow your potential opportunity pipeline.
For trial and pricing information, see the LinkedIn Sales Solutions page.
Functions: People. Customer. Performance.
Gong captures sales conversations, phone calls, web conferences, and emails. It then uses AI to uncover patterns and opportunities. Gong picks apart what's working, what's not, and how high-performing sales reps communicate. The best talk tracks and habits can be shared across teams.
For more information, including pricing, see the Gong website.
Functions: People. Customer. Performance.
ExecVision is conversation intelligence software that empowers organizations to coach people efficiently at scale, improving performance and driving revenue. Using AI, managers can understand why some calls go well and others do not. They can audit whether reps are asking the right questions and use insights to manage their teams to success.
For pricing information, see the ExecVision website.
Function: People.
Showpad is training, onboarding, and coaching software with full e-Learning capabilities as well as video role-playing technology. Managers can support their team's skill development plan and track team performance against required certifications.
Showpad has three core coaching components:
Training
Coaching
Conversational Intelligence
For pricing, see the Showpad Coach pricing page.
Function: Performance. People.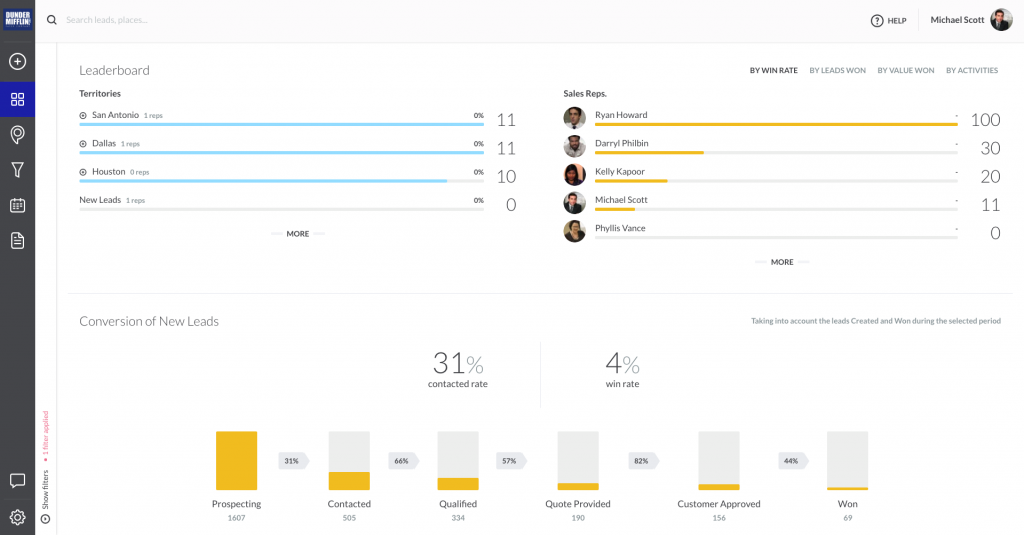 Encourage healthy competition through sales leaderboards and contests to drive the business forward. Sales contests are one of the best ways to drive team engagement and throttle results heading into the end of month, quarter, or year.
SPOTIO's communication features encourage sales rep engagement and offer an open feedback loop with managers.
Managers have a platform to measure field performance against peers and engage with staff while promoting open communication across teams.
Functions: Customers. Process.
NerdyData is a search engine designed to find the code, tools, and licenses your competitors or your prospects' competitors are using. This tool is great for sales reps to use when designing a custom marketing package to present to their prospects.
Managers can provide sales teams with an accurate list of prospects, target ads via platforms like LinkedIn Matched Audiences, perform market share analysis,and see how many clients each competitor has. NerdyData can also identify websites that are using software without a license.
Pricing ranges from $75 to $495. See the NerdyData website for more information.
Functions: People. Customer. Process. Performance.
With SPOTIO Autoplays, managers and sales reps don't need to waste valuable time setting up the right cadence. Autoplays let you change settings with a few clicks, so you can zero-in on when and how to contact leads to get the best results. Once you've figured out the ideal Autoplay, you can replicate it for other team members.
Add as many steps as you need, and create conditional rules that sort prospects into different lists. With SPOTIO Autoplays, you never need to worry about leads getting lost in the shuffle.
Final Thoughts
Managing a sales organization is not an easy job, but it doesn't have to be complicated or challenging. By ditching your spreadsheets and implementing proper sales tools, you can more easily focus on your organization's people, processes, performance, and customers, and drive further success.
_______
Questions or comments? Contact SPOTIO at [email protected] or comment below.
SPOTIO is the #1 field sales automation and performance management software that will increase revenue, maximize profitability, and boost sales productivity.
Want to see a product demonstration? Click here to see how SPOTIO can take your sales game to the next level.