Looking for the best sales forecasting software? Read on.
Sales forecasting software is an essential piece of technology for sales teams and business leaders.
Previously, Excel spreadsheets were the go-to tool for tracking and predicting sales. Nowadays, businesses prefer the reliability and accuracy of sales forecasting tools to provide real-time insights and trends in sales data.
In this guide, you'll learn why sales forecasting software is essential for your business. Then, we'll highlight what key features to look out for as we review the best sales forecasting software for you to consider in 2023.
Why is Sales Forecasting Software Important for Your Business?
There are two methods of sales forecasting:
Quantitative forecasting is the most accurate as it uses historical business data and trends.
Qualitative forecasting is subjective and uses market research, potential customer surveys, and expert opinions.
Sales forecasting software uses quantitative methods to analyze historical business data and trends – such as closed and won deals and win/loss records – and then produces an accurate report of expected sales revenue. Forecast reports compare sales targets with achieved sales versus expected sales.
Businesses need accurate sales forecasts to help allocate resources, hire new staff, increase quotas, and manage costs. Sales forecasting tools enable companies to predict future growth trends and help leadership formulate effective strategies to expand their business.
Sales forecasting software helps businesses answer these questions:
What is our expected revenue? (Organized by salesperson, territory, or account.)
How did actual sales compare to expected sales?
Which method produces the most accurate forecast?
Furthermore, publicly-traded companies have to report an accurate sales forecast because they know investors are looking for success, reliability, and stability each quarter.
The sales forecasting software models are well-tested and robust, but users can adjust the models to tweak predictions and make them more accurate over time. Businesses can also modify the forecasts with "what if assumptions" to simulate sales behavior and market conditions.
Main Types of Sales Forecasting Software
There are two main types of sale forecasting software:
Sales pipeline
Historical sales
Here are the key differences:


Sales pipeline forecasting software
Sales pipeline forecasting software analyzes your existing opportunities and calculates a win rate, so you know what priority to apply to them.
It considers variables such as:
What stage the opportunity is in
The estimated cost to close the opportunity (e.g. paying sales reps).
The average length of a sales cycle (i.e. how long it takes to close a sale).
The sales pipeline forecasting method focuses on pipeline management and calculates an historical win rate percentage based on:
The value of an opportunity
The age of the opportunity
The sales reps working the opportunity
For instance, while you may be tempted to target the high-ticket items, the pipeline forecasting software focuses on the most winnable opportunities before moving on to the more risky deals.
Note: At-risk opportunities include those that have been sitting in the sales pipeline for too long or that have unrealistic close dates (i.e. a prospect has unreasonable expectations).
Sales pipeline forecasting software is best-suited to companies with a significant variance in their monthly sales.


Historical sales forecasting software
Historical sales forecasting software analyzes previous company performance to calculate a mean (or average) sales level you can expect for the following month, quarter, or year.
It focuses on historical trends, plus the seasonality of products or services being sold. However, it does not consider the opportunities currently in your pipeline.
The total value of an opportunity is dependent on the current period, and the software displays forecasts on a basic X-Y graph format with the period on the X-axis and the total value of the opportunity on the Y-axis.
Historical sales forecasting software is best suited to small businesses with little to no variance in their monthly sales.
Features to Look for in Sales Forecasting Software
Sales forecasting has come a long way since the days of Excel spreadsheets.
Today, there are plenty of sales forecasting tools available. Ultimately, the right forecasting tool for your business will add value rather than draining more time and money from your sales team.
However, when choosing the software that's right for you, there are several essential features you need to look out for.


View pipeline activity
It's essential that you can view pipeline activity to see how leads are progressing and identify potential bottlenecks that need addressing.


Import internal sales data
The forecasts you make are limited to the data your software can access. Ensure the forecasting software integrates with the tools you use to record sales, such as Excel, your accounting software, or an ERP system so that you can import all the internal sales data you require.


Integrate third-party sales data
Ensure the forecasting software integrates with third-party sales data and historical sales patterns, such as seasonal trends, to create more accurate forecasts that reflect the current selling environment.


Track progress against sales goals
Make sure the forecasting software can import your actual sales data from your accounting tools so that you can track progress against your sales goals.


Generate revenue projections
You'll also want the ability to generate revenue projections for your subsequent periods by combining current sales prices with historical data to align revenue projections with demand forecasts.


Create reports
Check the forecasting software can create various reports, including final forecast reports, projected revenue reports, and forecast accuracy reports.
Best Sales Forecasting Software
In this section, we've included a brief overview of the best sales forecasting tools. When selecting the sales forecasting software for your business, check the "best for" section to see if it fits your budget, goals, and business size.
Where possible, we've included pricing details, but in some cases, you'll have to contact the vendor for a custom quote.


Pipedrive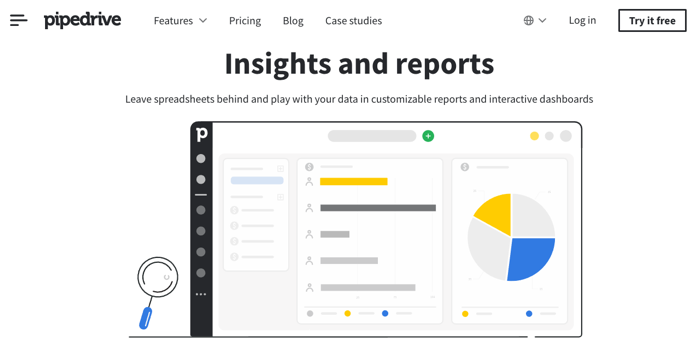 Pipedrive's visual sales pipeline, insights, and reports prompt you to take action, remain organized, and stay in control.
The revenue forecast reports predict turnover and growth to help spot problems before they arise. And the recurring revenue reports show customer payments that come in multiple installments, so you can accurately generate revenue projections.
You can also customize reports to your business requirements to highlight winning patterns and pipeline bottlenecks for your team to overcome. Plus, the interactive dashboards allow your sales team and leadership to see how they are performing in real-time.
Pipedrive integrates with third-party software, such as Google Apps, MailChimp, and Zapier, and includes a powerful API if you want to make other connections.
Best for: SME and Enterprise sales teams
Pricing: Pipedrive has a selection of subscription plans, but you'll need the Professional plan at $49.90/user/month (billed annually) for sales forecasting.
Free Trial: Free 14-day Professional plan trial.


Anaplan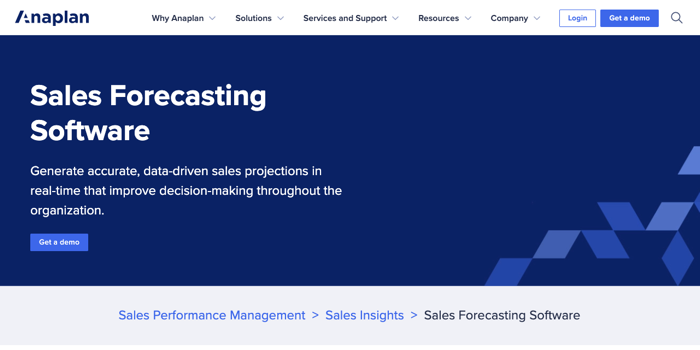 Anaplan's sales forecasting software allows you to generate accurate, data-driven revenue predictions in real-time that improve decision-making throughout your organization.
You can forecast sales by geography, product line, or account, with any level of granularity – e.g. by city or state, by specific product SKUs, or by a particular set of accounts. Plus, you can also get a clearer picture of your sales pipeline health and use the Predictive Insights to help focus sales resources on the best opportunities to drive more consistent revenue.
Anaplan also combines third-party data with historical sales patterns, including trend and seasonality, to help you create more accurate forecasts representing the current selling environment.
Best for: Enterprise sales teams
Pricing: Contact Anaplan for pricing on their Basic, Professional, and Enterprise plans.

SPOTIO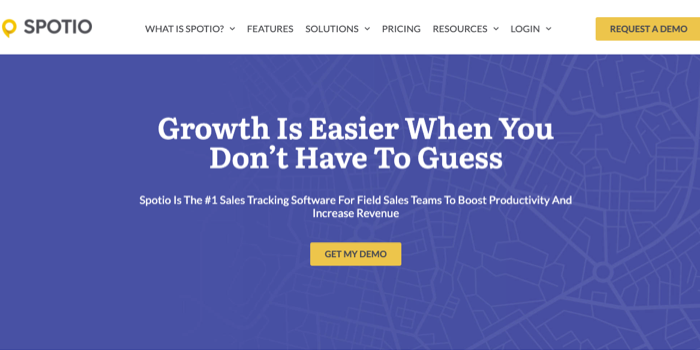 SPOTIO's Sales Tracking Software makes field sales performance more predictable with clear insights and analytics, so you can make informed decisions and achieve your targets.
Without an accurate picture of sales performance, you're left guessing as to whether or not your team is on track and where any gaps exist. But SPOTIO captures and tracks all the sales data that your business requires so that you get complete and accurate sales forecasts.
You also get comprehensive, real-time insights into the performance of your sales team. You can monitor critical sales activities, review pipeline metrics, and track revenue data at the rep, team, territory and organization levels. And then use the data to adjust plans and take action, so you hit your sales targets.
The platform's My Reports feature also makes it easy for admins, managers and reps to generate custom reporting dashboards containing only the metrics and KPIs that matter most. 
SPOTIO integrates with your CRM, ERP, and 2,000+ other tools in your tech stack so that you can get a complete and accurate sales forecast and track progress against sales goals.
Best for: Field sales teams. SPOTIO is ranked #1 in the Field Sales category, and was a 2023 G2 Best Software Winner. 
Pricing: Get pricing for the plan that best meets your needs. 


Gong.io
Gong's sales forecasting software pulls data from each point of contact (calls, emails) with customers, then processes it through bespoke AI algorithms for deep analysis. The resulting trends and recommendations give sales reps clear guidance on what to do next and tell you where you stand on every deal.
You get total visibility into your pipeline, so you know exactly where each deal stands – next steps, decision-maker engaged, awaiting sign-off – and forecast accordingly. But you can also identify any risks – budget not discussed, deal stuck in a stage, decision-maker not engaged, competitor brought in – and adjust forecasts accordingly.
You can view all the real-time information you require on a specific forecast category, deal, product, or team on one convenient screen. Then, focus on the strategy and find a way to close the deal.
Best for: Sales leaders
Pricing: Contact Gong for a customized proposal.


Workday Adaptive Planning
Workday Adaptive Planning (formerly Adaptive Insights) lets you simplify and improve your sales planning and forecasting processes.
Data is automatically linked together in real-time, eliminating the need for time-consuming manual data entry. Sales, finance, and other business partners have access to the same data, making collaboration transparent and straightforward.
When you automate the sales forecasting process of data collection and eliminate version control issues, you reduce risks because everyone is always working with the same, current version of the data. Plus, users can't accidentally break formulas or unlink sheets as they could in spreadsheets. As a result, everyone gains confidence in the plans and can talk about strategic business initiatives instead of the accuracy and version of the forecast model.
You can also make quick adjustments to unexpected events and use what-if scenarios to determine the best way to react.
Best for: SME and Enterprise sales planning teams
Pricing: Contact Workday Adaptive Planning for a customized plan based on your company size, plus the number of seats, package, and features you require.


InsightSquared
InsightSquared's AI-powered sales forecasting software streamlines forecast submissions across your team, giving you more time to focus on decision-making. Plus, the AI-driven updates let you easily roll up forecasts across your team and ensure everyone is on track to hit the target.
You can slice-and-dice forecasts by segments such as region, line of business, or products — and break them down further by month or quarter. The flexible and comprehensive platform also maintains all change records and incorporates data from your complete sales history, so you can understand the gap between target and achieved sales.
InsightSquared's forecasting reports hold sales teams accountable by visualizing progress. For instance, you can use the Forecast Summary report to spot issues and fill the gaps to improve accuracy across the board.
Pipeline review meetings also become a breeze because you have full confidence in your sales activity data. You can quickly identify which deals to pull forward, and which ones to pause. Plus, you also know which reps to coach as you can understand the reasons behind their sales figures.
Best for: Sales managers
Pricing: Contact InsightSquared for a custom quote based on user role.


Aviso Insights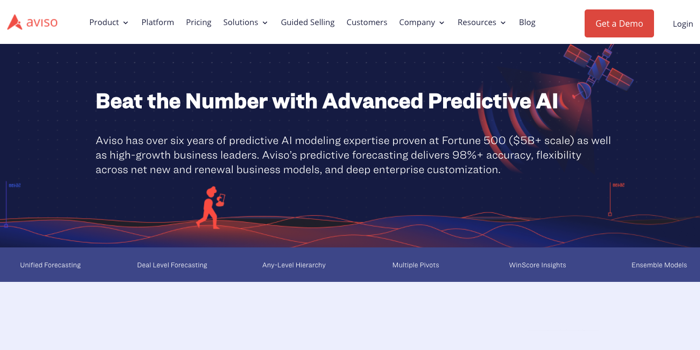 Aviso's predictive AI sales forecasting software delivers 98%+ accuracy, and is the only tool on the market to predict run-rate business.
Aviso's unified forecasting combines human and machine learning with the most sophisticated global roll-up forecasting in the industry to help sales reps, managers, and VPs focus on what lies ahead and drive timely team actions.
It provides insights into all deals called in and out of forecast so that sales teams can see discrepancies and address disagreements accordingly. You can also change forecast views by product, segment, geography, or any other design point.
Aviso pulls data from your CRM and stores it separately so that you can create multiple views of the forecast, for example, by business units, product lines, or renewal dates. And by using AI and big data, Aviso can make predictions based on both sales and pipeline performance.
Best for: Sales leaders, managers, and reps.
Pricing: Contact Aviso for a custom quote based on your requirements.
Which Sales Forecasting Software Are You Going to Try?
All of these sales forecasting tools let you view pipeline activity, import sales data, track progress against your sales goals, and create custom reports.
If you're running a field sales team, then sign up for a free demo of SPOTIO to see how the platform can help you monitor critical sales activities, review pipeline metrics, forecast sales targets, and track revenue data at the rep, team, and organization levels.