Successfully and strategically mapping out sales territories requires coordinating countless moving parts. Yes, you'll need to manage the basic sales assignment process of connecting reps with their regions – but savvy business owners and sales managers recognize that a comprehensive field sales methodology requires far more than just outlining boundaries and choosing the right account executive.
Salesforce Maps (formerly MapAnything) has proven to be a popular choice for sales organizations looking to up their infield selling game. However, businesses across virtually every vertical often realize that the current SF Maps functionality doesn't quite suit all of their needs.
To best optimize a sales territory campaign, executives must implement a full-scale, robust mapping solution that goes beyond program basics to include other factors such as gathering data sets, managing leads, and measuring performance.
What is Salesforce Maps?
Salesforce Maps is a location intelligence and map visualization tool that integrates with your Salesforce CRM, simplifying territory management.
With Salesforce Maps you can create territories for your field sales reps and easily see the outcomes. Designing routes with Salesforce Maps ensures reps are maximizing their time in the field and getting the most coverage out of each territory.
Some of the top Salesforce Maps capabilities:
An easy to understand visualization of territories for your team

Cut territories based on desired criteria such as revenue potential, by new / current customers, or geographically.

Optimize routes and streamline the time sales reps spend going to and from appointments.

Increased efficiency by being able to easily make decisions based on a sales reps location.
Pricing
The features and benefits of Salesforce Maps are enticing, but it's important to understand their pricing structure and the cost of add-ons that may be required to get the full benefits your team is looking for.
For starters, for those not currently using Salesforce's CRM and Salesforce Sales Cloud, the CRM will need to be purchased and implemented. Depending on the tier you need, the Salesforce CRM costs between $25 – $300 per user/per month. 
If you currently have the Salesforce CRM, you just need to pay for the Salesforce Maps add-on. It's important to note that the map add-on is only available for those who have the Professional level or above of their CRM. The professional level starts at $75 per user / per month. 
Once you have the above, Salesforce Maps offers two versions you can add-on: Basic and Advanced.
Salesforce Maps Often on the Fields Sales Solution Shortlist 
Designed specifically for field sales strategies, Salesforce Maps does what all mapping software should do: help organizations add geographic context to the selling process. The system also automates standard selling situations, such as contact details, new account creation, lead gathering, and various customer service components.
Sure, SF Maps uses functional mapping and productivity optics. However, as field sales team's begin to experience the pressure of making sales in highly-competitive markets, they quickly realize that selecting the right territory mapping solution boils down to far more than cool visuals.
Before you invest heavily in Salesforce Maps, it's important to explore some key considerations that could shape your final decision
Salesforce Maps Pros and Cons
As with any software, it may or may not be right for you business. To help you identify whether or not Salesforce Maps is a good fit, here is a breakdown of the good and bad:
Pros
Native integration to your Salesforce CRM means you have one less platform add-on to maintain

Know the distance and travel time between customers and prospects for maximum efficiency
Visualize complex sales data in an easy-to-understand map view
Cons
Compared to more robust mapping tools, the geographic data offered is based on customer data you already have. This makes it difficult to identify new sales opportunities within each territory

It tends to be cumbersome and not user-friendly when used on a mobile device from the field. This will add more time to a reps day because they will need to complete certain activities when they're back in the office and can access the desktop version
It's a complex tool and requires a lot of training to become familiar with
Cost. Salesforce Maps costs more than other mapping softwares
The Hunter (SPOTIO) vs. The Farmer (Salesforce Maps)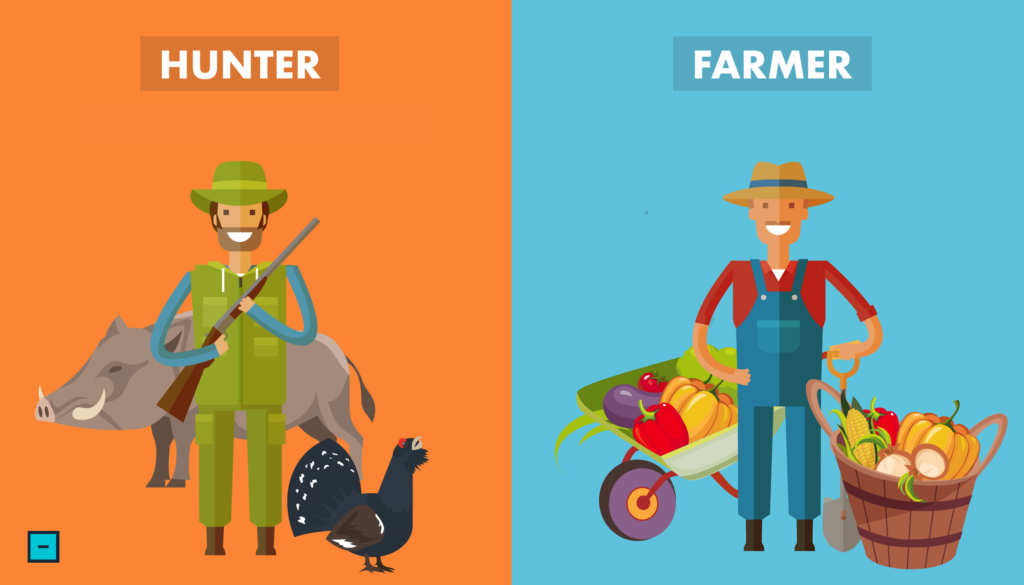 As a global leader in the CRM space, Salesforce platforms (including SF Maps) are typically reliable options for business owners. However, it's important to note that just because Salesforce Maps is a good solution, it doesn't mean that it's the best solution for your outside sales team.
While business owners may initially explore Salesforce Maps when sourcing digital mapping strategies, many discerning entrepreneurs choose SPOTIO as their final solution.
Leveraging Field Sales To Grow Your Corporate Operations
Both Salesforce Maps and SPOTIO offer a diverse suite of sales automation and geographic technologies. However, Salesforce Maps' configuration makes it uniquely designed for sales teams trying to sell (or farm) into already existing customers, establishing it as a potential option for businesses looking to sustain their current operations.
SPOTIO, on the other hand, goes head-to-head with SF Maps farming capabilities – and then takes things up a notch. In addition to providing system support when selling into established customers, SPOTIO's functionality is positioned specifically to help companies prospect (or hunt) and find new business opportunities to grow their corporate reach and revenues.
7 Ways SPOTIO's Mapping Tool Will Help You Hunt Down (And Close) More Deals
The SPOTIO field sales solution, much like Salesforce Maps, provides the conventional mapping feature set, including:
Map Visualizations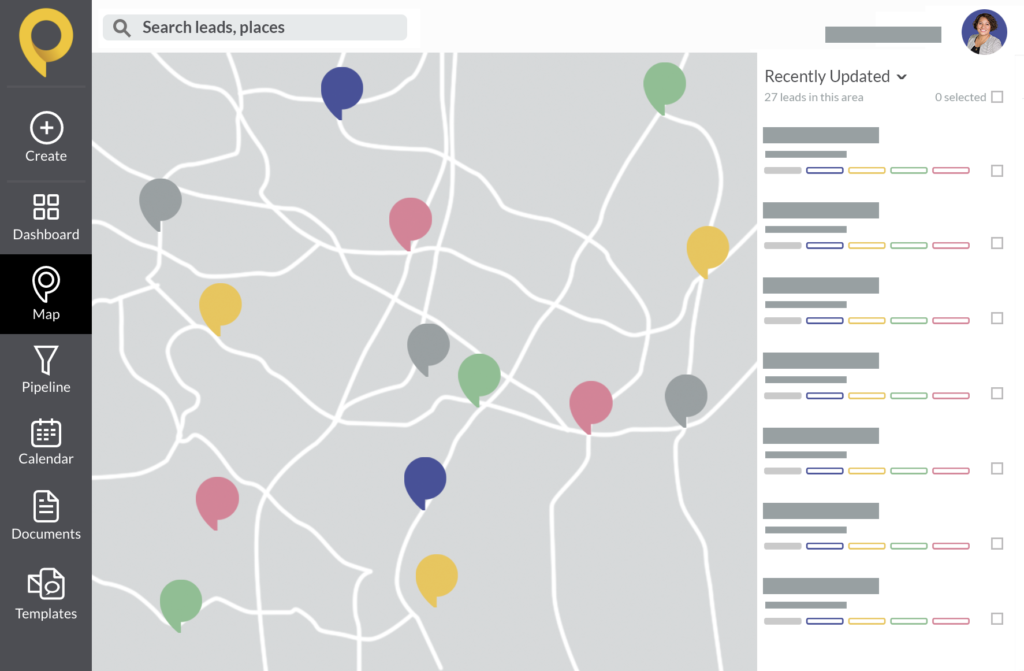 SPOTIO's map visualization technology uses a geographic interface to help users aggregate and analyze complex location data sets. The system offers big-picture intelligence that helps pinpoint new prospects, leads, and revenue-generating opportunities within a designated sales territory.
For reps, this means instant insight on where they have their best chance to maximize closed deals and overall ROI when spending time in the field.
For managers, SPOTIO's map visualizations help pinpoint where reps are converting deals – and which region's need a little more focused selling attention.
Route Mapping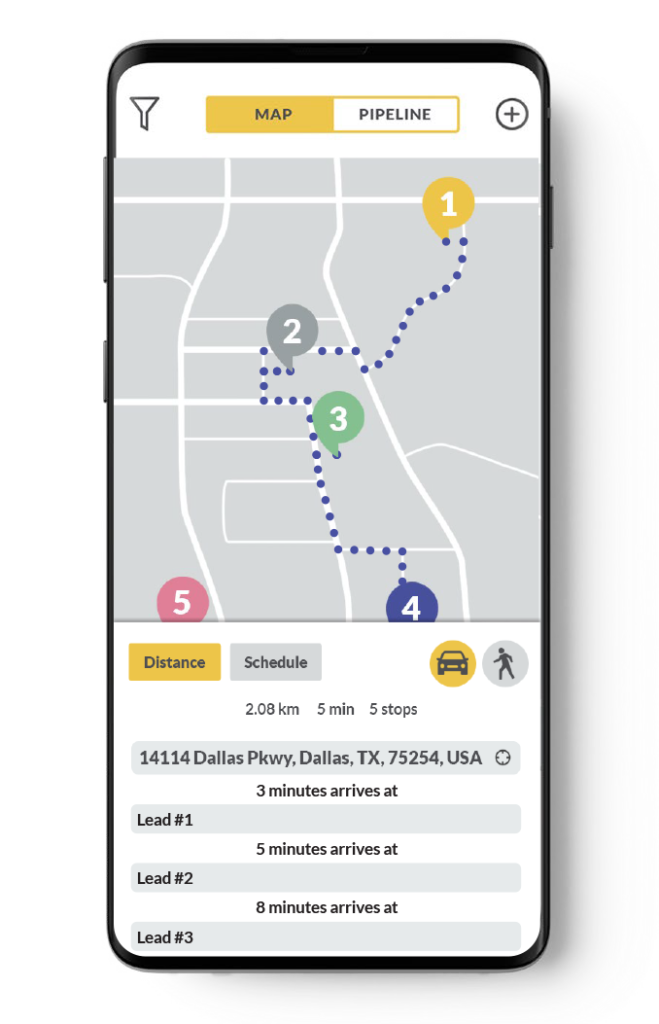 SPOTIO Route Mapping offers invaluable insight on how to get to your final destination as quickly and painlessly as possible. Reps and managers can develop and implement customized routes that minimize lost productivity. You'll use real-time data to help your team lower windshield time and streamline output on every client visit.
Beyond these standard functions, SPOTIO stands out above other solutions like Salesforce Maps as a leading field sales acceleration platform by offering these seven essential hunter features:
1. Prospect with ICP Data
Salesforce Maps captures and visualizes stored company data to help sellers understand their current state of affairs with any specific customer.
However, SPOTIO offers extended capabilities that allow users to develop ideal customer profiles. Your sales team can quickly sort live information by over 50 data points to help you pinpoint common traits amongst your very best customers to reference when developing prospect lists.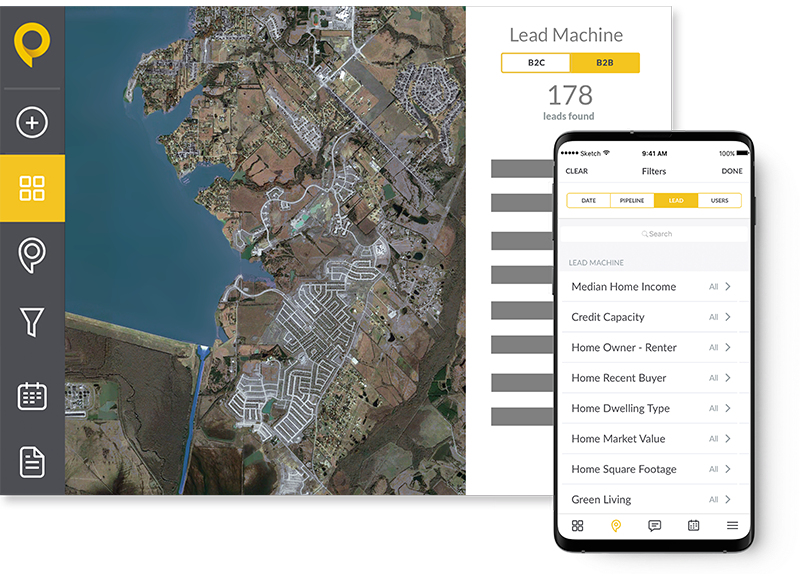 2. Assign Territories by Number of Homes
Salesforce Maps allows users to create territory boundaries. Unfortunately, establishing a sales territory based on sheer mileage alone is not enough to ensure success. It's vital to develop territories that gives your reps access to a sufficient number of prospects within their district, without feeling overwhelmed, or capped.
SPOTIO goes beyond miles and square footage, allowing users to develop balanced territories based on the estimated number of homes in a region. In just a few minutes, managers can create selling regions that offer your team an equal opportunity for success while out hunting for new business.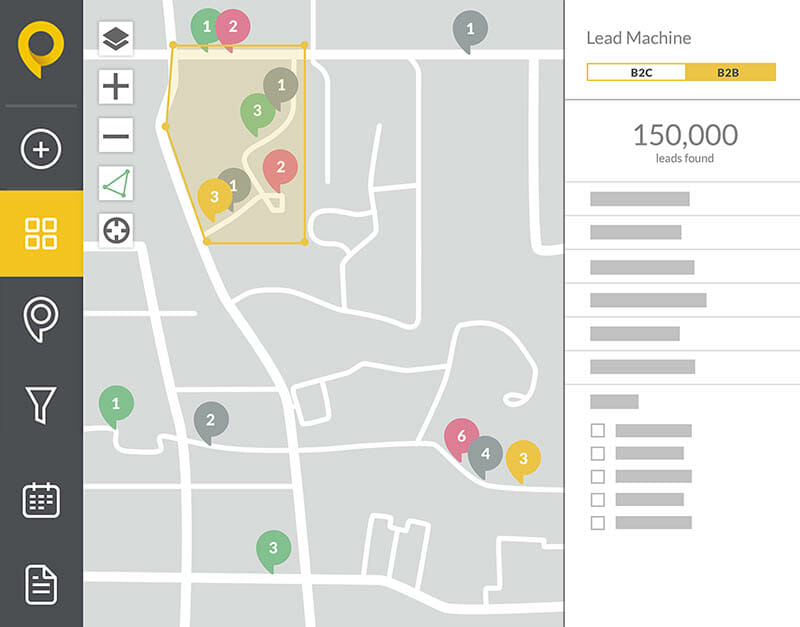 3. Use Google Places Data to Target Specific Business Types
SPOTIO's platform integrates with Google Places to boost the benefits of mapping technology. Again, Salesforce Maps provides sufficient information on current sales customers and activities. However, with its native Google Places integration, sellers can use SPOTIO to designate the very best opportunities within their assigned regions.
For example, companies selling into healthcare organizations can use Google Places to identify other medical practices. From there, SPOTIO takes over, mapping out the best route to optimize efficiencies during the time in the field.
4. View Pipeline Activity Inside Your Territory
Like everything else in sales, the pipeline activity within your designated sales regions can be cyclical with upward swings and downturns. Salesforce Maps' somewhat limited technology profile makes it challenging to accurately view pipeline activity within a district.
SPOTIO's mobile functionality equips users with "notes as you go" field data entry that promotes accurate, thorough pipeline activity tracking that benefits virtually every level of a sales organization.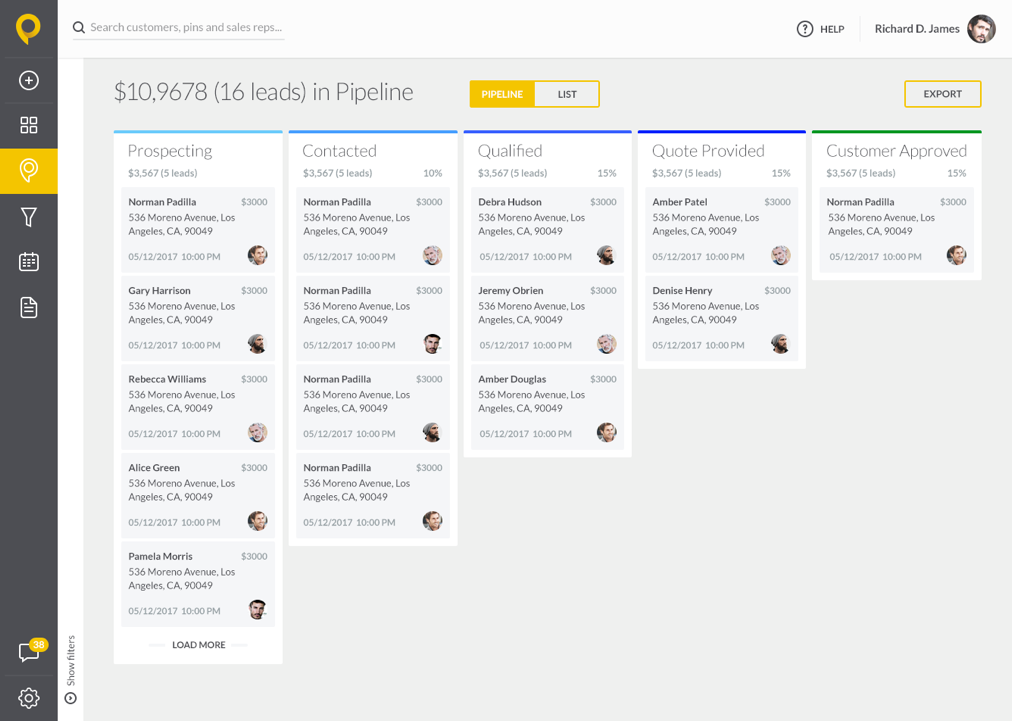 Busy sales reps appreciate having the ability to quickly zero in on their most urgent potential sales. Additionally, managers and group leaders value using pipeline activity data sets to pinpoint possible deals as well as marketplace momentum, trends, and dips.
5. Re-Engage Smarter With Historical Data
Let's face it: effectively selling often relies on an "if at first you don't succeed" mentality.
Exceptional sales leaders understand that to truly optimize results within a territory, reps must continuously refine their strategies and increase their overall territory penetration. However, tracking the extensive volume of historical data through Salesforce and other (often more manual methods) can prove a major time waster.
SPOTIO's historical data functionality streamlines accessing past communication and transactions. Reps can quickly refresh on the details of the last appointment, while managers can use the stored insight to help the team better direct (and close) on the next engagement.
6. Map Faster Routes (aka Spend More Time Selling)
SPOTIO Routing technology quickly separates it from Salesforce Maps.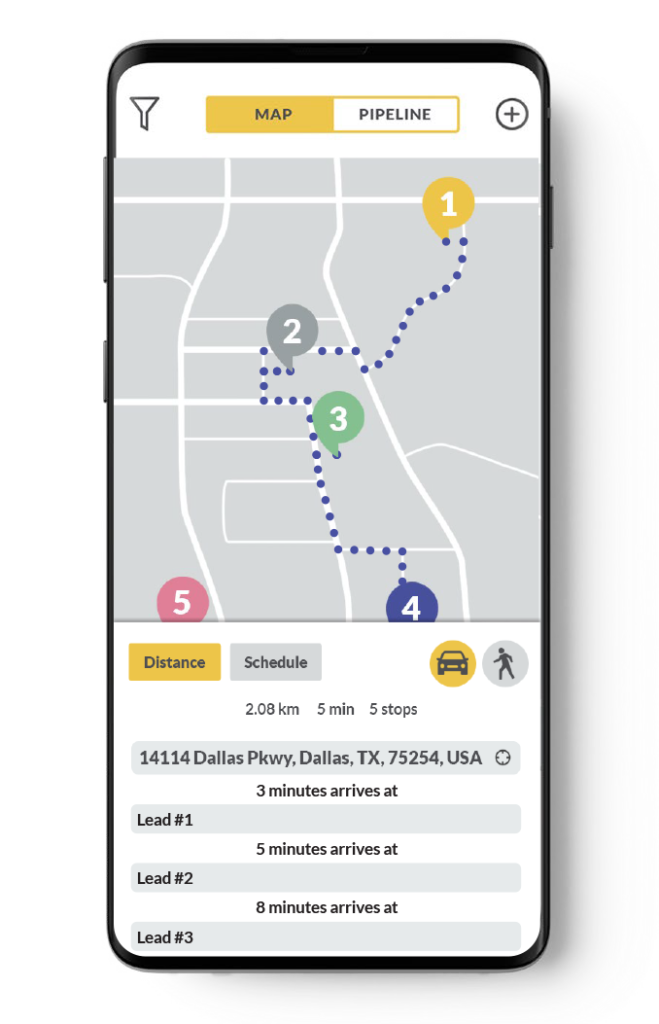 SPOTIO expedites route efficiencies, enabling account reps to best plan out their field days. The system utilizes current data sets to develop courses based on essential factors such as distance, appointment time, meeting length. The system even calculates time needed for both driving and walking.
SPOTIO's agile technology profile instantly calculates all relevant details to craft a map route that gives your account executives the best chance to lower time behind the wheel and increase time in front of your clients.
7. Get Real-Time View of Rep Activity and Performance
Unlike Salesforce Maps, SPOTIO prioritizes rep activity and performance. A simple push of a button allows users to determine the exact position of reps in the field, providing a live update every two minutes or whenever an app activity is logged.
SPOTIO delivers the information managers need to help reps optimize their time in the field to close deals and grow the business without infringing on staff member's privacy during off-hours.
Connect Your CRM With SPOTIO
SPOTIO integrates directly into your existing CRM. Bolt on the power of SPOTIO's mapping and field sales acceleration platform to your Salesforce CRM. The system is designed to integrate seamlessly with Salesforce and deliver accelerated value and usability.
SPOTIO's 2-way CRM integration instantly redefines mapping visualization within your sales organization. Once installed, SPOTIO simplifies data intelligence aggregation, allowing users to store, analyze, and sync field information automatically into your existing Salesforce configuration.
Still not convinced?
Maybe you need more information to determine if SPOTIO is the right field sales solution for your organization. Or, maybe you're worried that the integration process will hinder efficacy and productivity.
No matter what your questions or concerns, we can help. Contact us today to speak with an onsite SPOTIO specialist to get the information you need. You can also click here for a no-risk product demo to see for yourself what SPOTIO offers to sales organizations pursuing growth, increased revenues, and extended market share.