Territory management in Salesforce can help your sales team operate with greater efficiency and close more deals.
If you are tracking field sales reps, then you need effective territory management software. By pairing the powerful planning and mapping software of SPOTIO with the flexible Salesforce platform, teams will strategize, scale, and grow business better than ever.
Boost your productivity by customizing your Salesforce instance by territory, and your users will never see irrelevant data again.
Territory Management in the Sales Cloud uses an intuitive user interface that guides your users through company procedures and best practices. Not only that, but managers have a view from above that allows them access to data at a glance.
With Territory Management, geography and hierarchy come together to help your company function as a cohesive unit.
Here we'll take you through a quick look at how territory management can help your business, and show you solutions to empower your teams with even more practical field sales tools.
About Salesforce
Salesforce, founded in 1999, is a SaaS Customer Relationship Management (CRM) software. What made Salesforce standout was that they were the first cloud-based CRM hosted on a company's server, rather than having to install, update, and maintain software on everyone's computer.
At their inception Salesforce was a Software as a Service SaaS CRM, but now Salesforce offers a variety of software technology solutions, helping their customers deliver topnotch customer service and unifying internal teams.
What is Salesforce Territory Management?
Available in both Classic and Lightning experience, Territory Management enables your company to use your management hierarchies already in place to guide an automated organize data and user roles in the same way that you manage sales territories.
This new system of organization can revolutionize the way your teams bring in sales, which allows for even more accurate forecasts.

For a guided tour of how this works, click here.
Salesforce gives you territory modeling, letting you compare performance projections for new assignments and management hierarchies. It also provides management and team leaders a range of other tools to effectively collaborate and close more deals.
Let's take a closer look…
Salesforce Enterprise Territory Management Features
You may be familiar with the Territory Management Component that was only available in Classic. Salesforce phased this feature out in the Summer '20 update, so get ahead of the curve and learn about Enterprise Territory Management!
Organize Accounts, Opportunities, Leads, and Cases By Territory
Role hierarchies are one of the touchstones of Salesforce, but what about when you can take them a step further? Use territories to guide your profile assignments, and you will make sure that your field reps only have access to what they need when they need it.
Worried about complex accounts? This robust tool allows access to users based on account characteristics, not just geography. This means you can sort accounts under multiple territories. Set up your company structure, and user permissions will fall into place!
Customize Salesforce Territory Settings
Once you're ready to build out your territory management, simply follow the instructions in Setup under Territory Settings.
If your Salesforce instance already has a role hierarchy in place, great! All you have to do is assign users to territories based on the predetermined structure. If not, no worries! Simply create your hierarchy based on the territories they cover.
What if everyone in your company needs access to a certain set of records? Maybe there are some big projects that reps from multiple territories need access to. This is where org-wide permission sets can come in handy.
Set your rules, and everyone can have access to the same version of information!
Reporting and Forecasting By Territory
Generating leads and closing opportunities is great, but when it comes time to evaluate sales strategies, you're going to want historical data and powerful forecasting tools.
Enterprise Territory Management comes with plenty of custom report types to accommodate your needs, such as: 
Accounts by Territory
Territories without Accounts
Users Not Assigned to Territories
Territories Per User
With these reporting capabilities, your collaborative forecasting is going to be more accurate than ever. However, with such a dynamic feature, you'll need to consider how your data will be impacted once you introduce territories.
Make sure you test all new functions in the sandbox, and your company will thank you.
Advanced Segmentation Across Salesforce Territories
You can divvy up territories in Salesforce in a variety of ways:
Geography – city, state, zip code
Customer type – whether they're new or existing
Customer industry – pharma, food and beverage, home improvement, solar, etc.
Customer revenue – allocate the appropriate resources/personnel
Product requirements – which of your product offerings suits best
Sales type – B2B, B2C, distributor, etc.
Salesforce Territory Management Best Practices
User territory and role hierarchies
Territory and role hierarchies are a way to distribute territories and grant access to specific information based on role (managers vs sales reps as an example). 
Because sales roles have their own responsibilities and and needs, they only need access to areas of the application that are relevant to them. In addition, restricting access is also important both for security reasons and ease of use for each user.
Use lead assignment rules
Using Salesforce Territory Management is a great way to assign prospects out to the best suited sales rep. As an example: if Sally has really dialed in her pitch and able to resonate with a certain type of prospect, Salesforce Territory Management makes it easy to assign her leads that she's proven to have success with.
With a solution like SPOTIO, you can create custom lead assignment rules, set unique pin colors for each rule, and easily distribute leads among your reps.
Use third party integrations
Following best practices is a great way to ensure adoption and deliver results. Accordingly to Salesforce, the most effective best practices are:
Figure out how many customer meetings it takes to meet your sales goal.
Use the 'territory management 20' rule. This is a way to make sure you're always focusing on the 20 most profitable customers per territory.
Provide constant training to ensure that reps are getting the most out of the tool.
To successfully establish a fruitful territory management strategy, you need forecast managers. Assigning forecast manager's to each level of the territory hierarchy is very important.
Assigning someone as a forecast manager means that all forecasts from users below that user in the forecast hierarchy roll up to that person.
For example, an executive and executive assistant can have the same role, but the executive is the assigned forecast manager in the forecast hierarchy because all subordinates' forecasts roll up to the executive.
Both the executive and executive assistant can submit forecasts, but forecasts of other users do not roll up to the executive assistant.
How SPOTIO Helps Sales Managers Succeed With Salesforce
So you know how to use and enable territory management within Salesforce, but what if you need even more specificity when it comes to sales records on the go?
SPOTIO is specifically designed to keep your field data and CRM working as a synchronized unit.
2-Way integration with Salesforce syncs your information in real-time, allowing reps to leverage the power of historical reporting and enriched lead information no matter where they are.
Assign territories as specifically as you want with SPOTIO, even down to individual territories per sales rep. Enhance your Salesforce Mobile experience by automatically recording every step of your sales rep's journey to Closed Won
SPOTIO's flexible integration boasts complex field-mapping as well as guided next-steps. When you complete an activity or update a pin within SPOTIO, a new task is created in Salesforce, ready for when you get back to the office.
Here are just a few of the powerful features and benefits that you can look forward to when turning to our proven field sales and territory management platform:
Being able to visually organize data from you CRM on a map gives management and operations an easy way to see the performance of each territory and sales rep.
Leveraging colorization, you can sort and filter the map to reflect any of the data points you have associated with your pins. Do you want to see all current opportunities? How about pipeline stage or last activity with a customer? Simply select the criteria you available for pins and filter the map view accordingly.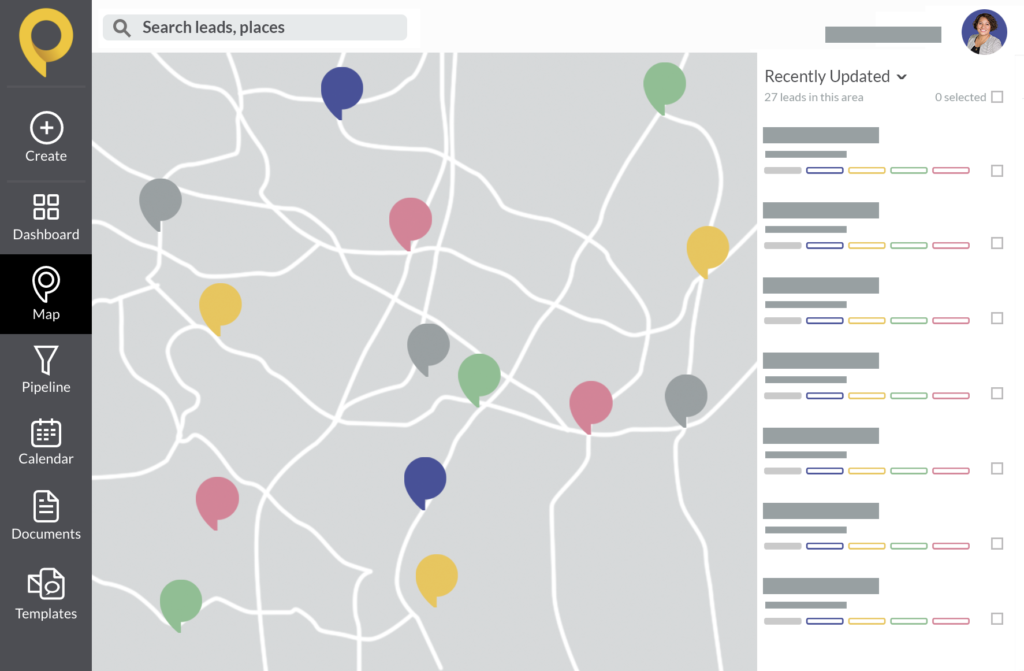 SPOTIO's Sales Tracking feature was designed to be more than 'Big Brother' to your sales team. Rather, SPOTIO's sales tracking functionality provides management a way to understand what's happening in the field so they can coach, train, and help reps be more successful.
Get field sales tracking insights and see detailed location activity of sales reps for better management:
Monitor and find reps with GPS verified location tracking

With Sales Leaderboards, measure and monitor the performance of sales reps
Create customized activity reports so you can track sales activities that matter most to your business
Gain a holistic understanding into how leads are moving through the pipeline
It's easy to optimize your sales engine when you have visibility into a variety of activity metrics and access to performance reports. Pull metrics by territory or rep allows you to analyze what's working, what's not working, and why either is the case. From here, you can coach reps, redistribute territories, or fix any leaks in your sales cadence.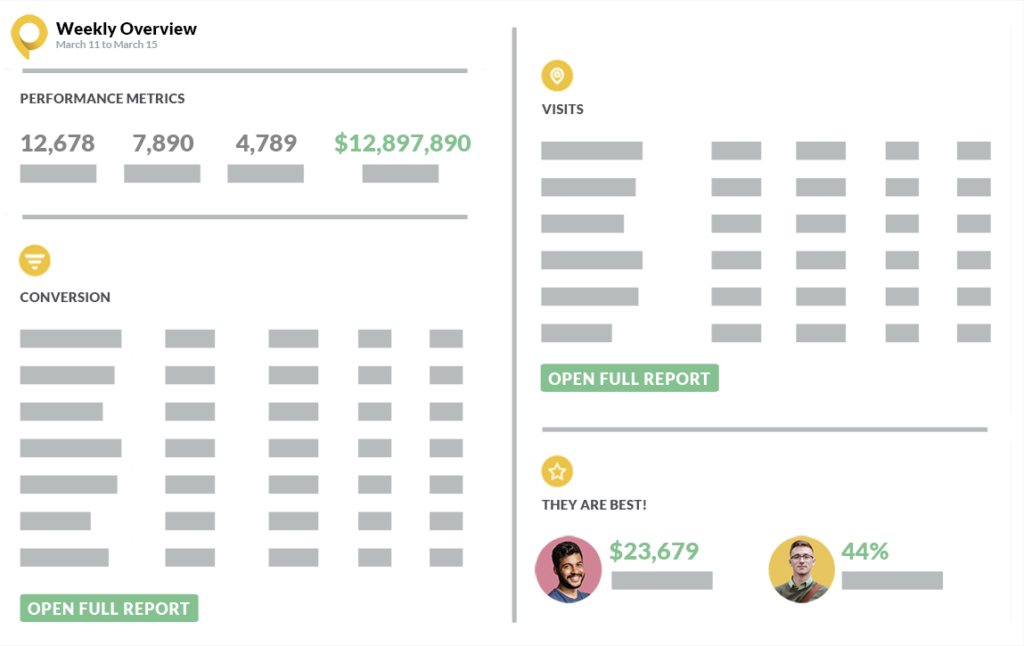 Our integration will allow you to sync to either the lead or account object. Leads and accounts created in SPOTIO will be created in Salesforce and any custom field information will be passed over based on the field mapping criteria you had established.
Activities created in SPOTIO will be created as tasks in Salesforce; and leads/accounts updated in Salesforce will also be updated in SPOTIO.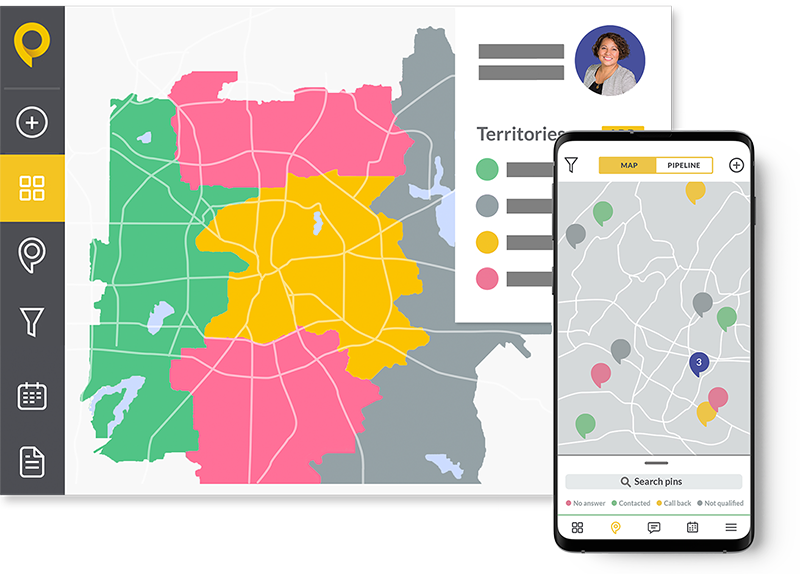 Investing in field sales is an investment in the future of your company. The better opportunities and leads are managed, the higher the chances of reaching a good rate and quantity of turnover.
After all, statistics show that sales reps spend just a third of their time selling, and only 65% hit their sales quotas.
No matter how good your reps may be, there is always a need to find better ways to improve sales accountability. Better performance means happier, more productive staff.
Re-evaluating and optimizing sales territory management strategy is essential to meeting your core goals and quotas.
With the intuitive integration of SPOTIO's sales support and Salesforce's Enterprise Territory Management, your reps and teams will reach an all-new pinnacle of performance.
______
SPOTIO is the #1 field sales engagement and performance management software that will increase revenue, maximize profitability, and boost sales productivity.
Want to see a product demonstration? Click here to see how SPOTIO can take your sales game to the next level.
___