For field sales teams, the ability to set appointments is essential. After all, if you can't schedule meetings with prospective customers, you won't be able to close very many deals. Modern solutions like SPOTIO make appointment setting easy.
Raise your hand if you (or your team) have ever scheduled a meeting, only to enter it into your calendar incorrectly and miss the appointment. Or booked a demo with a high-priority prospect, but then forgot to give your partner the critical information they needed.
We've all been there. With SPOTIO, you can ditch the spreadsheets, personal calendars, and/or pen and paper-based booking systems that lead to these kinds of mistakes.
Appointment Setting With SPOTIO
SPOTIO is a sales engagement software that's specifically designed for field sales teams. Our platform includes task automation, sales tracking, multichannel communication, territory mapping, lead generation, and, yes, mobile appointment setting features.
To keep deals moving through the pipeline and make sure they're organized and being followed-up on, you need a simple way for sales reps to schedule, manage, share, and analyze appointments.
Let's take a quick look at a few of SPOTIO's features:
Share Appointment Information
Depending on how your department operates, there may be multiple people involved in the selling process. For example, a canvasser could be tasked with scheduling appointments with prospects and the sales rep might be asked to nurture and close the deal.
With multiple people working every transaction, modern field sales teams need technology like SPOTIO to keep everyone on the same page.
With SPOTIO, canvassers can quickly check sales rep's availability from the field and schedule appointments without having to go back and forth with the rep.
Similarly, reps can update their schedules in SPOTIO so that appointment setters never book a meeting at an inopportune time.
Moreover, these things can be done from the field via the SPOTIO mobile app (more on the app below), which means scheduling meets, adding client notes, and handing off information is a total breeze for field reps. Win!
Calendar Integration
SPOTIO integrates seamlessly with both Google Calendar and Outlook. This allows field reps to easily access their scheduled appointments and lead notes from a single interface.
Bouncing back and forth between apps — one to schedule appointments, one to annotate important prospect information — is unproductive. If you didn't have to navigate from one app to the other, you'd be able to spend more time on what you do best: selling.
But there's more at stake here than your productivity. Data accuracy plummets when canvassers and/or field reps have to copy information between apps. Sync SPOTIO with your calendar of choice and let our software do the transfer for you.
CRM Sync
SPOTIO's open API means you can quickly and easily connect your favorite CRM to SPOTIO.
Let's say a canvasser in your company visits a potential customer and schedules a sales meeting with a sales rep. Important details from the canvasser's visit (think visit date and conversation notes) will automatically be synced to your system of record.
This feature ensures the handoff from canvasser to sales rep (or rep to rep) is smooth, the rep has all the details they need to close the deal, and your company's sales records are always up to date and accurate.
Analyze & Predict Pipeline
SPOTIO is an excellent tool for field reps. But it also makes life easier on sales managers and operations because of in-depth analytics dashboards. SPOTIO takes complex sales data from the field and
You'll be able to track your entire department, from the number of visits your reps make to the amount of deals your reps close, ensuring reps are performing as they should. Knowing this kind of information means assessing performance and progress towards quota is simple.
It also means actionable data and insights are just a few clicks away!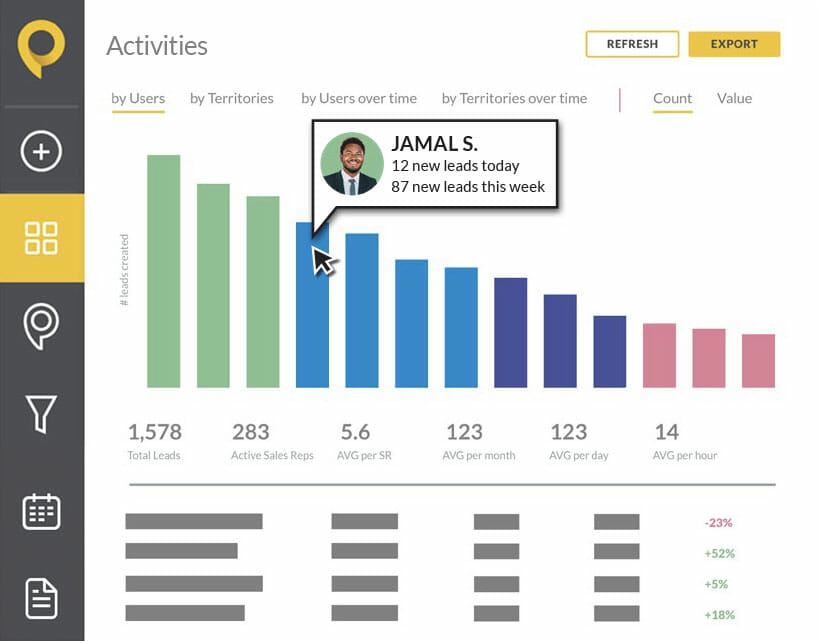 What's more, sales leaders can program SPOTIO to automatically send them daily or weekly analytics reports via email. Being sent a digest of team performance means managers and operations will always have a finger on the pulse.
Mobile Access
Finally, SPOTIO offers field reps a mobile app so that they can access important appointment details from wherever they happen to be located. This includes all scheduled meetings, client notes from previous phone calls and/or in-person visits, and more.
Since your team spends a majority of their time in the field, it only makes sense that they have a reliable tool they can use when they're away from the office.
Boost Field Rep Efficiency
Days in the field are complex enough, don't make it any harder than it has to be by complicating the appointment setting process. With SPOTIO, scheduling in-person meetings is simple, which means you can focus more on nailing your pitch and closing deals.
_________