Territory mapping is essential to the success of your field sales team because it will enable your reps to spend more of their valuable time selling.
In the past, territory mapping was done with paper maps and colored highlighters. These days, intuitive territory mapping software solutions like SPOTIO empower field sales managers to effectively allocate company resources, balance workloads, and keep reps motivated with data-based digital maps that are easy to understand and manipulate.
A Territory Mapping tool will help you cut territories, assess rep performance, and visualize customer information. In essence, providing you with a holistic view of your map and prospects so you can create a fruitful strategy.
Optimize Territories With SPOTIO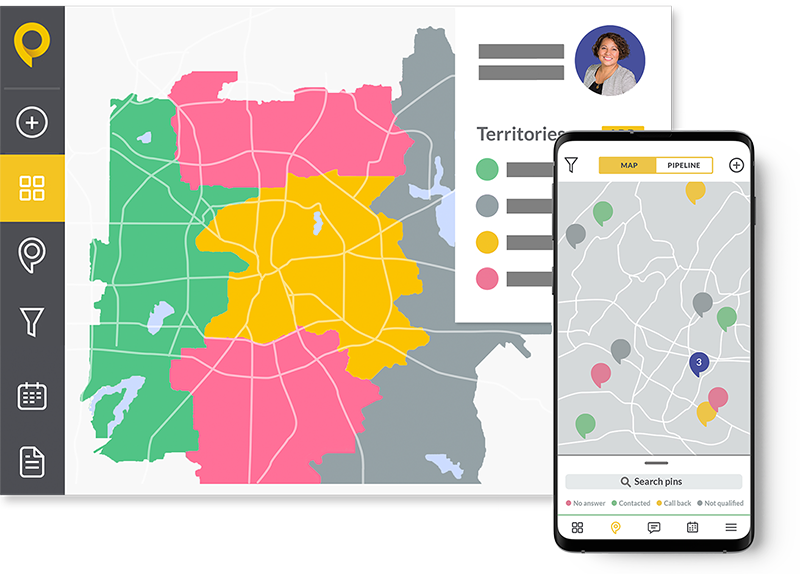 If you manage field reps, you need territory mapping software. It's the only way you'll be able to ensure your reps are consistently effective in their jobs.
SPOTIO is a top-rated sales tool that will allow you to easily map territories and important customer data points.
Let's take a closer look at each of these capabilities:
Territory Mapping
Who's selling where? Are there too many or too few leads in territory X? And which of your reps are performing best? These are just a few of the questions you'll be able to answer when you map your territories with SPOTIO.
Cut Territories
Toss that paper map in the trash and put your pen back in your breast pocket! With SPOTIO, you can assign territories via a digital map that can be accessed from any mobile device. That way your reps can easily view it in the field.
Use our tool to cut territories based on state, county, city, or zip code; or draw custom territories that only encompass specific neighborhoods.
Either way, you'll be able to ensure your sales resources are properly allocated and reps are able to effectively cover their areas. You'll also prevent overlap, a common problem that frustrates field sellers and confuses potential customers.
Establish Hierarchies
Think about baseball for a moment: pitchers and batters face off in mano a mano scenarios, but it takes an entire roster of 9+ players to win the World Series.
Modern sales is similar. Each of your reps will function individually, but they still belong to a team and must help achieve company-wide goals in order to be successful. The trick is establishing the right balance between healthy competition and teamwork.
This balance is much easier to find and maintain with SPOTIO's territory hierarchies feature.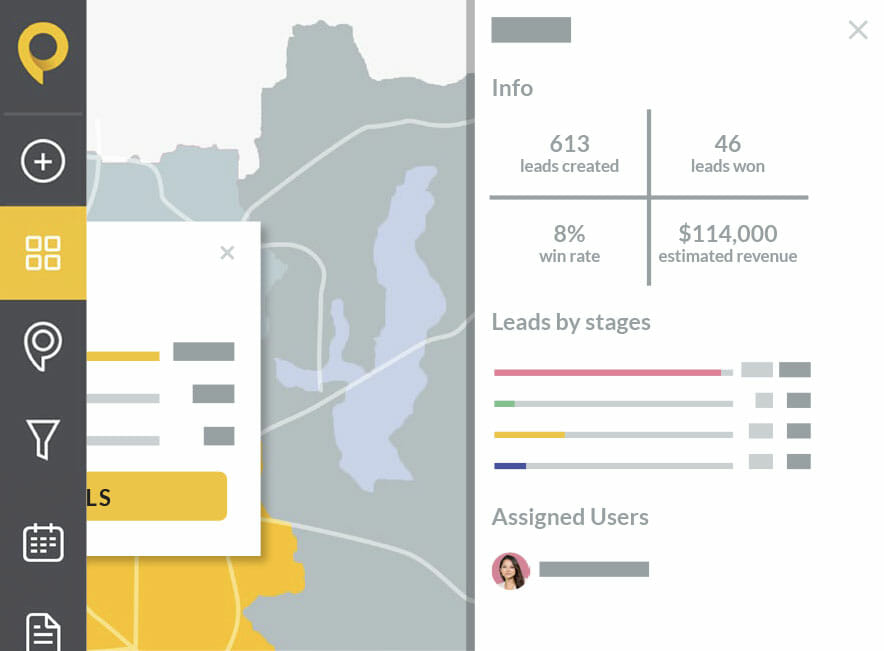 Control who can access territory and individual lead data so that your field reps never argue over whose lead is whose. After all, it's difficult to quibble over leads you don't know exist!
Permission hierarchies will also give sales managers and other company leaders greater visibility and insight into the selling process and allow for better sales team organization — especially for large departments who cover significant geographical areas.
Assess Territory Performance
You can't just assign territories and call it a day. You need to monitor each one and evaluate it for performance. Doing so will allow you to determine the cause of your results.
When you understand why a territory is underperforming you can take steps to remedy the situation. Knowing why a territory is exceeding expectations is also important because you can apply these insights to other regions and boost performance.
With SPOTIO's territory mapping solution, you'll be able to identify the root cause of your results: territory, field rep, or sales manager, and use it to improve your whole operation.
For example, you may determine that a Northeastern territory is blowing up. So you analyze the data and discover that your reps in the region have deployed an off-the-wall follow-up strategy. Armed with this information, you decide to send more personnel to the area.
Customer Mapping
Territory mapping alone won't get the job done. That's why SPOTIO also includes customer mapping features that allow for easy visualization and data sorting.
Let's explore how these two capabilities can benefit your field sales team:
Map Visualization Features
SPOTIO makes it easy to visualize your data on a map. Want to know where your current customers are? What about your top prospects or lost leads? Maybe your reps want to quickly see last-visit results so they can better plan their days in the field.
It doesn't matter what kind of data you want to see, if it's in your CRM software of choice, you can visualize it using pins on a digital map inside SPOTIO.
Better yet, you can color-code your pins to represent specific information. For example, you can make green pins stand for current customers, yellow pins for promising leads, red pins for lost leads, and so on and so forth. (More on this below.)
Visualizing your data this way will make it much easier to identify hidden opportunities and make business-boosting decisions for your company.
Sort and Filter Options
You've started visualizing your customer data on a map inside SPOTIO. Things are going great! It's much easier to pinpoint important information and act on it. But six months in, you have a problem: there are just too many pins to keep track of.
Color-coding will enable you to quickly distinguish one pin from another, help your field reps plan more efficient days, and ensure important information is never overlooked.
As mentioned above, pins can be given certain colors that represent… well, anything: pipeline stage, result of last visit, level of enthusiasm for your company's products, etc. Access to these details will empower your team to focus on their best opportunities and hit quota.
Make life easy on your field reps with SPOTIO's data visualization features that can be sorted, filtered, and understood with minimal effort.
Hit Sales Quotas
Field sales has come a long way since the paper map and neon highlighter days. Now outside sellers have access to amazing field mapping tools that make it easy to cut territories, evaluate rep performance, and visualize important data points.
Invest in a tool like SPOTIO and give your sales team that tools it needs to hit — or even exceed — its sales quota. Greater revenue is within reach!
_______