Tired of inconsistent sales numbers? If you and your team are unable to hit quota on a regular basis, it might be time to invest in an effective sales management process.
In its simplest form, a sales management process is a series of repeatable steps you can use to better manage your reps and track deals as they progress from initial contact to conversion. A sales management process can also lead to better teamwork, fewer tedious admin tasks, and the ability to consistently achieve sales goals.
The Importance of a Sales Management Process
A software like SPOTIO can help you achieve all of your sales goals — but only if you have a repeatable sales management process in place first.
To achieve success and hit quota, you need to follow a repeatable sales management process to set your team up for success. Doing so will lead to higher conversion rates, better leads, faster sales cycles, and more.


A successful sales management strategy involves four main phases:
Hire the Right Sales Associates
Design Effective Selling Procedures
Accurately Forecast Future Sales
Measure Your Team's Sales Efforts
If you follow these four steps — and optimize them for peak effectiveness — you'll be able to build a winning sales management process for your company. Once you do, sales software can help you kick it into overdrive, while eliminating less-than-desirable tasks.
SPOTIO For Sales Management
SPOTIO was specifically built for field sales teams and enables management professionals to better direct their teams through real-time performance indicators. That way they can easily evaluate reps and make necessary changes quickly.
The result is a holistic view of the sales process that empowers sales teams to close more deals in less time via the intelligent use of cold, hard data.
While SPOTIO is chock-full of sales-boosting features, there are four that specifically pertain to the sales management process: territory mapping, real-time field visibility, detailed data analysis, and sales rep productivity.
We'll explore each in greater detail below.
1. Territory Mapping
As an outside sales manager, you know that territory mapping is crucial because it gives reps a plan of attack, ensures their efforts aren't overlapping, and keeps them from targeting poor prospects who will never purchase a product from your company.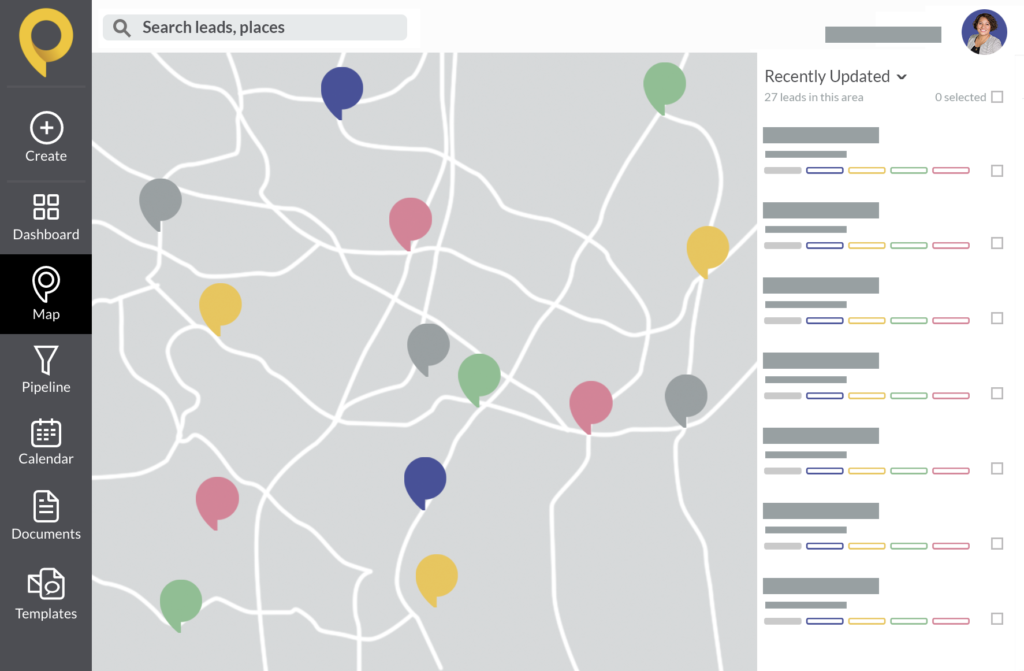 Unfortunately, many sales managers map and assign territories the wrong way. For example, a common approach is to print out a Google Maps image, highlight a portion of it, and tell a rep, "Here's your territory. Get after it!"
This approach doesn't take into account the number of prospects in a given territory or whether the prospects are a good fit for the goods being sold.
Territory mapping with SPOTIO is different. Inside our software, sales managers can create territories on digital maps that reps can access from their mobile devices. Each map will contain pins that represent leads, which managers can give specific colors based on data points like pipeline stage or the result of past visits.
These visual features keep reps focused on the right prospects and enable them to organize their efforts in the most productive way possible.
2. Real-Time Field Visibility
To really improve your sales management abilities, you need to understand how your field reps spend their time. SPOTIO makes this incredibly easy to figure out.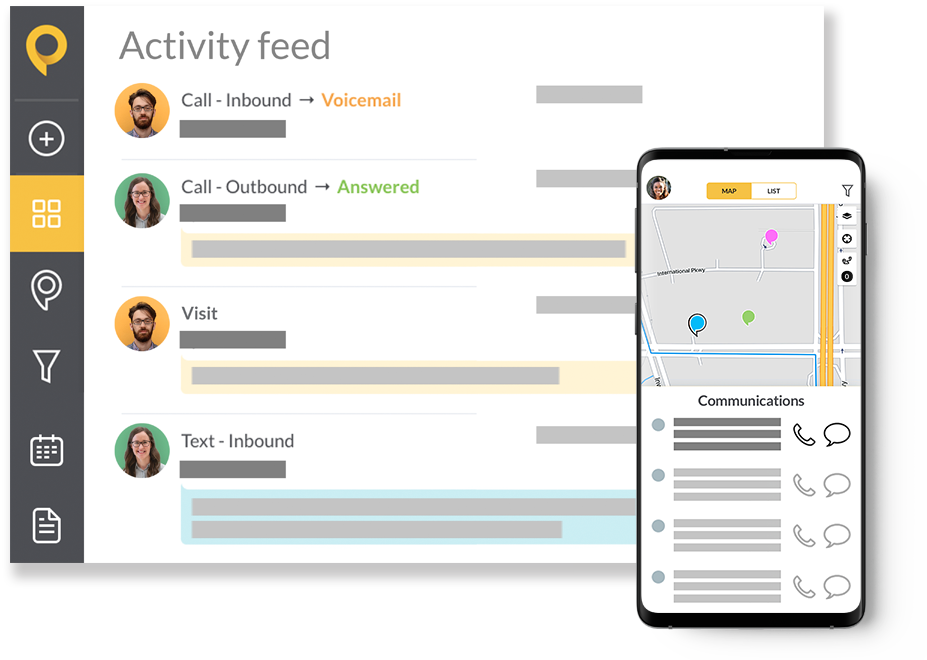 Are your reps in the field? Use our software's geo-based tracking feature to pinpoint their current location and their travel path history. Doing so will allow you to evaluate their routes and suggest more efficient ones when necessary.

Note, this feature can be disabled in order to preserve rep privacy.

SPOTIO also gives sales managers real-time visibility into their team's communication efforts with prospects. Let's face it, the need for multichannel communication grows every day. Each of your prospects wants to be contacted in a specific way. To increase sales, you need to figure out their preferences and act on them.

Our software automatically tracks every call, text, email, and in-person visit your team makes. That way you can evaluate success rates for each and implement the best tactics.
3. Detailed Data Analysis
Data makes the business world go 'round. The more you have of it as a sales manager, the better your sales management process can become. SPOTIO will give you access to important performance reports and leaderboards you can use for sales tracking purposes.
Performance Reporting
See exactly how each of your reps is performing and how close your team is to quota at any given moment. With this information, you can design new sales strategies when needed, double down on effective tactics, and forecast future sales with much greater accuracy.
Additionally, SPOTIO can be programmed to send email notifications regarding rep performance and activity on a daily or weekly basis, ensuring you always have the information you need, when you need it most.
Leaderboards
While it's important to build sales team camaraderie, there's nothing wrong with encouraging a bit of friendly competition. Doing so can help motivate sales reps to work harder to achieve goals. It can also make a sales career more enjoyable.
Create leaderboards for a variety of different metrics (knocks, meetings, revenue, etc.) so that your field reps can see how their efforts stack up against their peers. You can even create incentives for top performers if you wish.
Both performance and leaderboards inside SPOTIO will give you and your team the necessary data to build a winning sales management process for your company.
4. Sales Rep Productivity
Finally, a good sales management process will make it easy for salespeople to accomplish their tasks, thus boosting team-wide productivity levels to new heights.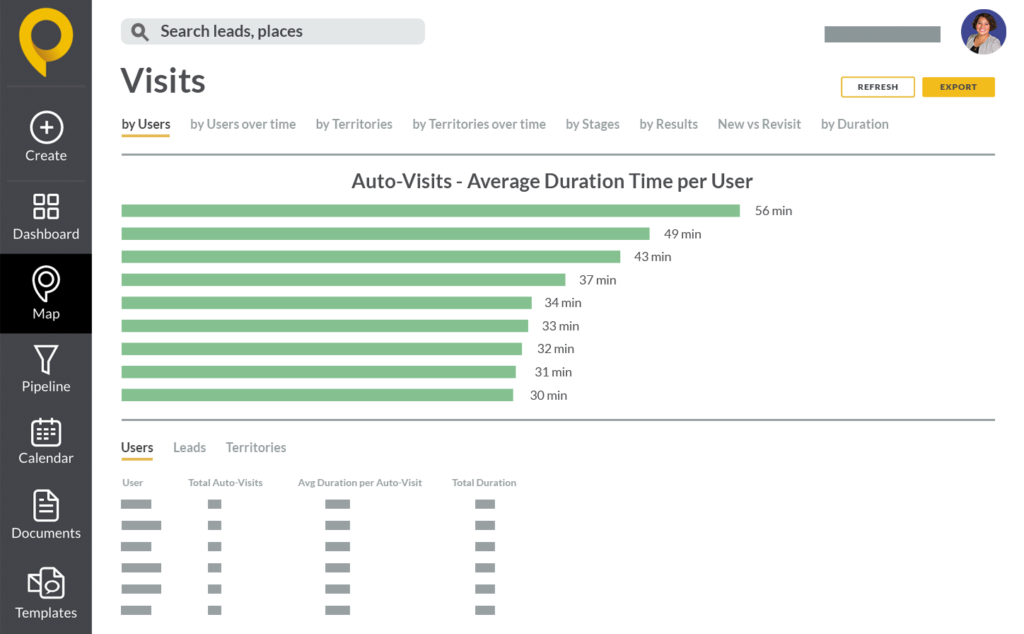 SPOTIO is equipped with numerous productivity features, such as:
Data Capture: Our software automatically logs prospect interactions in real time, allows reps to easily take written notes and voice memos, and snap photos onsite from the convenience of their mobile phones. This ensures your CRM records are accurate.
AutoPlays: How much time do your reps waste just figuring out what to do next? AutoPlays, a new feature inside SPOTIO, helps salespeople prioritize high-impact activities via machine learning that suggests specific actions.
Messaging Templates: Track the texts and emails your reps send inside SPOTIO to figure out the best messaging techniques for your audience. More than that, build reusable templates your reps can use to send conversion-optimized content quickly.
E-Contracts: A deal isn't done until a prospect signs on the dotted line. Help your reps close faster with e-contracts that are easy to pull up inside SPOTIO and can be legally signed electronically on a mobile device.
Because of these features, SPOTIO users see a 46% improvement in sales team productivity, a 14% reduction in staff turnover, and a 23% increase in gross revenue. Win!
Wrapping Up
Your sales management process is vital to the success of your company. SPOTIO can help you supercharge the processes you have in place with convenient territory mapping, real-time field visibility, detailed data analysis, and sales rep productivity features.
Learn more about our revolutionary software and how it can help your field sales team close more deals in less time.