On average, 50% of a sales rep's time daily is wasted on the wrong prospects.
Even if you only have five full-time reps, that's 100 paid hours every week that produce zero ROI. This stat might be less surprising when you learn that companies spend 5x more on hiring a sales rep than they do training them.
Poor sales training is a problem that persists in any industry. The solution? Sales enablement.
In this post, we'll talk about what sales enablement is and why it's important, then we'll share our list of the 62 best sales enablement tools available in 2023.
What Is Sales Enablement?
Sales enablement is a support function. Its goal is to provide sales reps with the information, customer-facing content, and tools they need to guide a buyer through the purchase process successfully.
This could involve creating fact sheets, industry-specific case studies, and comparison tables that help a rep persuade a lead to buy. It also means coaching reps on best practices and equipping them with the tools they need to be efficient.
Being able to do this in your organization requires an understanding of the ideal buyer, so you can provide resources they actually need and want throughout the journey.
There are two key stages involved in building a good sales enablement strategy:
Understanding who the ideal customer is, and mapping the buyer's journey.
Creating sales plays, content, and training for reps to leverage at each stage of the journey.
Next, we'll look at the power of field sales enablement software.

The Importance of Field Sales Enablement Software
According to Mailshake, only 13% of customers believe sales reps understand their needs.
When the majority of your reps aren't connecting with customers, that's a costly problem. You can help prevent this type of disconnect by providing better support for reps, and content they can use to appeal to customers.
Propeller research shows that this is a big differentiator for customers:
To do this at scale (or at all), you need a sales enablement strategy. Tools are essential to this, and they're worth the investment, research from Brainshark shows:
"More than 2/3 of companies that invested in sales learning and development technology realized a positive ROI."
On the flip side, companies that failed to invest in sales enablement technology saw a 12% drop in sales goal achievement.
Almost two thirds of companies that have piloted sales enablement software programs and seen positive ROI attribute the success to software. Salesforce found that 84% of companies hit quota with the support of sales enablement tools and coaching.
Now that we understand the value, let's look at the top tools across each category that will help you research, deploy, and optimize your sales enablement strategy.
The Best Sales Enablement Tools for 2023 (By Category)
Sales enablement is built around the idea that reps can optimize the way they sell, and provide customers with informative content that helps them make complex purchase decisions.
That makes it part market research, part content management — and heavily reliant on analytics to understand and support your ideal buyer segments.
We'll look at tools across each of these core functionalities:
Market Intelligence
Sales Intelligence & Prospecting
Content Analytics
Content Sharing & Management
Market Automation
Sales & Team Communications
Sales Emails
Sales Presentations
Contract Management
Sales CRMs
Sales Training
Sales Management
Customer Feedback
Market Intelligence
To accelerate sales and ramp up rep productivity, you'll need to make data-backed decisions. For sales, some of the most important data is around the companies in your target market. How many employees do your prospects typically have? What about funding, or annual revenue?
With that intel, you can make the way your reps sell and prospect more effective, and waste less time. Let's look at the best sales enablement tools for market intelligence.
D&B Hoovers integrates with the tools your team already uses — Marketo, Salesforce, Microsoft Dynamics, and more — to enrich lead data and help sales enablement teams analyze the pipeline and develop relevant content.
As well as enriching current data, it can be used to research leads in new markets and support strategies that expand your reach.
Pricing for Hoovers isn't public, but a free trial is available before you connect with a rep.

Ever wanted an expert insider when you're chasing a big lead? Emissary gives you exactly that, by matching you with a recent former employee from any given company that can guide you on how to close the deal.
It's aimed at enterprise sales — with 75% of its connections coming from firms in the Fortune 1000 — and over two-thirds of its contacts were VP or higher at the company. Emissary is an effective high-touch way to develop enterprise enablement material, but also serves as a way for reps to get coaching from successful insiders.
Get in touch with the providers for pricing info.
Mattermark combines company profiles with social listening to provide lead and contact profiles, with over 80 fields of data per entry.

It provides data on 4,000,000 companies and 20,000,000 contacts imported via API into your CRM, or in exports to spreadsheets. With Mattermark automatically gathering data on prospects, the sales enablement process is made simpler; far less manual research is needed when a tool can fill in the blanks.
Aimed more at startups (and companies selling to startups), Mattermark also lets you segment companies by funding recency/amount, and growth signals. It also has a lower price tag than the other intelligence tools on this list, at $49/user/month.
Sales Intelligence & Prospecting
Prospecting tools help your reps find the ideal customers for your product, based on a selected set of specific set of demographic and firmographic data points, like "leads within 50 miles of me, with over 200 employees, in the healthcare tech industry".
An improved prospecting process is a core part of sales enablement because it helps reps up productivity by spending less time on bad leads and more time selling to those likely to convert.
Here are the prospecting tools we recommend checking out.
Empower your customer support agents to resolve complex customer support issues in real time with Acquire. Boost customer conversion ratio on the website using customer communication tools like live chat, chatbot, co-browsing, voice and voice call, analytics and other integration offers by Acquire.
Reach out to your customers on one touch using Mobile application. Personalize your customer experience and deliver faster support with the power of Acquire live chat and co-browsing. You can support, engage, nurture and onboard your customers with real time customer engagement tools. You can quickly generate leads using chatbot and support bot. It offers and omnichannel customer support to meet your customers when and where your customer wants.
Acquire also offers analytics tools to track the performance of your agents, maintain data of your customers and target visitors. It is an all-in-one customer customer engagement platform. Pricing starts at $300
LinkedIn has access to one of the biggest troves of business data on the planet, owing to the fact that it has gathered so much insight from user-submitted information on its social network and the connections between different professionals.
When you get access to that data (not fully available through the social network alone), you can unlock every insight the network has gathered, including data on company size, activity, news mentions, posts, engagement, and connections. It also lets you nurture leads and reach out with that data in context through LinkedIn messaging.
Pricing starts at $79.99/month.

SPOTIO's sales intelligence tool, Lead Machine, allows managers to generate a list of qualified leads for sales teams in seconds.
The tool allows users to define geographic territories and mine data on all the companies within that area. Reps can quickly create an ideal customer profile by mining and sorting over 50 different data points – income, credit capacity, square footage, age of home etc.
After leads have been qualified, extract the data and import into the CRM and start selling.
Lead Machine helps businesses close more deals by having reps focus only on the most qualified leads in a given sales territory.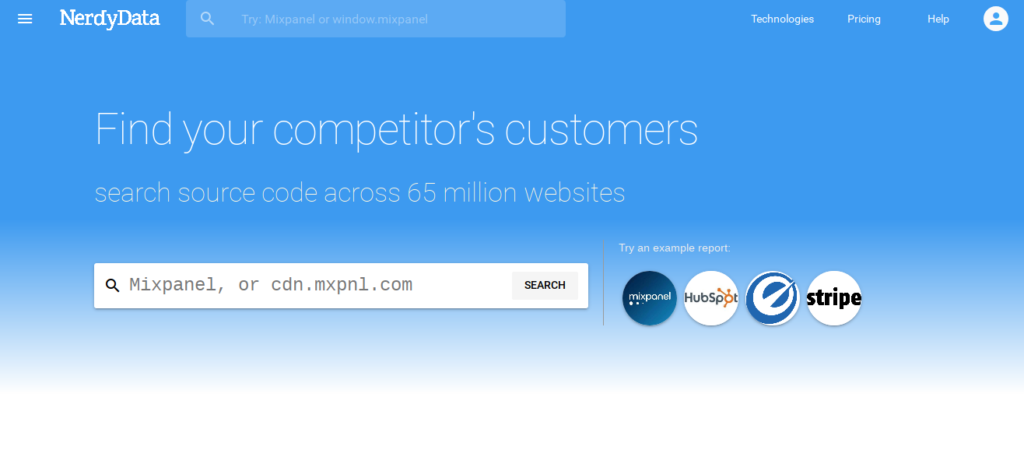 NerdyData.com gives you access to company technology usage data. You could search the database for every Intercom customer because your tool integrates with Intercom. Or, see who's running your competitor's software so you can send over a relevant comparison sheet.
It's easy to see how this enables your sales team to make more personalized and informed decisions, and how it helps sales enablement initiatives research the tech stacks of different market segments to better understand the lead's internals.
NerdyData.com's pricing starts at $150/user/month.
Clearbit is an API you can hook into your existing source of customer data, whether that's Intercom, Close.io, or Salesforce. With a company name or domain, Clearbit pulls in anything else your sales team should know about that lead, such as the number of employees or industry.
As well as enriching existing data, Clearbit can enable sales to do a more efficient job by building prospect lists and revealing the company profiles of anonymous site visitors. This all helps your team get a better look at the kinds of companies they attract so you can create effective enablement content to support future deals.
Pricing is available on request.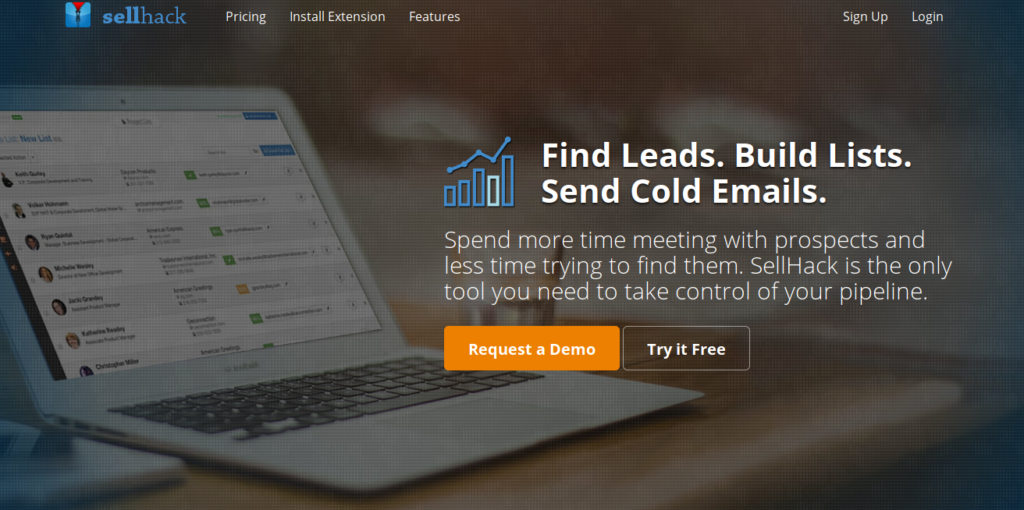 SellHack helps expand your funnel by making prospecting easier. It's a browser extension, so you can add leads you find on LinkedIn to existing prospect lists and automatically hunt down their email address.
With segmented lists and easy email outreach built in, SellHack empowers teams to get the right content to the right leads, informed by data SellHack stores.
For 150 email lookups, you can get SellHack at $19/user/month.
Did you know that a big-name exec and their team were browsing your site yesterday while evaluating solutions? You'll certainly agree that would be powerful to know. But how will you find out if it's not something you're tracking?
Albacross enables all that and more by keeping a log of companies and potential customers that visit your site, and enriching the data with the best way to contact that lead.
Once the visitor data is stored in Albacross, you get a lead list that grows by itself and is able to be filtered by fields like revenue, company size, and location. Push that lead list to your CRM or any other sales tool you use by integrating Albacross with Zapier.
Pricing available upon request.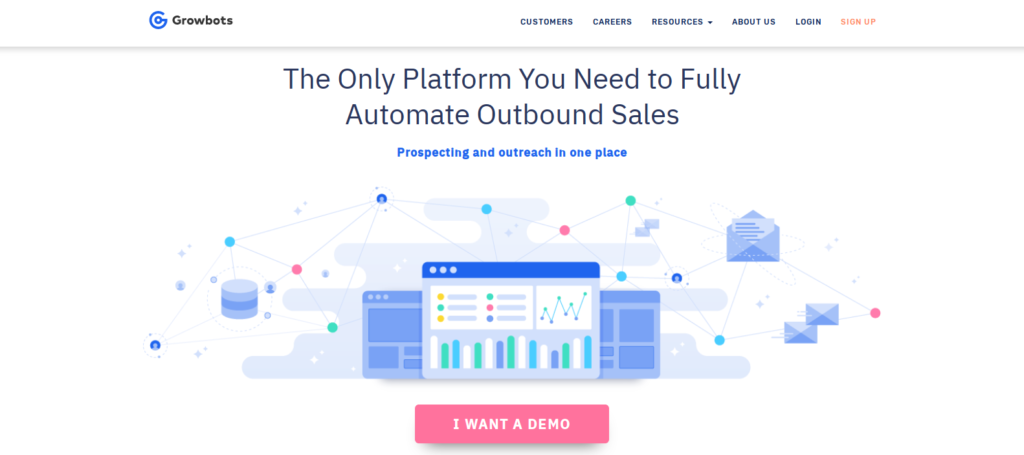 Growbots allows you to create prospect lists by selecting an ideal customer profile, and then automate target outreach to those lists.
Straight away, it's easy to see how this empowers a sales enablement strategy. Your Growbots prospect lists are created based on criteria like company size, industry, and email activity. With that insight, you can automate the distribution of relevant sales enablement content and design plays around specific market segments and prospect needs.
Pricing for Growbots is available by request only.
Owler is a lookup database for company information that can be used to explore profiles via the web or enrich CRM data with their API.
Uniquely, Owler focuses on the trust score of a company's founders and the funding a company has historically received. This makes it great for selling to startups and early-stage high-growth businesses.
Alongside company profiles, you can see all recent news and social mentions for a given company so you can research competitor progress and prospects in context of current events.
Pricing for Owler is not public.
Content Analytics
Once you get a piece of sales enablement content like a product fact sheet in front of a lead, how do you know what happened next? With old school tools, you can make guesses on what content is converting customers and pushing the sales process along, but you can't be sure how leads engage with it.
Content analytics platforms solve that problem by measuring user heatmaps, copy effectiveness, and other metrics beyond the scope of a non-specialized tool like Google Analytics. Optimize the way you measure the success of your sales enablement content with these hand-picked tools.
Crazy Egg provides heat maps and analytics that you can use to measure if/how leads and website visitors engage with your content.
With that data, you can run A/B tests on a page-by-page basis to boost conversions, dwell time, and other vital metrics you use to judge the effectiveness of your sales enablement content.
Crazy Egg pricing starts at $29/month.
Content Sharing & Management
You'll need a centralized location to store and distribute customer-facing content and training material, or you'll be stuck searching for files on your local computer (and so will all of your frustrated reps).
Content sharing and management tools let you create internal documentation, host files for customers, and control who inside your organization can access which resources. Let's look at some of the best options for sales enablement.
Your sales enablement training material and customer-facing content needs a home. When multiple reps need to access internal content — regardless of when or where — you need a robust cloud storage tool like Box.
Box is an enterprise file sharing and storage tool that integrates with plenty of top sales tools like Salesforce and Microsoft Dynamics. The integration allows you to associate Box documents with leads, making it easy to match the right content to the right person.
Box's pricing starts at $15/user/month for unlimited storage.
If you're already living in the Microsoft ecosystem at work, then SharePoint is a great choice to manage sales enablement content, either on-premises or in the cloud with Office 365.
Create internal wikis for your sales team's training material, and neatly categorize centralized enablement material with ease.
SharePoint is available on its own for $5/user/month, but is at its most useful as part of Office 365. For $20/user/month, you can get the Office 365 Enterprise E3 plan that has SharePoint included alongside Outlook, Word, Excel, and other Microsoft software.
Allbound is a sales intelligence tool designed to help businesses manage relationships with partners and deploy enablement content to those partners that will make selling easier.
It features company data lookup, content collaboration, and analytics reports that give insight into content performance. If you're running a partner sales program, Allbound is the perfect line of communication between you and your external channels.
Pricing available upon request.
Bigtincan improves sales success by helping sales teams better prepare for meetings, boost engagement, enhance collaboration, and ultimately improve overall win rates.
Bigtincan Hub is only AI-powered sales enablement automation platform. With Bigtincan, transform the way sales and service organizations access, share and collaborate on the sales content.
For pricing, email them at [email protected].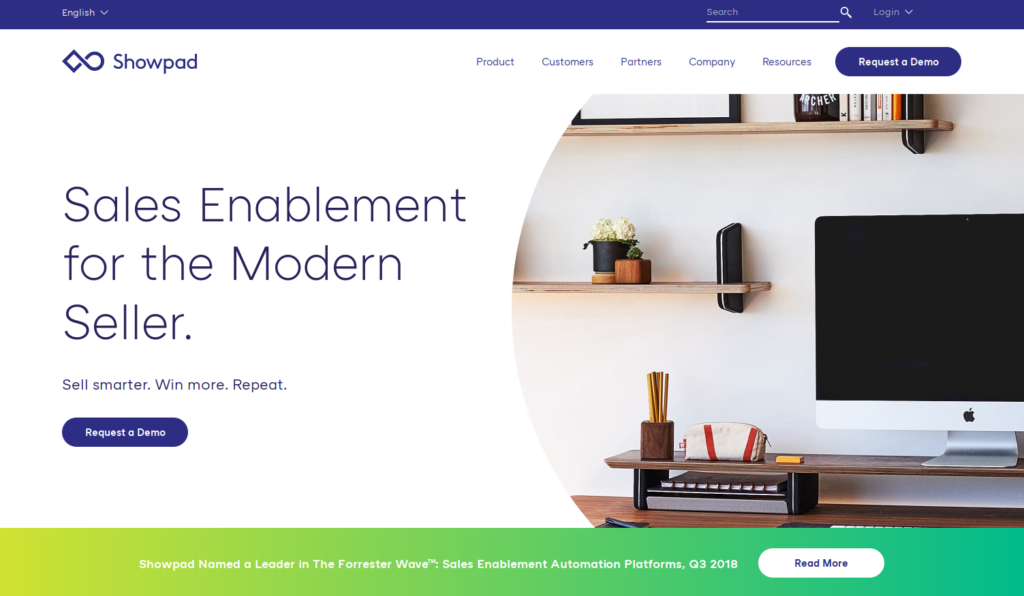 Named a leader by Gartner in the field of Sales Enablement Automation, Showpad is one of the first dedicated sales enablement tools. It provides a platform where sales and marketing can collaborate, sharing content and metrics.
With Showpad, it's easy for sales teams to surface and share relevant engagement content with buyers and match content to lead profiles based on filters. It is also possible to build and deploy sales training inside the app, then track rep engagement with it.
Pricing is available on request only, and the content platform is sold separately from the training platform.
Marketing Automation
Any efficient sales enablement strategy is built around automation. It only makes sense that reps can do a better job if their lead nurturing happens automatically and they get better qualified or ready-to-buy leads as a result.
Plus, many marketing automation tools also act as a way to get insights into your lead's mindset — find which leads open and engage with your emails most often, or reference a lead's historical engagement to know which content they have and haven't seen.
Here are our top picks in the field of marketing automation.
For many companies, Marketo is where lead and customer data already lives. Leveraging this data, you can use Marketo to analyze your site's content and find sales enablement recommendations based on the lead's company profile and history. After sharing content, Marketo logs the lead's interactions to gather metrics you can use to make optimizations.
On top of this, Marketo is an industry-leading marketing automation platform you can use to nurture leads with targeted messages and build a stronger pipeline.
Pricing is unavailable online, but you can request a demo to find out more.
Customer.io is email marketing for companies that collect in-product data — namely SaaS and web tools. Sales enablement teams can use Customer.io to develop relevant content and training based on the different segments of product user.
Customer.io can be integrated with other customer analytics tools like Segment and Heap, so you're able to deploy content over email based on historical data like signup date, industry, user count, and last bill amount.
Pricing starts at $100/month for products with up to 100,000 users.
Sales & Team Communications
Conversation and collaboration tools bring your sales team closer together and put the resources reps need right at their fingertips — they also give managers a platform to analyze how the team interacts and sells.
Sales communications is a broad category. It covers anything internal content management, rep call analysis, and instant messaging. Here are some of our top recommendations.
Sales teams tend to adapt to newer technologies including sales tools that can cope with the increasing competition across various industries over time. This is why tools like Aloware is considered as one of best tools for modern sales teams. Aloware is a sales enablement solution designed to conquer the recent challenges that most sales people have been facing nowadays.
Packed with various features including contact center solution and workflow automation, Aloware is not only an all-in-one sales tool but is also cloud-based which is perfect for remote and hybrid teams.
Aloware can also be integrated with HubSpot and other CMS platforms. It can be accessed directly using any web browser but is also downloadable for desktop, mobile, and Chrome extension.
Pricing starts at $30/user/month which includes toll-free number and unlimited data storage.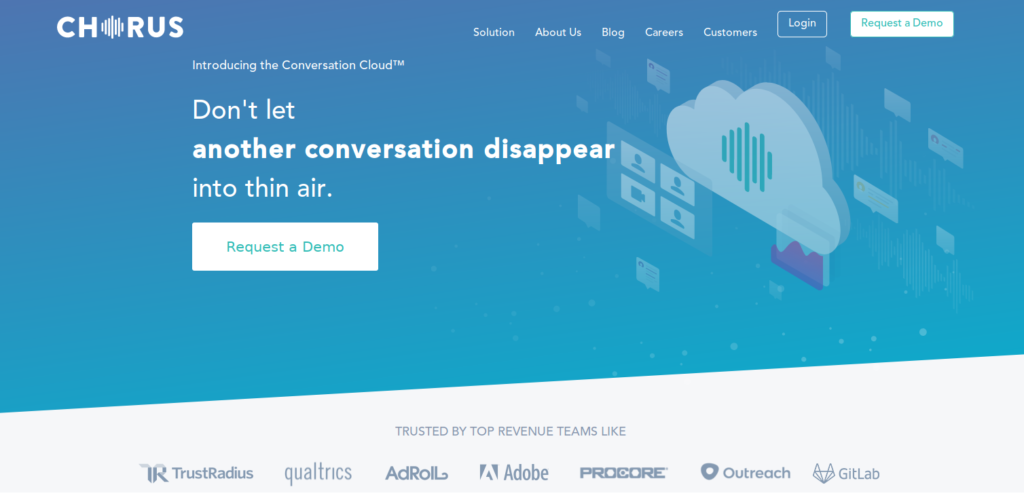 Optimize the way your reps talk to leads by storing and analyzing their sales calls automatically. This is great for developing training material or providing an AI coach for your team that fine-tunes their sales technique and helps them close more deals.
Chorus.ai stores call analysis next to lead data inside your CRM, so you can see call history and outcome wherever you already work. Pricing for Chorus.ai is not publicly available.
Slack has quickly become to go-to chat and notification hub for teams everywhere. Since it's where your sales team hangs out already, why not power it up with integrations? Slack can be used to automatically notify reps when new signups come in, segmented by potential deal size with integrations to a customer data tool like Clearbit or DataFox.
Outside of strict sales activity, Slack is a simple way to hold team meetings, search conversations, and even deliver presentations.
Pricing starts at $7.25/user/month.
Skype for Business is a collaboration tool for teams, offering a way to streamline internal communication and great customer-facing presentation features for sales demos.
As part of Office 365, Skype for Business integrates with PowerPoint and Word Online so you can easily search and present documents and slide decks that exist in your org's folders, all without leaving the app.
Skype for Business starts at $6/user/month when you buy Office 365 annually.

Calendar was created to streamline your day and improve productivity. With features like recorded meeting transcripts, have a calendar that showcases you and maximizes your most valuable resource: your time.
Basic accounts are free, and paid plans start at $20/user/month.
Sales Emails
Vanilla email doesn't cut it for sales. You need a tool that lets you create outreach playbooks, manage follow-ups, and track engagement metrics.
Here are our top tools for outreach and sales email management.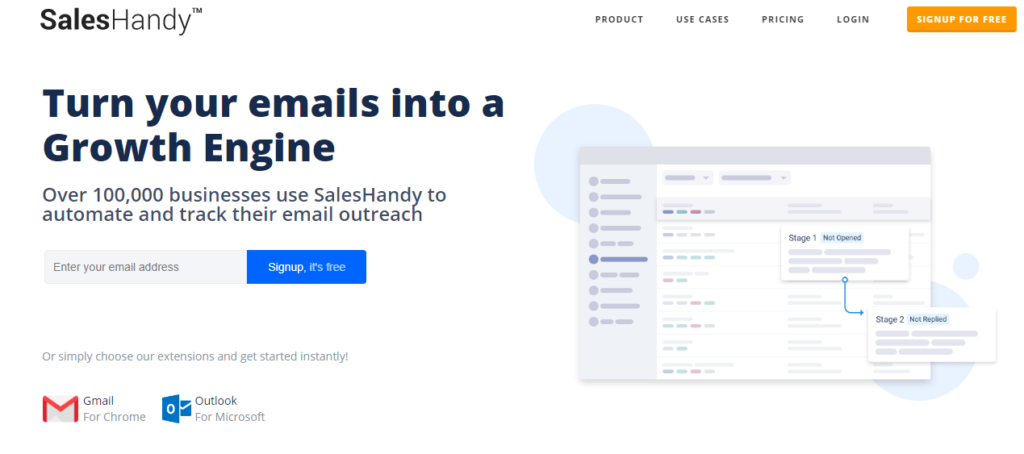 SalesHandy is an easy to use email automation software that helps sales and marketing professionals to send cold email outreach campaigns at scale. It makes your sales conversation smooth in building a unique relationship with your prospects. You can send personalized cold email campaigns, set auto follow up to 9 stages as per the recipients' behavior and get instant notifications of email opens and clicks.
You can get a higher email open rate and conversion by avoiding machine type interaction. Use the Mail Merge feature to send a highly personalized message that gets opened. SalesHandy analytics will give you the overall performance report based on your campaign to get behavioral insights from email communications and to know the recipient's engagement faster.
Pricing plans starting at $27/mo.
Attach is a centralized content hub for sales enablement material that allows your team to store material and then get insight into how leads consume and engage with it.
Unlike a generic solution like Google Drive, storing your content in Attach lets you see which leads viewed which documents and for how long. You can also easily deploy updates to live enablement content without having to send the lead to a new URL.
In line with Forrester research that suggests 90% of reps don't use content because it's outdated, this is an invaluable feature.
Attach pricing starts at $10/user/month.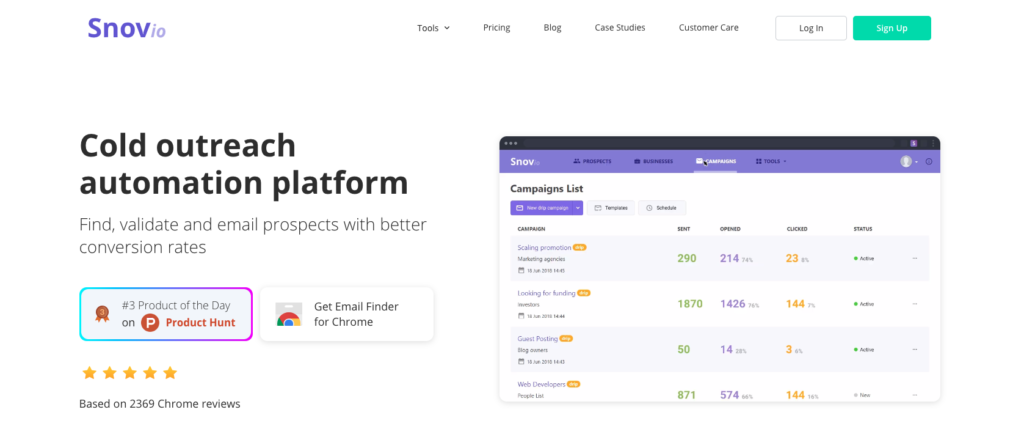 The all-in-one platform gives access to a complete toolset that helps automate the cold outreach process. Snov.io lets you generate leads on numerous platforms, check the lists of email addresses for validity, and easily get in touch with them via the email drip campaigns instrument.
Thanks to the platform, you will enlarge the leads' base in a matter of minutes and lead them through the buyer's journey. Besides, Snov.io integrates with Pipedrive and Zapier.
The pricing plans start at $30/month.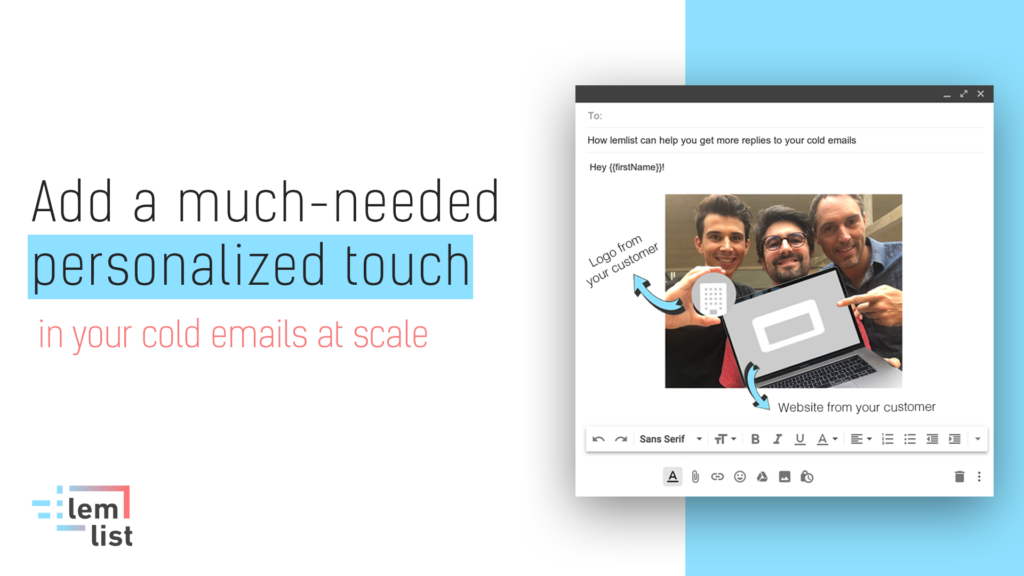 Lemlist is a powerful email outreach software that helps you automate and personalize cold emails at scale. You can play with personalized images, website screenshots, company logos, or even create dynamic landing pages and make them part of your outreach funnel. By doing so, you'll be adding a much-needed personal touch without sacrificing the ability to send emails at scale.
Pricing starts at $59/user/month
Yesware is a Chrome and Outlook extension for sales teams, offering a way to supercharge your everyday inbox with CRM-like capabilities. This includes data on open/reply rate, attachment opens, and even presentation slide engagement.
With its email templates and sequences, you can add proven, relevant sales plays to your team's repertoire easily.
Yesware is available for free, with premium plans starting at $15/user/month when billed annually.
Mailshake was built for sales teams to deliver personalized outreach at scale. It's a platform that your sales organization can use to create sequences, lead segments, and automation that help reps reach more leads with more targeted messages.
Pricing starts at just $58/user/month.
Close.io is a powerhouse CRM, with everything you need to track calls and emails with prospects, leads, and existing customers. It has support for custom fields and lists, so you can create tightly-focused segments that match your sales play and enablement material.
Integrated with a product data or enrichment tool, Close.io acts as a rich data warehouse, storing email history alongside in-app activity and company profiles.
Pricing starts at $25/user/month, but for automation the monthly fee goes up to $99.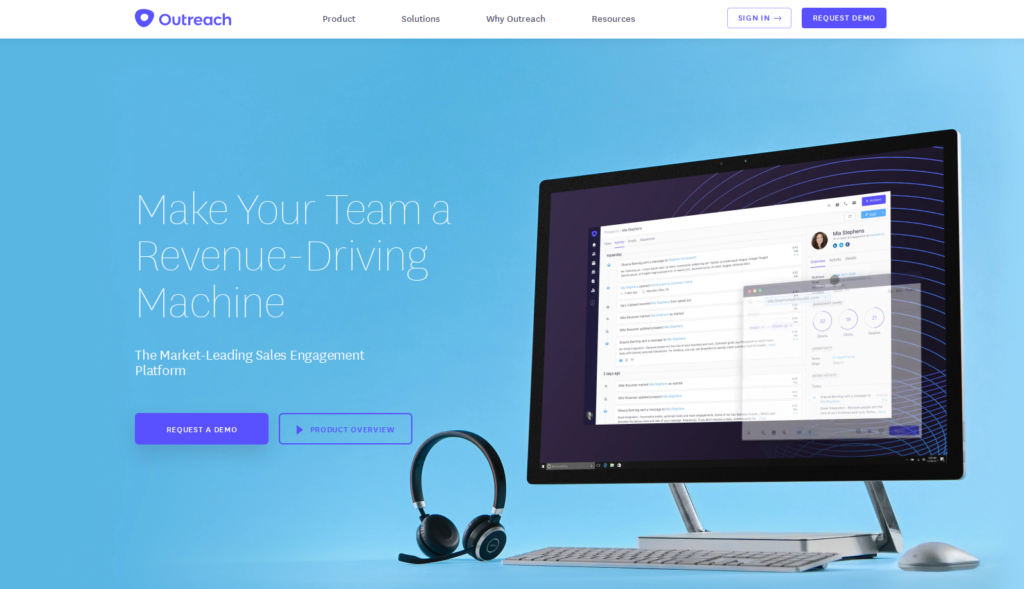 Outreach lets you create sales email sequences that save reps from the mental burden of remembering to follow up, or remembering to send the right content to the right lead. With its lead prioritization and task feature, reps will always know what the next step is with each contact. This keeps your team productive when they're doing manual work, and automates the remaining emails.
Pricing for Outreach is available by request.
Sales Presentations
Reps need more than just a basic video chat tool if they're going to deliver winning presentations. And managers need a way to file presentation content for reps and track its performance. Thankfully, there are powerful video conferencing tools that are built for sales demos, and dedicated meeting apps for measuring the conversion rate of outbound calls.
Here are the sales presentation tools we think are the best to check out.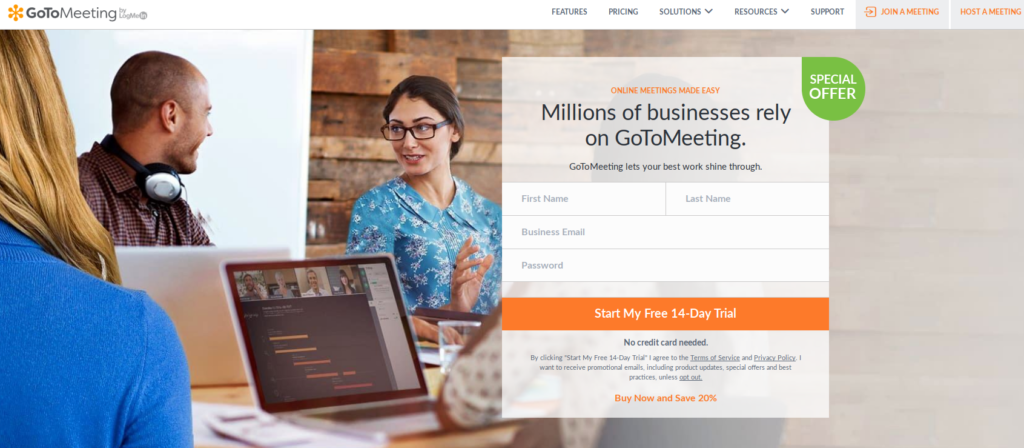 GoToMeeting makes it easy for your team to give sales presentations to practically any lead, without having to get them to download a bulky desktop app or go through a lengthy verification process. For that reason, it's low friction — a vital benefit in the low-patience world of sales.
For sales pitches and demos, its screen sharing and annotation features are among the best on the market. You can give presentations that are as detailed and engaging as you need, or offer one-to-many training sessions with reps when you roll out a new piece of software.
Pricing starts from $14/user/month for the starter plan.
Prezi is a different kind of presentation tool. Like PowerPoint 2.0, but with none of the boring WordArt.
Instead of forcing the presenter and audience through a linear narrative, slide by slide, Prezi is laid out like an interactive, free-form map that you can seamlessly zoom and navigate.
It also collects analytics on the audience's reactions to the presentation, so you know where to improve in the future. In this way, it powers sales enablement to make optimizations to the standard presentation process reps follow.
Pricing starts at $9/month for the standard plan.
ShareDemos is software specifically built for sales enablement. It's a way to create and distribute sales enablement content internally and externally — that includes sales onboarding material and product fact sheets for customers.
Since rich content can be designed and edited through the ShareDemos platform, sales managers can make updates to content that appear whenever the lead or customer accesses it. This solves the issue of having old content being sent to leads, or reps worrying if the material they send to leads is up to date.
Pricing for ShareDemos is publicly available.
ExecVision is a sales call analysis tool that can process call recordings to gain insight into how the ways reps make calls is affecting your sales conversion rate.

Load you sales calls into ExecVision, and you'll get an indexed database of your call logs which is searchable and includes metrics such as keywords and interchange frequency. With calls added inside ExecVision, you can get metrics like average call length, calls per rep, and more.
As a bonus, you can feed all of this data into the CRM you already use, like Salesforce or HubSpot.
Pricing for ExecVision is available on request.
Contract Management
The exchange and review of contracts can be a long, drawn-out process. If it falls through, you're wasting all of the marketing effort that went into winning that lead, and all of the sales work done to convert it.
Instead of relying on a Word doc template and freeform follow-up notes, try a dedicated contract management tool to help you create, distribute, and track metrics around contracts.
Are you still making your sales proposals inside Google Docs? How are you going to track if your prospect actually reads and engages with the proposal you send?
With Proposify, you get a simple user interface to create proposals with, pre-loaded with data from your business that makes creating proposals a snap.
Pricing for Proposify starts at $49/user/month for one user account.
HelloSign is cloud-based document management software that makes paper contracts a thing of the past. For sales enablement purposes, you can use HelloSign to draw up contract templates for deals and make it easier for your reps to distribute them and track progress.
HelloSign features native integrations with Oracle CPQ, Salesforce, HubSpot CRM, and Zapier, which provides connections to over 1,000 other apps.
Pricing starts from free, for three monthly documents. The cheapest premium package, which offers unlimited documents from a single sender, costs $13/user/month.
DocSend is a content management tool for sales enablement material. It helps you surface and organize your comparison sheets, white papers, and other content that your sales team needs to close deals. Since documents are distributed by the app, you can use DocSend's analytics to track content usage and make optimizations.
Pricing for DocSend starts at $10/month for one user.
With PandaDoc, you can create and send branded proposal documents that help you reps close deals.
Using pre-made templates and your in-built company data, you can spin up a proposal in minutes and get it distributed. Plus, after it's sent you can track metrics that tell you whether or not a prospect is engaging with the material.
PandaDoc pricing starts at $19/user/month.
Conga is a content management system for sales teams that allows reps to create templated, branded documents with ease. Build approval workflows and templates inside Conga, and you'll have the systems in place already to enable reps to create their own material and submit it for review.
Conga also integrates directly with platforms like Salesforce, so you can track customer metrics inside your CRM to get a better look at your content's performance.
Pricing for Conga isn't available online.
Sales CRMs
A salesperson's CRM is their #1 most-used tool. If it's a pain to use, won't automatically enrich lead data, and doesn't offer time-saving automation, it's a big problem for sales enablement.
Since reps spend less than 36% of their time selling, the remainder is spent on data entry, menial tasks, and in the CRM. A good CRM could put an end to all of that time-sucking work.
Here are our top picks in the category.
HubSpot is a free CRM with a full feature set — contact management, email history, lead data, and more — all for free. This alone sets it apart from most other CRMs, which can come with a high price tag.
You can automation outreach and build follow-up sequences that are optimized to allow your reps to make the most high-converting plays.
As one of the most popular CRMs out there, HubSpot offers great support for other products and has integrations with over 1,000 apps through Zapier.
Best of all, HubSpot CRM is entirely free! No hidden costs 🙂
As the #1 CRM on the planet, Salesforce needs no introduction. It's widely supported with integrations, so practically any data you collect from other tools can be added to your lead profiles easily.
It acts as a rolodex for your leads, whether that's leads you haven't reached out to yet, or leads partway through the funnel. For opportunities in the funnel, Salesforce tracks deal status so you can filter your sales opportunities and enable reps to save time.
Salesforce's pricing starts from $25/user/month.
Pipedrive tracks rep activity across every lead in your database and gives you a birds-eye view of your entire sales funnel.
Through its marketplace, Pipedrive has native integrations with over 100 apps you already use, like Asana, Intercom, Slack, and Help Scout. This allows you to pull in everything you already know about a lead and track sales activity no matter where it happens. More data means your reps are better able to make a pitch that converts.
Pipedrive is priced for the SMB and startup market, with packages starting from just $14.90/user/month.
SPOTIO is a field sales CRM which houses your organization's lead data complete with locations, rep and territory assignments. Leads are enriched with unique metrics like home value and eco-friendliness automatically, which gives reps a way to tighten their targeting and waste less time on qualification.



The SPOTIO CRM features a shared meeting appointment calendar and a historical log of rep activity.
Sales Training
Sales training is a vital component of enablement. Not just as a one-off deal, but when practiced continuously. That's because salespeople will forget 80-90% of what they learned in training within a month without revisiting the material.
Because of this startling reality, sales teams often use a dedicated platform to manage, deliver, and monitor training content for reps.
Here are our top picks from the category.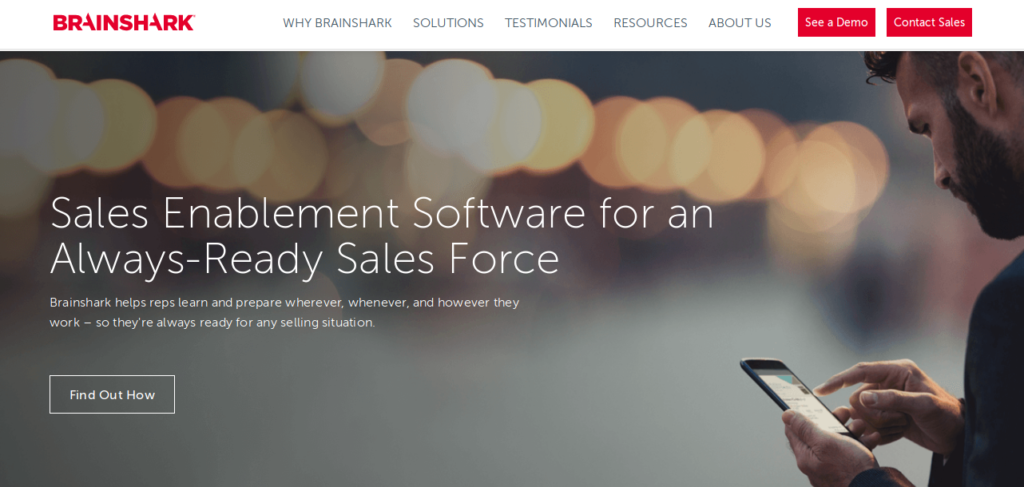 Brainshark is a sales training tool with a focus on video. With it, you can create sales training videos to deploy to your reps and enable them to close more deals.
Industry-wide, turnover for SDRs is high. That means you need good onboarding or you won't be able to get reps up to speed fast enough. Brainshark optimizes your sales training by giving reps a centralized hub they can use to find and consume material. Then, you get metrics back that tell you how to improve.
Pricing for Brainshark isn't available on the web, so contact sales for more information.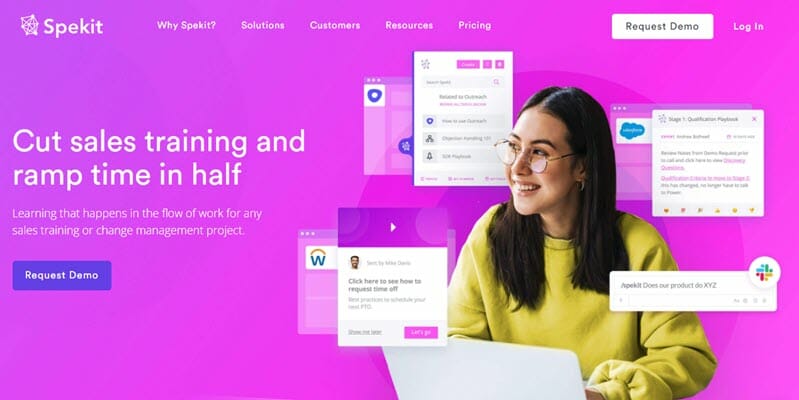 Spekit is a digital adoption and training platform that helps sales teams boost productivity, reduce ramp-up time, and drive more revenue with just-in-time enablement.
The platform has a variety of features to streamline sales onboarding and training including in-app alerts and guided walkthroughs, contextual embedded training, knowledge sharing that can be organized by tool or team, custom learning streams, and activity monitoring.
Spekit is trusted by large brands such as Southwest and Uber Freight, and is also the only Salesforce adoption solution with a one-click integration.
Pricing starts at $10/user/month.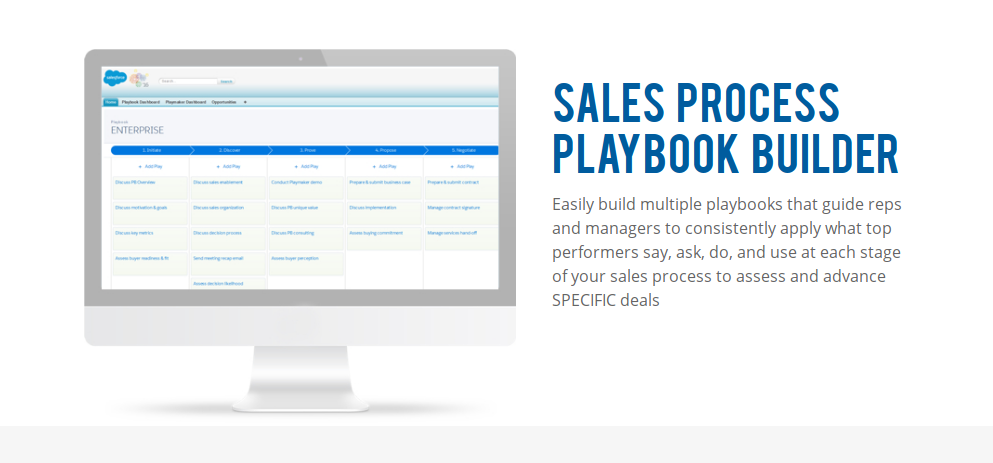 With Playboox, you can build sales playbooks directly into Salesforce and make it easy for reps to know what to do next and cut time-wasting activities (like searching for information) to a minimum.
Taking a playbook-focused approach helps your reps ensure consistency and success because they're using proven standards versus their own improvised techniques. With Playboox, this is simple to design and add to your CRM.
Pricing for Playboox is available on request.
Sandler isn't your typical sales training tool. Rather than leaving it all up to you, you get connected with a sales training expert to design your processes. Sandler teaches SDR their winning methodology to ensure you get the best results, and offers metrics that help you make optimizations.
As a service rather than a piece of software, all solutions are custom. Find a center near you for more info.
Lessonly is a sales training platform that helps you build, store, and distribute training content while tracking the most vital success metrics, like whether or not reps have undergone training and engaged with it.
Creating a solid knowledge base for new hires and existing reps — with material about selling a new feature, or key personas — is essential for onboarding and retaining reps because it empowers them to be successful and be motivated by more commission.
Pricing for Lessonly is not public, and only available through requesting a demo.
MindTickle helps organizations train and coach sales reps with microlearning, gamification, and quizzes. Admins can easily create and publish training content to the platform, and then analyze how it performs. Reps get a simple mobile-ready interface they can use to participate in bite-sized training courses that help them hit their goals.
MindTickle's pricing is available on request.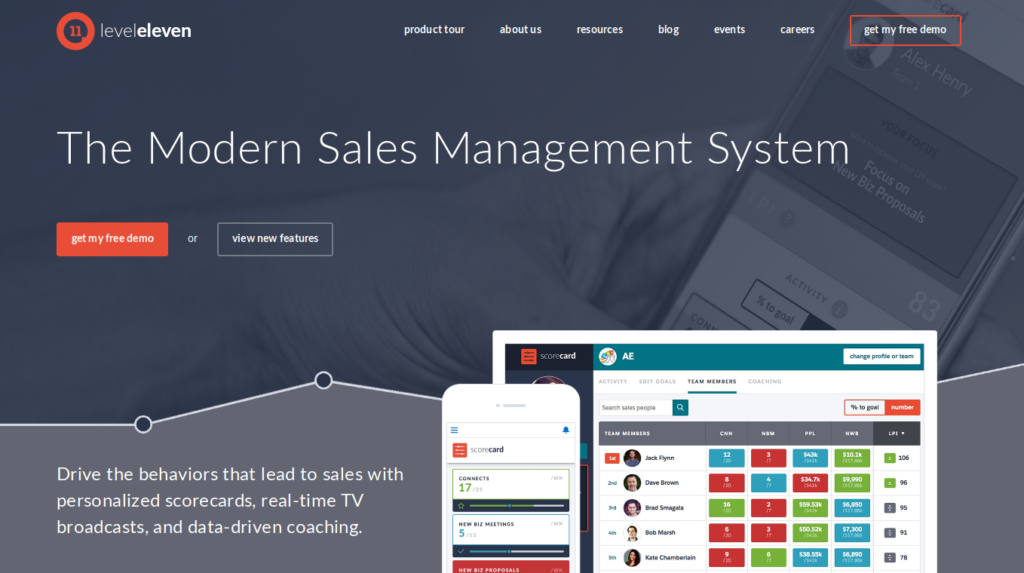 Managing sales rewards and training schemes can be difficult, especially if you have a lot of reps to track. That's where LevelEleven comes in.

LevelEleven is a sales management and motivation tool designed to encourage revenue-creating behavior with competitions and scoring. With it, you can get insights into the top-performing reps' habits so you can create training material that enables your reps to convert leads.
LevelEleven's pricing is available on request.
Sales Analytics
Without sales analytics, you can't hope to transform the way your reps sell. Why? Because you can't measure what you can't manage. Sales analytics tools let you collect and analyze data on reps and their deals, so you can make strategic decisions about the sales enablement work that needs to be done — and track your strategies effectiveness.
Here are our top picks.
SPOTIO's sales tracking software provides sales operations teams with real-time insights into what is happening in the field.
See detailed location activity of sales reps, deal support, and start making business decisions based on real-time data. Track sales rep activity across territories, and create custom reports using dozens of different data points.
Lattice is a platform for performance reviews, employee goals, and sharing feedback. It helps companies grow by giving managers a central hub they can use to track how sales reps are tracking against their performance goals — especially useful in large sales organizations.
Pricing for Lattice starts at $11/user/month, but reporting and analytics are only available on the $12 package.
With so much of the buying cycle happening in the background these days, sales teams desperately need to get insights into their anonymous traffic so they can be informed of the lead's past activity and knowledge and be equipped to sell better. With 6sense, you get to look behind the curtain and reveal everything a lead has done before they reached out to sales — and analyze the lead's behavior using AI.
Pricing for 6sense is available on request.


InsightSquared makes it possible for you to create reports using your entire bank of sales data, from day one. Just connect it to your CRM, and you'll get a library of pre-built reports that you can use to extract insight and sell more efficiently.
InsightSquared has native integrations with Salesforce, HubSpot, and more — anywhere your data lives, InsightSquared will be able to access it.
Pricing is available by talking to the InsightSquared sales team.
Sales Management
Managing a sales process also means managing the people that run that process. That includes performance metrics, employee engagement, and sales contests to improve productivity.
The sales management tools selected below will help you make reliable decisions about your team's health and drive up motivation.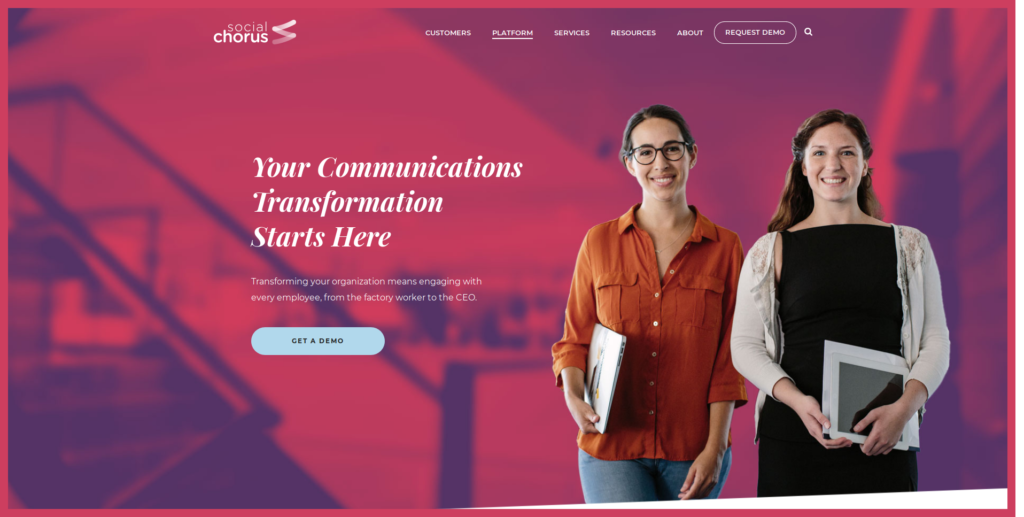 SocialChorus is an internal content management platform that teams can use to share playbooks, standard procedures, and other documentation.
It's not like just storing your files in Google Drive, though — SocialChorus features analytics that help you (and stakeholders) see the value of having a central hub for internal documents and communication, rather than using multiple disparate tools.
Pricing for SocialChorus is available by request only.
Customer Feedback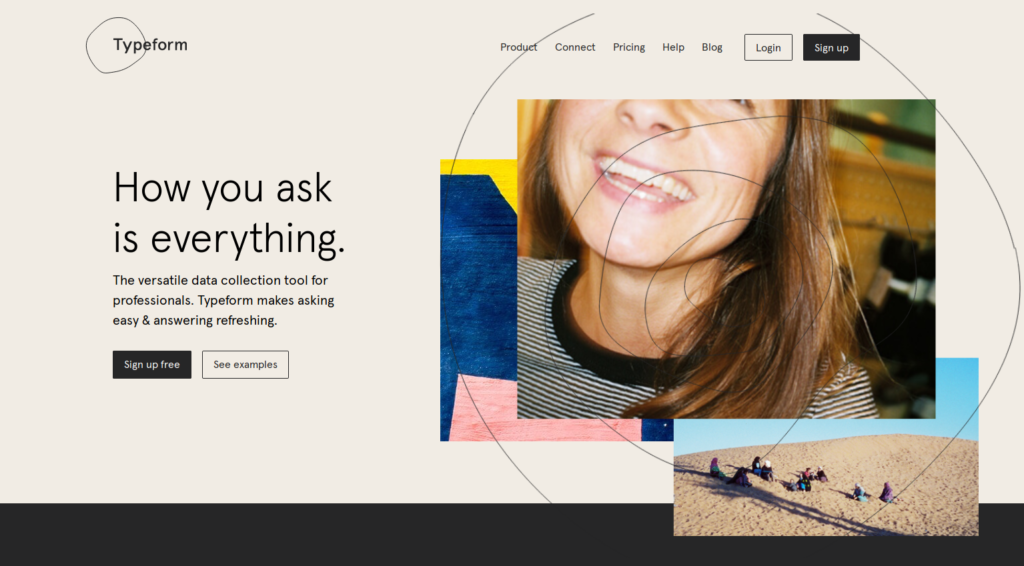 Typeform is a simple, powerful, and beautiful form creation tool you can use to distribute post-sale feedback forms to your customers and improve your sales processes. Or, you can use Typeform to collect missing lead data, pre-sale, and send it to your CRM automatically.
Typeform is so flexible, it's just about the last form builder you'll need. You can even just use its API to give your team a central place to store and analyze form data, regardless of the way it's captured.
Pricing for Typeform starts from free, with premium tiers from $25 monthly.
UserReport is both a feedback form tool and a way to communicate with customers that leave feedback. With it, you can gather NPS feedback that tells you how to improve your sales process. For example, poor NPS feedback could be the result of a bad-fit lead buying your product — and with UserReport, you can find that out and get to the root cause.
It's free to add UserReport's feedback forms to your app, plus it integrates with Google Analytics to enrich your existing data. Pricing for the premium package is available on request.
Crowdsignal is a form-building tool that gives you an easy-to-use platform to collect information from leads and customers. With its simple interface, you can construct mobile-friendly forms that you can distribute through social media, your product, or transactional email.
Pre-configured reports can analyze data as it comes in, or offer exports to Excel where you can crunch the numbers.
Ready. Set. Enable.
There you have it – 62 sales enablement tools to level-up your sales performance in 2023.
Which tools are you going to try? Any good ones we missed?
Let us know in the comment below.
_______
SPOTIO is designed specifically for outside sales managers and reps to squeeze every drop out of their field sales efforts.
Want to see a product demonstration? Click here to see how SPOTIO can take your sales game to the next level.