If you want to maximize the performance of your sales team, you need the right technology: sales rep management tools, apps that improve efficiency, and platforms that give you detailed sales analytics in real time.
It's hard to know which sales apps are the best for you and your team. That's why we've done the research for you. We reached out to our top clients and conducted extensive research to compile this list of the best sales apps for improving performance. The sales apps have also been broken out by use case.
In this post, we'll look at the unique benefits of sales apps versus the competition, pricing, and ways your team can immediately take advantage of each tool.
43 Best Apps for Sales Reps
Best Mobile Apps for Sales Reps
Best Travel / Route Planning Apps for Sales Reps
Best Prospecting Apps for Sales Reps
Best Appointment-Setting Apps For Reps
Best Lead Management Apps for Sales Reps
Best Productivity Apps for Sales Reps
Best File-Sharing Apps for Sales Teams
Best Note Taking And Recording Apps For Sales Reps
Best Apps for Closing Sales
Best Apps for Sales Tracking
Best Expense Tracking Apps For Sales Teams

Best App for Door-to-Door Sales Teams
In some industries, door-to-door sales continue to be the best way to connect with prospects. And with the right technology, sales reps can zero-in on only the most qualified prospects before they begin canvassing.
SPOTIO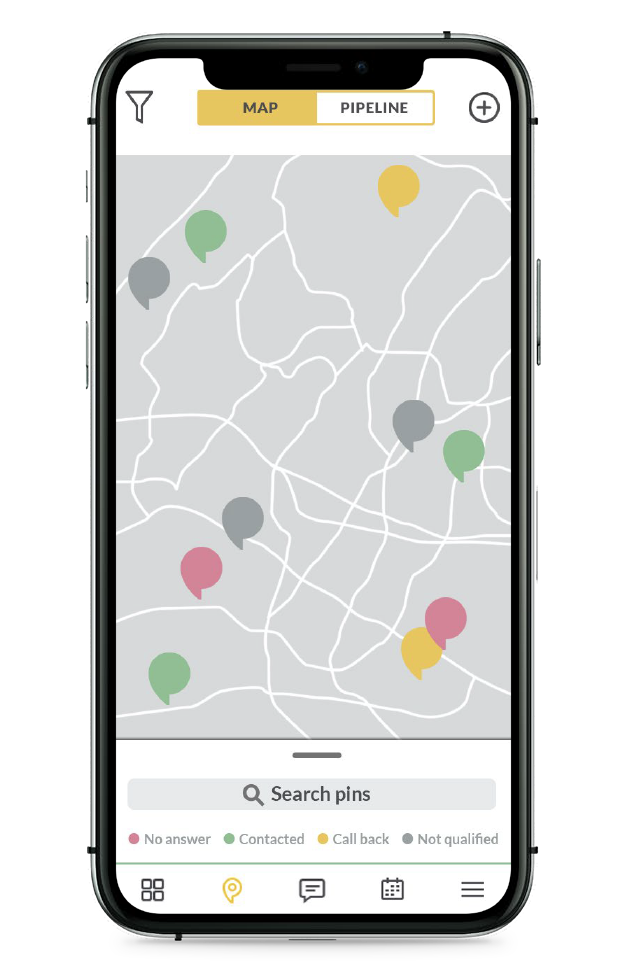 SPOTIO is the #1 app for door-to-door sales and canvassing. With SPOTIO, you can filter prospect lists by more than 200 data points, including credit capacity, home square footage, and median home income. You can also cut custom territories and create permissions and hierarchies for each territory.
Sales agents can add notes about prospects, transfer appointments to other reps, and manage their Google and Outlook calendars from within the SPOTIO app.
Best Mobile Sales Apps for Reps

Outside sales reps spend their days meeting with prospects and touching base with clients. That's why applications that can streamline communication and organize one's day are important.
Whether it's supporting administrative needs, simplifying the act of taking notes, or automating follow-up actions, these apps make life easier for sales reps.
SPOTIO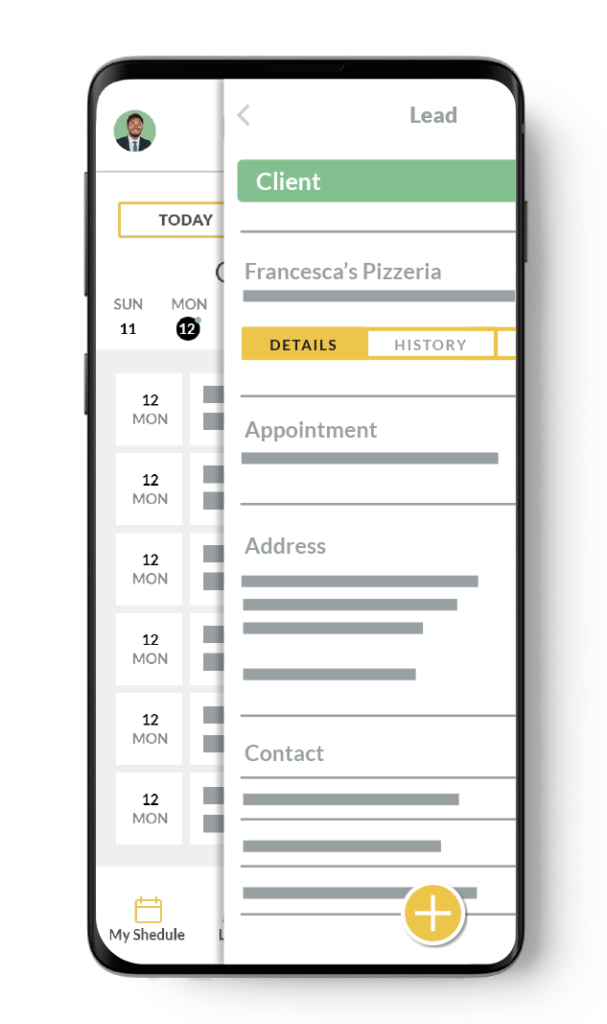 SPOTIO is an all-in-one sales engagement solution that offers a breadth of capabilities such as appointment scheduling, sales rep tracking, territory and customer mapping, CRM integrations, route planning, custom reporting, and more. SPOTIO eliminates the need to manually keep track of your administrative tasks, giving you more time to focus on selling.
A key feature to our mobile sales app is the appointment setting capabilities. SPOTIO makes it easy to schedule meetings, add and sharenotes, and see each appointment on a map.
Slack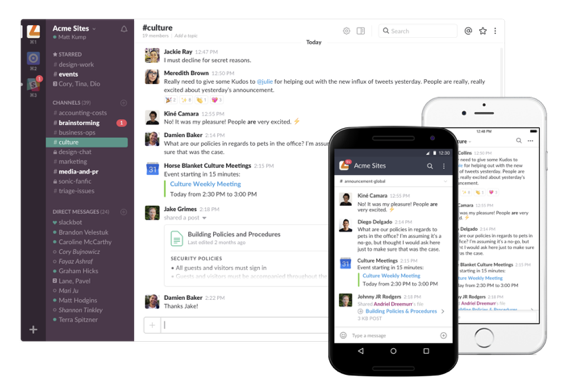 Slack is a messaging and collaboration app for individuals and teams. With more than 8 million active users, Slack is a fail-proof way to reach prospects, colleagues, and customers and move things along with real-time communication.
Pricing:
Standard: $6.67/user/month
Plus: $12.50/user/month
Enterprise: Pricing available upon request
CamCard
CamCard makes collecting contacts seamless by instantly reading business cards, converting them into a digital format, integrating the information into your phone contacts, and storing it securely for only you to access. With CamCard, you'll never lose another business card.
Pricing:
Premium: $21/user/month
Professional: $25/user/month
Keynote
Mobile App: iOS 
Keynote is an app for creating professional presentations on iPad, iPhone, and iPod Touch. Keynote's features allow you to interact with and edit presentations in real time and present in-person or via videoconference.
Pricing: Free
Evernote
Evernote gives users several ways to capture notes: speech-to-text, smartphone keyboard, smart stylus, and scanning. You can also upload images, add receipts, and mark up images and PDFs.
Pricing:
Basic: Free
Personal: $7.99/user/month
Professional: $9.99/user/month
Teams: $14.99/user/month
Quickvoice
Mobile App: iOS
Quickvoice is a very popular voice recording app with over 5 million users. It makes recording ideas, notes, meetings, and presentations simple.
Pricing: Free
Skype for Mobile
Skype is one of the most widely used apps for making voice and video calls. Sales teams can use Skype for client calls, or for times when they need to communicate with each other internally.
Pricing: Free (in-app purchases)
Cincopa RecTrace
Cincopa has several use cases, but for sales teams, its main appeal is its video recording feature, RecTrace. Sales reps can use RecTrace to create personalized videos with custom backgrounds to send to contacts, and receive a notification when someone views their video. RecTrace also offers screen recording — a useful feature for tutorials or demonstrating software features.
Pricing:
Plus: $25/month
Corporate: $99/month
Agency/Enterprise: $350/month
Best Travel / Route Planning Apps for Sales Reps
For sales teams in the field, efficient travel is the key to closing as many deals as possible. These top travel and route planning apps help users optimize their time and get around with ease.
SPOTIO Route Planner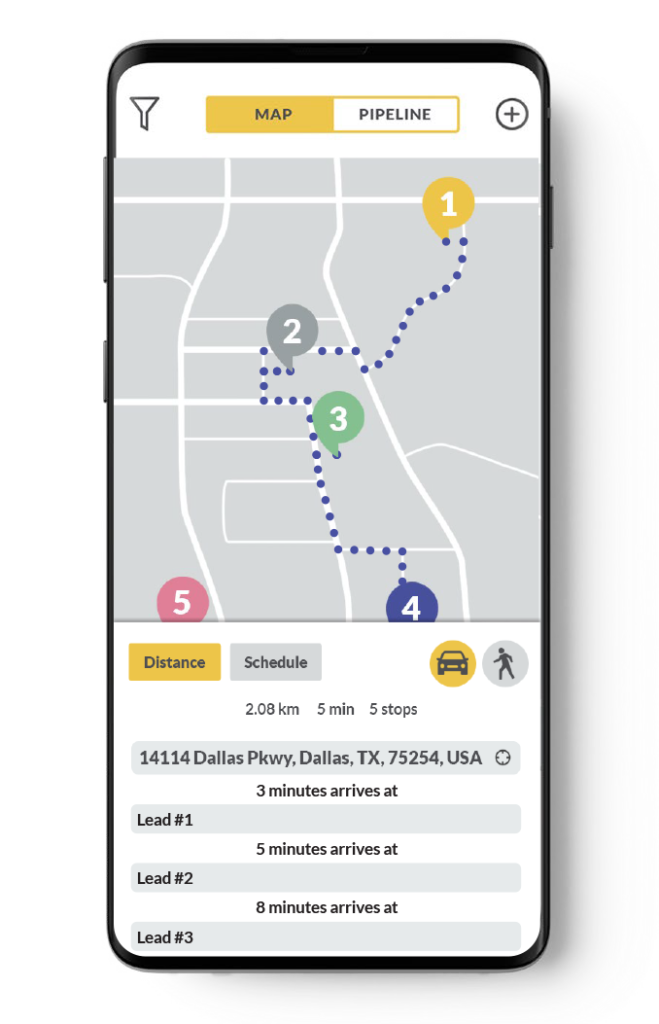 With SPOTIO, managers can dramatically cut down windshield time by enabling reps to quickly find the most efficient sales routes, no matter how many stops.  In addition to the advanced route planning functionality, SPOTIO also bolts onto your CRM. As reps visit prospects in the field, take notes, set meetings, and update customer information, your CRM will automatically update in real-time. This helps cut down time spent on data entry, further boosting rep productivity and sales performance.
SPOTIO's route planner also automates mileage tracking and integrates with a number of different expense tools. This is feature reduces tedious and time-consuming paperwork and gives reps even more time to focus on selling to new customers and nurturing existing relationships.
TripIt
For sales reps that travel by air, TripIt is an easy way to stay organized and avoid delays. Just share your travel plans with the app, and it will alert you if flights change, if better seats open up, and when it's time to leave for the airport.
Pricing:
TripIt: Free
TripIt Pro: $49/year
Google Maps
Google Maps makes navigating traffic stress-free by displaying live traffic patterns that help users avoid accidents and traffic jams. Google Maps also shows multiple options for routes and transportation, which creates flexibility, especially when navigating inner city traffic patterns.
TripCase
The TripCase app helps design your entire trip. With TripCase, you can book flights, reserve cars, and set up lunch meetings. When you're in a new city and in between meetings, you can use TripCase to explore local tourist spots.
Pricing: Free (in-app purchases)
Parkopedia 
Parkopedia is an app that helps users find the closest or most affordable parking. The app conveniently shows the price, number of available parking spots, and the distance to each lot. This instantly takes away the stress of competing for a spot in a busy city district.
Pricing: Free (in-app purchases)
MileBug
With MileBug, you can log business miles and ensure they're all in one place. Using GPS and MileBug's easy-to-manage filing systems, sales reps can track business travel by simply logging in. Sales reps can also share travel records with managers and accounting departments for expense-reporting purposes.
Pricing: Free (in-app purchases)
Rome2rio
Rome2rio is an all-inclusive travel app that takes you from your doorstep to your destination. By train, plane, automobile, or even ferry, this app will cover any possible route to get to that sales meeting.
Pricing: Free
Best Prospecting Apps for Sales Reps

Prospecting is one of the most important aspects of sales. These top sales prospecting apps are designed to help teams generate, manage, and nurture leads.
SPOTIO Lead Machine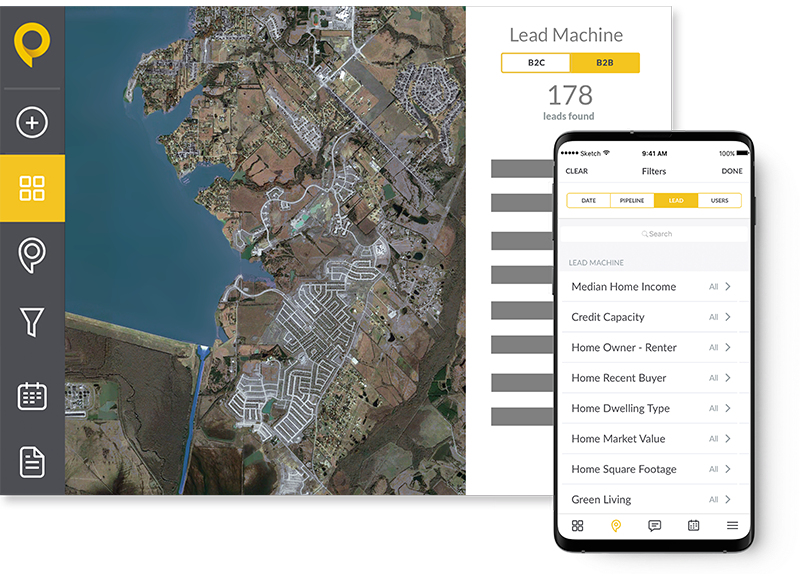 Lead Machine is the top prospecting and lead-tracking app for B2B and B2C sales teams. It gives you the data you need to identify the right leads and disqualify bad prospects, saving time for your reps.
Just choose a territory to generate a lead list, and select filters to weed out unqualified prospects.
LinkedIn Sales Navigator

LinkedIn Sales Navigator includes sales tools that help you find the right prospects and build trusted relationships. You can save new leads to the app to begin receiving real-time sales updates and communicate with leads via InMail or messages.
Pricing: Free (with paid Sales Navigator account)
Hunter.io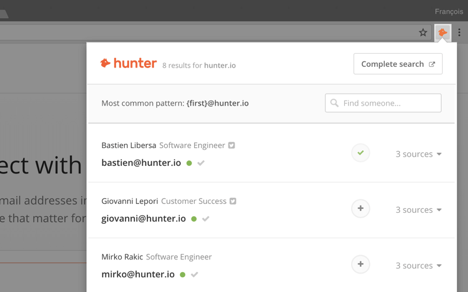 Hunter is an email verification tool that allows users to find prospect email addresses by providing a domain name. Hunter then searches its more than 50,000 domains on record, and verifies the deliverability of any email addresses it discovers.
Pricing:
Free
Starter: $49/month
Growth: $99/month
Pro: $199/month
Enterprise: $399/month
SellHack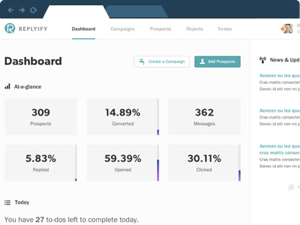 SellHack helps sales teams find email addresses for prospects and validate existing email addresses. You can bulk-upload contacts, and let SellHack do the work of finding and verifying contact emails.
Pricing:
Lite: $3/month
Basic: $15/month
Starter: $30/month
Pro: $60/month
BuiltWith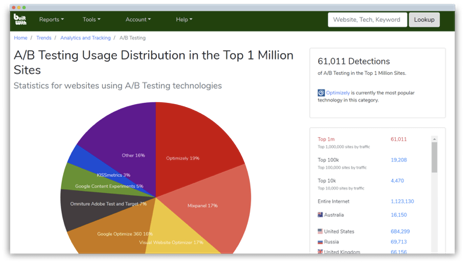 BuiltWith is a tool that scans a website and lists all of the tech powering the site. A sales rep can use BuiltWith to gain a deeper understanding of their prospect's needs and determine how their product can help resolve those needs.
Pricing:
Individual Lookups: Free
Basic: $295/month
Pro: $495/month
Team: $995/month
NerdyData
Lead Generation: $50/month/user
Enterprise Research: $120/month/user
NerdyData is a search engine designed to find the code, backlinks, SEO tools, and licenses your competitors or your prospects' competitors are using. This tool is great for SaaS sales reps to use before approaching prospects. NerdyData reports can be downloaded and shared with team members.
Pricing:
Single Download: $75
Unlimited Access: $295
Team Plan: $495
Best Appointment-Setting Apps for Reps
Appointment-setting apps can ensure a smooth handoff from prospector to closer, or reduce the amount of back-and-forth when trying to schedule a meeting. Let's take a look at the two best apps for setting sales appointments.

SPOTIO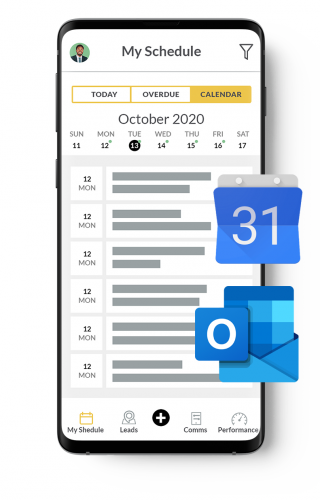 SPOTIO's sales canvassing features let sales reps access shared calendars and schedule appointments for team members. Appointment assignees can then access any details, history, and files attached to the appointment, ensuring no information is lost in the handoff from one rep to another.
Calendly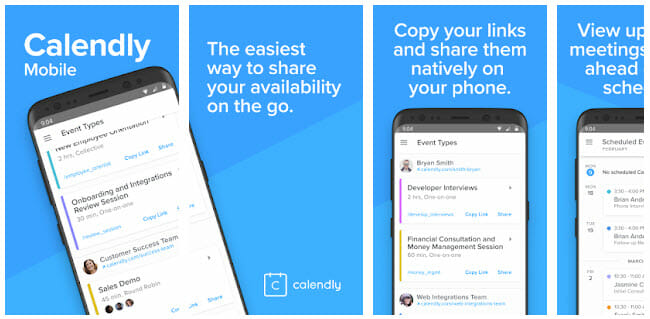 Mobile App: Android
Calendly connects to your calendar and provides a link that you can embed in an email or on a website. Leads can then click on the link to see your availability and schedule a meeting or sales call.
Pricing:
Free
Premium: $8/user/month
Pro: $12/user/month
Enterprise: Pricing available upon request
Best Lead Management Apps for Sales Reps

Prospecting activities provide the leads, but proper lead management is required to complete conversions The following apps can help you nurture and manage your leads for optimal success.
SPOTIO Lead Management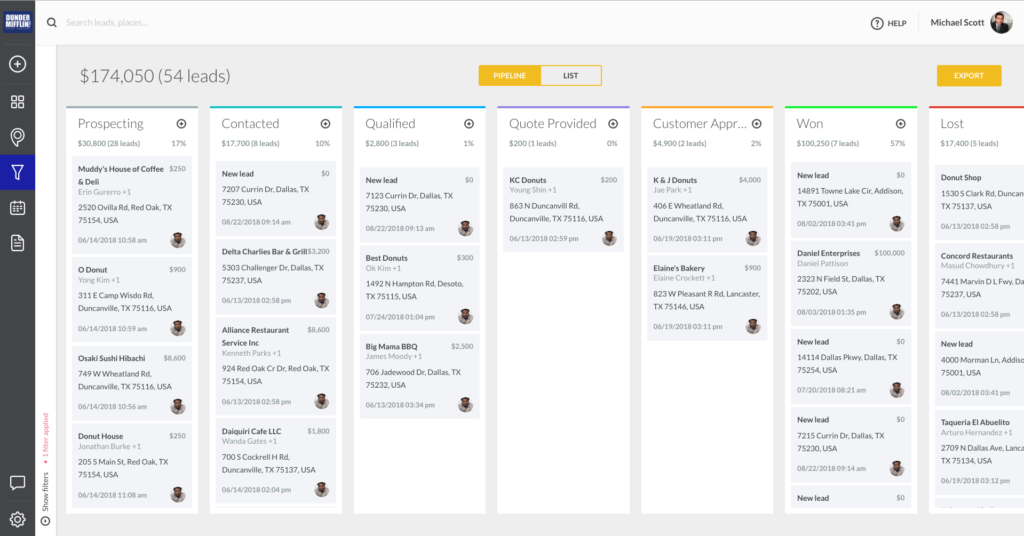 The process and method of lead management is what drives the success of a sales team. SPOTIO's Lead Management tool allows users to capture interactions across emails, texts, calls, and in-person visits, accessible via separate tabs in a single view. The SPOTIO Lead Management smartphone app connects with your CRM, giving reps access to sales CRM data, even when they're in the field.
HubSpot CRM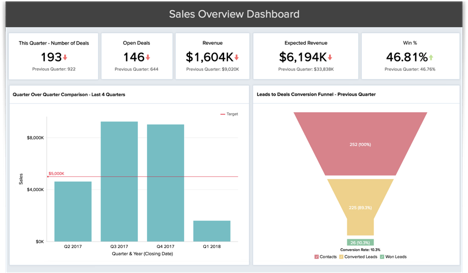 HubSpot CRM is an app for managing your sales team and their activities in an easy-to-understand dashboard. With the ability to see individual performance, sales quota progress, and other key metrics, you can evaluate your sales team in real time.
Salesforce Sales Cloud
Salesforce has a wide range of products for different business uses. Its Sales Cloud is specifically for sales teams and includes features for the management of contacts, leads, accounts and opportunities.
Pricing:
Essentials: $25/month/user
Professional: $75/month/user
Enterprise: $150/month/user
Unlimited: $300/month/user
Best Productivity Apps for Sales Reps

As sales teams look to maximize their time, these productivity apps offer a way to make the most of every minute.
SPOTIO Territory Manager
SPOTIO's territory management feature allows sales managers to track, assign/reassign, and adjust sales territories while in the field. SPOTIO shows managers precisely where their reps are and provides live information on their progress.
SPOTIO Autoplays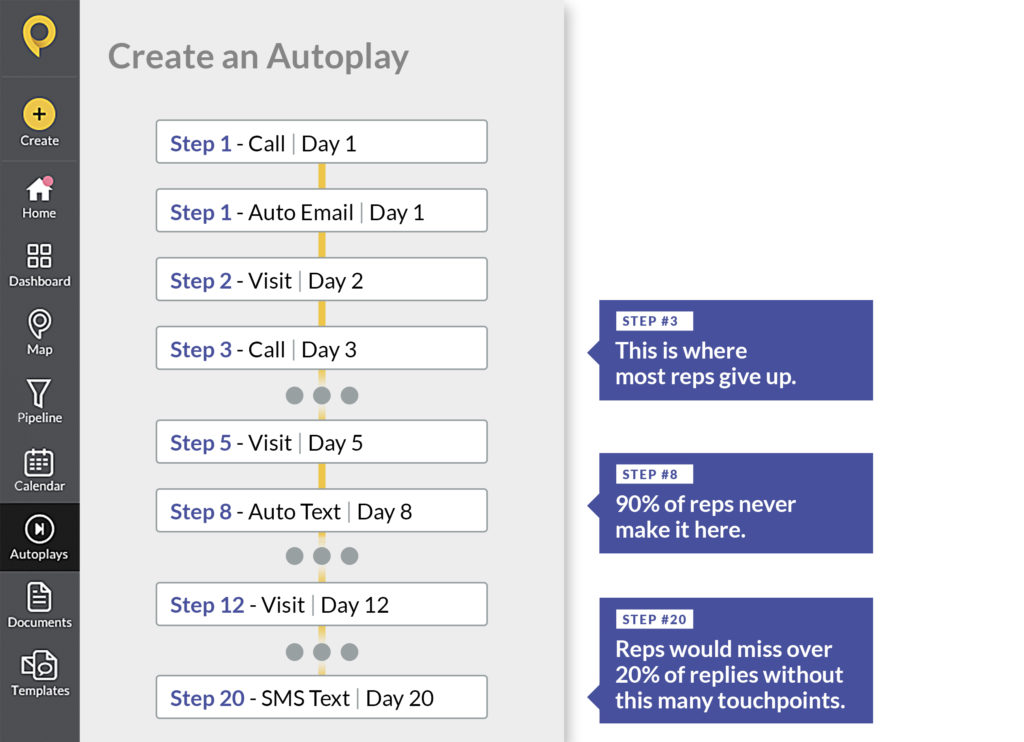 SPOTIO Autoplays is a tool that allows users to create automated and customized activity sequences (Autoplays) to help field sales reps know what their next best action should be for prospects.
When prospects are enrolled in an Autoplay, an automatic sequence is initiated and reps will have clarity into who they should engage with, the best channel to leverage – call, email, text, visit – and when they should contact that person.
Eliminate the guesswork of figuring out how to engage with prospects and customers.
SPOTIO Auto-Visits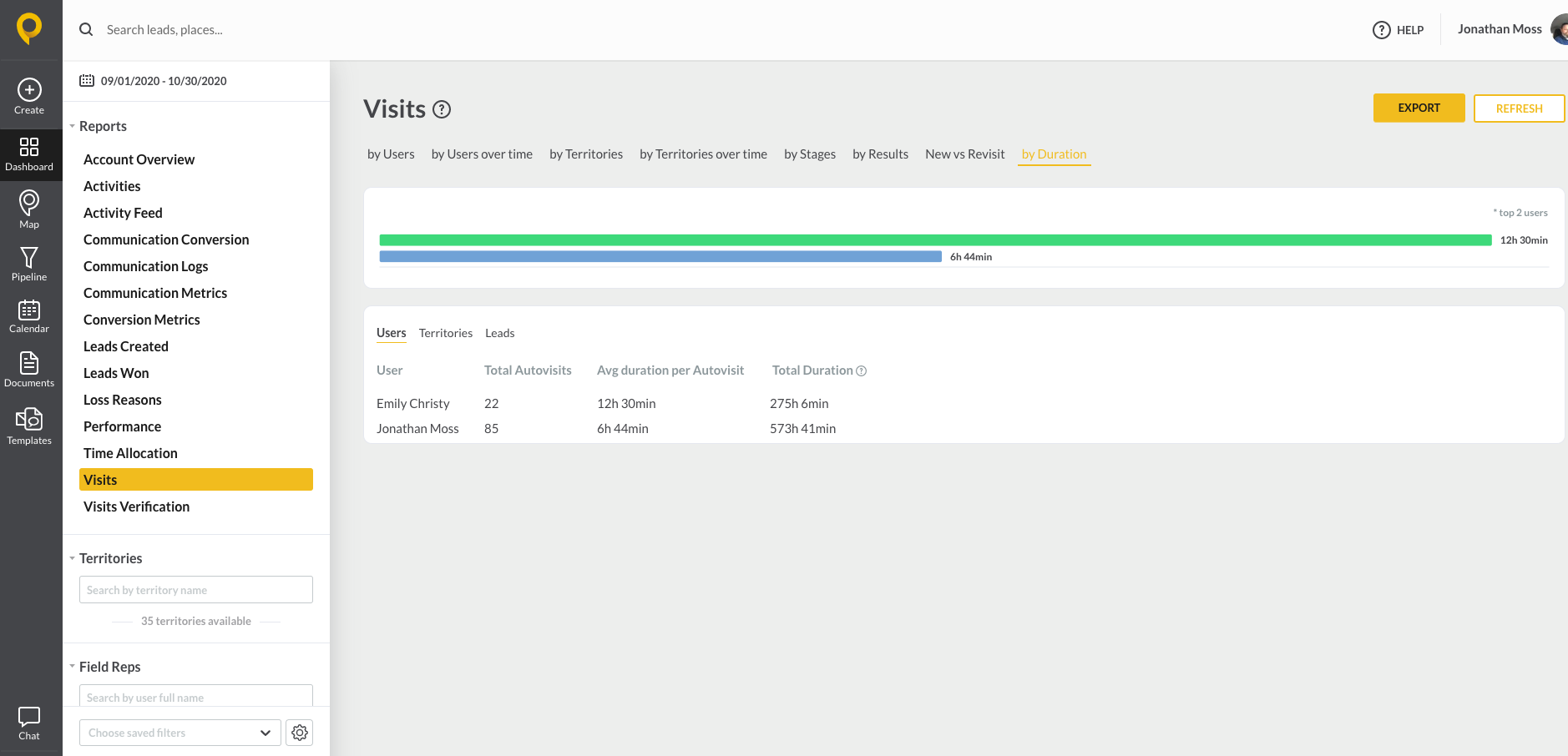 When sales reps have SPOTIO installed on their smartphone, the Auto-Visits feature uses geofencing to automatically log check-ins and check-outs, as well as the duration of the visit. With the data SPOTIO collects, managers can see how time-on-site, new visits, and revisits impact close rates.
Any.do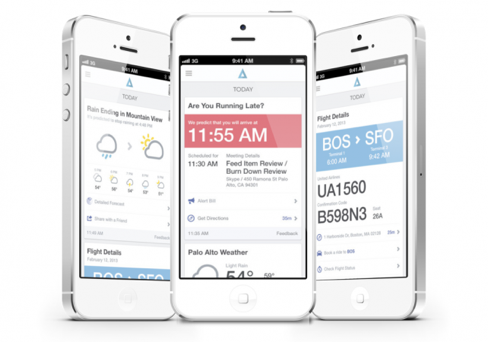 Any.do lets users create and share tasks and task lists, and remove them when they're complete. . Lists can be collaborative, so Any.do is a good app when sales teams need to brainstorm next steps, but reps are working remotely.
Pricing:
Free
Premium: $2.99-$5.99/month, depending on length of agreement
Best File-Sharing Apps for Sales Teams
Sales reps need to be able to share and access files in a secure, cloud-based platform. The following apps can fulfill that need.
Dropbox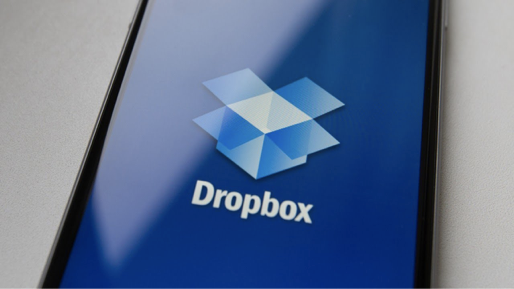 Dropbox lets teams share files remotely and protect files with passcodes, expiration dates, email verification, and approved viewer lists. Teams can also use Dropbox to collect digital signatures on service agreements.
Pricing:
Professional: $16.58/month
Standard: $12.50/user/month
Advanced: $20/user/month
Enterprise: Pricing available upon request
Best Note Taking and Recording Apps for Sales Reps
Note taking apps and recording apps can save reps a lot of time and help them keep track of important information. The following two apps are among the best for reps who rely on speech-to-text transcription.
Dragon Anywhere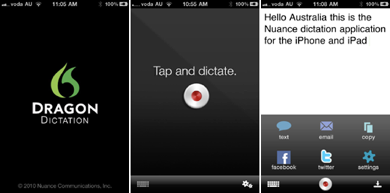 Dragon Anywhere is a mobile dictating tool with unlimited word input. It has a 99% accuracy in formatting and editing recorded notes. Documents made in Dragon are easy to share through email, Evernote, Dropbox, and other popular cloud-sharing services.
Pricing:
Free (in-app purchases)
1-Week Free Trial
Monthly: $154.99/user
Annually: $150
Enterprise: Pricing available upon request
Just Press Record
Mobile App: iOS
This app is perfect for the "idea people" on your sales team — they can push a button and record an unlimited amount of text, which the app transcribes into searchable text. Recordings are automatically organized into folders by date and time.
Pricing: Free
Best Apps for Closing Sales
These apps help sales reps through the closing process, whether they're looking to produce and execute a contract, or accept mobile payments.
SPOTIO (eContracts)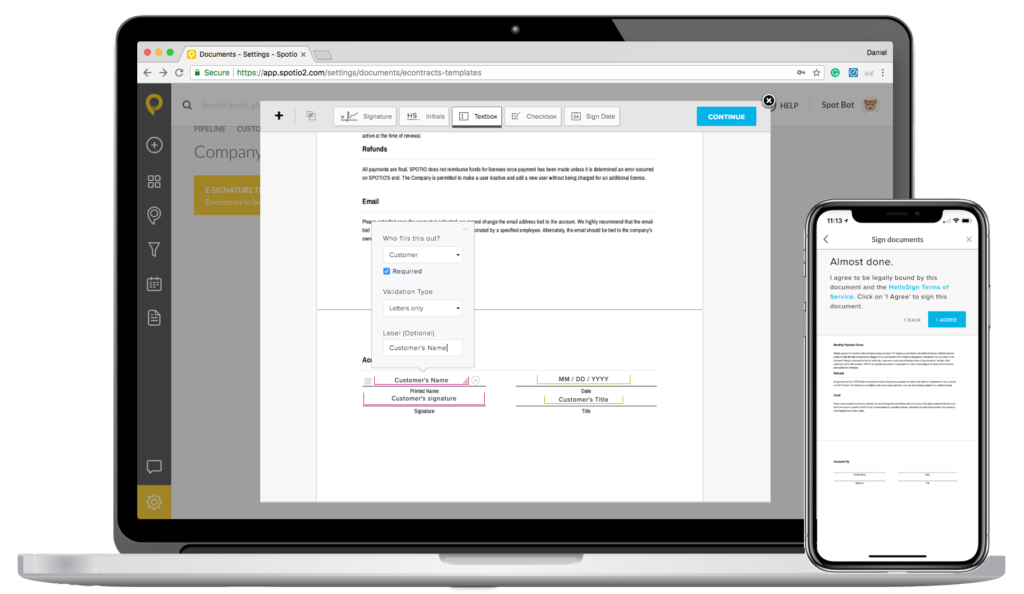 SPOTIO's mobile app for eContracts allows reps to get documents and contracts signed from their mobile device. No emailing back and forth and wasting time — close deals on the spot with fully integrated e-Contracts.
HelloSign
HelloSign is an app for remotely collecting signatures of up to 20 people per document.Sales reps can import PDF documents and share them for signing right from their mobile devices.
Pricing:
Free
Essentials: $15/month
Standard: $25/user/month
Premium: Pricing available upon request
DocuSign
DocuSign is another trusted app for collecting signatures remotely. Sales reps love it for its easy-to-use interface and its notifications about the status of every document.
Pricing:
Personal: $10/month
Standard: $25/user/month
Business Pro: $40/user/month
Advanced: Pricing available upon request
Proposify
Mobile App: iOS
Proposify helps sales reps close deals faster by removing the tedious aspects of managing proposals. Create proposals using Proposify's templates, save them to the cloud, and get faster sign-off with online signatures.
Pricing:
Free
Team Plan: $49/user/month
Business Plan: $590/mont
Best Apps for Sales Tracking
SPOTIO Sales Tracker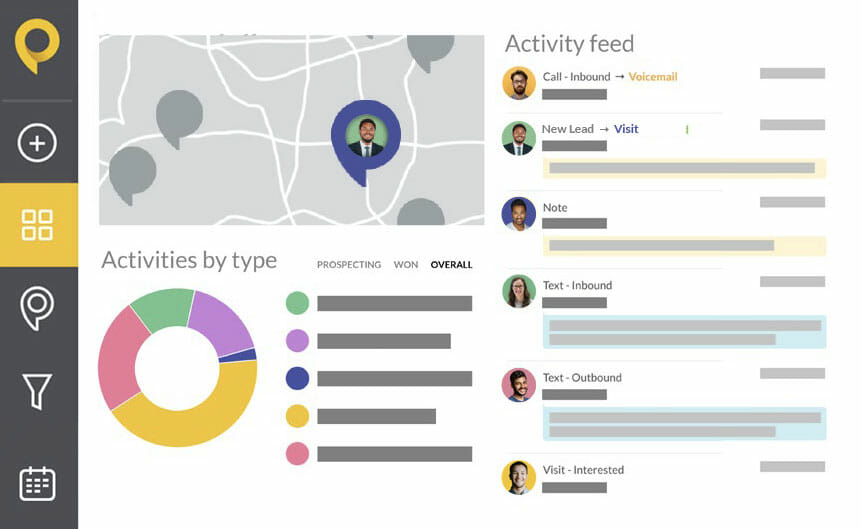 SPOTIO provides sales operations teams with real-time visibility into what's happening in the field. Know which activities drive the best outcomes and troubleshoot sluggish sales or underperforming territories.
SPOTIO's My Reports feature makes it easy for managers to quickly build custom reporting dashboards that include only the most important sales activity and performance metrics.
SPOTIO Sales Rep Tracker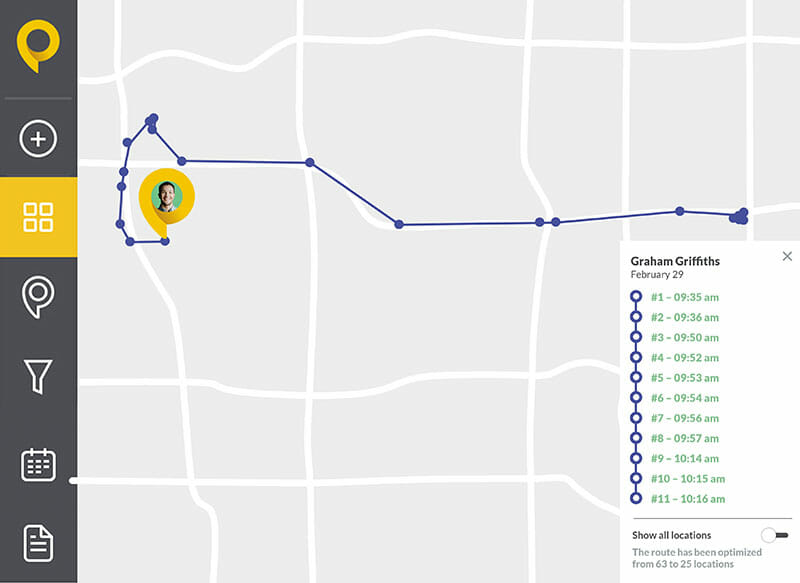 As part of one of the best sales apps on the market, SPOTIO's Sales Rep Tracking app gives managers full visibility into what's happening in the field to better monitor performance and gauge rep efficiency. With features such as rep travel history, real-time location, and visit verification, SPOTIO provides the details managers need to improve sales processes and performance.
HubSpot Sales Hub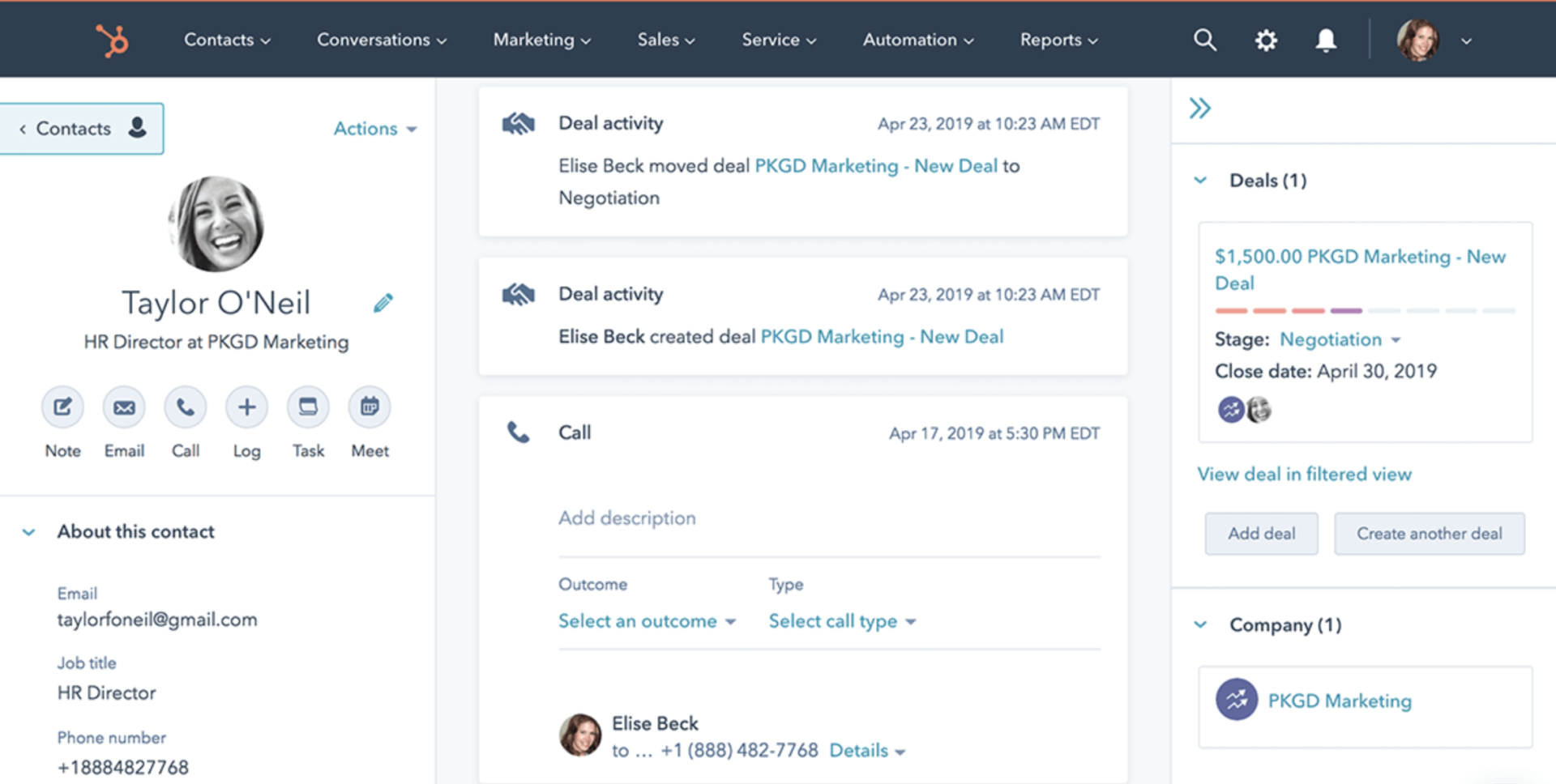 With Sales Hub, you can monitor how deals are progressing, organize all sales activity in one platform, and accelerate sales cycles. You can also schedule appointments from within Sales Hub and connect with prospects via live chat.
Pricing:
Professional: $450/month
Enterprise: $1,200/month
Salesforce Sales Cloud
Sales Cloud has features managers need to drive growth, including forecasting tools, quick filters for managing pipelines, and automation for routine tasks. This app offers additional capabilities when partnered with other Salesforce products.
Pricing:
Essentials: $25/user/month
Professional: $75/user/month
Enterprise: $150/user/month
Unlimited: $300/user/month
Mobile App: iOS | Android
Best Expense Tracking Apps for Sales Teams
Expensify
From receipt scanning to reimbursement, Expensify automates every step of the expense reporting process. Sales reps on the go can snap a photo of their receipt using SmartScan, and Expensify takes care of the rest.
Pricing:
Individual: Free
Team: $5/user/month
Corporate: $9/user/month
Rydoo
With Rydoo, you can create policies — such as spending limits, or per-diem rates — and the app will automatically approve authorized expenses. You can also configure rules to allow for international travel/other currencies, and review Rydoo data to see where your team is spending the most money.
Pricing:
Starter: $7/user/month
Growth: $9/user/month
Enterprise: Pricing available upon request
Conclusion
With the right technology, you can automate processes, strengthen your sales pipeline, and close more deals. Once you start using sales apps, you'll wonder how you ever functioned without them.
SPOTIO is the #1 sales app for outside sales managers that want to improve their processes and support their sales reps' goals.
See what SPOTIO can do for your team. Request a free demo today!