There are few things in sales more important than the sales pipeline.
Manage it correctly and your team will close deals consistently. Mismanage it, or worse, ignore it completely, and your team won't drive enough revenue to keep the lights on.
Fortunately, there are plenty of sales pipeline management tools out there to help you in this regard. Once you invest in one, your reps will become more productive, you'll have the information you need to make better decisions, and team-wide performance will improve.
The question is, which pipeline management software is right for your department? We review 11 options in this comprehensive article to help you come up with an answer.
Before we get to that, though, we need to explain what pipeline management software is and the key features you should look for in this kind of tool. Let's get started!
What is Sales Pipeline Management Software?
Put simply, sales pipeline management software helps sales organizations structure their sales processes in a way that enables them to close more deals in less time.
While every tool is different, most apps in this category allow users to visualize their sales pipelines, which makes it much easier to track deals, identify and remove bottlenecks, and forecast future results. When these things happen, revenue tends to rise.
Worth mentioning, sales pipeline management tools like the ones below are often referred to as CRM software, which is short for customer relationship management software. As such, most of these solutions help users do more than simply track pipeline activity.
Tools like SPOTIO, for example, also feature lead generation and customer mapping tools. And apps like Salesforce, HubSpot, and Close include robust communication platforms, such as dialers and email sequencers, that allow users to automate entire outreach campaigns.
We're getting ahead of ourselves, though. Before we discuss the best sales pipeline software, let's talk about the specific features that your app of choice should have.
Key Features to Look for in a Sales Pipeline Management Tool
Not all pipeline management tools are created equal. Before you invest in a particular app, make sure it has the features below, which will help your team achieve success.
Intuitive user interface
First, choose a software that's easy to use.
Your reps shouldn't need a degree in neuroscience to operate your pipeline management software. They should be able to watch a few tutorials, then use it to close deals.
This will increase their job satisfaction levels, make them more productive, and ultimately, enable them to make more sales for your organization.
Lead generation
Every sales pipeline management software will help you track leads through your company's sales funnel. The best sales pipeline management software will help you generate leads, which you can then add to your pipeline for tracking purposes. This extra feature is critical.
When you can generate leads using your pipeline management tool of choice—or, better yet, directly inside the platform—you'll be able to streamline your department's workflows, which will lead to increased selling time and more deals.
Lead tracking
Your sales pipeline management software must track leads. If it doesn't do this, it's not a pipeline management tool and you should invest in a different solution as soon as possible.
We suggest apps that help you visualize the sales pipeline, too. As mentioned earlier, this will make it easier to track leads. Also, ensure your tool of choice tracks who your leads are and how they discovered your company, not just where they are in your sales funnel.
Sales forecasting
As a sales manager, you know that sales forecasting is a complex endeavor. Fortunately, the best sales pipeline software will streamline this process for you and improve your results.
For one thing, it will provide you with all of the information you need to complete this task, thanks to automation. And you can rest assured that the information collected will be perfectly accurate—something you can't always count on with manual data entry procedures.
When you have the details you need, arranged in easy-to-understand ways, forecasting will get easier. You can then use the time you win back to complete other tasks.
Sales automation
Speaking of automation, preferred sales automation tools have it in spades.
The best apps in this category will allow you to automatically collect prospect information, communicate with leads via email and text message, and generate reports. Tools like SPOTIO can even generate ideal sales routes for field sales reps on autopilot.
Automation is important because it saves sales teams time. Your reps can spend a larger portion of their day contacting leads if they don't have to do so many mundane tasks.
Customer mapping
If you manage a field sales team, you need a customer mapping tool. That way you always know where your leads and customers are, and can plan productive routes between them.
You'll also be able to assess territories and allocate resources more effectively.
For example, a quick look at your customer map will tell you how many customers reside in specific geographic locations. You can then use this information to assign reps. Territories with more customers get more reps, while territories with fewer customers get less.
Integrations
Sales pipeline management software is important, but it's not the only tool your sales team uses on a regular basis. Because of this, invest in a solution that includes a robust integrations list, so you can connect your entire tech stack and simplify operations.
Activity reporting
Finally, make sure your sales pipeline management tool includes an activity reporting feature.
You need to know how your reps spend their time at work. How many visits and calls do they make? How many emails and text messages do they send? When you know the answers to these questions, you can better assess their sales performance and suggest improvements.
Just as important, your pipeline management software needs to tell you the result of these sales activities. How many visits, calls, emails, and/or text messages does it take to close a deal? These details will help you to plan better sales strategies and forecast more accurately.
11 Best Sales Pipeline Management Tools
Now that we know what pipeline management software is and why it's beneficial, let's talk about the very best apps in this category. Here are 11 tools you should consider purchasing:
1. SPOTIO


G2 rating: 4.4 stars / 280 reviews
SPOTIO is the ultimate tool for field sales teams. Once you add it to your company's tech stack, you'll be able to automatically capture data, easily analyze your pipeline, motivate reps with sales leaderboards, and forecast future sales results—leading to 23% more revenue.
Key features:
See where your reps are in the field, which routes they take, and when they "check in"
Automatically collect lead engagement data related to visits, calls, emails, and texts
Track KPIs like "leads created" and "close rate" for individual employee and territories
Visualize your department's sales pipeline to quickly identify bottlenecks at every stage
Build sales leaderboards to keep your reps motivated and having fun at work
Capture, visualize, and measure specific data points to simplify sales forecasting
Generate fully customizable reports that only include the sales metrics you care about
Integrate SPOTIO with your favorite CRM to automatically sync important data
Sign up for a free demo of SPOTIO now to see if it's the right sales pipeline management tool for your field sales team. A product expert will contact you shortly.
2. Salesforce CRM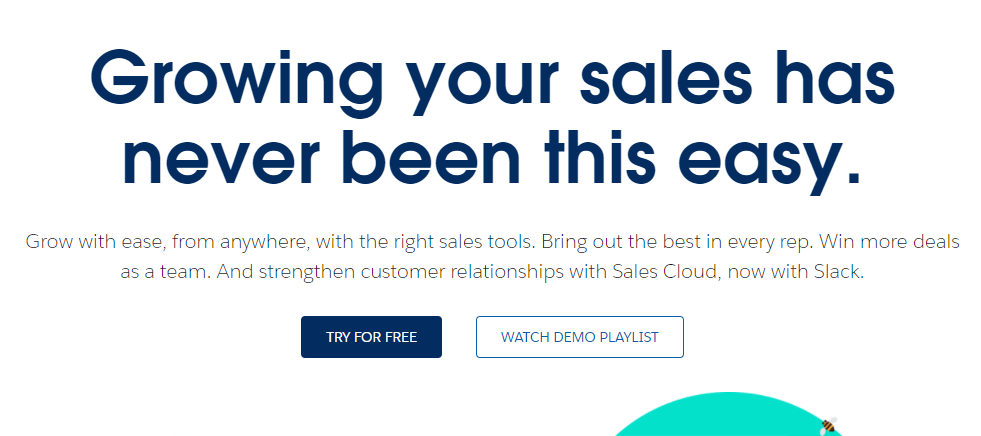 G2 rating: 4.3 stars / 15,654 reviews
Salesforce is the biggest name in CRM software. The current iteration of the tool is best for large companies due to its complexity and price point. But if you have the money and don't mind a long onboarding process, few solutions can rival Salesforce in terms of sheer power.
Key features:
Automate manual administrative tasks to increase productivity
Automatically log customer engagement activity like calls, emails, and text messages
Create personalized experiences for prospects based on their actions with your brand
Easily analyze sales performance by individual rep, specific territory, or pipeline stage
Use the built-in Salesforce AI to quickly identify areas of improvement for your team
Access a wealth of detailed data points to improve the accuracy of your forecasts
Integrate Salesforce with SPOTIO to sync field sales data to this particular CRM
3. Pipedrive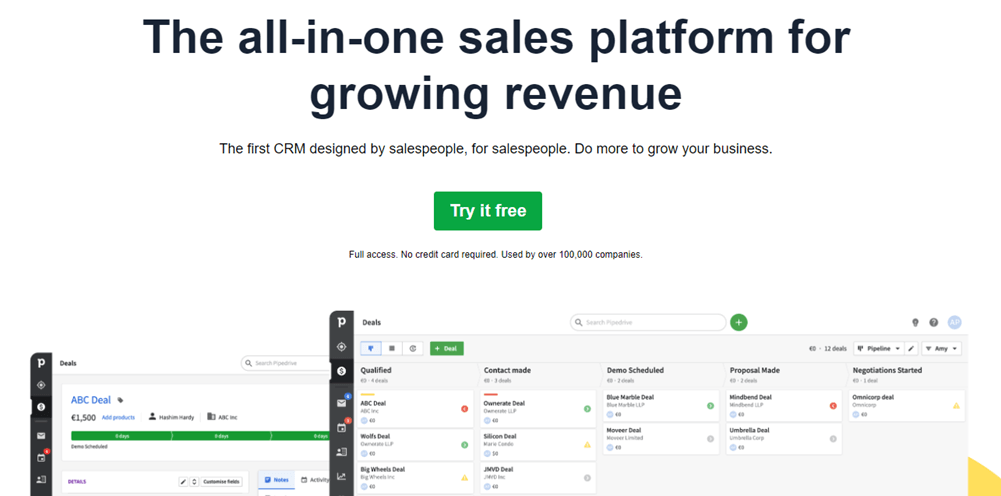 G2 rating: 4.2 stars / 1,652 reviews
Pipedrive is a popular pipeline management tool for small, inside sales teams. It's best known for helping users visualize their sales pipelines, though it has many other features as well that relate to automation, lead management, email marketing, and sales reporting.
Key features:
Automate repetitive tasks so reps can focus on other things
Enjoy a highly visual sales pipeline that prompts users to take daily action
Use the "deal rotting" feature, which helps reps see which deals need attention
Build custom forms and use the Pipedrive chatbot to feed leads into your pipeline 24/7
Easily track phone call and email communications with every lead in your pipeline
Quickly report on sales team performance so you can determine where to improve
Integrate Pipedrive with SPOTIO to sync field sales data to this particular CRM
4. Copper CRM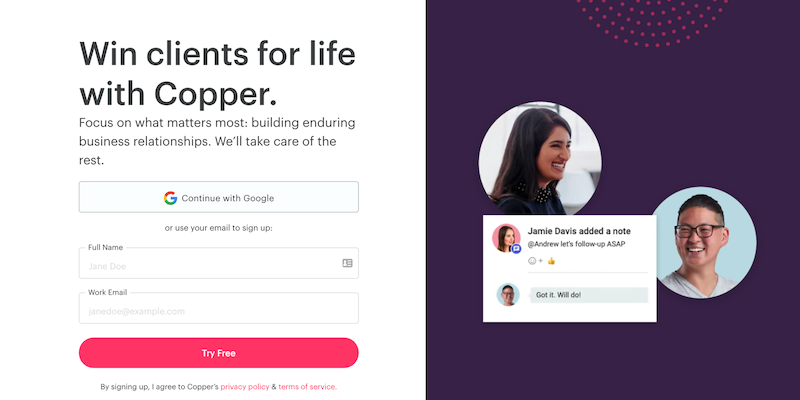 G2 rating: 4.5 stars / 1,110 reviews
If you're a loyal Google Workplace customer, you'll appreciate Copper CRM, which was specifically designed to compliment your company's Google-powered workflows.
Key features:
Automatically capture lead data and store it in this CRM
Track, measure, and evaluate any sales metric that your team cares about
Input prospect information into your sales pipeline to better understand your process
Create leaderboards to represent rep performance and encourage greater effort
Forecast future sales results to accurately predict potential revenue numbers
5. Zendesk Sell
G2 rating: 4.2 stars / 477 reviews
Zendesk Sell claims to help users "sell smarter, not harder." To accomplish this goal, the pipeline management software is equipped with numerous features, ranging from lead generation and activity management capabilities to a reporting and analytics dashboard
Key features:
Access the Sell database to find 44 million business and 350 million contact records
Use Sell's built-in dialer and/or email sequencer to turn new leads into legit prospects
Analyze your pipeline to see where leads are and how you can help them progress
Easily predict deal volume and forecast revenue growth for your sales department
Integrate Zendesk Sell with Zendesk Support for a 360 degree view of your customers
6. Zoho CRM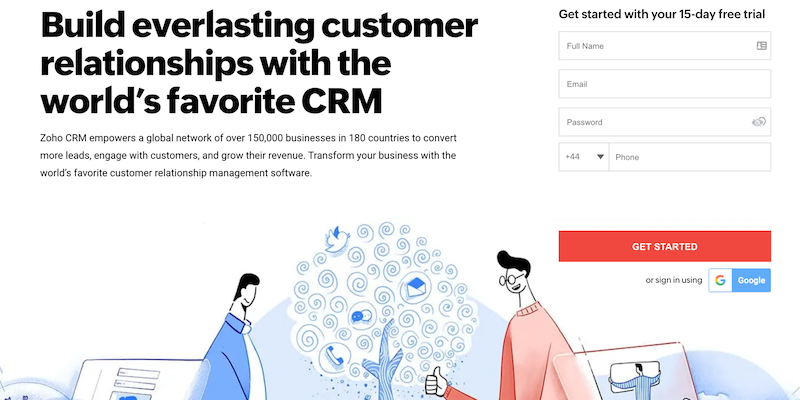 G2 rating: 4.0 stars / 2,470 reviews
Zoho CRM is a full-fledged sales pipeline management software that allows users to manage leads, create funnel charts, analyze metrics, and create forecasts for their sales departments.
Key features:
Communicate with prospects on all channels, including email, chat, and social media
Easily analyze your sales pipeline and track deals at every stage of your sales process
Use the AI "Anomaly Detector" to compare actual and predicted sales performance
Report on rep activity and territory performance to see where your sales team stands
Gamify your sales process by awarding reps with in-app prizes for top performance
Integrate Zoho CRM with SPOTIO to sync field sales data to this particular CRM
7. Freshsales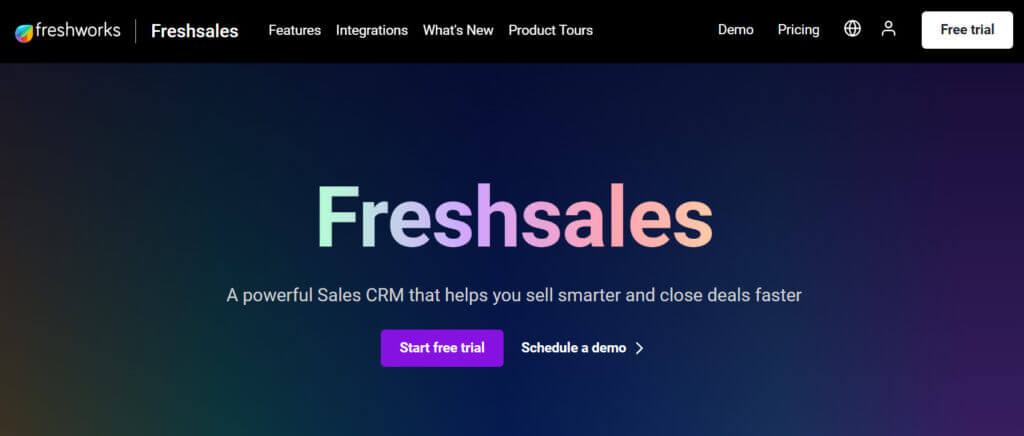 G2 rating: 4.5 stars / 1,084 reviews
Freshsales, a Freshworks product, is another top option in the sales pipeline management tools category. This app does a great job combining standard inside sales features with powerful AI capabilities. The best part is, you can get Freshsales for a very affordable price.
Key features:
Use the built-in AI tool to score leads and engage with them in personalized ways
Then use said AI tool to analyze your pipeline, identify bottlenecks, and prioritize deals
Get deep AI-powered insights regarding your sales pipeline to determine next steps
Track specific reps, territories, and/or campaigns to determine sales performance
Automate elements of your sales process, from data entry to email follow up
8. Close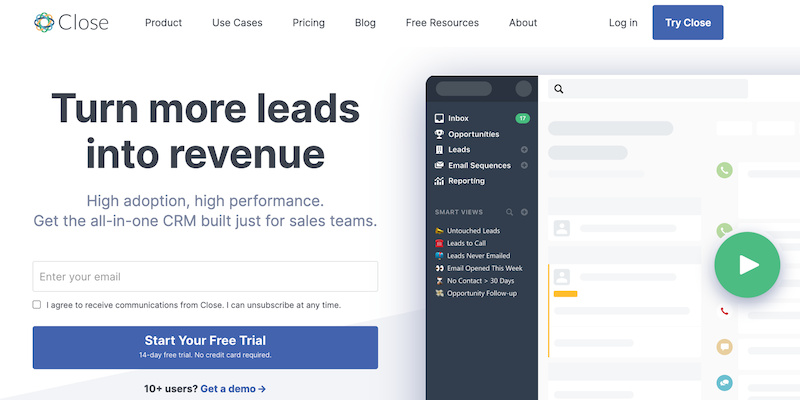 G2 rating: 4.6 stars / 668 reviews
Close is perfect for startups and/or small businesses that employ inside sales teams. It's incredibly easy to use, but still has all of the features sellers need to close deals. Some of these features include power and predictive dialers, an email sequencer, and sales reports.
Key features:
Access top-level calling and email marketing features to help generate new leads
Enjoy a simple drag-and-drop interface to easily update you sales pipeline
Track every important sales metric, from "time spent on phone" to "deal value"
Monitor individual rep performance over time to suggest areas of improvement
Use the "Pipeline View" feature to learn more about actual and expected revenue
Create custom leaderboards to encourage healthy competition between sales reps
9. HubSpot CRM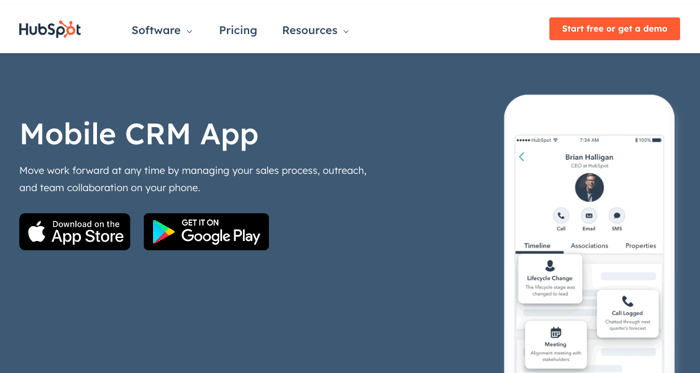 G2 rating: 4.4 stars / 10,695 reviews
HubSpot CRM is a user-friendly tool that sales teams can use to store contact information, track deals, and report on essential sales metrics. Even better, HubSpot CRM is totally free!
(FYI, HubSpot CRM is free, though somewhat limited compared to other options on this list. The HubSpot Sales and Marketing hubs are powerful, but will cost you a lot of money every month. This review focuses exclusively on HubSpot's free sales pipeline management tool.)
Key features:
Automate various sales-related tasks to increase team productivity levels
View your sales pipeline in real time for all of the updated information you need
Monitor sales activities and key metrics to identify blocks in your sales process
Access a built-in meeting scheduler to help move prospects through pipeline stages
Integrate HubSpot with SPOTIO to sync field sales data to this particular CRM
10. Insightly CRM
G2 rating: 4.2 stars / 871 reviews
Insightly creates a variety of tools for marketing, sales, and customer service teams. Its pipeline management software is a solid option for scaling sales teams, allowing them to easily track leads, visualize pipelines, and report on team-wide sales performance metrics.
Key features:
Automatically capture data about your leads, then distribute it amongst your team
Create customized pipelines that help you distinguish leads from true opportunities
Convert opportunities into paying customers with built-in email marketing solutions
Tap into automation to increase rep productivity and reduce the risk of human error
Build visual sales reports that only include the KPIs you care the most about
11. Keap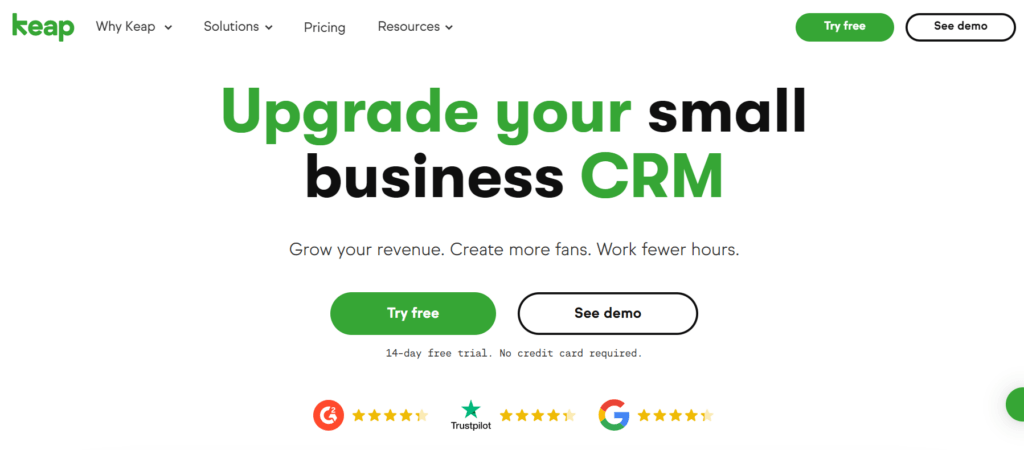 G2 rating: 4.2 stars / 1,444 reviews
Up until 2019, Keap was known as Infusinsoft and focused on email marketing. These days, Keap is a complete sales pipeline management tool that helps users track leads, manage detailed sales processes, and yes, communicate with quality prospects via email.
Key features:
Create custom landing pages and lead forms to capture new leads
Enjoy drag-and-drop functionality to easily alter your sales pipelines
Build complex email marketing campaigns to move leads through pipeline stages
Book sales meetings with an in-app scheduler to increase conversion rates
Automate various portions of your sales process to increase team productivity
Track vital sales metrics and KPIs, then use them to generate easy-to-read reports
Tips for Building & Managing a Sales Pipeline
Sales pipeline management is essential to your company's success.
Once you get it right, you'll be able to connect with quality leads, nurture them effectively, and drive sales for your organization. Fortunately, mastery of this topic is within your grasp.
To build and manage a winning sales pipeline, keep these three tips in mind:
Focus on quality leads: You know the old saying, "garbage in, garbage out." The better your leads are, the easier it will be to guide them through your sales pipeline.
Follow up with top prospects: 80% of sales require 5+ follow ups. If your reps don't contact prospects multiple times, they won't close many deals for your company.
Analyze your results and optimize: Lastly, keep an eye on key metrics like the number of deals in your pipeline, the size of each, and your team's close rate. Then use this information to improve your sales process and predict future deals.
For more information on proper sales pipeline management, read this article. In it, we share more best practices that you can implement to continually improve your sales pipelines.
Final Thoughts
The best sales pipeline management tools will help you track leads through your company's sales funnel. Doing so will make it easier to identify and fix bottlenecks, and drive revenue.
All you have to do now is decide which pipeline management software you want to invest in.
Each of the solutions above will benefit your organization. But if you're in field sales, you should definitely choose SPOTIO. Why? Because it was specifically built for you. As such, it has all of the features field sales teams need to close deals at a consistent pace.
Sign up for a free demo of SPOTIO today to see if it's the right solution for your department!