Mobile sales tools allow field reps to perform all their essential tasks.
They no longer need to make copious meeting notes and spend hours updating the CRM when they're back in the office.
Since most sales reps already use a mobile phone or tablet to keep in touch with their manager and prospects, it's easy to install mobile sales apps.
Plus, managers have the latest data at their fingertips as real-time field updates keep the sales pipeline in sync with the office. If they need to adjust plans, they can contact reps immediately.
In this guide, we'll explain what mobile sales tools are, how field sales reps and managers use them and showcase the 10 best mobile sales apps available.
What is a mobile sales tool?
Mobile sales tools are applications used by sales teams to facilitate or speed up the sales process conveniently from a mobile phone or tablet any time, anywhere. For example, they enable sales reps to close deals in the field.
Sales teams can also use mobile sales tools to interact with clients, access office apps, record information, update the CRM system, measure progress, and perform other essential tasks.
How do reps and managers use mobile sales tools?
Anyone in the sales department, from sales reps to account executives, customer success managers, and sales managers, can use mobile sales tools. But it's the reps and managers who benefit most.
Sales representatives
Mobile sales apps enable reps to locate leads, plan routes, update the CRM, monitor other apps, and keep in touch with prospects and colleagues.
Find qualified prospects
Reps can use mobile sales tools to quickly find businesses in any location, such as builders merchants or care homes, and get basic contact info from Google Places to make initial contact.
Map faster sales routes
Sales reps can boost productivity by reducing the time spent planning and travelling to prospects. Mobile sales tools can map the fastest routes to single destinations and calculate the most efficient route for multiple stops.
Engage leads across multiple channels
Mobile sales tools allow sales reps to communicate through multiple channels efficiently. They can call, text, email, engage on social media, or arrange in-person meetings from one central mobile app.
Set and manage appointments from the field
While travelling, field sales reps can check progress and plan their next steps. With integrations to office apps like Google and Microsoft, they can manage appointments alongside their mobile sales apps.
Update CRM data while on-the-go
With mobile sales tools, sales reps can update contact details in the customer relationship management system (CRM) and address customer concerns instantly while on the road.
Improve team communications
Mobile sales apps are ideal for contacting colleagues, handing accounts and projects off between team members, and exchanging information across the team.
Sales managers
Mobile sales tools enable sales managers to track, manage, and coach field sales reps 24/7.
Assign sales territories
Using mobile sales tools, managers can divide and assign territories to team members, so they work each area more efficiently. They can assign territories by geography or number of prospects so that each sales rep can effectively cover their region.
Track rep activities
Sales managers get real-time visibility of reps in the field. They can track where they've been, what they've done, and where they plan to go. It's an excellent way to monitor performance and see if reps need to improve planning or selling skills to hit their quotas.
Monitor sales performance
Mobile sales tools allow sales managers to monitor reps' performance and capture real-time data. They can quickly react to any peaks and troughs and reassign reps to different prospects to make up for any shortfalls.
10 best mobile sales tools
Below you'll find the 10 best mobile sales tools on the market. Some are all-in-one sales tools, and others fulfil specific use cases such as prospecting or expense tracking.
SPOTIO
Best for: Field sales engagement.
The SPOTIO mobile sales app helps your reps stay productive and organized in the field and gives managers real-time visibility and data to improve performance.
Key use cases:
Key use cases:
Sales prospecting: Ensures reps have the prospect information they need for a productive day in the field, including location and contact info.
Sales canvassing: Allows reps to capture the data your business needs and assign prospect stages to fit your process.
Task automation: Enables reps to automatically log every prospect interaction in real-time, take notes easily with talk-to-text, and update your CRM accurately.
Territory management: Enables managers to cut territories by geography or drawing on a map and allocate sales reps accordingly to maximize performance.
Sales routing: Reduces the time your field sales reps spend planning routes and optimizes travelling time so they can close more deals.
Customer mapping: Helps reps stay organized with colored pins on the map to distinguish pipeline stages (leads, opportunities, and customers) or other custom filters.
Sales sequencing: Creates field reps' activities for each lead or customer, so they know exactly who, how, and when to engage them.
Rep tracking: Gives managers real-time visibility of sales reps' performance to ensure they're maximizing their time in the field.
Activity management: Allows managers to automatically track live sales activity across channels to monitor field sales reps' performance and duplicate success.
Multi-channel sales engagement: Allows sales reps to keep prospects engaged by following up on their preferred channels and automatically logs every visit, call, text, and email in real-time for greater efficiency in the field.
Sales tracking and reporting: Helps sales managers track and report critical sales activities, pipeline metrics, and revenue data at the rep, team, and organization levels to forecast accurately and hit sales goals.
CRM integrations: Automatically capture field sales data and sync with your existing CRM, such as Salesforce, HubSpot, or Pipedrive.
Salesforce Sales Cloud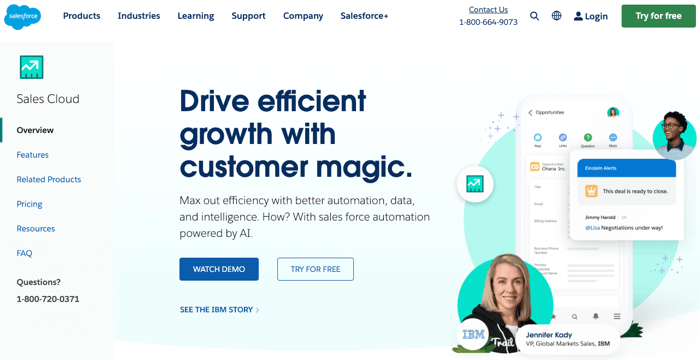 Best for: Field sales engagement.
The Salesforce Sales Cloud Mobile CRM app lets field reps sell everywhere. It helps sales teams grow accounts faster, find new customers faster, and close deals faster.
Key use cases:
Sales engagement: Allows sales reps to engage leads and customers more effectively based on real-time data insights.
Task automation: Enables reps to automate manual tasks and data entry, so they can focus on selling.
Territory management: Enables sales managers to assess territory coverage and make adjustments to meet business goals.
Territory design: Allows managers to increase planning cycles by automatically creating optimized territories.
Rapid deployment: Help reps hit the ground running by seamlessly rolling out territory alignments via a preferred channel.
SPOTIO integration: Allows field reps to automatically pass critical information back into Salesforce.
HubSpot Sales Hub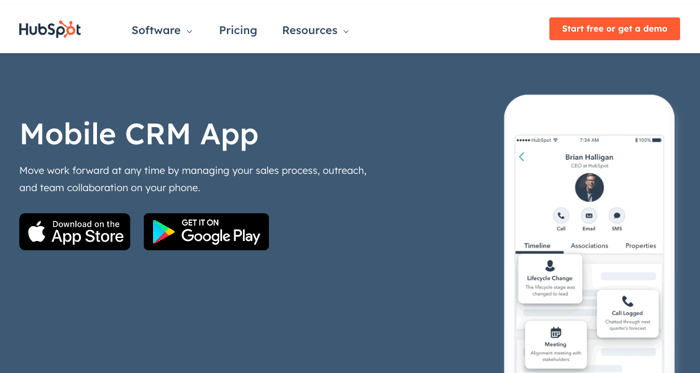 Best for: Field Sales CRM
The HubSpot Mobile CRM app forms part of Sales Hub and lets you access your CRM whenever you need it. All mobile activity automatically syncs with your HubSpot account, so your team always knows what's happening and what to do next.
Key use cases:
Sales prospecting: Access your customer contact records wherever you are.
Task automation: Create tasks, reminders, deals, and update customer details. No need to type – use your microphone to dictate notes.
Sales enablement: Find your warmest leads with a detailed activity feed.
Activity management: View your most important tasks and plan your day without opening your computer.
Multi-channel engagement: Quickly send information and assets in any app with the new HubSpot keyboard.
Call management: Link your phone's receiving line with your CRM via the Caller ID screen.
Zendesk Sell
Best for: Field sales engagement
The Zendesk Sell mobile app lets you keep in touch with prospects and customers wherever you are. The sales CRM allows you to maximize productivity, maintain pipeline visibility, and grow revenue.
Key use cases:
Sales engagement: Allows reps to build prospect lists and create email sequences to automate follow-ups.
Task automation: Enables reps to automatically log, record, and reference every lead and contact call or text.
Power dialer: Saves reps time and automates prospecting with a custom call list.
Activity management: Allows managers to automatically track sales activity and outcomes across calls, emails, and visits.
Lead management: Enables field sales reps to set up and manage appointments and tasks for leads, contacts, and deals directly from their phone.
LinkedIn Sales Navigator
Best for: Sales prospecting
The LinkedIn Sales Navigator mobile app lets field sales reps stay on top of their pipeline and keep prospecting on the go.
Key use cases:
Communication: Receive InMail notifications, view messages, and check existing accounts. Share your location with prospects through the "Send Your Location" feature for a meeting.
Pipeline management: Receive daily lead and account recommendations based on your preferences. View a person's current job title, location, shared connections, and relevant industry information.
Networking: Save leads on your app and ask them to connect instead of exchanging business cards. Tag them with relevant (private) info like decision-maker or influencer.
Video messaging: Create engaging and personalized video messages to cut through the inbox noise and reach your leads.
CRM integrations: Provides easy access to all relevant account information and insights from the app.
Spekit
Best for: Sales enablement
Spekit allows you to link your sales enablement content to any application via the Chrome extension. Field sales reps can access the correct messaging and material when interacting with customers and prospects.
Key use cases:
Access knowledge anywhere: Link your playbooks, processes, and knowledge to any tool in Chrome so that reps can learn on the go.
Embed your training: Spekit "help" icons reinforce training and processes inside any tool. Field sales reps can check your CRM processes or competitors during a presentation.
Push announcements: Keeps your team updated with in-app alerts in any tool when processes change or tools update without disrupting their workflow.
Zoom
Best for: Virtual sales calls
Zoom enables remote and hybrid sales teams to run virtual sales calls with prospective and current clients from anywhere on any device. The video conferencing and messaging software makes starting, joining, collaborating, and scheduling meetings easy.
Key use cases:
Recording and transcription: Enables reps to record calls and auto-generate searchable transcripts.
Presentation: Allows sales reps to present HD video and audio without uploading the content.
Annotation: Allows reps and prospects to co-annotate and share ideas.
Virtual background: Enables sales reps to look professional from anywhere with their chosen background image.
Safe driving mode: Keeps reps safe when communicating on the road.
HelloSign
Best for: Remote contract signing.
HelloSign enables you to remotely collect signatures of up to 20 people per document. Sales reps can import PDF documents and share them for signing right from their mobile devices.
Key use cases:
Simplified process: Allows reps to send contracts to new prospects in minutes.
Automated workflows: Enables reps to automatically populate proposals and contracts with prospect data from the CRM.
Signature handling: Allows sales teams to set a prioritized contract signing order.
Contract management: Enables sales reps to send agreements and set automated reminders to prompt prospects to sign.
Contract storage: Lets you automatically save contracts in your preferred storage tool.
Expensify
Best for: Expense management
Expensify automates every step of the expense reporting process from receipt scanning to reimbursement. Field sales reps can take a photo of their receipt using SmartScan, and Expensify takes care of the rest.
Key use cases:
SmartScan: Allows reps to automatically capture all the receipt details in an expense report.
Business card: Submits sales reps' expenses automatically.
Travel management: Keeps your sales team safe with medical advisory, emergency transportation, and additional travel risk services.
Integrations: Connect your travel, ERP, accounting, and finance software to Expensify.
ZoomInfo
Best for: Sales intelligence
The Zoominfo mobile app lets reps access relevant information, communicate with prospects, and close more deals on the go. The B2B mobile sales tool provides the most accurate and actionable contact data and intelligence.
Key use cases:
Data enrichment: Provides reps with precise information about prospects based on Ideal Customer Profiles (ICPs).
Buyer intent: Allows reps to identify and track prospects researching their solutions.
Conversation intelligence: Allows managers to analyze customer calls, meetings, and emails to improve performance.
Multi-channel sales engagement: Lets sales teams analyze interactions across multiple channels, including sales calls and email and phone outreach.
Integrations: Connects to sales CRMs like Salesforce and HubSpot.
Enable your mobile sales force
Mobile sales tools allow your field sales reps to find qualified prospects, map faster sales routes, engage leads across multiple channels, manage appointments, update CRM data automatically, and improve team collaboration.
Back in the office, sales managers can use real time updates to track reps' activities, monitor sales performance, and reassign sales territories as required.
Request a free demo today to see SPOTIO's mobile sales app in action.