What are Lead Links?
No need to search for an app on your phone or open a browser to go to a specific website, SPOTIO Lead Links gives you shortcut access to apps and websites. Seamlessly open a webpage or an application without having to leave the SPOTIO app. 
There are two types of Lead Links that can be created:
1. Web Lead Links
Instead of opening a browser and entering the URL, Web Links  are used to access and embed specific web pages. From the SPOTIO web app, just specify the URLs you'd like to have one-click access to from SPOTIO's mobile app.
Another use for Web Lead Links is for quick access to marketing and sales documentation.
For example: if you have a product overview PDF, simply add the destination URL of where that document lives (Google Drive, Dropbox, etc.) for one click access.
2. App Lead Links
Same concept as Web Lead Links but instead of web pages and documents, App Lead Links are shortcuts to mobile apps. Just add your favorite and most used apps for shortcut access to all your applications without having to leave SPOTIO.

How Does This Work?
From settings in SPOTIO's web app, head on over to the Lead Links tab and add as many links as you'd like. That's pretty much it!
Once added, just click on any link from the SPOTIO mobile app and you will be taken directly to the webpage, application, or document you need.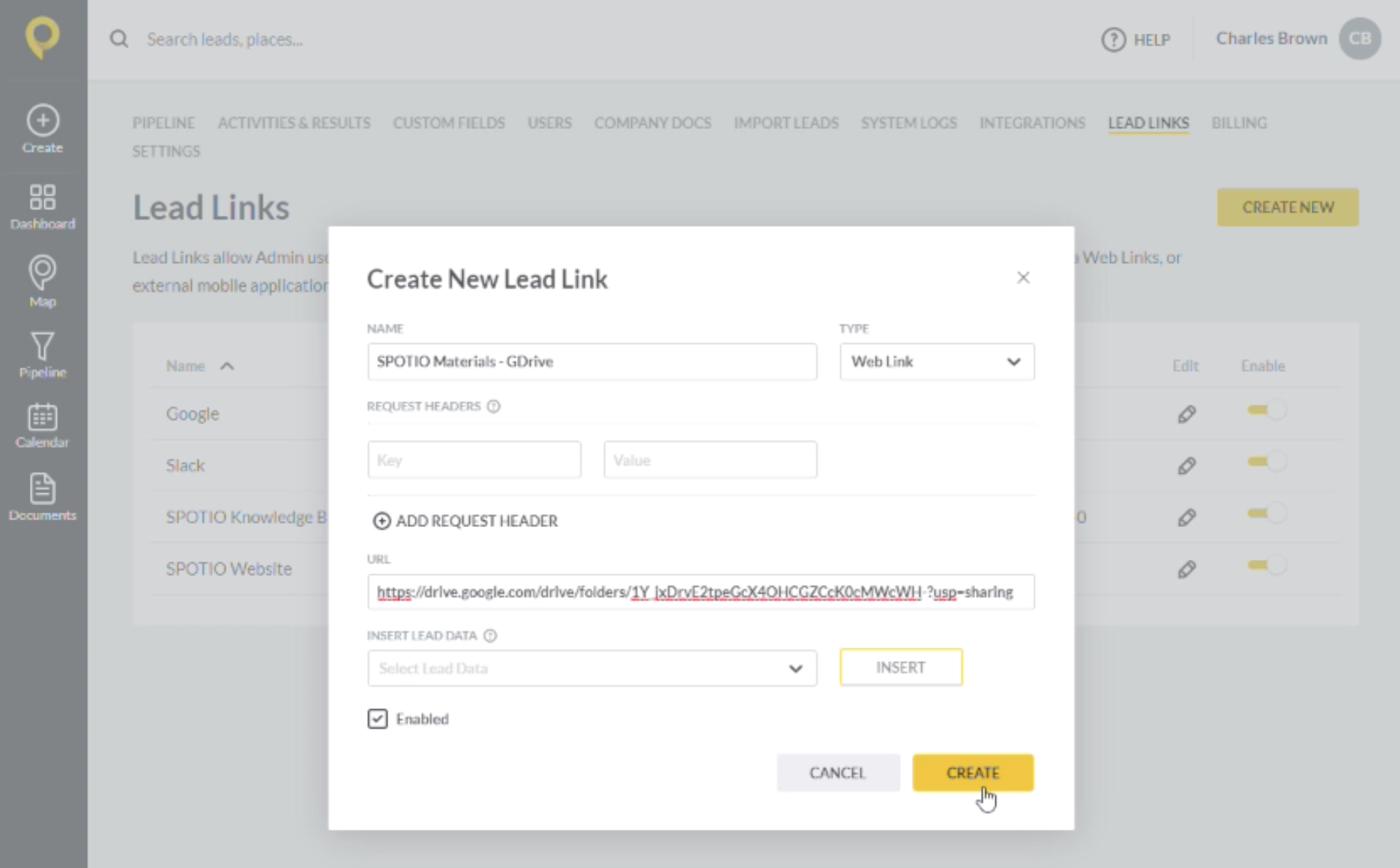 Lead Links and The Sales Process

Whether you're out in front of a prospect and want to show a piece of marketing material, or just need to Slack someone on your team, Lead Links ensures you can easily access what you need from one location. 

By not having to switch between apps or pull up a browser and manually enter a web URL, reps are more efficient and prospects stay engaged.

With SPOTIO Lead Links, your sales team is armed with the information and resources they need to sell their best. 
__________