In sales, the person and/or team with the most thorough plan usually comes out on top.
If you create a solid sales strategy, devise a winning follow-up system, and craft quality proposal templates, for example, you'll make more sales than those who don't.
With that in mind, we want to talk about B2B sales cadence tools, i.e. specific solutions that will help you plan better outreach campaigns for your sales team.
Keep reading to learn what a sales cadence is, why your sales department should use sales cadence software, the 10 best sales cadence tools for 2023, and a whole lot more.
What is a sales cadence?
A sales cadence is a series of touchpoints, which salespeople attempt to guide prospects to. The goal? To build rapport with said prospects and convince them to make a purchase.
Every company's sales cadence is different. But proper ones will always list specific actions and dates. It's the sales team's job to complete these actions at their predetermined times, up until the point when a prospect has either disqualified themselves or become a customer.
What is a sales cadence tool?
A sales cadence tool is exactly what it sounds like: a piece of software that enables users to create and implement their company's pre-planned sales cadence.
Once your sales team invests in one of these solutions, you'll be able to easily track your reps' communication with prospects, see where each prospect is in your pipeline, and even use automation to minimize the manual tasks your reps have to complete every day.
Why should you use a sales cadence tool?
A sales cadence tool will help you manage your team's outreach efforts.
How many times have your reps contacted Prospect XYZ? What communication channels did they use to contact them? And how long has it been since the last communication was sent?
Your preferred sales cadence tool will make it easy to answer these questions.
Just as important: a sales cadence solution will help you structure your sales process in the most effective way. When this happens, your team's conversion rate will skyrocket.
Think about it: instead of telling your sales reps to "Use multiple channels to nurture prospects," you can give them exact instructions, which you know, based on past experience, will produce results. You can say, "Email them the first day, call them the second day, etc."
When your sales reps have a proven system to follow they'll be more productive because they'll never have to wonder, "What do I do next?" They'll also be more motivated because their efforts will lead to more sales, more consistently, which will increase their earnings.
Put simply, a sales cadence tool will help your reps boost productivity, become more motivated, and close more deals. It will also help you track each rep's performance. You can then use this information to create better sales strategies in the future. Win!
10 Best Sales Cadence Tools for 2023
There are a bunch of sales cadence tools on the market. You need to find the best one for your sales team. Don't worry, we've done the bulk of the research for you! Take a look at the 10 solutions listed below. One of them is bound to meet your specific requirements.
1. SPOTIO Autoplays
G2 Rating: 4.4 Stars / 206 Reviews
If you manage a field sales team, you'll love SPOTIO Autoplays. Why? Because the tool was specifically designed for outside sales purposes. With it, sales managers can easily create sales sequences for their reps to follow. That way nothing slips through the cracks.
Each cadence can include actions like, "Send Email," "Call Prospect" and "Visit Prospect's Business". Some actions (like sending emails) can be automated, too, for greater productivity.
One of the best things about Autoplays is that cadences can be saved and shared with team members. Has one of your reps generated amazing results with a specific sequence? Ask them to send it to their colleagues so that everyone can maximize success.
Finally, Autoplays can be used on any desktop or mobile device, making it the perfect tool for field sales reps who spend as much time in their cars as they do in the office.
2. Hubspot
G2 Rating: 4.4 Stars / 9,755 Reviews
HubSpot is one of the most popular sales tools on the planet. The question is, can its sales cadence feature keep pace with the rest of the industry? It depends on your goal.
If your sales cadences start after initial contact, HubSpot may be a good option for you, thanks to the platform's automated follow-ups and reusable templates. But if you're looking for a cold email solution, you probably want to look elsewhere, as it wasn't built for this purpose.
On the plus side, HubSpot offers tons of integrations and has a detailed analytics dashboard.
3. Mailshake
G2 Rating: 4.7 Stars / 197 Reviews
Speaking of cold email, have you heard about Mailshake?
The system's email automation features make it a great tool for cold email campaigns. With it, your reps can A/B test their messages, then automate the winners to send at predetermined intervals. This makes it easy to connect with new leads—without expending tons of effort.
Mailshake also gives users a comprehensive overview of their pipeline, allowing them to see where each of their prospects are in their pipelines at any given moment.
Unfortunately, Mailshake isn't the best option for sales cadences that include more than email communication. The platform doesn't include call task management tools.
4. Outreach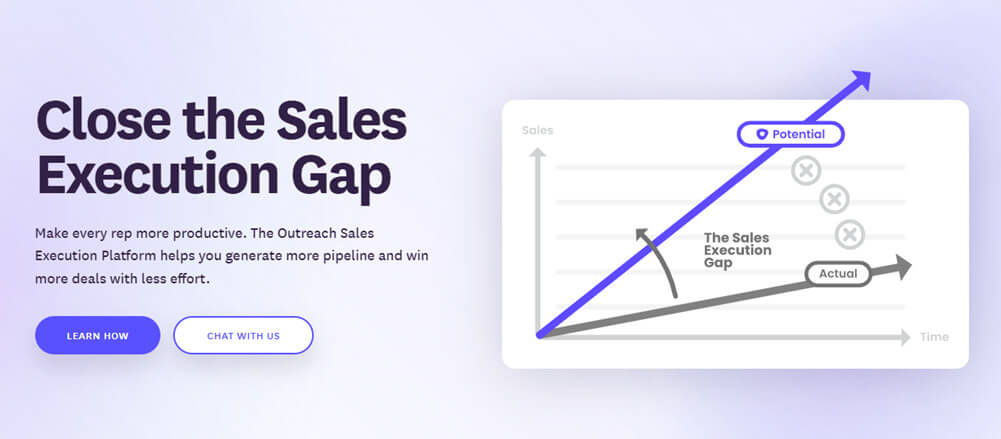 G2 Rating: 4.3 Stars / 3,074 Reviews
True to its name, Outreach helps sales teams connect with potential customers.
Users can build custom, multichannel cadences from scratch, clone and edit an existing cadence, or take advantage of the tool's built-in templates, which is convenient.
No matter which of these paths a sales rep decides to take, they'll be able to create sequences that include automated and manual emails, phone calls, LinkedIn tasks, and more. The rep will then receive a notification when said task needs to be completed.
Outreach is definitely one of the better sales cadence tools on the market—especially for enterprise organizations. Just know that there is a steeper-than-normal learning curve.
5. PersistIQ
G2 Rating: 4.7 Stars / 270 Reviews
PersistIQ is a solid outbound sales tool for small sales teams. It includes email automation features, as well as phone calls and custom task reminders. The platform also comes with a simple database, in which salespeople can manage leads, as well as important sales metrics.
One of the coolest things about PersistIQ is its Chrome Extension, which makes it super easy to export leads from LinkedIn to an external prospect list.
6. Reply
G2 Rating: 4.6 Stars / 984 Reviews
Looking for sales cadence tools that include lead generation features? Check out Reply.
Sales reps can use Reply to source potential leads on LinkedIn. Then they can build multichannel sales sequences that include emails, texts, phone calls, and even WhatsApp messages. A detailed analytics dashboard can then be used to track the whole process.
Reply integrates with a host of other tools, too, like email marketing platforms, CRM solutions, and video creation suites, which can help take sales cadences to the next level.
7. Vanillasoft
G2 Rating: 4.6 Stars / 406 Reviews
With VanillaSoft, your reps will spend more of their valuable time contacting the right leads.
Then, once they actually start contacting them, they can use the built-in sales cadence tool to ensure their efforts are as productive as possible.
Some of the platform's more important features include automated lead routing, so that every lead is prioritized and handled in an appropriate manner. Email and text automation so that messages can be sent at exactly the right times. And real-time performance tracking so that sales managers always have their fingers on the pulse of their organizations.
8. Keap
G2 Rating: 4.2 Stars / 1,416 Reviews
Keap, formerly known as Infusionsoft, is another popular sales cadence software.
With it, users can capture leads, store them in-app, and then contact them via automated emails and texts. Users can also automate the platform to send them custom reminders to conduct specific activities, like "Call Prospective Client".
Also worth mentioning, Keap can be used to accept payments and analyze reports, making it an all-in-one sales tool. But there are a couple downsides: the breadth of features makes Keap difficult to use and many users complain about its customer service team.
9. EngageBay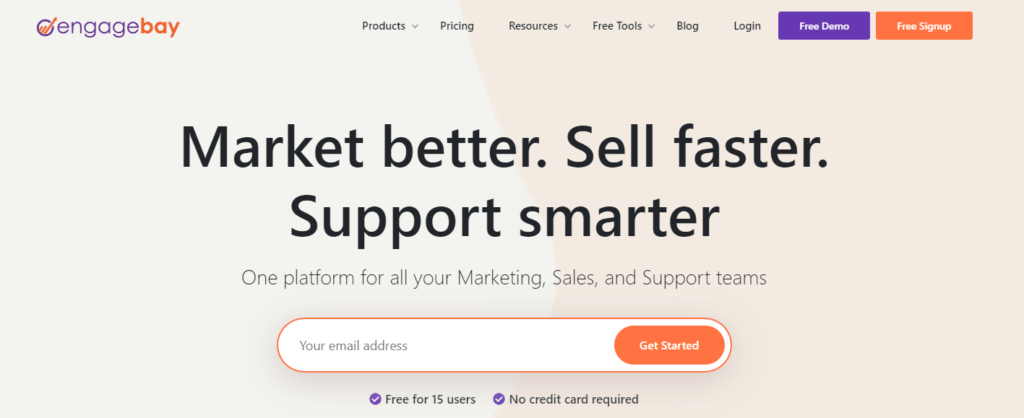 G2 Rating: 4.6 Stars / 188 Reviews
EngageBay is a CRM solution that both Sales and Marketing teams seem to enjoy using. For the purposes of this blog post, however, we'll focus on its sales cadence tools exclusively.
With EngageBay, users can design custom sales cadences; then put them into action via automated email and text campaigns. The platform also allows users to set up phone calls and social media reminders. That way every lead is contacted at the right time.
If your company has a combined sales and marketing team, or is looking for a single tool that both departments can use simultaneously, EngageBay may be a good choice.
10. Koncert
G2 Rating: 4.6 Stars / 216 Reviews
Finally, we have Koncert, a sales enablement platform that doubles as one of the top B2B sales cadence tools. Create custom sequences with multiple touchpoints. Then automate said sequences to send texts and emails to prospects, and call and social reminders to yourself.
One of the best things about Koncert is the built-in AI, which can be used to score leads more effectively, A/B test email campaigns, and even grade email and voicemail templates.
How to choose the best sales cadence software
There you have it, the 10 best sales cadence tools for 2023.
Don't worry, we know what you're thinking, "This is great information! But how do I actually choose a solution for my sales team? Do you have any advice for me?
Of course! Just ask yourself these four questions before selecting a sales cadence software:
Questions #1. What Are My Goals?
Why do you want to invest in sales cadence software? Are you hoping to better nurture inbound leads? Do you want to craft amazing outbound email campaigns? When you know what you want to accomplish, you can choose a tool that will help you do those things.
Question #2. What Features Do I Need?
As shown above, every sales cadence tool has different features. You need to choose a platform that has the features you need to accomplish your goals.
If you manage a field sales team, for example, SPOTIO is one of your best bets. Why? Because it was specifically made for field sales teams. As such, it has a mobile app that field reps can use—even if they're on the road, one thousand miles away from their desks.
Regardless of your goals, look for a sales cadence tool that includes easy segmentation, so that reps can pinpoint their outreach; automation, so that they can send messages to prospects at any time and automatically receive task-related notifications; personalization, so that they can customize their communications with prospects; and reports, so that you can see exactly what actions your reps take and whether they're producing satisfactory results.
Question #3. How Easy is the Tool to Use?
You want your sales cadence tool of choice to be powerful. But it needs to be easy to use, too. If it's not, your reps probably won't use it and you'll simply waste company funds.
To find out which tools are user-friendly, sign up for free trials, request free demos, and read reviews on sites like G2 and Capterra. You can learn everything you need to know this way.
Question #4: What's My Budget?
Finally, choose a sales cadence software that you can afford. It doesn't matter how amazing a specific tool is. If you don't have the money for it, scratch it off your list. Remember, you can always upgrade in the future when you have more cash. Don't break the bank now!
Build a successful sales cadence with SPOTIO
Sales cadence software is an important tool in any sales team's toolbox. With it, you'll be able to craft a more effective sales process and ensure your reps stay motivated.
The question is, which tool should you choose? We've said it before, but we'll say it again: field sales teams should definitely invest in SPOTIO Autoplays. Our platform was made with you in mind. As such, it has the features you need to convert more prospects into customers.
Sign up for a free demonstration of SPOTIO Autoplays today to see our software in action!