To succeed as a sales rep, you need to master the art of productivity. One of the best ways to do that is to invest in an email sequence software.
The problem is, there are a lot of email sequencing tools on the market. Which one should you choose? The answer will depend on your several factors, including industry, use cases and feature requirements.
Keep reading to learn what email sequence software is, how it can improve sales engagement, and the 12 best email sequencing tools on the market in 2022.
What is an Email Sequencing Tool?
An email sequence is a series of emails that have been automated to send when specific, predetermined criteria are met. An email sequencing tool, then, is a piece of software that allows users to build and manage email sequences.
Brands use email sequence software to create a wide variety of automated email content, including welcome emails, engagement emails, and follow-up emails.
Benefits of Email Sequencing Software for Field Sales Teams
If your field sales reps utilize email, you should definitely invest in a quality piece of email sequence software. Here are five reasons why:
Templatize winning sales sequences
Email sequencing software will allow you to quickly analyze your email sequences, see which ones generate positive results, and then templatize them. Doing so will allow reps to become more productive and hit quota more consistently.
The best part is, winning email sequences can be shared between sales reps so that your entire department can close more deals.
Increase sales engagement
Sales engagement is defined as the interactions between sales reps and their prospects and/or customers. The more often you can engage your target audience (without annoying them, of course) the better chance you have at closing deals.
But here's the thing: it takes time and effort to engage prospects and customers. Email sequence software makes consistent engagement easy.
You don't have to remember to send people messages. Your sales email tool will do it for you. Depending on the software you buy, you may even be able to automate text messages, too, which will add another dimension to your engagement efforts.
Boost sales rep productivity
You've heard the statistic: sales reps only spend 39% of their time selling. The other 61% of their on-the-clock hours are spent attending meetings, updating CRM software, driving to different locations, and other non-selling activities.
Because email sequence software will allow your team to automate their messages, sales reps can sell while they accomplish other tasks.
They simply activate a specific sequence and it will move prospects through the buyer's journey for them, freeing them up to accomplish other tasks.
Prevent leads from slipping through the cracks
How many leads do your reps work per month? A few dozen? 100? Even more? The bigger your sales pipeline is, the more likely it is for leads to fall through the cracks.
Sales sequence software will prevent these kinds of missed opportunities. Why? Because computers don't forget things like humans do. Once your reps add a lead to a sequence, they'll receive sales messages exactly when they're supposed to, on the channels they're supposed to.
Close more deals
Last, but certainly not least, email sequencing tools will help you boost your team's sales numbers. This benefit is a combination of the other four.
The ability to templatize winning email sequences, easily engage prospects, increase productivity, and prevent missed opportunities, all lead to one thing: more sales for your company.
12 Best Email Sequencing Tools to Automate Sales Campaigns
Now that you know what an email sequence software is and how it can benefit you as a professional seller, let's talk about the options available.
Here are the 12 best email sequencing tools in 2022.
1. SPOTIO AutoPlays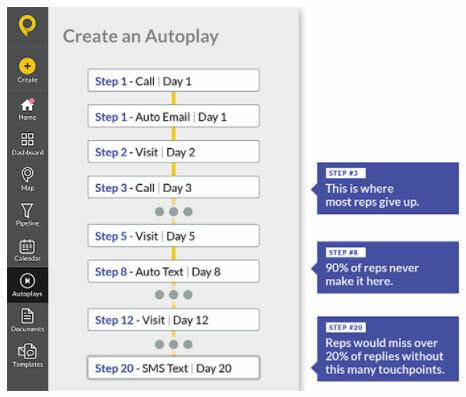 SPOTIO AutoPlays is the sequencing tool that was specifically built for outside sales teams. With it, you and your reps will be able to deploy a triggered series of messages to reach each lead and/or customer in your pipeline.
Send automated sales emails and texts. Schedule call and in-person visit reminders. And crush all of your multichannel sales engagement efforts.
AutoPlays is the perfect compliment to any outside sales rep's workflow. But it's especially useful for new employees, who can follow proven email sequences to make sales, rather than completely relying on their own selling abilities.
Key features:
Create email and text message templates
Automatically send messages to recipients
Create automated follow-up sequences
Schedule call and in-person visit reminders
Share winning sequences amongst team members
Access AutoPlays on any desktop or mobile device
2. QuickMail
QuickMail is a cold email software built specifically for agencies that actively improves your deliverability.
You can easily create complex email sequences with follow-ups, and tasks that integrate with other tools like HubSpot and Zapier.
Their inbox rotation feature lets you scale any campaign by simply adding inboxes – QuickMail will start sending and following up from those right away.
Key features:
Set up multi-step email sequence campaigns
Automatically follow up with your prospects
Scale campaigns up and down with a couple of clicks
Improve your deliverability for free
Integrate with your existing workflow with powerful native integrations
Pricing:
The "Auto-Warmer" Plan: $0 (free) for up to 50 inboxes
The "Starter" Plan: $59/mo per user, $35/mo per additional inbox
The "Pro" Plan: $79/mo per user, $45/mo per additional inbox
3. Mailshake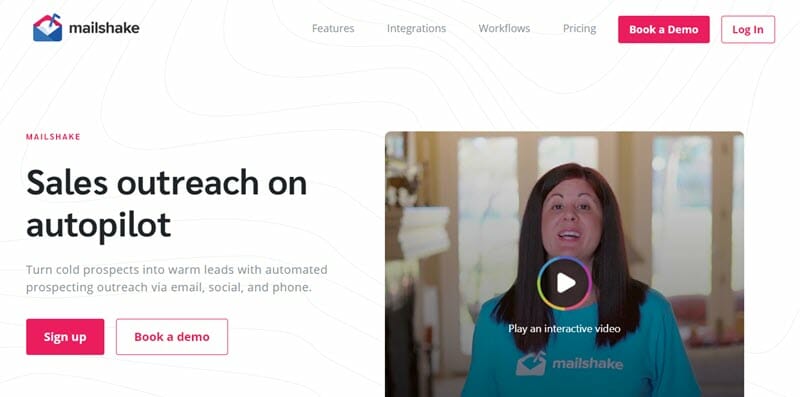 Mailshake is a popular automated outreach software that includes cold call, social media management, and email sequencing tools.
One of Mailshake's most interesting features is its AI Email Writer, which will write the first draft of your outreach emails for you. That way you're not staring at a blank page for 15 minutes, just waiting for inspiration to strike.
Key features:
Send thousands of emails at once
Have your first drafts written by AI
Use social media in your outreach
View analytics for each campaign
Easily view a lead's pipeline status
Make an unlimited amount of VoIP calls
Integrate with many CRM platforms
Pricing:
The "Email Outreach" Plan: $59 / month OR $528 / year
The "Sales Engagement" Plan: $99 / month OR $900 / year
4. Woodpecker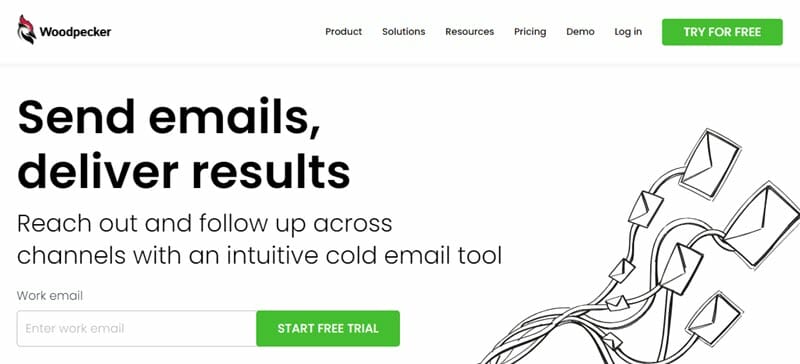 Woodpecker is an intuitive email cadence software. Use it to schedule cold email campaigns, personalize each message, and track your results.
The thing that really makes Woodpecker stand out is the software's commitment to email deliverability. Users are able to validate email addresses in real time, clean their leads lists, adjust daily sending limits, and use warm up and recovery features.
Key features:
Real-time email verification and list cleaning
Email variations based on prospect behaviors
Schedule and track sales calls (Android only)
Manual task reminders for calls and LinkedIn
Important email marketing analytics
Integrations with CRM, email, and calendar apps
Pricing:
$32 – $84 / month (depending on desired features)
5. Yesware
Yesware is a unique email follow up software because it lives right inside your Gmail or Outlook inbox. This means sales reps don't have to learn to use a secondary tool to create optimized email outreach campaigns.
Once you start sending emails with Yesware, you can easily track the results, pass information to your CRM, and adjust your approach for greater future success.
Key features:
Launch multichannel campaigns that include email, calls, and LinkedIn
Create and share email templates to save time and improve results
Easily schedule meetings with prospects and integrate with Zoom
Take advantage of in-depth email analytics and track opens, clicks, etc.
Integrate Yesware with other tools like Gmail, Salesforce, and LinkedIn
Pricing:
The "Pro" Plan: $19 / user per month OR $180 / user per year
The "Premium" Plan: $45 / user per month OR $420 / user per year
The "Enterprise" Plan: $85 / user per month OR $780 / user per year
6. SmartReach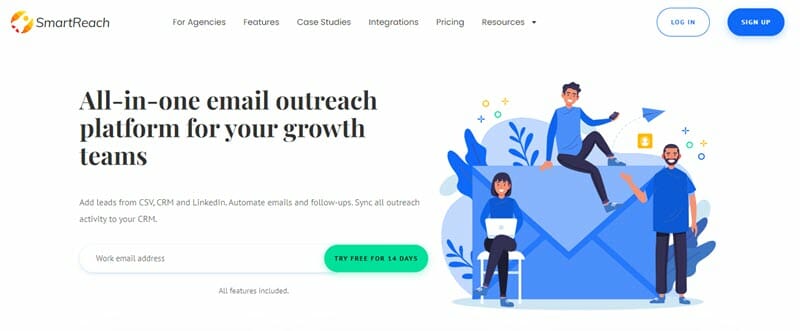 SmartReach is the sales email tool of choice for agencies, mostly because it allows them to manage all of their clients' outreach campaigns from a single login.
If you download SmartReach, you'll also have access to email sequence software that includes direct and indirect reply detection, message personalization capabilities, A/B testing tools, and more.
Key features:
Create email sequences and automatically track them for replies
Personalize outreach efforts with SmartReach's Dynamic Email Content tool
Run A/B experiments on your messages to see which ones perform best
Quickly check the progress of each campaign to decide next steps
Make sure your emails hit recipient's inboxes with deliverability tools
Get actionable insights from the analytics dashboard
Integrate SmartReach with 1,000+ other apps (Zapier required)
Pricing:
Individual: $19 – $59 / month (depending on features and billing cycle)
Business: $79 – $199 / month (depending on features and billing cycle)
Agency: Contact SmartReach for pricing details
7. Overloop
Overloop, formerly known as Prospect.io, is a fully-featured CRM that includes email sequencing tools that users can use for outreach purposes.
This solution is probably too robust for most field reps. But those looking for one tool to handle all of their sales teams' prospecting, outreach, and customer data tracking efforts will find it to be an interesting option.
Key features:
Find prospect email addresses and verify them for complete accuracy
Create, personalize, track, and templatize email outreach campaigns
Build custom workflows that help propel prospects through the pipeline
Integrate Overloop with Slack, Trello, MailChimp, Zapier, and more
Access Overloop on your phone via the iOS or Android app
Pricing:
The "Free" Plan: Access basic features for $0 a month
The "Advanced" Plan: $69 – $79 / month + $25 – $29 / per additional user
8. Vocus
Vocus bills itself as a "personalized outreach platform" that allows users to craft email sequences with automated follow-ups and track their results. Said results can then be exported to a CSV file and dumped into your favorite CRM tool.
One thing we like about Vocus is that its users can attach files like PDF documents and zip files to their automated messages, as well as CC colleagues.
All in all, Vocus is a lightweight and affordable email sequencing software that's ideal for small and/or cash-strapped sales teams.
Key features:
Craft personalized email campaigns
Create, share, and reuse email templates
Schedule each email to send at the perfect time
Track opens, clicks, and replies for each message
Attach files to your sequences and CC colleagues
Integrate with Gmail, HubSpot, Salesforce, and more
Pricing:
The "Basic" Plan: $5 / month
The "Starter" Plan: $10 / month
The "Professional" Plan: $20 / month
9. Airborne App
Airborne is another email sequencing software that's specifically designed for agencies. As such, it has team and client management features, as well as built-in collaboration tools. And that's in addition to the platform's sequencing app.
With Airborne, users can reach prospects via email, phone, LinkedIn, and Twitter via personalized sequences of events. Once a sequence launches, track it using Airborne's reporting dashboard to measure its success.
Airborne is best suited to established agencies due to its hefty price tag.
Key features:
Team and client management capabilities
Personalized email, phone and social sequencing
Email deliverability tools for better inbox placement
Intuitive reporting for an agency's entire roster of clients
Integrations with Gmail, Outlook, HubSpot, and other tools
Pricing:
The "Essentials" Plan: $60 / month
The "Scale" Plan: $399 / month
The "Enterprise" Plan: $999 / month
10. Lemlist
Lemlist combines email deliverability features and sales email automation capabilities into a single app.
Users are able to warm up their domain and make sure they hit recipients' inboxes, not their spam folders. They can then send personalized email sequences and schedule other sales tasks like cold calls and social selling activities.
Key features:
Automatically warm-up domains to increase deliverability rates
Create personalized email sequences, complete with follow-ups
Schedule other sales activities such as cold calls and social selling
View reports on all outreach efforts using Lemlist's' analytics
Integrate Lemlist with Google Sheets, Salesforce, HubSpot, and more
Pricing:
The "Email Warm-Up" Plan: $29 / month OR $300 / year
The "Email Outreach" Plan: $59 / month, per user OR $600 / year, per user
The "Sales Engagement" Plan: $99 / month, per user OR $996 / year, per user
11. Followup
With Followup, users are able to quickly set task reminders and schedule follow-up messages that help them engage their recipients. Once a follow-up message is opened, users receive notifications, allowing them to learn about their audiences.
Followup is a lightweight tool that's probably best used as a compliment to another sales engagement platform, rather than as a stand-alone application.
Key features:
Set task reminders with one click
Schedule automatic follow-ups
Track when contacts open emails
Analyze team sending reports
Integrate with Salesforce (Salesforce Edition plan required)
Pricing:
The "Starter" Plan: $23 / month OR $216 / year
The "Professional" Plan: $36 / month OR $348 / year
The "Salesforce Edition" Plan: $50 / month OR $480 / year
12. Mixmax
Finally, we have Mixmax, a popular software that's used by a wide variety of professionals, including sales reps, customer success, reps, and recruiters.
Because Mixmax can be used by so many departments within a company, it has a lot of features—some of which you may not need as part of a sales team. A few of the platform's most popular features include:
Key features:
Personalized email, phone, and social media sequences
Professional and customizable email templates for Gmail
Engagement reports and insights for every recipient
Calendar sync and one-click meeting scheduling
Quick and easy task reminders + email and Slack alerts
One-click phone dialing from a Gmail inbox
Integrations with Salesforce, Pipedrive, Slack, Dropbox, and more
Pricing:
The "Free" Plan: Basic features for $0 / month
The "Starter" Plan: $12 / month OR $108 / year
The "SMB" Plan: $29 / month OR $288 / year
The "Growth" Plan: $65 / month OR $588 / year
The "Enterprise" Plan: Custom pricing
Which Email Sequencing Tool is Right for Your Business?
The right email sequence software will help you better engage your prospects, increase your personal productivity levels, and close more deals.
The trick is choosing the right tool for your unique needs. Fortunately, this should be a lot easier to do after reading this blog post! Go back through the options above and study each app's features—unless you're in field sales.
For field sales reps, the right email sequencing tool is clear: SPOTIO AutoPlays, because it's the only one designed specifically for field sellers. Contact our team for a free demonstration of SPOTIO AutoPlays today!