Change how you sell with these essential home security sales tips!
Do you know…the global home security market is expected to grow from a $28.31 billion industry in 2014 to $47.54 billion by the year 2020, according to a market research report by MarketsandMarkets. If that doesn't get your blood pumping, I don't know what will, besides, of course, using SPOTIO to track your sales using data and analytics!
Okay, home security sales reps, with statistics like that, now is the time to hone your home security sales techniques and skills at the door. No longer is knocking on a door, delivering a scare-tactic type of message and getting the person at the door to sign on the dotted line a viable way to sell home security products and/or services. It's all about relationship building and nurturing, with a foundation of educating the potential customer.
Here are a few home security sales tips to get you on the path toward receiving your share of the approximate $47 billion!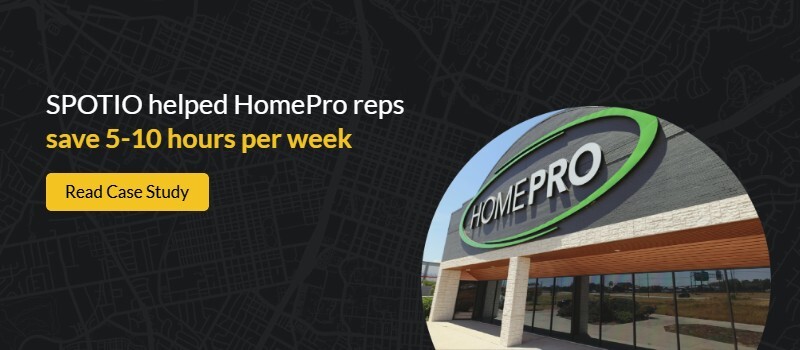 Home Security Sales Tip 1:
Use holistic storytelling. With such an enormous variety of security technology and services currently on the market, consumers have an important choice to make. They must make the decision to purchase products and services that will keep a certain level of security at their homes in which they deem necessary for their comfort level.
As consumers gather information, they want a personal connection, according to a Nielsen study. In fact, the human brain is more engage by storytelling than spewing out cold, hard facts at someone.
Due to the expansive growth of the home security market, specifically, consumers are now more educated; however, they still long for more. They want the truth about security products in services and are asking questions such as:
How much will it REALLY cost me per month?
What home security plan will I NEED to adequately meet my security goals?
What are some legitimate home security options that meet my family's needs and financial situation, while protecting our home?
What company/brand can I REALLY trust when it comes to home security?
To appropriately answer these questions and other potential customer security-related concerns at the door, use a technique called holistic storytelling. This involves giving a complete presentation/pitch at the door, complete with telling a story to engage with the person. Your time will be used wiser by teaching the correct information about your home security product or service, and the consumer will more than likely be excited that you took the time to engage with him/her in this way.
To get started with storytelling at the door, here's a quick how-to guide for holistic home security storytelling at the door:
1. When the person opens their door, start by telling why you knocked and why you're standing on their porch. Add the personal touch and common courtesy of introducing yourself and your company/brand to quickly engage and connect with the person at the door.
2. Ask a question to encourage the person at the door to talk. The question can lead into your story, but the point is to get the customer engaged by answering your question.
3. Go into your story, honestly and genuinely. Focus on educating the customer. To do this, you need to know what the customer wants/needs to know about home security.
As you talk about your home security product or service offering, strategically place questions within your story that allow the person at the door to answer while you listen to discover exactly what he or she would like to learn. Modify your sales story at the door to provide knowledge related to what the customer said to properly educate.
Conclude with a powerful closing pitch and a call to action at the door.
Ultimately, the story you tell at the door should be one you want to tell. If you don't believe in or have the desire to tell the story, it will show in how you speak and your body language.
Home Security Sales Tip 2:
Be professional.  We hear this all the time, but what does it really mean? Well, it means different things to different people based on a variety of factors, such as job title, job duties, professional responsibilities, the activity, etc. For example, you may dress in a suit and tie or dress for a job interview, when in reality, the job only requires khaki pants and a company polo-type shirt once you're hired.
Let's be honest, here. You have a huge responsibility! You are selling the promise of safety and security of someone's home, the one place where people can just be and be themselves. Because of the nature of what you're selling, this home security sales tip is important and you need to be as professional as possible at all times during work hours.
Invest in the following tools to increase your professionalism as a home security rep, if you don't already have these items:
ID badges that properly identify who you are and what company you represent. This can easily be done online:
Quick ID Card – $11.40 + $2.85 shipping for a custom ID badge, with no setup fee or minimums to meet. I suggest choosing from the "Blank ID" listing on their site. These templates offer a place for your picture or a company logo.
ID Creator – $8.00 for the "base card," which is a graphic quality PVC card with additions available such as protective clear film laminate for $1.00. The cheapest shipping option is $2.49 for economy (4 to 10 days) and there is no setup fee or minimums to meet.
Nametag Ninja – $10.00 for your choice of a custom plastic or metal ID badge. What I love about this company? They offer an extra line of text and custom sized nametags…for FREE, and no setup fee, no processing or handling fee, and no shipping costs.
Professionally-printed brochures that make a strong impression when the receiver sees the graphics, reads the text and even feels the texture of the paper that is used. People at the door are more likely to work with someone who presents his/her home security offerings in a professional manner.
A high-quality brochure helps you stand out as a professional and assures the person who receives the brochure that you are not a "here-today-gone-tomorrow" type of home security operation. (You know the type…either sell, take the money and run OR sell, install and never hear from the salesperson or company ever again. Not good!)
Check out these online brochure printers for your home security brochure:
Print Runner – 13¢ per trifold brochure on glossy paper, colored front and a total quantity of 1000.
Printing Peach – 14¢ per half fold brochure on premium paper, 1 side color for a total of 1000 with FREE shipping in the U.S. on orders over $50.
Printing for Less – 21¢ per 4-color, trifold brochure on gloss paper. This is a total of $233.73 for 1000 brochures. This one is a bit more expensive than the other two, but you can easily upload any artwork from your computer, it's fully in color and new customers get 20% off their first brochure order with coupon code NC20PB.
Have the correct permits. You're probably already carrying a copy of your permits and license to go door to door knocking, which is great because it shows your level of professionalism. If you're not, now is a good time to start. To make it easier, why not carry them digitally?
With tools like SPOTIO that is integrated with Google Docs, you can take a front and back photo of your licenses and permits with your smartphone and save them in Google doc so that you have them with you at all times. As a bonus tip, you can then upload your permits and licenses to each PIN, which represents an address of a home you knocked, as documentation that you showed the resident your legalities.
Home Security Sales Tip 3:
Learn and effectively use the "norm of reciprocity." This is a social norm that basically says if someone does something for you, then you feel obligated to return the favor.
Example: Let's say it's really cold outside with snow on the ground. It's Saturday and you're at home, but you feel like the walls are closing in and you must get some fresh air. You decide to go to your favorite retail store and when you get there, you notice they have a coffee bar set up and are giving away free cups of coffee because it's so cold.
A worker hands you a cuppa joe and then you immediately feel the need to say "thank you,"" and quite possibly even more, which opens up the conversation for the worker to tell you about the store's current sale as a way to get you to purchase something.
When used correctly, the norm of reciprocity is a powerful technique at the door. Here's a way you could incorporate it as a home security rep:
Knock on the door.
Apologize for interrupting the person's day.
Offer to do a FREE security inspection of their home.
The person at the door automatically thinks, "Wow a FREE inspection! How nice of him/her to offer this to me for free."
According to the norm of reciprocity, once you've completed the home security inspection, the person at the door will feel obligated to listen and engage with you as you report the findings, essentially returning the favor of the free inspection.
Take this opportunity to deliver your pitch, since you have a highly-engaged potential customer.
Home Security Sales Tip 4:
Have a mindset of education. As a home security rep, you know the ins and outs of the product or service you represent at the door. Use your knowledge to create a learning experience for the person at the door as to what exactly a home security system will do for THEM, not your commission check.
It's obviously not just another monthly bill for them to stress out about or a pieces of technology sitting in their home collecting dust. Educate about the major benefits they will receive for their investment.
With this home security sales tip, try mixing in some NON-scary and NON-threatening statistics as part of your educational process. For example, a report from the University of North Carolina at Charlotte's Department of Criminal Justice and Criminology stated that of a panel of convicted burglars that were interviewed, 60% of them said that the presence of a security system influenced their decision.
This study and statistic does not create fear or panic, but rather, educates about the mentality of burglars and home security systems.
Refer to Electronic Security Association's (ESA) code of ethics. As a home security selling rep there's no doubt you've at the very least heard of ESA and their code of ethics. Even if you or your company is not a member of this association, you can get some amazing home security sales tips from their code.
Here's a blurb from the ESA code of ethics and an invaluable home security sales tip:
"As you lead a prospect toward a purchasing decision, maintain your credibility by being honest and transparent about the benefits AND limitations of your offering, and ensure you take the appropriate amount of time to learn the customer's true needs and desires before pitching just any product or package deal." — from ESA Code of Ethics
This basically is telling home security sales reps to qualify people at the door and get to know the needs and wants of the customer before the sales pitch. This is where the art of holistic storytelling comes in very handy.
So to take these home security sales tips and your skills to the next level; just remember to:
Use holistic storytelling.
Be professional.
Learn and effectively use the "norm of reciprocity."
Have a mindset of education.
Refer to ESA's Code of Ethics.
____________
SPOTIO is the #1 field sales engagement and territory management app to increase your revenue, maximize your profitability, and increase your team's productivity in just 2 weeks.
Want to see a product demonstration? Click here to see how SPOTIO can take your sales game to the next level.