Sales teams should be able to access knowledge, tools, and processes whenever — and wherever — they need them.
Field sales reps, who may be out of the office meeting with clients, need access to product information and resources that they can pull up on their mobile devices or laptops. Inside sales reps who are working the phones need easy access to call scripts and customer contact information. And everyone needs to be able to track their progress against quotas.
B2B sales enablement software helps sales teams achieve all of this by streamlining the sales management process. Features like territory mapping and real-time field visibility help field sales teams spend less time searching for and logging information, so they can focus on closing more deals.
In this post, we'll talk about the types of B2B sales enablement tools teams need for the best results.
What Is B2B Sales Enablement?
B2B sales enablement is a strategic, ongoing process that gives your entire team the information and tools they need to sell effectively at each stage of the buyer's journey.
Effective B2B sales enablement is not a technology — it's an approach. Sales enablement supports and elevates this approach by making it easier for sales teams to find and use the resources they need to be successful.
As a sales manager, you're focused on helping your team close more deals, faster. B2B sales enablement does this by:
Centralizing content and resources
Training your team on new methods, tools, and resources
Empowering your reps with self-service access to content and resources
Analyzing data to help you identify opportunities for improvement
Providing tools to streamline and optimize your entire sales process
Sales enablement is not a one-time project — it's an ongoing process. And, like any process, it needs to be constantly fine-tuned and updated as the market, buyers, and your sales team change.
Why Is B2B Sales Enablement Important?
Sales enablement is about effective communication between:
Sales managers and reps
Sales and marketing teams
Sales reps and customers
Sales enablement is all about alignment and making sure everyone works toward the same goals. But too often, content is siloed in different departments or spread across multiple systems. This makes it hard for reps to find what they need when they need it.
According to Forrester, sales enablement is one of five key areas that sales leaders were planning to prioritize in 2022.
Without an effective sales enablement approach, your reps will struggle to find time for selling. Instead, they'll spend their time searching for the right content, tools, and information.
In fact, sales reps spend an average of 440 hours each year looking for the right collateral to share with buyers during the sales process. Sales enablement makes your team and your organization more successful because, ultimately, it increases sales, revenue, and ROI. The right sales enablement software supports your enablement approach with a suite of tools focused on empowering your sales reps, sales managers, and sales processes.

What Does B2B Sales Enablement Entail?
Like any job, B2B selling requires the right tools. The best B2B sales enablement software includes all of the tools sales teams need to be successful.
B2B sales enablement software should include:
1. Prospecting Tools
Sales prospecting tools let reps search for and filter prospects so they can focus only on those leads that meet their target criteria. It also allows reps to schedule meetings from the field, manage contacts from anywhere via integrated calendars, and use multichannel prospecting features (call, email, text, and in-person visits).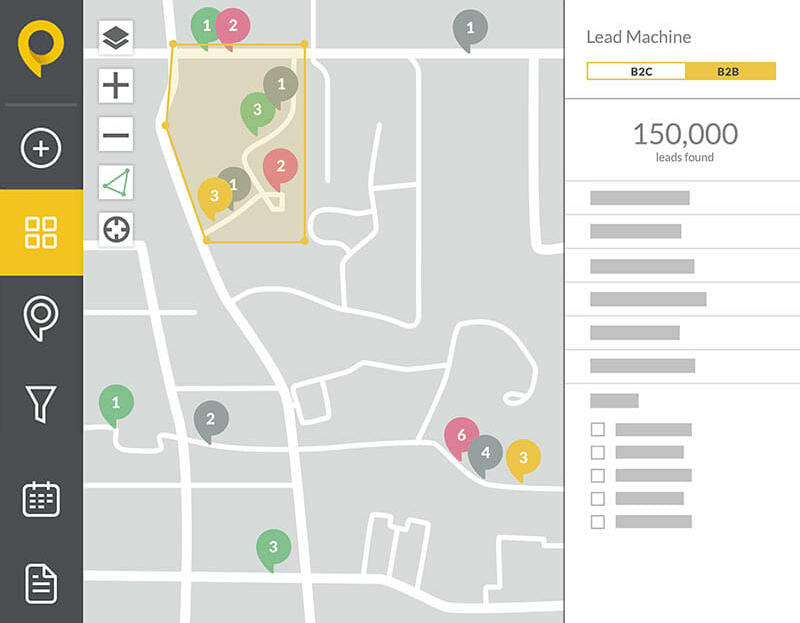 SPOTIO enables reps to filter prospects in their territory with 200+ attributes.
Sales prospecting software helps your team visualize the prospecting process with maps that show the location of clients and prospects (for reps) and tracking capabilities that show the location of sales reps (for sales managers).
2. Territory Management
Territory management software defines and enforces your reps' territories so reps can stay organized. Territory mapping shows reps which accounts need which action, eliminates gaps and overlaps, and gives sales managers complete visibility into each territory's performance.
Territory management tools make it much easier for sales managers to allocate sales resources and make educated decisions.
3. Customer Mapping
A customer mapping tool gives sales reps a 360-degree view of their customers. It integrates with your CRM software and includes features like account scoring, opportunity scoring, contact management, and lead management.
SPOTIO enables field sales teams to distinguish leads, opportunities, and customers on a map.
This helps sales reps prioritize their time, focus on the right leads, and avoid overlap with other reps. Capabilities like filtering data points by color (e.g., pipeline stage, last visit, etc.), help reps visualize and distinguish leads, opportunities, and customers. Mobile and desktop capabilities allow reps to work from anywhere, even when they're offline.
4. Standardized Practices
Sales enablement software standardizes practices with templates, playbooks, and automated features that reps can use for client outreach and follow-up.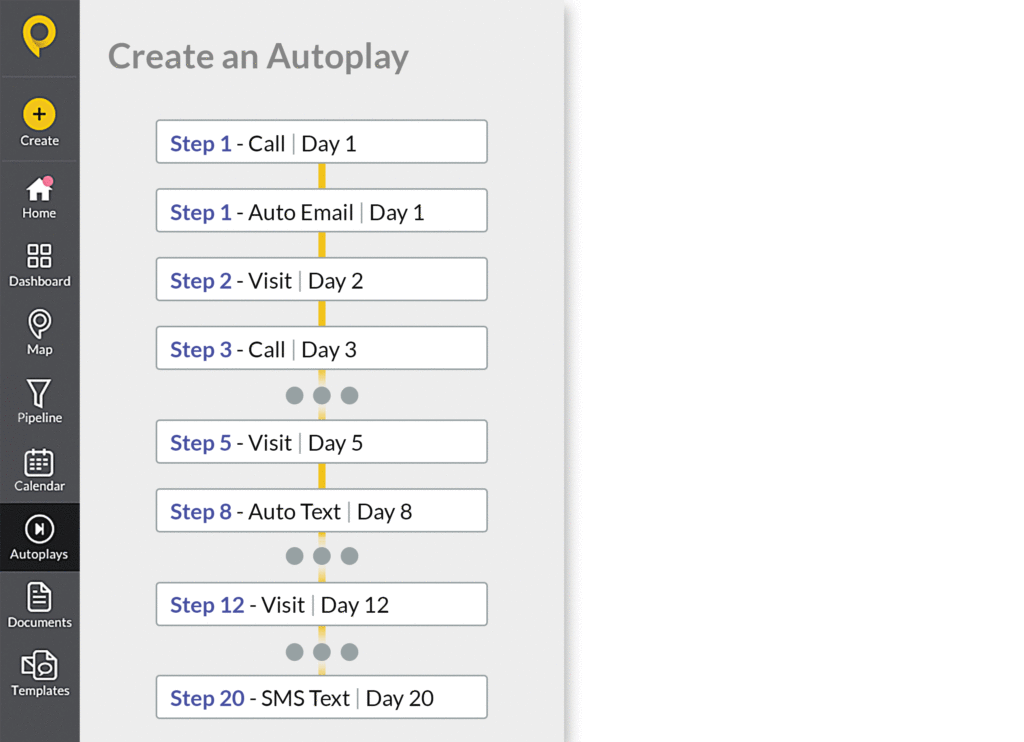 For example, SPOTIO's Autoplays feature automatically sequences field reps' activities at the customer level, ensuring nothing slips through the cracks. Autoplay sequences show reps exactly who they should engage with, and how and when to engage. Plus, new hires can use Autoplays to duplicate successful selling sequences and approaches.
5. Multi-Channel Communication
Field sales, by definition, is mobile. With your reps constantly on the move, it's critical that they communicate via the channels their prospects and customers prefer.
Sales enablement tools should include mobile and web apps that allow reps to engage with prospects through multiple channels. Apps should also capture activity with minimal (or no) extra work for your reps. SPOTIO's Sales Activity Capture tool automatically captures every sales visit, text, and email in real time. It also tracks inbound, outbound, and missed calls — and it does all of this using each customer's preferred channels of communication.
6. Task Automation
Reps should be selling — not bogged down by administrative tasks. Sales enablement software automates time-consuming, manual tasks like logging prospect interactions, taking notes (e.g., talk-to-text), and passing data to your CRM.
7. Tech Integration
Most modern sales teams use a variety of tools and platforms — from email and social media to CRM systems and GPS tracking. Think of sales enablement software as an extension to your existing sales tech stack. To be effective, it needs to integrate with widely used tools like Salesforce, Gmail, and Outlook.
SPOTIO integrates with all the above technologies (plus thousands more tools) via native or API integration. This lets you customize your workflow to best match your sales approach and processes.
8. Sales Tracking Analytics
Detailed tracking and analytics let sales managers understand how many sales reps hit their quotas — and why. Advanced features like sales activity tracking, pipeline visibility, and territory-specific insights take the guesswork out of managing sales teams.
Look for visualization tools like sales leaderboards that provide real-time sales performance stats and GPS location tracking that helps sales leaders monitor and manage teams. Granular data and real-time tracking give you an accurate picture of your sales numbers and rep performance, which is essential for understanding what's working in your sales process and where you need to make changes.
SPOTIO For B2B Sales Enablement
A solid B2B sales enablement approach equips your sales reps with the tools, resources, and data they need to improve performance and close more deals. By automating time-consuming tasks, integrating with existing sales tech, and providing detailed tracking and analytics, sales enablement software provides the foundation for a successful selling process.
SPOTIO is a leading B2B sales enablement software platform because it gives you all of the features and integrations you need to succeed. Plus, it's easy to use, mobile-friendly, and scalable. If you're interested in learning more, request a demo to see how SPOTIO can improve your field sales management process.