Field sales is another form of outside sales, which is someone that sells products or services outside a typical office setting, like door-to-door sales.
Over the past couple of decades, there have been significant advances in tools and technology that are designed to help sales. But almost all of them – like Salesforce, Outreach.io, and SalesLoft – are designed and optimized for inside sales teams. With field sales teams making up roughly 70% of the total sales force, why haven't there been similar advancements made to support this audience? The answer is simple: it's always been a challenge to equip field sales with technology because they are always on the go. For a long time, the technology just didn't fit the audience's needs. That all changed with introducing a new class of software designed specifically for field sales teams.
What is Field Sales Software?
According to G2 Crowd, Field Sales Software is a technology designed in the tradition of door-to-door sales. It assigns sales personnel logical routes that maximize efficiency. These tools can guide team members through sales routes and inform managers where their employees are at any given time.
Map-based data visualization, location-based insights, and optimization and automation tools are essential for field sales teams to succeed in a rapidly-growing competitive landscape. But, with a range of field sales software providers to choose from, who's to say which is the best option for your business?
In this article, we've broken down everything you want to know about SalesRabbit, as well as some alternatives to consider to help you pinpoint which tool may fit your sales team's needs the best.
Who is SalesRabbit?
Started in 2013, SalesRabbit is a field sales software tool that provides some simple and straightforward features that are well suited for your standard door-to-door/canvassing sales teams. SalesRabbit is a popular solution for these field sales teams because it offers some helpful features for certain businesses in the industry. They check off quite a few main boxes while delivering valuable solutions for team management, customer/lead management, lead tracking, and more.
If you're looking for something that provides simple, out-of-the-box capabilities and doesn't require special rules or integrations, then SalesRabbit could be the right option for you. Your business might be a potential fit for SalesRabbit if your company focuses on door-to-door sales and your company is more price-conscious when making purchase decisions. Here is a list of some pros and drawbacks that SalesRabbit will offer or cost you.
Pros:
Cost effective
Simple for easy use cases
Fast implementation
Collects data and analyzes team performance
Helps keep you and your team organized and focused
Offers appointment notifications that help move customers down the funnel
Cons:
Field data isn't available in real-time
Limited field reporting – doesn't show all activity
Not very configurable – "one-size-fits-all"
Limited integration capabilities – may not sync with other systems
Some former customers have reported reliability issues
Does not scale well for large, complex teams
Users have reported issues when outside of cell coverage
Having the app open for too long drains the device's battery
It has fewer in-depth reporting and sales insight capabilities than other software options.
SalesRabbit Core Features:
CRM/Lead Data Mapping
Sales Territory Mapping:

Custom Areas: Control sizes, shapes, and quantities to draw them over a detailed map view.
Historical Data: Monitor the rep's progress and follow up as needed.
Team Assignment: Assign areas to reps for canvassing and lead tracking.

Leaderboard: Collect data from all possible sources to measure, compare and improve field performance. Identify what's working and what's not to modify strategies accordingly.
Consolidated Statistics: Track all KPIs in a central platform. These include closure percentage, the number of doors knocked, and people contacted.
Reporting: Track the most relevant data for teams and check live reports on reps' activities via GPS tracking.
Lead Management: Organize and track leads geographically. Import and export leads, attach videos, images, and PDFs to provide more information and context, and create custom fields to gather specific data.
Forms and Contracts: Accelerate sales, eliminate manual errors, reduce paper costs and minimize transaction time using its form builder and contract creator.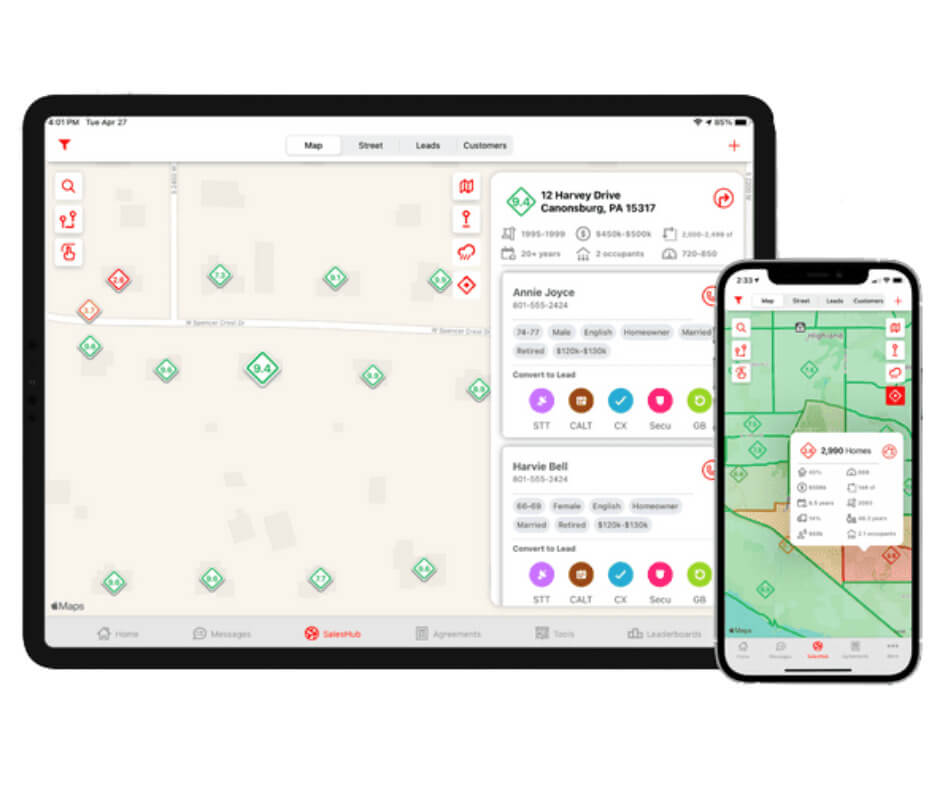 SPOTIO: SalesRabbit's Top Competitor
SPOTIO is a sales engagement and mapping software built for door-to-door sales teams to achieve more by offering a system of action for your reps. It allows sales leaders to keep track of their teams and manage territories more efficiently by centralizing all sales activity. The platform sets teams up for success by offering tools that help them sell more intentionally while keeping reps and managers aligned by providing real-time field data. It's quite a bit packed into one software. Let's dig deeper to see if it's right for your team!
Notable Awards:
Ranked #1 in the Field Sales category
Fastest Implementation
Best ROI
Best Meets Requirements
Best Results
Most Implementable
SPOTIO Core Features:
Task Automation: Reduce manual admin work and automate redundant tasks, resulting in a boost of rep productivity by 46%.
Sales Tracking: Get a clear view of sales performance so reps and managers are always on the same page.
Sales Routing: Reduce windshield time by planning and routing each day while automatically tracking your mileage along with the way.
Multichannel Communication: Automatically capture every visit, call, SMS text, and email without extra work for sales reps.
Location-Based Geo Tracking: Increase accountability and find your sales reps in the field when you need them.
Autoplays: Automatically sequence and organize sales activity for every lead and customer, so each day is properly planned out.
Territory Management: Cut territories to fit your business, create role-based hierarchies, and measure territories performance.
Customer Mapping: Make sense of your field data at a glance by visualizing your CRM information on a map.
Lead Generation: Keep your reps focused on the best prospects, giving them the best chance of success.
Appointment Setting: Smoothly guide appointments through the sales process and seamlessly hand accounts off between reps.
How SPOTIO Compares to SalesRabbit
SalesRabbit has a strong presence on G2 as a top contender, but when it comes to a category leader, SPOTIO seems to take the lead. Based on customer reviews and market presence scores, SPOTIO earned top marks across multiple categories back to back.
Other SalesRabbit Alternatives:
Let's break down some top competing companies similar to SalesRabbit that are also a great solution for a field sales tool. These include Badger Maps, Map My Customers, GeoPointe, and Salesforce Maps. Let's see which is the best overall choice when it comes to deciding which is best for your field sales teams.
Badger Maps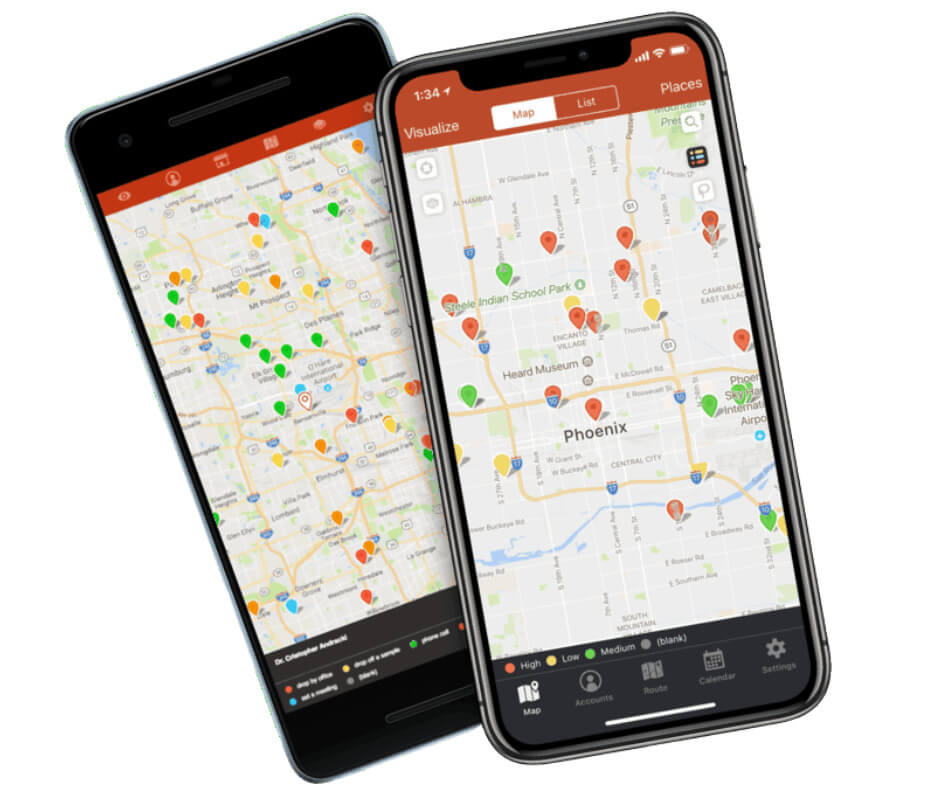 Badger Maps is a route-planning app designed specifically for people in field sales. It allows sales reps to automatically plan, route, and maximize their time in the field. Features such as routing, lead generation, reporting, and territory management make Badger Maps a pretty strong contender, a little bit on the cheaper side but less configurable, less features, and not as robust for large or complex team structures.
Map My Customers
Map My Customers allows you to map out and share your customers for your team to succeed. It's an excellent tool for increasing sales numbers and productivity while helping your reps with reminders, check-ins, and more. Work on teams by sharing important pins, viewing field updates from team members, and offering to track employees' physical locations to help manage from afar. It's a great tool that has a solid foundation for what you need, it's a much more simple option that will have the basics needed to be successful.
GeoPointe
With GeoPointe, you can manage and assign employees with customizable, web-based software. Filter your employees by their project history, location, or other custom options in the field. Assign your team to a project and get notifications based on the progress of moving each customer down the funnel. This is a more beginner-level software but if that's all you need, it could be a solid fit.
Salesforce Maps
Salesforce Maps is a location intelligence tool that offers leverage mapping and optimization technologies to maximize the productivity of sales and service resources. It's more of a standard option, but based on what you need, if mapping and territory targeting is all you need, it could be a simple solution.
Final Thoughts
If you don't currently use anything, any of these solutions will have a significant positive impact on your team's performance. Different solutions serve different use cases better than others, so be sure to understand your specific challenges and which providers are best suited to solve them for you.
For large, fast-growing companies looking for the most configurable, feature-rich, and robust field sales solutions, SPOTIO is the right choice for you. It offers everything the competitors do and much more at a higher level. Your team is bound to be the most successful with sales software that has the capabilities to grow with your team with ease. The reviews don't lie with this one; it is the best option when choosing software for your field sales team. Still, need convincing? Drop us a line, and we will show you.