Tired of subpar sales numbers? Wish you could close more deals like the folks you read about on the internet? Wondering why your efforts don't translate to success?
We can't tell you exactly why sales are down—there are many reasons why sellers fail to meet success in this field. But if we were to guess what your problem is, we'd probably say that you and your team don't follow up with prospects and customers as often as you should.
In this article, we'll discuss why following up is essential to an effective sales strategy and how the SPOTIO platform is specially equipped to help you in this area.
Why Your Sales Reps Lose Deals
Deals are lost for a variety of reasons. For example, your reps might be misusing social media, which can result in poor branding and a slew of unqualified leads. They might not be doing enough pre-sale work or closing too hard or talking more than they listen.
Each of these things can lead to lost deals. But there's another, simpler possibility as well: your sales reps aren't following up with prospects the way they should be.
Why is Following Up So Important?
Nobody brags about how many follow-up calls they've made or emails they've sent. Why? Because following up is anything but exciting. To a lot of reps, it's downright boring, which is why 44% of sales reps give up after a single follow-up.
This is unfortunate because 80% of sales require five follow-up calls after an initial meeting. It's a fact: if your reps aren't following up with leads, they're losing deals.
But the need for follow up calls, emails, and in-person visits goes even deeper than this. Studies show that it takes eight cold call attempts to even reach a prospect. You can't close deals if you don't talk to leads. And you won't talk to many leads if you don't follow up.
Still not convinced? Consider this: only 3% of your market is actively buying at any given time. And 60% of customers say "no" four times before saying "yes."
In a nutshell, most of the leads your reps reach out to won't need what they're selling—at least not yet. By following up, sellers can make sure they're top of mind when a lead finally decides they're ready to make a deal.
Think Beyond Your Leads List
It's not just new prospects your reps need to follow up with. They should follow up with current customers, too. That way you don't lose them to a competitor.
This is especially important for businesses using a recurring revenue model, such as SaaS brands and various service providers. If your customers pay a monthly fee for access to your company's offerings, rather than making a one-time payment, following up is paramount.
If you don't continually work to keep your current customers happy, they'll find a new company to work with, taking their money with them and reducing your cash flow.
Don't Forget About Lost Deals
Deals fall through—even for the best salespeople…
It's important to remember that sometimes dead deals can be revived. Just because a prospect says "no thanks" today doesn't mean they'll say "no thanks" in six months. But you'll never know if they have a change of heart unless you follow up with them.
Pro Tip: Always provide value to lost deals when following up. For example, don't reach out to a prospect who turned you down with the same offer you made them last year. Instead, invite them to a webinar you're hosting or send them your company's latest white paper.
Value opens the door to future sales conversations. Once that door is opened, you can learn more about a prospect's current needs and then pitch them something to help.
How SPOTIO Simplifies the Follow Up Process
As we've seen, following up is incredibly important to success in sales. But as any seller knows, following up is often tedious work. That's why your team needs SPOTIO.
SPOTIO is a field sales engagement platform that helps reps increase their activity, set more appointments, and drive more revenue. It also gives sales management personnel deep insights into the sales process so they can improve department strategy.
When it comes to following up, SPOTIO has a few specific features that can help:
Simplified Communication
Effective follow-up isn't about making a specific amount of calls or sending a certain number of emails. It's about consistently communicating with prospects in the ways they prefer.
Some people love talking on the phone, while others will only engage with sales reps via email and text. Your job is to determine which communication channels your prospects like to use; then do your best to engage them using those methods.
With SPOTIO, sellers can easily monitor their communication channels to see which is most effective. Then, using the information gleaned, schedule the right messages at the right times from the convenience of the SPOTIO desktop or mobile device app.
It gets better: sales reps can also build custom follow up sequences with our tool's Autoplays feature. Create and deploy a measurable series of touchpoints for each lead in your pipeline. That way prospects are consistently engaged with and nothing falls through the cracks.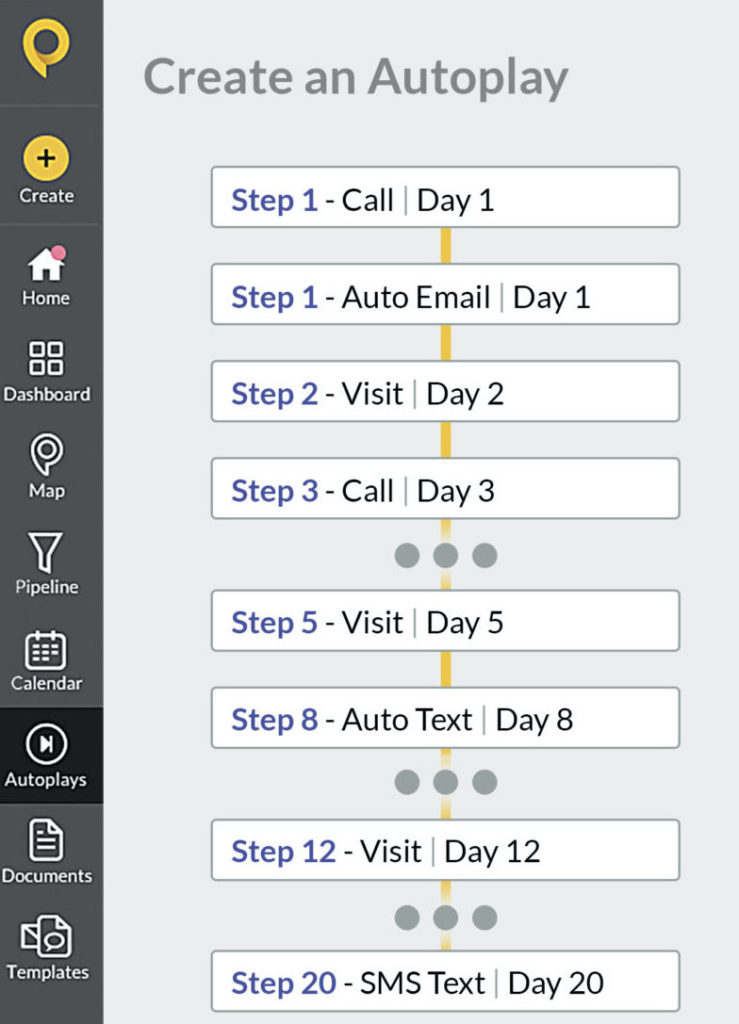 Sales Rep Visibility
Ultimately, it's the sales manager's job to make sure their reps are following up on a consistent basis. SPOTIO gives management pros the information they need in this area.
Our app automatically tracks each sales rep's current location and travel history. This allows managers to understand where reps spend their time and if they're making follow-up visits to prospects on a regular basis. (Note: these features can be turned off if privacy is preferred.)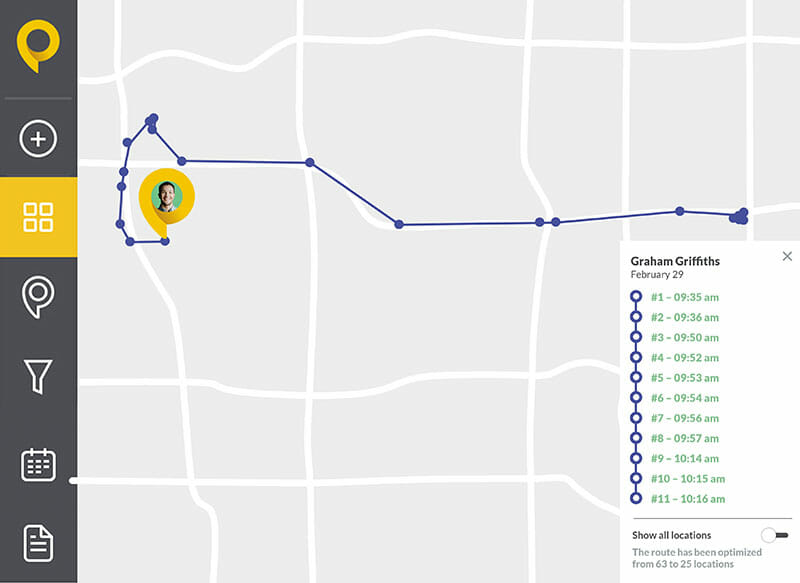 Digital communication is also tracked inside SPOTIO. Learn how many calls, emails, and texts your reps send and the success metrics for each channel.
When you have visibility into the sales processes of your entire department, you'll quickly learn whether your reps are putting in the necessary effort to be successful, if they need more in-depth training, why your sales figures are what they are, and more.
Task Automation
If following up is so important, why don't more sales reps do it? There's many potential reasons; one of them is that they just don't have time.
It can take hours to log prospect interactions, input meeting notes, upload photos, and otherwise keep CRM software up to date. And we haven't even talked about the time it takes to type, edit, and send follow up messages to leads.
SPOTIO's task automation capabilities streamlines each of these tasks.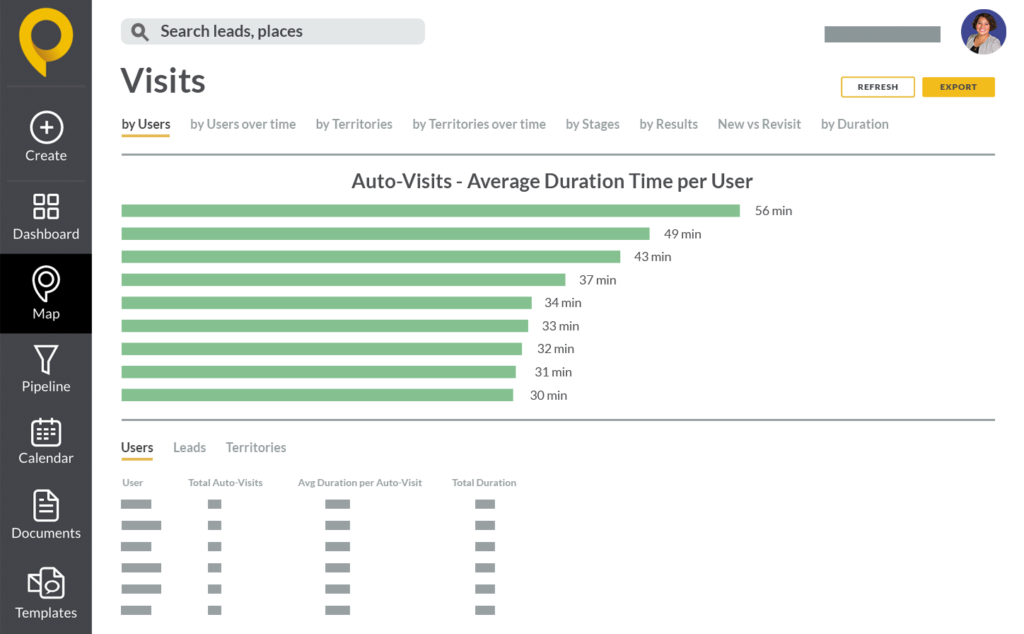 When SPOTIO users visit a prospect, our software uses geofencing tech to automatically log the interaction. Notes taken in the SPOTIO app are quickly synced with CRM software, as are photos taken onsite. And email and text templates are easily created, allowing reps to quickly follow up with leads in ways that feel engaging and personal.
At the end of the day, SPOTIO minimizes the tedious data entry work that bogs down sellers and allows them to focus more of their time on business-building activities.
Grow Sales By Following Up
In many cases, following up is what separates mediocre sales reps from department leaders. If you're not willing to contact leads multiple times—even after they've said "no" to your initial pitch, you'll never close as many deals as you would like to.
Fortunately, tools like SPOTIO make following up easier. Our tool's multichannel communication, Autoplays, sales rep visibility, and task automation features will turn mind-numbing work into a simple, straightforward process that gets results.
---