With this product release, account admins and sales reps benefit from detailed visibility into the outcomes of each interaction with a prospect. Sort and search leads by the customized filter statuses set by your organization and easily view the prospecting and lead results you need to identify the strengths and weaknesses in the sales process.
Visit Results
Choosing Custom Visit Results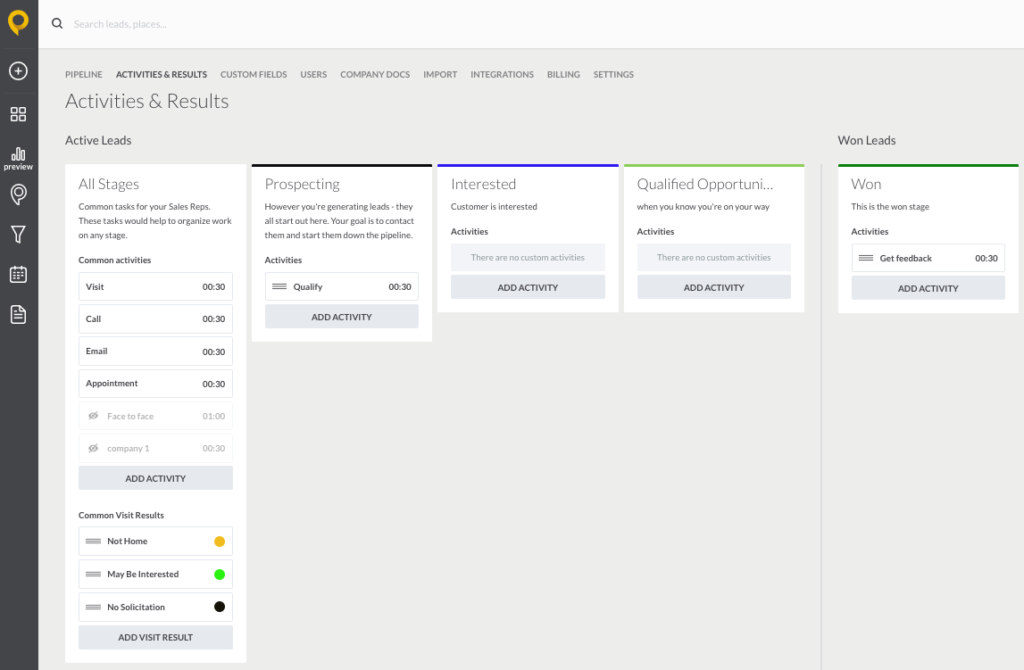 Benefit
Admins can choose from a list visit results and gain real-time insight into the field activities of their reps and the outcomes of those visits.
Web Report for Visit Results



Benefit
Admin users are able to pull reports and see key statistics as they relate to rep visit outcomes.
Visit Results Shown in Lead History




Benefit

Looking at the history of any created lead, you can now view the visit results/outcomes.
Colorization by Visit Results


Benefit
Field reps can see the colorization indicators of each lead in order to get a sense of how that leads has progressed. Both reps and admins can see colorization dots for the entire history of the lead.
Sorting
Show All Custom Fields




Benefit
User can now see all fields from the "log visit" screen. By default, only required fields are visible. However, you have the ability to see and fill out all fields on the "move to next stage" screen.
Sort and Filter Leads by Last Outcome




Benefit
Field reps may sort by outcome so that they can isolate the leads in their territory by status. To do this, select a filter by outcome in order to focus on leads by current outcome/status.
Leads
Search/Add Manual Address




Benefit

Sales reps can quickly add a lead whether they're currently in the vicinity of that lead location or not. This allows users to easily add a new lead to their pipeline whenever is most convenient for them.
_____
Questions or comments? Contact SPOTIO at [email protected] or comment below.
SPOTIO is the #1 field sales acceleration and performance management software that will increase revenue, maximize profitability, and boost sales productivity.
Want to see a product demonstration? Click here to see how SPOTIO can take your sales game to the next level.