You need direct selling software if you work in the direct sales industry. The question is, which of these apps should you invest in? There are quite a few of them!
In this article, we'll help you answer that question by analyzing 11 of the top direct sales tools available on the market. That way, you can quickly choose the ideal solution for you and your team and get back to what you do best: closing deals and driving revenue. Let's get started!
What is Direct Sales Software?
Direct selling software is software that allows direct sales professionals to better track the sales, expenses, and profits they generate for their businesses.
The best direct-selling software platforms provide users with the tools they need to generate quality leads, market their products effectively, manage customers, and check inventory. Put simply, these are comprehensive tools that help users streamline their entire sales processes.
You should also know that direct selling software is sometimes referred to as multi-level marketing (MLM) software and/or social selling software, depending on its use.
11 Best Direct Sales Software
There are a ton of direct sales apps on the market. Which one should you spend your hard-earned money on? One of the solutions below should fit the bill for you and/or your team.
1. SPOTIO
Best for: Field sales
G2 rating: 4.4 stars / 226 reviews
SPOTIO was specifically designed for field sales purposes. As such, it has all of the tools field sellers need to succeed, from lead generation to custom reporting features. If your direct sales business relies on in-person interactions, you owe it to yourself to check out SPOTIO.
Key direct selling features:
2. Rallyware
Best for: Developing employees
G2 rating: 4.8 stars / 36 reviews
Rallyware is designed to help users boost workforce performance. How does it do this? It's pretty simple: Rallyware gives employees easy access to training materials, allows team leaders to incentivize and recognize amazing work, and includes customer relationship tools.
Key direct selling features:
Employee Training: Get your team up-to-speed fast. Rallyware gives users the tools they need to distribute educational content at the exact moments employees need it.
Incentives and Recognition: Your sales reps work hard for your company. With Rallyware, you can offer incentives to help reps work peak performance more often. You can then recognize high-performers in front of their peers with the app, too.
Customer Relationships: Keep your customers happy with Rallyware. The app includes customer tracking, automated reminder, and campaign workflow features to make sure your customers are always taken care of the way they deserve.
Penny AI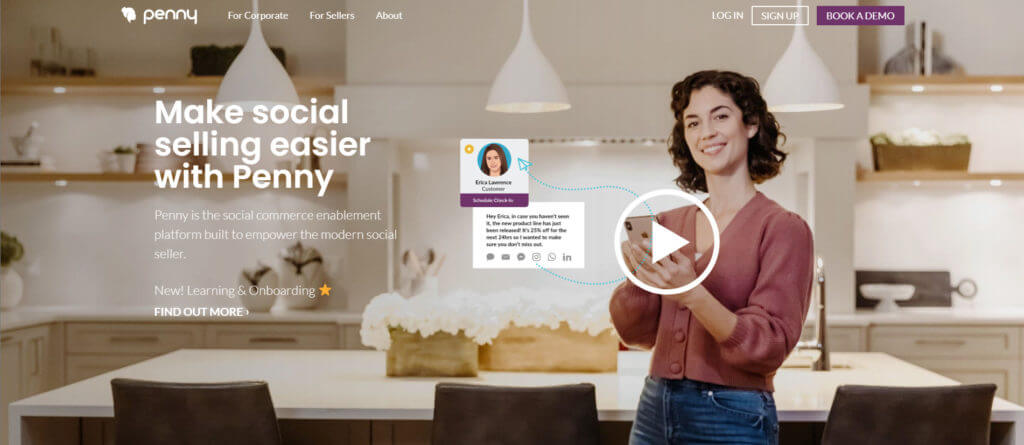 Best for: Social commerce
G2 rating: 4.3 stars / 2 reviews
If your direct sales team uses social media to close deals, you should definitely take a look at Penny AI. The platform excels at social commerce thanks to its strong feature set, which includes prospecting, contact management, team learning, and other direct sales tools.
Key direct selling features:
Daily To-Do Lists: With Penny AI, users get auto-generated to-do lists, which help prioritize time-sensitive tasks and manage entire businesses from a single screen.
Contact Management: Who are your customers? Penny AI will help you find out, using detailed customer profile cards, which can be organized with custom tags.
Customer Prospecting: Looking to build your business? Use Penny AI to import prospects from social media, then schedule automated follow-up reminders for each.
Employee Management: Penny AI will help you manage your reps, too. Track activity, celebrate wins, share top-performing scripts, and otherwise support your team.
Team Member Training: Trained employees are good employees. Use Penny AI to educate your reps via in-app lessons that will boost users' skill sets.
Trinity
Best for: Shopify users
G2 rating: 3.2 stars / 5 reviews
Trinity bills itself as, "The most configurable MLM software available." We're not sure if that claim is entirely true. But we are sure that Trinity is a solid direct-selling software—especially if your company uses Shopify for e-commerce sales. That's where this app really shines.
Key direct selling features:
Easy Reporting: Take complete control of your distributor reports with Trinity. The Multilevel Tree View report is super helpful, making it easy to manage your downline.
Any Compensation Plan: It doesn't matter which compensation plan you prefer. Trinity supports affiliate, party, multi-level, binary, forced matrix, and all other plans.
A Shopify Integration: As mentioned above, Trinity seamlessly integrates with Shopify, allowing users to supercharge their online direct sales efforts.
Retortal

Best for: Social media management
G2 rating: 4.2 stars / 3 reviews
Retortal is the social media management solution that was created specifically for direct selling purposes. Companies can upload text, images, and videos to the platform. Their sales reps can then use these pieces of content to create their own social media posts and close deals—all from inside the Retortal app. If social is part of your strategy, consider Retortal.
Key direct selling features:
Post Scheduling: Users can schedule posts to any of the social media sites they use. Said posts will then publish at the exact date and time of their choosing.
Region Specificity: Upload text, images, etc. to Retortal. The platform will then analyze every post using these pieces of content to ensure they're region specific.
Quick Links: With Retortal, you won't have to worry about attribution. The direct sales tool automatically inserts each seller's personal links, so they get credit for their sales.
Social Analysis: Which of your reps' posts perform best? The data inside Retortal will help you answer that question. That way, you can do more of what works.
Epixel MLM

Best for: Flexible automation
G2 rating: 4.9 stars / 4 reviews
Epixel MLM is a very powerful direct-selling software. Those who use this solution will gain access to lead generation, team building, sales enablement, commission management, and distributor training tools. There are only two downsides to this program: price and usability. According to our research Epixel MLM pricing starts at $1,900 for basic features. Also, the tool is capable of so many things, it can be difficult for new users to wrap their heads around.
Key direct selling features:
Promotional Tools: Use Epixel MLM to get the word out about the products you and your team sell. Craft landing pages, ad banners, promo videos, and more.
Business Management: With Epixel MLM, users can easily manage a variety of things, from new leads to seller commissions to product inventory.
Performance Metrics: You need actionable insights to steer your direct sales team in the right direction. Epixel MLM gives them to you. Access real-time profitability stats, receive low revenue alerts, and view other important metrics in the dashboard.
Intelligent Automation: Epixel MLM also has a host of automation tools. Build email sequences, manage referral programs, and send employee training on autopilot.
MarketPowerPro
Best for: Supporting Distributors
G2 rating: N/A
MarketPowerPro has been helping MLM businesses since 1987, making it one of the oldest direct sales tools on the market. Helping them with what, you ask? Everything from onboarding new sellers to marketing products and implementing compensation plans.
Key direct selling features:
Replicated Distributor Sites: Allow your distributors to create their own corporate branded websites and present your products in the best possible light.
MLM Compensation Plans: It doesn't matter what compensation plan your company uses—binary, unilevel, stairstep, etc.—MarketPowerPro can support it.
Inventory Management: Always know how much inventory you have on hand. That way, you can order more at the right time and avoid costly out-of-stock scenarios.
Administrator Reports and KPIs: With MarketPowerPro's robust administrator reports, you'll always have a clear view of the metrics and KPIs that matter to you.
Krato Journey
Best for: Gamification
G2 rating: N/A
How do you enable your sellers and/or distributors to sell more? You teach them winning strategies and techniques. There's just one problem: education options are often boring, which means they usually get ignored. Krato Journey solves this problem via gamification, as well as by offering a bunch of other direct sales tools to its customer base.
Key direct selling features:
Game-Based Training: This is where Krato Journey really excels. Use this direct selling software to guide sellers to success using fun activities and rewards.
Communication Options: With Krato Journey, users can communicate with both distributors/sellers and customers via email, social media, and text messages.
Automated Workflows: Speaking of communication, Krato Journey helps users follow up with customers and stay in touch with in-app automation features.
CRM Functionality: While Krato Journey's CRM capabilities don't rival industry heavyweights like Salesforce, it does allow users to organize customer details.
SocialBugCRM
Best for: Augmenting your e-commerce platform
G2 rating: 5 stars / 1 review
SocialBugCRM aims to "extend the functionality of your website to accomplish
specific business processes and tasks that may not be available on your platform." Put simply, this direct sales software gives e-commerce businesses the tools they need to create recurring memberships, run affiliate partner programs, offer customer rewards, and more.
Key direct selling features:
Personalization: With SmartBugCRM, users can customize the look of their company's back office so that it better reflects their brand.
Integrations: SmartBugCRM also connects with top tools like WordPress, BigCommerce, WooCommerce, Shopify, SquareUp, PayPal, and others.
Live Support: Lastly, SmartBugCRM has developers on hand to help you get up and running with the program in as little time as possible.
Direct Sidekick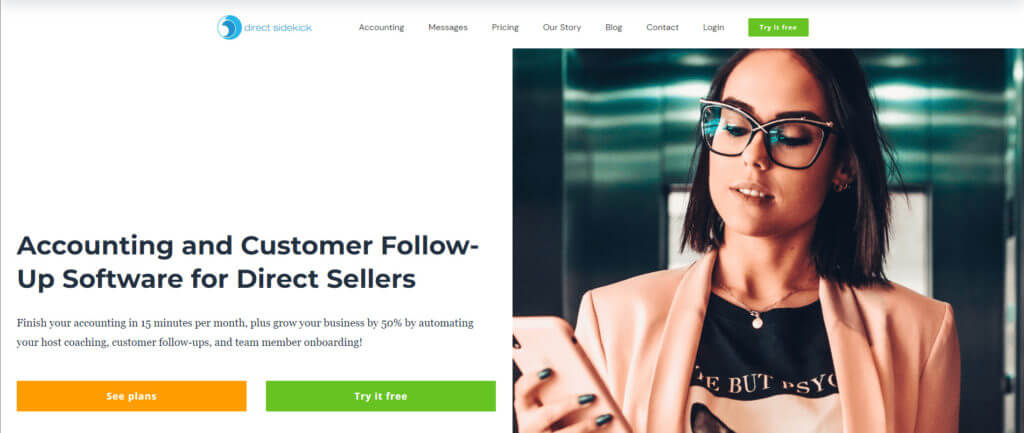 Best for: Streamlined accounting
G2 rating: N/A
Direct Sidekick is a unique direct sales software. Why? The platform focuses on accounting tools for direct sales professionals. In fact, its website claims that it can help users finish their accounting in just 15 minutes a month. We won't lie, that's incredibly enticing.
Key direct selling features:
Accounting: With Direct Sidekick, users can connect multiple bank accounts, automatically track and categorize company expenses, manage inventory, invoice customers, and even accept payments via Square.
Messaging: Accounting tools are great, but you need to do a lot more than balance the books if you want to succeed in direct sales. Direct Sidekick offers messaging features, too. Automate email drip campaigns, send unlimited 1:1 emails, etc.
S4DS

Best for: Direct sales workflows
G2 rating: N/A
S4DS is another top-level direct sales software. The platform includes four modules, which help users with e-commerce, web management, employee relations, and company operations. If you want to simplify your workflows and boost sales, take a look at S4DS.
Key direct selling features:
CRM: S4DS includes a powerful CRM for network marketers. Use it to manage your network, store frequently asked questions, track returns, and more.
Replicated Sites: S4DS also allows users to create replicated sites for their sales force. Sellers can then customize their sites to help generate more sales.
Party Plan Management: This is one of S4DS's top features because it enables users to manage events with their reps/distributors/consultants, then track the sales that said events help generate. Everything is easily controlled from the dashboard.
Which Direct Sales Software Is Right For Your Business?
Direct selling software will help you generate quality leads, market your products, and manage your customers effectively. Some will even help you track inventory.
The trick is finding the right direct sales tools for your needs. So, before you sign up for a free trial, spend a week or more testing a specific platform, and then spend your hard-earned money on a tool, take a moment to decide what you actually need your app to do.
If you and/or your team rely on social media to close deals, for example, you should definitely consider an app like Retortal, which will make the entire process more convenient.
But if in-person meetings are more your cup of tea, you can't go wrong with SPOTIO.
Why? Because SPOTIO was specifically designed for field sales teams, who spend their time traveling to prospects and meeting with them face-to-face. Because of this, SPOTIO has all of the lead gen, appointment setting, communication, rep tracking, and reporting tools you need.
Sign up for a free demo of SPOTIO today to see if it can meet all of your direct sales needs.