Business to business (B2B) prospecting is the pillar of lead generation. When prospecting for new business, the goal is to identifyas many quality prospects as possible. However, this B2B sales prospecting strategy is not as easy as it sounds and is often an area of opportunity for B2B sales forces.
According to Technology Advice, 70 percent of marketers at B2B companies reported that "improving lead quality" was the primary concern. Also, 54 percent said getting more leads was a top objective as well.
When it comes to prospecting, B2B companies face a quality and quantity problem.
In this B2B prospecting guide we'll cover:
What is B2B Sales Prospecting?
B2B sales prospecting is the process of evaluating leads and prospective customers as potential sources of new business. Prospecting requires research, shrewd timing, and exemplary communication skills.
Leads vs. Prospects
The terms "leads" and "prospects" are often used interchangeably. However, they are not the same.
So, what is the difference between a prospect and a lead?
Leads: Potential customers that have shown interest in your product or service – visited your website, subscribed to a blog, or downloaded a gated resource, for example.
Prospects: A lead that fits the profile of your target customer. A prospect is someone whose company could benefit from your product or service and has the authority to purchase it.
The B2B Buyer Journey
The B2B buying experience has changed. This is why you may need to adjust your B2B prospecting process.
Today, there are buying teams rather than one decision maker for a company. The average number of decision makers involved in evaluating and making purchases has risen to 6.8. 
The consumer mindset is also changing. Price used to be the primary concern, but now there is also a value mindset. When prospecting for new customers, sales teams need to consider these changes and adapt their prospecting strategies accordingly. The traditional prospecting strategy works but is not comprehensive enough to work in all situations. In other words, "smiling and dialing" is useful, but it should not be your only B2B prospecting strategy.
Top B2B Prospecting Challenges
B2B sales prospecting is crucial to any organization. However, there is a significant problem most B2B companies face: Sales professionals hate it.
HubSpot found that 42 percent of sales professionals say it is the most challenging part of the sales process.
However, the dread might be based on misconception. Let's take a look at a few of the top myths about outbound prospecting.
7 Prospecting Myths — Debunked by Data
Myth #1: Cold Calling is Dead
This claim isn't valid. In its survey of 488 buyers and 489 sellers, the RAIN Group Center for Sales research found that 54% of the buyers agreed to their most recent meeting based on a phone call from the seller.
Myth #2: Scripts Are Too Impersonal
Some salespeople don't like scripts because they think the pre-written lines get in the way of natural rapport building, but a proper script will not interfere with your ability to make a connection with a prospect. Instead, it will help you focus on the right questions to ask for getting to know your potential customer. It will also help you deliver your sales pitch with confidence.
Myth #3: Prospecting Takes a Lot of Time
Prospecting is a piece of the sales process that takes time, but not as much time if you have a system and the right tools and technology in place. For example, a tool like SPOTIO will help you focus on the best targets that match your customer profile.
Myth #4: Buyers Hate Speaking to Sales Reps
Buyers do not hate talking to salespeople. In fact, the RAIN study found:
71% of buyers said they want to talk to sellers early in the sales process
62% of buyers take meetings to discuss solutions with sellers
Myth #5: Buyers Don't Want to Hear About Your Product Features
Buyers do want to hear about product features. Sales Hacker found 67% of buyers said that product descriptions influenced their decision to take a meeting.
Myth #6: Prospecting is a numbers game.

This myth could have substance if you are working with unqualified leads. However, if you have qualified leads, you will move many more of them along the pipeline. The lesson here is that quality matters more than quantity.
Myth #7: The Gatekeeper is the Enemy
Sure, the gatekeeper sometimes blocks your way. However, they're also your potential ally when prospecting. Not only will the gatekeeper give you access, but they also help you position yourself for success.
8-Step B2B Prospecting System
In many ways, the sales process is a race against the clock. A salesperson must make the most of their time in order to hit their numbers for new leads by the end of the month, quarter, or year. Yet 50% of sales time is wasted on unproductive prospecting.
To maximize your time, here is our 8-Step B2B Prospecting System:
Research: It is vital to know as much as possible as you can about prospects and target companies.
Qualify: In this step, you want to know if the prospect is ready, willing, and able to purchase.
Prioritize: Based on your qualifying step, you should divide sales prospects into high, medium, and low priority segments within your lead management system.
Prep Outreach: When you qualify, you will have identified some of your prospect's top pain points. Match these up with the prospect to enable personalization and foster engagement from the first contact.
First Touch: It is time to make contact. The goal is to build rapport.
Follow-up: This step can be under-appreciated. However, when you do what you said you would do in the first touch, you begin to build trust — an essential ingredient to closing the deal and developing relationships.
Track: Keeping records of what works and what doesn't helps you streamline your process and focus efforts on actions that yield results.
Learn: When reviewing your results, Sales Hacker says you should ask yourself the following five questions:
What led to the prospect saying no?
What features got the prospect to go with the competition?
Which part of your process has areas of opportunities?
Is there potential for a relationship later with this prospect?
Did they have a referral for you?
Once you have identified a system that works, document it and systemize it for future prospecting strategy efforts.
B2B Prospecting Methods That Will Fill Your Pipeline

Let's explore the different ways you can approach B2B prospecting.
1. Door-to-Door
Also called canvassing, this method involves visiting a prospect and introducing yourself in person. Many times, door-to-door canvassing takes place in a geographic area or an office park. It can be useful because of the personal connection a face-to-face meeting can inspire.
For more information, check out this comprehensive door-to-door sales guide.  
2. Cold Calling
Cold calling is when you call a person you have not met to determine if they have any interest or need in your product or service. It's effective because you have direct contact with the prospect and can get immediate feedback. Plus, it can help create a personal connection.
3. Social Selling
Social selling uses social media to connect with potential customers. It can mean prospecting with connections on LinkedIn, Twitter, Facebook, or other social platforms.
4. Cold Emailing
Like cold calling, cold emailing is when you email a person you don't have a relationship with to determine whether they are a suitable prospect. With specific targeting and a particular message, you send emails to potential prospects to see if they respond and often bypass gatekeepers.
In addition, cold emailing gives the recipient an opportunity to get back to you when they have time. Here are some cold email templates to help you get started.
5. Warm Emailing
When the recipient has interacted with your company in some way, they are considered a warm lead. An example of a warm email is a follow up from a web inquiry or after an in-person interaction at a trade show or conference. You can manage this process with email templates and drip campaigns.
6. Conferences or Events
Meeting people at industry events is an excellent way to find leads for your sales funnel. The secret to this method is to socialize and network with people.
Events are most useful for B2B prospecting when the attendees of the conference also match the target customer profile for your organization, e.g., the meeting is for dentists who want additional training for running their private practice, and you have a practice management software platform for dentists.
7. Direct Mail
From letters in an envelope to postcards and automated mailers, using the USPS can provide an excellent channel for your B2B prospecting strategy.
Unlike cluttered online channels, direct mail stands out and catches the prospect's eye, which can lead to a warmer first conversation.
8. Referrals
A referral is a lead received from someone you know or have called upon. An excellent referral source is your current customer base. Ask customers whether they have any associates that would be interested in your product or services.
8 Powerful B2B Prospecting Tools
SPOTIO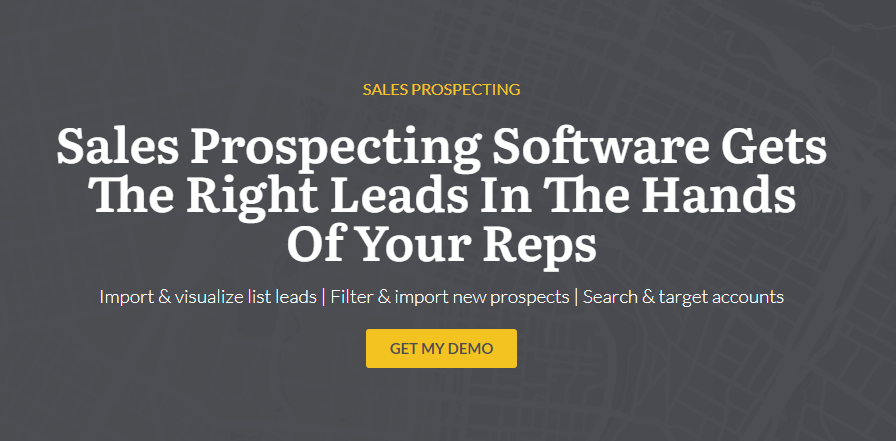 SPOTIO's Sales Prospecting Software helps you identify which prospects have the best chances of closing so you can spend the most time working the best opportunities. With SPOTIO Lead Machine, sales reps can generate a lead list by territory and access prospect data while in the field, and with calendar integration and appointment setting features, reps can easily schedule appointments for themselves or their associates.
How to use it:
Visually organize prospect data in a map view — Reps can sort and filter color-coded pins by customer pipeline stage, last visit, number of visits, and other data.
Push field notes to your CRM — SPOTIO's CRM integration lets reps add notes via mobile that automatically update prospect records in your CRM.
Map your routes — Increase day-to-day efficiency with a mapping feature that optimizes your routes.
Share digital business cards — Make sure prospects know how to reach you. Share your contact information via text, email, or QR code, using SPOTIO's Digital Business Card.
Salesforce CRM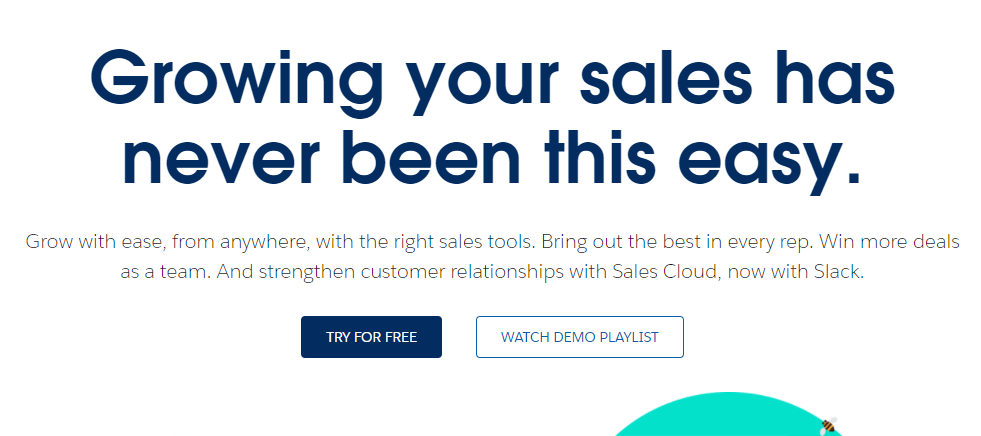 Salesforce is a scalable sales and service solution with numerous benefits for sales teams engaged in B2B prospecting. And with SPOTIO, teams can make even better use of this platform, thanks to SPOTIO's bi-directional integration.
How to use it: Salesforce is at its heart a CRM that records all the data about interactions with your customers and can provide a snapshot of what's going on in your business. With SPOTIO's integration, any activities created in SPOTIO automatically generate tasks in Salesforce, and you can configure which fields you want to sync across both platforms.
LinkedIn Sales Navigator
LinkedIn Sales Navigator makes social selling easy with sales tools that focus on helping you find the right prospects to build trusted relationships. Scale your social selling and start putting your sales' team network to work.
How to use it: The search features help you find the contact you need at the companies that are most relevant to your interest. The lead recommendation feature will give you suggestions for companies to pursue. The Customer Relationship Management (CRM feature) automatically saves your activity. The reporting features help you manage your sales funnel.
SellHack
Sellhack is designed to find prospects, build lists for leads, confirm correct email address and work with Salesforce CRM.
How to use it: You build your list and then use their email verification software to send cold emails and follow-ups automatically. There is also a drip-marketing feature that stays in contact with potential prospects over time.
Hunter.io
Hunter.io is an email finder that helps find any email address for a potential customer.
If you're looking for an alternative to Hunter, you should check out UpLead's email finder.
How to use it: You enter the name and company of the contact's email you are hoping to find, and it will tell you. The tool can also find email addresses in bulk.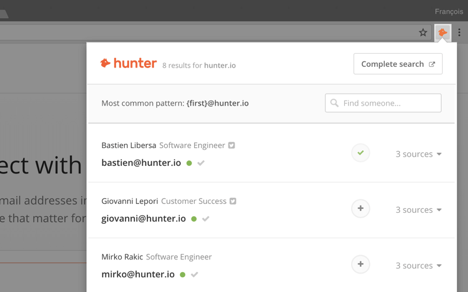 Datanyze
Datanyze calls themselves the leader in technographics, which identifies and segments potential customers into market segments based on demographics, psychographics, and lifestyles for that group.
How to use it: Basically, it will alert you if any of your potential target customers are preparing to make a technology-based purchase by monitoring activity on mobile and web.
Nerdy Data
NerdyData.com give you lists of your competitor's clients by searching 65 million websites for a software or a source code.
How to use it: Use the results to give your team a list of target accounts, to advertise through platforms with a specific message against your competitor, ascertain market share for you and your competitors, and find websites that are using software when they should not be.
4 Metrics to Measure Prospecting Performance
Analyzing performance is critical for success in B2B sales prospecting. You need to know what's working, and perhaps more importantly, what isn't. Here are four essential metrics around prospecting for leads that you should measure frequently.
Prospects.How many are you getting and how long does it take? You need these numbers as the baseline for the next two metrics, and also to ensure that you're getting sufficient opportunities quickly enough to fill that sales funnel.
Activities. Do you know how many activities it takes to get a prospect on the hook? You will not generate any new prospects if you don't consistently execute a set number of sales activities each day, week and month.
Response Rate. How many of your contacts elicit action from the prospect? You determine your response rate by dividing the number of people who reply by the total number of people you contacted. When you have a response rate, you can see which tactics get the best response and whether you need to reevaluate how you target prospects.
Prospect-to-SQL Ratio. How many of your prospects become sales-qualified leads (SQL)? Like a response rate, you divide the number of SQL by the total number of prospects you contacted. If you find that you have a low SQL ratio, you will likely need to reexamine how you qualify leads.
Find High-Quality B2B Sales Prospects
When it comes to how to prospect for sales, you have many channels and tools at your disposal. B2B sales prospects have ways they like to be contacted, namely email, direct mail, and phone calls. However, social selling and content marketing are highly effective as well.
The B2B prospecting tools we shared today can help streamline your efficiency and maximize your results. Combined with SPOTIO's field sales capabilities, these prospecting techniques can improve your SQL ratio and keep the pipeline full.
______
SPOTIO is the #1 field sales engagement software designed specifically for outside sales managers and reps to squeeze every drop out of their field sales efforts.
Want to see a product demonstration? Click here to see how SPOTIO can take your sales game to the next level.
---
Sources:
Peterson, Aleks. "The Hottest B2B Prospecting Strategies for 2016." Technologyadvice.com. 12 February 2016. Web. 17 December 2018. https://technologyadvice.com/blog/marketing/the-hottest-b2b-prospecting-strategies-for-2016/
Altschuler, Max. "8 Updated B2B Sales Prospecting Strategies to Think About Now Before You Start Another Quarter." Saleshacker.com. 27 March 2018. Web. 17 December 2018. https://www.saleshacker.com/b2b-sales-prospecting/.
Davies, Cambria. "The Ultimate Guide to Sales Prospecting: Tips, Techniques, & Tools to Succeed." Blog.hubspot.com 15 May 2018. Web. 17 December 2018. https://blog.hubspot.com/sales/prospecting
Elledge, Shawn. "Why B2B Sales Prospecting is So Damn Difficult—and How to Make it Easier." Broadsuite.com. 31 July 2017. Web. 17 December 2018. < https://broadsuite.com/why-b2b-sales-prospecting-is-so-damn-difficult-and-how-to-make-it-easier/>.
"Is 2017 the Year of Value Selling?" avitage.wittyparrot.com. Web. 17 December 2018. < https://avitage.wittyparrot.com/witlink/e18836b8-315d-489f-8dc6-962f2294a9c9/view>.
Levey, Steven. "Have You Adjusted to These Three Changes in The B2B Buying Process?" www.forbes.com. 22 May 2018. Web. 17 December 2018. < https://www.forbes.com/sites/forbesagencycouncil/2018/05/22/have-you-adjusted-to-these-three-changes-in-the-b2b-buying-process/#2d1fecffc445>.
Mehring, Jessica. "What is the Modern B2B Buying Process?" Snapapp.com. 11 July 2017. Web. 17 December 2018. < https://www.snapapp.com/blog/modern-b2b-buying-process/>.
"Part of the sales process reps struggle with." Research.hubspot.com. 7 February 2016. Web. 17 December 2018. < https://research.hubspot.com/charts/part-of-the-sales-process-reps-struggle-with>.
Stancu, Livia. "Sales Prospecting Myths Busted." Blog.insidesales.com. 5 February 2018. Web. 18 December 2018. < https://blog.insidesales.com/prospecting/myths-about-sales-prospecting/>.
"5 Sales Prospecting Myths Debunked." Pipedrive.com. Web. 18 December 2018. < https://www.pipedrive.com/en/blog/sales-prospecting-myths>.
March, Andrew. "10 Myths About Prospecting." Naturaltraining.com. 19 March 2015. Web. 18 December 2018. < https://www.naturaltraining.com/about/natural-difference/?doing_wp_cron=1545170583.5641059875488281250000>.
Schultz, Mike. "The Top Prospecting Methods (According to Your Buyers)." www.salesforce.com. Web. 18 December 2018.
"Sales Prospecting: A Comprehensive Guide." Blog.klenty.com. 15 October 2018. Web. 20 December 2018. https://blog.klenty.com/sales-prospecting/.