What's in Your Sales Stack? What Should Be?
Sales are not made with tools. Sales are made through the process used by the sales team and enhanced by the tools. A sound and successful sales process has easy-to-identify steps and easy-to-replicate tactics. A successful sales professional will look for ways to scale the process to maximize the yield and help hit the sales numbers with consistency and efficiency.
But how do you scale a sales process? And what tools are needed to maximize its performance?
The answers are in what is called a sales stack or a sales technology stack. This article explores what a sales stack is, what areas it should help you address, and how to build one that works for you.
We also look at how different sales roles need different functions in their sales stacks. Finally, we explore what technology options are available to choose from for your sales stack that will help you hit your sales goals month after month.
What is a Sales Stack?
A sales stack is a set of technology tools that sales professionals use to get the from prospecting to close. These technology platforms can be from different companies, can address separate parts of the sales process, and often integrate to work with the features of the other. Many, if not all, are shared in the cloud.
Sales stacks should increase productivity for sales professionals, provide pertinent details, and automate manual (and tedious) tasks.
Sales reps use sales stacks to manage their pipeline and shorten the sales cycle. Sales managers use it to manage the individuals on the team and improve the accuracy of the monthly revenue predictions.
Things to Consider When Building a Sales Stack
The first thing you need before building a sales stack is a deep understanding of your organization's sales process and timeline. If you take a look at your sales pipeline first, you will have a good idea of what sales process you use at your organization.

Before you start, some questions to consider:

How many deals on average are in the pipeline per any given timeframe (e.g., daily, weekly, monthly, etc.)?

What is the deal size on average for those leads in the pipeline?
At what stage in the sales process (from lead to closes) are each of the deals in the pipeline for any given timeframe?
How long does your sales cycle take on average from start to finish?
The idea behind this exercise is to have an understanding of your sale process, as well as how well-stocked your pipeline is. Gaining this insight can expose areas of your sales process where holes or hold-ups exist, so that you can fix them.
This quick video from SalesHacker explains some other important considerations before building a modern sales stack:
Designing Your Sales Technology Stack
When designing, you need to address three critical areas of the sales stack, what we call the three pillars. The three pillars are prospecting, enablement, and optimization.
Forget to address them, and you might have wasted a lot of money on something that is not going to perform the way you would like.  
Prospecting
Getting new leads in the pipeline is vital to keeping the sales process moving. However, it takes a significant amount of time and energy to find and qualify new leads. A sales stack should enable faster and more efficient prospecting than what you have now.
Enablement
Providing sales with the proper information and tools to sell more effectively is essential to the sales success. Your sales stack should include a resource (such as that collects and organizes pertinent data to support the sales team throughout the selling cycle.
Optimization
Sales performance needs a system to be successful in the short and long-term. Enhancing how a team can deploy the tools they have at their disposal is foundational to a sales system, especially when you are trying to scale it. Your technology should help you augment their sales process for efficiency and effectiveness.
This is accomplished by with tools that help your reps plan routes, help managers manage reps, and the ability for executives to easily view performance metrics on a per rep basis.
Not All Sales Stacks Are Created Equal.
Different sales roles require different sales stacks. For example, the salesperson and the sales manager have different goals. Therefore, each of their the sales stacks will have different components.
A reps sales technology stack should include tools that address the stages of the sales pipeline, from generating leads, to presenting, and finally to closing. A sales manager's sales stack, on the other hand, should address coaching and tracking sales team members, analytics, and projections and reporting tasks.
Furthermore, what works for one organization might not work for yours. For example, some companies have inbound sales, so they want a sales stack that prioritizes leads and manages the call center employees. But a company with more outbound sales might invest in technology that helps with outreach and data capture.
Below we'll look at the most important tools for each type of sales roles across each of the three pillars we identified.
A Winning Sales Stack for Reps
Prospecting:
SPOTIO Lead Machine: SPOTIO has Lead Machine, a feature that streamlines canvassing by using the latest demographic data to identify the most qualified prospects in a given area.
Draw an area on the map
Enter in the targeted customer details
Focus on the most qualified prospects to identify leads for the pipeline instead of wasting time with those who are not likely to be interested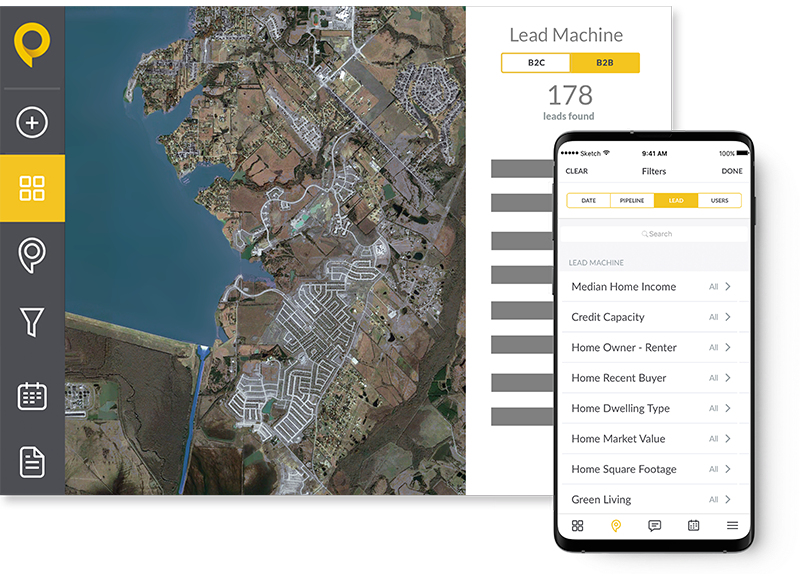 LinkedIn Sales Navigator: LinkedIn is an excellent resource for prospecting. Not only does their Sales Navigator product have useful search capabilities, but it can also provide current data on titles and responsibilities.
100-mile maximum search radius from within a postal code

1000 profiles shown per search

15 saved search alerts per week

Unlimited number of saved searches

Unlimited number of saved accounts

Unlimited number of lead recommendations

Access to the Sales Navigator app

Access to Advanced search filters
Datanyze Easy Export: Datanyze's prospecting tool has many useful features, but one of our favorites is the Easy Export feature that organizes contacts into lists that it can then push to your Customer Relationship Management (CRM) software or another tool.
ZoomInfo: ZoomInfo is a market intelligence platform that uses their data to connect sales reps with the decision-maker at any organization. PersistIQ also likes them for their consistently high-quality leads. Weappreciate how you can segment your database to customize targeted campaigns that speak directly to the prospects' needs.
Zoominfo's continuously updated database enables sales teams to improve sales prospecting efforts with access to direct phone numbers, email addresses, and background information.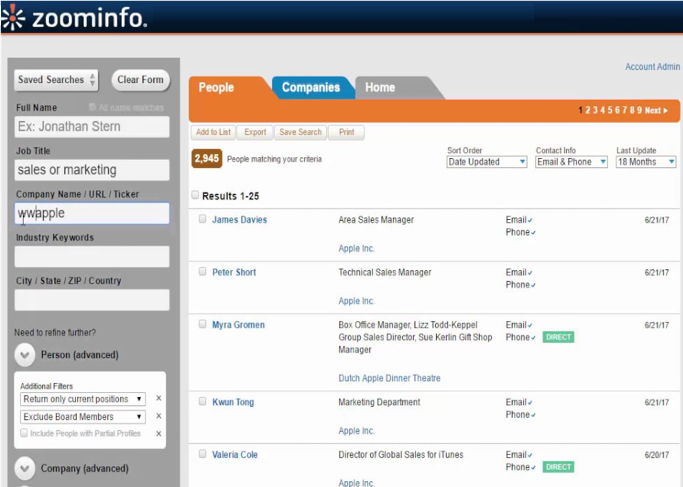 Enablement
:
SPOTIO Lead Management Software: SPOTIO's lead management Customer Relationship Management (CRM) software will get you focused on the right sales activities with instant access to critical sales critical data and clear funnel visibility.
With Lead Management, you will:
Stay organized 

Focus on the true needs of prospects

Save time

Ensure you're working the right territory

Increase sales
Salesforce: When it comes to providing your sales team with proper information for their sales cycle, you need a multi-function CRM like Salesforce. A multitude of functions are available with the Salesforce CRM.
Features and functions around:
Opportunity Tracking

Marketing Campaigns

File Collaboration

Analytics and Forecasting

Email and Calendar Integration
Calendly: Calendly improves efficiency with scheduling meetings. First, you set up your availability then you share your link with the prospect. The prospect picks the time that works for them from the times provided, saving both the sales rep and the lead all the back and forth emailing to set up a meeting. It also integrates with many other tools, making it an easy add-on to an existing sales stack system.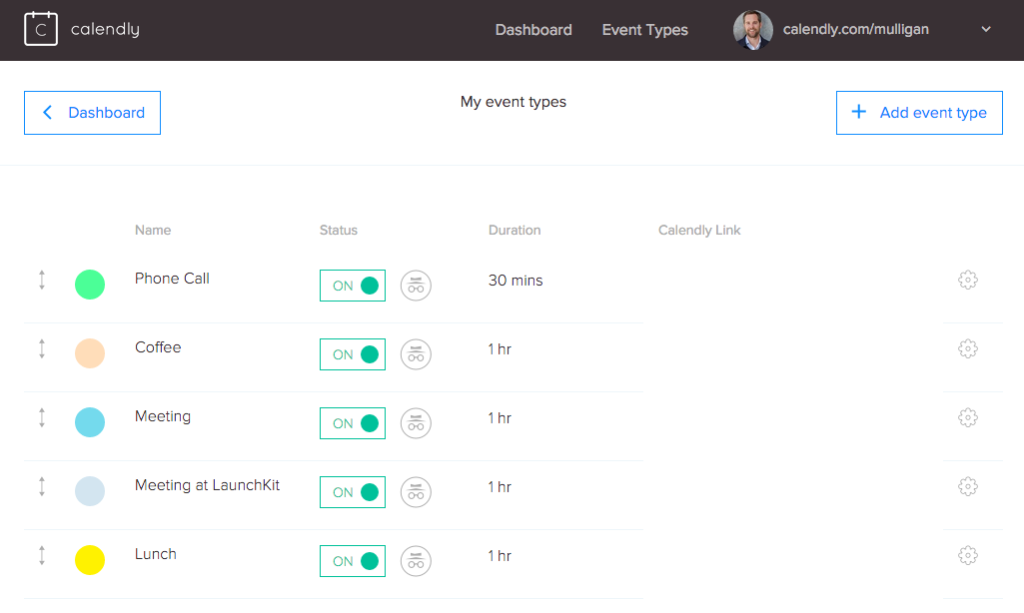 Zoom.us: Online demos and presentations are an excellent way to optimize selling time for a rep, mainly when face-to-face meetings are mixed in as well. Zoom.us is an excellent tool for sales reps to use because the basic version of it is free and it is easy to use. In particular, we like the one-click HD share screen feature because it is easy to navigate.
PandaDoc: Simplify how you collaborate on sales documents and presentations with PandaDoc. Not only can it build documents online, but it also features pre-approved templates to help you save time creating presentations. It also works with your existing CRM, as well as your storage and payment solutions to help consolidate your sales stack. Plus, we like how they encrypt their site to protect intellectual property.
Features include:
Configure, price, quote (CPQ)

Cost & margin calculation

Payments

Multiple workspaces

Role and user management

Document analytics

Template embedding
Optimization
:
HelloSign: HelloSign, an eSignature platform, allows you to get the contracts signed in real-time. It also can integrate with Apps with its API integration and has an online fax solution for organizations that need them.
SPOTIO's Route Optimization Feature: With our customer mapping software, you can improve your efficiency and territory contact coverage to maximize your selling time. We use basic location data to show you on a map where you desired territory is. It eliminates the wasted time going to places where your customers aren't, which then enables more time for face-to-face interactions and relationship building.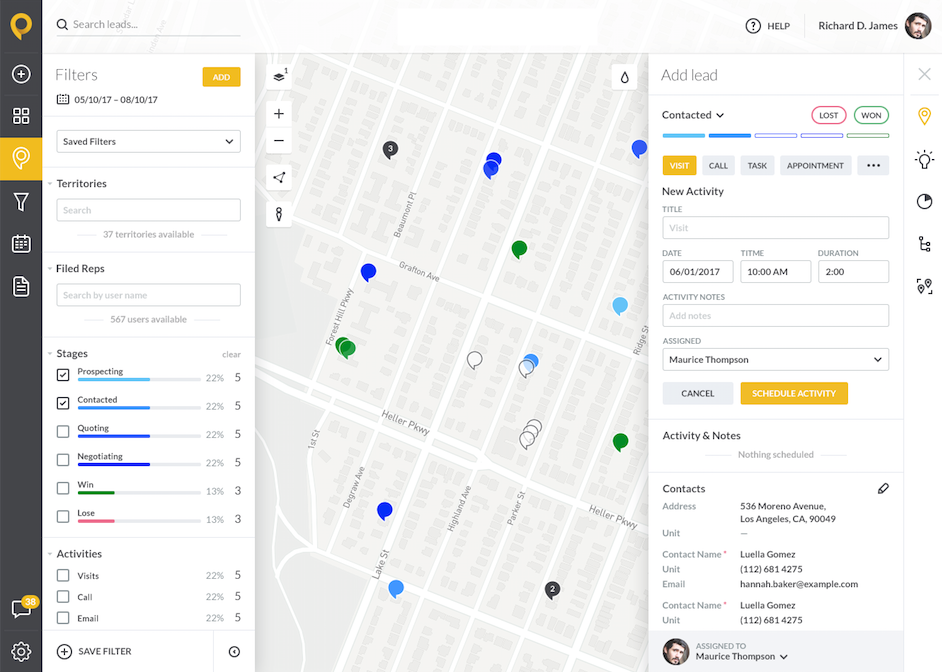 ringDNA: RingDNA is an inbound and outbound voice solution that helps with customer contacts. It has all the features that help sales reps maximize their time, like automated email and call logging, and it features local presence dialing, presenting a local number for the area you are calling. It also helps inbound sales by letting inside sales reps know who is calling and what campaign they are responding to with its incoming call tracking function.
Plus, the ability to leave pre-recorded voicemails saves reps tons of time in a week.
A Winning Sales Stack for Managers
Prospecting
:
GrowthList: GrowthList provides a shortcut to contacting thousands of B2B tech companies with your sales opportunities via the "hand-researched database" they maintain. One thing we like best about growth list is how the data can come in .csv or .xlsx formats so you can import the companies and their contacts into your CRM and efficiently distribute to your sales reps.
Connect with prospects on the various social media sites like LinkedIn and Twitter
A playbook feature to automate emails, calls and customizable follow up tasks to engage with prospects and move them to the next step
Stats so you can see what is working and what is not, so you can improve the strategy as you go.
SPOTIO's Data Importing: SPOTIO's data tool imports .CSV files, as well as marketing materials, sales scripts, necessary certificates, and more. It drops PINS and maps the locations as well. The organization tools here will help kick off the sales process faster.
Enablement
:
Charlie App: Your team needs to sell, not to research. Charlie App automatically investigates a prospect for you using 1000s of sources so you can support your team with the data needed to turn a cold call into a warm call.
Also, the data collected by the app can aid personalization campaigns to your other automated contact systems. We like how you a can have Charlie App's Detective to look for distinctive data about your accounts so you can target a group with a particular offer.
Data targeting around:
Real-time messaging/alerts


Contact data accuracy




Company profiles




Personal profiles




Industry research




Lead builder




Data segmentation




Data cleanse




CRM integration
SPOTIO's Territory Management Software: SPOTIO's Territory Management Software helps create strategic door-to-door territories, whether it's a particular zip code or a few specific streets in a neighborhood. The software also provides historical data, so reps are informed of what happened the last time they passed through the area.
Between the precise direction, the data collected, and the targeted area of focus, the Territory Management Software streamlines the sales process for a team and allows for more time selling and less time looking for someone to sell.
ringDNA: RingDNA has many great features for sales managers. You can monitor live calls or review recorded calls for any member of your team. You can see call analytics with talk times by rep or call duration distributions, to name a couple. One feature we like is how you can give the supervisor notes right on the call, so your team has immediate feedback and coaching.
Optimization
:
Salesforce: Salesforce is a CRM that is also great for sales managers. Salesforce works with your data to keep track of individual reps' sales by day, week, month, or year. If can also give you an overview of any rep's pipeline and how they use it to close sales, which opens opportunities for accolades or coaching. The dashboard tools are also useful to help you manage your revenue forecasts, reporting and more.
SPOTIO Sales Rep Tracking: Improve the sales, accountability and productivity of your field sales team by tracking them with SPOTIO, the ground-breaking app for field sales reps. Improve the sales, accountability and productivity of your field sales team by tracking them with SPOTIO, the ground-breaking app for field sales reps.
Klarifi: Klarifi is a visual communication platform that helps your team understand high-level concepts but then drill-down to the vital points for them. Based on the idea that people are visual and tactile learners, Klarifi allows you to use graphic, words, and direction to communicate ideas. You can use it to talk, and prepare and present proposals. We like how the Klarifi interface facilitates training in groups accessible from mobile, laptop or tablet.
All Sales Stacks Are Not Created Equal, But They Can Equal Success If Done Right
A sales stack is a collection of tools that make a sales professionals' process more efficient and effective. It helps you address the three main pillars of outside sales, from prospecting to enablement to optimization.
Like different organizations have different components of technology in their sales stack, sales managers and salespeople have different needs to address as well. While sales reps favor ways to manage territories, and automate repetitive (and mundane) tasks, sales managers need technology that helps them report accurately and coach team members.
Many of the tools that work for one part of the sales organization also have applications that work for the other. Other tools have more specific focuses and can provide niche expertise that improves the efficiency and performance of a particular sales task.
A sales stack is not magic. It cannot fix a broken sales process. It can, however, streamline moments in the sales cycle for the benefit of your organization's—as well as your—bottom line.
____
Questions or comments? Contact SPOTIO at [email protected] or comment below.
SPOTIO is the #1 field sales enablement platform designed specifically for outside sales managers and reps to squeeze every drop out of their field sales efforts.
Want to see a product demonstration? Click here to see how SPOTIO can take your sales game to the next level.