Success in sales is all about process. Develop a winning process and optimize it to perfection and your team will close more deals, drive more revenue, and exceed all expectations.
Easier said than done, we know, which is why we want to take a few minutes to talk about sales management software. Keep reading to learn what this software does, why it's beneficial, specific features to look for, and the best sales management software available.
What is Sales Management?
Sales management is the process of managing a sales department.
This includes setting proper objectives; hiring, training, and motivating sales reps; and analyzing data to pinpoint effective strategies, while weeding out poor performing ones.
Without a proper sales management system in place (and the right piece of software to facilitate it), you'll find it difficult to keep your sales department focused, hit and exceed revenue goals, and grow your company.
What Is Sales Team Management Software?
Sales team management software is a system that enables sales managers to guide their reps, boost productivity, and accurately track and report on sales activity and performance. Sales management systems provide greater transparency in the field, and open up powerful new coaching opportunities.
Benefits of Sales Management Systems
Sales management is crucial, which means the right sales management system is essential to your department's success. Here are five benefits you'll experience when you invest in this tool:
1. Time Savings
The best sales management software makes it easy to organize and keep track of customer data. That way you (or a colleague) can access it quickly when needed.
More than that, quality sales team software often visualizes key data points into simple-to-digest charts and graphs. This functionality makes it easy to understand key metrics at a glance and helps guard against costly misinterpretations.
2. Better Teamwork
When your sales data is stored in a central location, multiple people within your company will be able to access and benefit from it in real time.
Imagine how much smoother your operations will be when marketing can add details to prospect profiles based on recent campaigns, then sales reps in your department can use said details to close a deal. Months later, Support will access the same customers file in your sales management solution to learn about their purchase history and how to best serve them.
This is just one example of how sales management software can improve teamwork within your organization—even when said team members work in different departments.
3. Automated Workflows
Did you know that the average sales rep spends less than 36% of their time selling? The rest of their on-the-clock hours are spent on non-revenue-producing tasks like admin work.
Fortunately, the best sales management software can help in this area, too.
By building automated workflows, your sales reps can reduce the amount of time they spend inputting data, sending follow-up emails, and other tedious tasks. This will give them more time to talk with customers, build relationships, and close deals.
4. Real-Time Data
Data is the lifeblood of your sales department. Without it, you won't know what's working, what isn't, and how to adjust your strategies for more success.
Proper sales team management software ensures customer details are always up-to-date, thus allowing you to become more effective. Think about it: when your reps have real-time data at their disposal, they can prioritize their time to focus on the most buy-ready leads.
5. More Sales
What's the main reason you should invest in sales management software? It will help you generate more sales, plain and simple.
Use one of these tools to oversee your sales reps, pinpoint and double down on winning strategies, track your revenue goals, and otherwise optimize your sales process. When your team is organized, focused, and supported by data, the sales will come, guaranteed.
Key Features to Look For in a Sales Management Platform
Sales management software sounds pretty great, right? But how do you choose between the different options available to you? You start by making sure your tool has these five features:
1. Prospect Management
The best sales team software will help you organize prospect information such as their names and locations, occupations and titles, and previous interactions with your company. It will also give you the ability to track where each lead is in your pipeline.
These are vital details that your reps need access to at all times. The right sales management software gives them this access and a whole lot more, as we'll see below.
2. Track Sales Activity and Performance
How do your reps spend time in the field? As a sales manager, you need to be able to answer this question.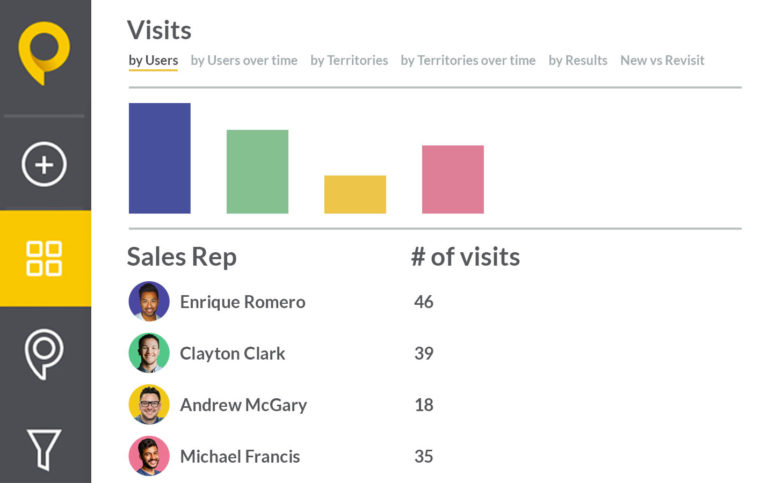 Sales tracking software provides visibility into what activities – calls, emails, on-site visits etc – reps are completing on a day-to-day basis, as well as progress towards top-level sales targets. This level of insight is critical in determining whether rep performance can be attributed to a level of effort or inadequate training.
3. Automate sales processes
Most reps are bogged down by a mountain of administrative tasks. These tasks, while important, limit sellers' ability to do what they do best: close deals. Because of this, you'll want to choose a sales management software that includes automation capabilities.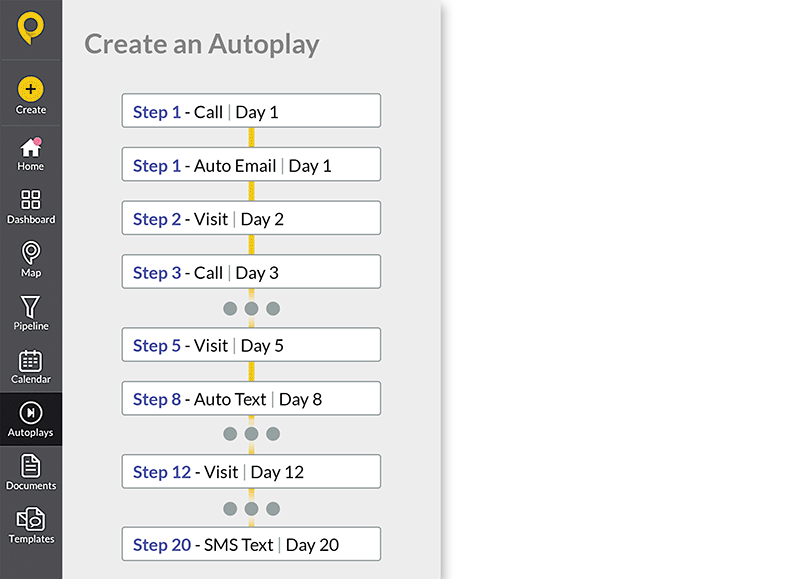 Invest in a solution that enables reps to automatically log visits, capture prospect details, schedule follow up emails, texts, call reminders, and integrates with your CRM and other tools in the sales stack.
4. Analytics Dashboard
Not all sales reporting is created equal. Different organizations need visibility into different activity and performance-based metrics. That's why it's important to invest in a sales team management system that enables managers to create custom reporting dashboards that capture only the most vital KPIs for different stakeholders in the company.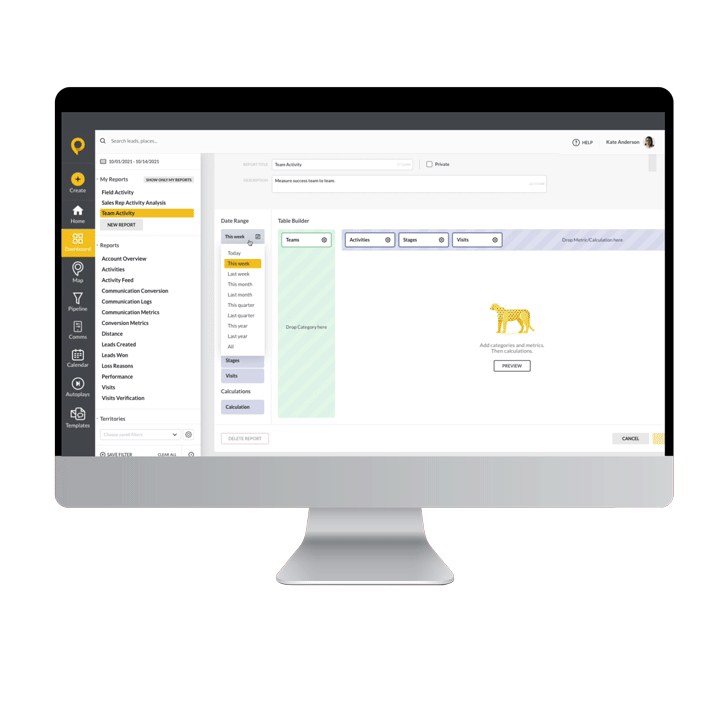 11 Best Sales Management Software
Now that we know what sales management is, its benefits, and some specific features to look for in this kind of software, let's talk about a few of the options available to you. Below you'll find the 11 best sales management software tools on the market in 2023.
1. SPOTIO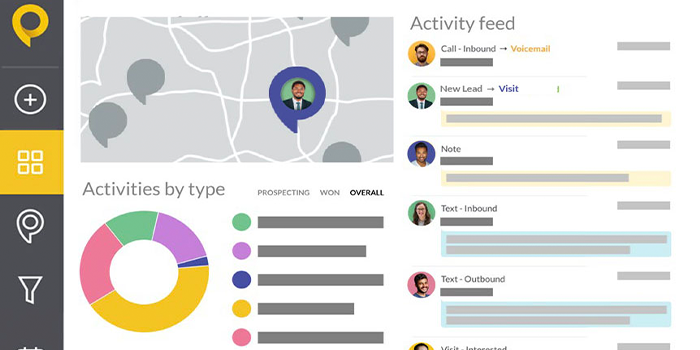 Best for: Field sales teams. SPOTIO is ranked #1 in the Field Sales category, and was a 2023 G2 Best Software Winner.
When it comes to sales management software for field sales teams, you can't go wrong with SPOTIO. Our industry-leading platform includes task automation, document management, and sales routing features that have been proven to boost field sales revenue by up to 23%.
Key Sales Management Features:
CRM Mapping: Outside Sales teams need to visually organize customer and prospect data on a map to easily to see and organize current deals and find new deals faster. With SPOTIO, you can import your existing sales data, quickly search through Google Maps, and seamlessly sync back to your CRM without lifting a finger.
Activity Management: Do you know how many visits have your field reps made this week? How about calls made, emails sent, or SMS messages texted? SPOTIO tracks all of these details so that you can properly evaluate your reps' performance and provide additional coaching, where needed.
Autoplays: SPOTIO isn't just for sales managers. Field reps can use it, too, to improve their multichannel communication strategies. Build automated messaging strategies so that prospects are properly cared for and nothing falls through the cracks.
Rep Tracking: Your reps spend most of their time in the field, away from their desks. But with SPOTIO, you can still keep a close eye on them. View their travel histories and learn if poor performance is due to a lack of effort or a need to retrain. Note: GPS tracking can be turned off if it makes your reps feel uncomfortable.
Territory Management: Use SPOTIO to cut territories by geographic boundaries or by drawing on a digital map. Either way, our software will ensure your reps don't overlap and that each person on your team is assigned to the territory that suits them best.
Sales Tracking: SPOTIO gives sales managers an accurate view of their team's performance. That way they can easily determine whether they're on track to meet quota and where potential gaps in their processes might be.
Custom Reporting: SPOTIO's My Reports feature enables admins, managers and reps to quickly create custom reports that can be saved, re-run and viewed on any device.
2. Veloxy
Best For: Dedicated Salesforce Users
Veloxy is an AI sales assistant software that's designed specifically for Salesforce users. The software automates non-selling activities inside of Salesforce so that sellers can become more productive and spend more of their time closing deals.
Key Sales Management Features:
AI Sales Assistant: You didn't hire your sales reps to complete admin work. You hired them to meet leads and generate sales. Veloxy automates tedious tasks so that reps can spend more time building relationships with prospects.
Email Marketing: Email is one of the best ways to meet and engage with potential customers. Veloxy simplifies email for sales reps by personalizing messages and automating them to send at ideal times, then tracking the results.
Analytics: Use Veloxy to get the data you need, when you need it. Then sync that data with your Salesforce account so your records are always up-to-date.
3. Pipedrive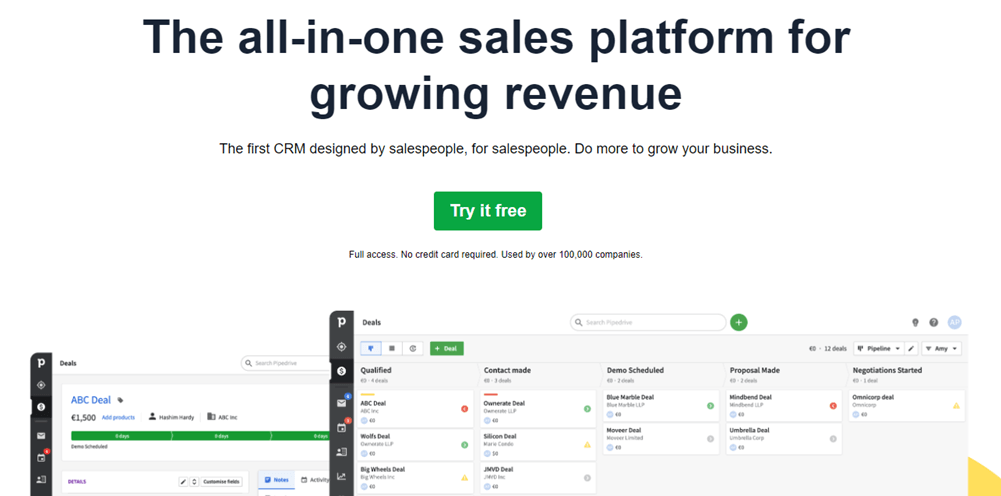 Best For: Small Sales Teams
Pipedrive is a sales management software that helps small teams stay focused on the right deals at the right times. Use this tool to communicate with leads, automate tasks, and manage deals in a productive way.
Key Sales Management Features:
Chatbots and Web Forms: Pipedrive won't just help you manage your leads, it will help you generate more of them via live chat, chatbot, and custom web form features.
AI-Powered Sales Mentor: Let Pipedrive's AI Sales Assistant give you personalized performance tips to boost your results and compact data graphs to keep you on track.
Plenty of Integrations: Does your sales team use Google? How about Microsoft, Xero, Slack, or Asana? Integrate them with Pipedrive with just one click.
4. Freshworks CRM
Best For: Integrated Sales and Marketing Teams
Freshworks CRM, formerly known as Freshsales, combines contact management, deal management, sales sequences, and plenty of marketing features into one package.
Key Sales Management Features:
Automation: Freshworks CRM automatically assigns leads to specific reps based on custom lead-routing rules. It can also be used to automate sales sequences, intelligent workflows, and internal notifications so nothing slips through the cracks.
Communication: It doesn't matter if your sales reps prefer to call, email, text, contact on Whatsapp, or web chat with leads. They can do it with Freshworks CRM's multichannel communication features.
Marketing: This sales management software isn't just for sales departments. Marketing teams can get in on the action, too, and take advantage of Freshworks CRM's web forms, email and landing page builder, and segmentation capabilities.
5. Nutshell
Best For: Small Sales Teams Looking to Grow
Nutshell is an easy-to-use sales and marketing tool that's "sneaky powerful". It includes contact management and sales automation features, as well as an email sequencer and free live customer support. It's perfect for small teams with big ambitions for the future.
Key Sales Management Features:
Contact Management: At the core of Nutshell is its CRM capabilities. Store all important contact details, from call notes to email conversations, in one location.
Sales Automation: Wasted time is the enemy of effective sales teams. Eliminate tedious tasks with automated sales processes and communication workflows.
Email Marketing: Stay in touch with your contacts and move them closer to the sale with Nutshell's customizable email templates and automated sending features.
6. HubSpot
Best For: Large Corporations
HubSpot is a full-stack sales and marketing solution that includes contact management, call recording and tracking, email marketing, document management and automation features. It can be difficult to adopt (and expensive). But the software is powerful once it's learned.
Key Sales Management Features:
Free CRM: HubSpot is ideal for large corporations, but small businesses can still benefit from its free CRM. Some startups may appreciate this affordable option.
Automation: Keep leads from falling through the cracks and put time back into your day with HubSpot's automated follow ups, personalization, and workflows.
Sales Analytics: Are your prospects progressing through the pipeline? How is each rep on your team performing? And how much revenue do you expect to bring in this quarter? HubSpot's sales analytics dashboard will tell you.
7. Gong.io
Best For: Data-Focused Sellers
Gong.io is all about the data. Use this sales management software to access deep insights into your team's performance so that you can improve it in the future.
Key Sales Management Features:
Deal Intelligence: Gong will automatically capture the interactions between your sellers and customers and give you deep insights that boosts retention.
People Intelligence: Do you know why some of your reps outperform others? Gong will analyze the data and pinpoint what your sales stars do differently.
Market Intelligence: To succeed at sales, you need to have your thumb on the pulse of your whole industry. Gong helps you understand what's working right now.
8. Outreach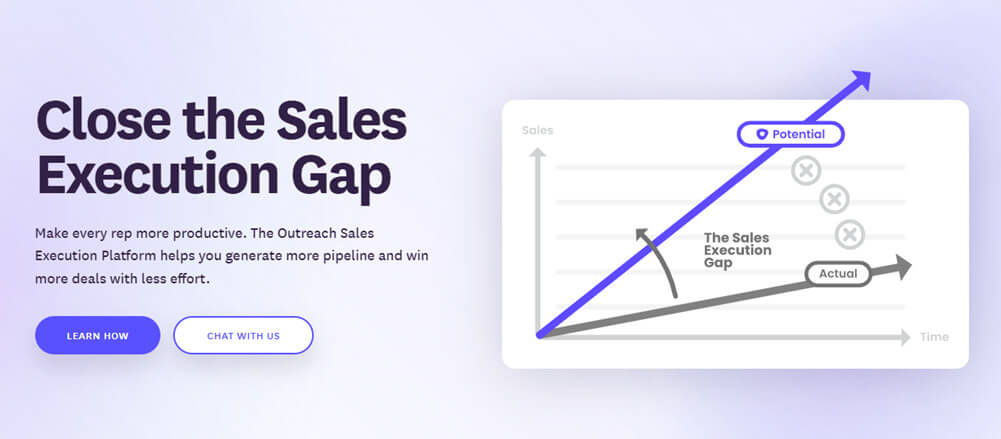 Best For: Outbound Sales Purposes
If you're looking to drum up new leads and have cash to spare, Outreach is a solid sales management software. Just be prepared for a steeper price tag than other tools.
Key Sales Management Features:
Sales Sequences: Give your sales reps a reliable tool to help plan when and how they interact with leads, then automate their emails, social posts, and more.
AI Sales Assistant: The machine learning tech inside Outreach uncovers key customer insights and uses them to guide sales reps to preferable actions.
Team Tracking: Take a look at Outreach's analytics dashboards to discover what sales strategies your reps are deploying and the success levels of each.
9. SalesRabbit
Best For: Team Communication
SalesRabbit is another tool that's targeted at field sales teams. Whether you need to drum up more leads, cut territories, or create leaderboards, SalesRabbit can help. But it's best feature is Team Messaging, which will help keep your entire department on the same page.
Key Sales Management Features:
Team Management: SalesRabbit has multiple features to simplify the sales management process, including territory mapping, rep tracking, and team messaging.
Lead Management: Lost leads are nothing new. SalesRabbit wants to make them a thing of the past via lead organization and route planning tools.
Forms & Contracts: It's not official until your lead signs on the dotted line. SalesRabbit allows users to create custom contracts that can be signed digitally.
10. Ambition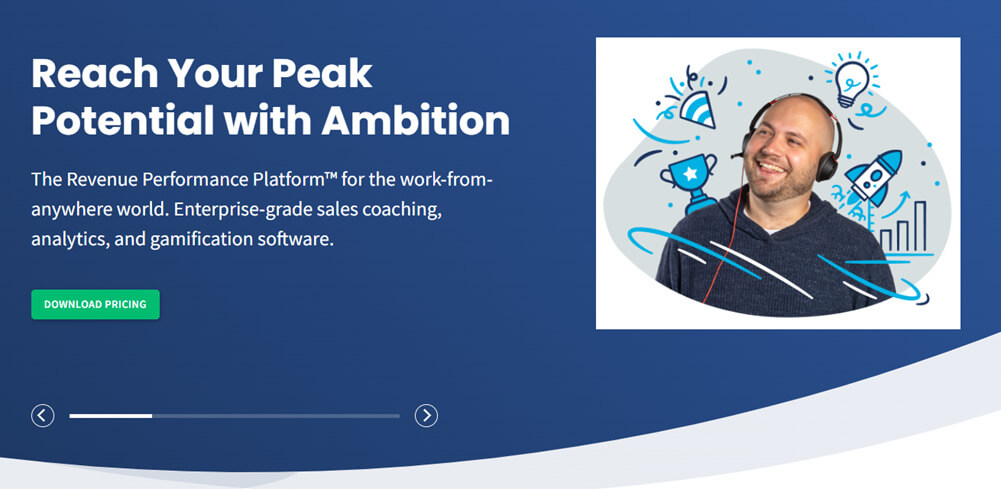 Best For: Coaching Enterprise Sales teams
Do you manage a sales team at an enterprise company? Then take a look at Ambition, a tool that includes caching and gamification tools to get the most out of your reps.
Key Sales Management Features:
Sales Coaching: With Ambition, you'll be able to run 1:1 coaching sessions and give private notes and team training meetups, then implement action plans with ease.
Gamification: Sales reps are a competitive bunch. Use this to your advantage with Ambition's gamification tools that let you run competitions, display leaderboards, etc.
Goal Tracking: To achieve your goals, you need to set and track them. Automate this process with Ambition and reach your objectives more consistently.
11. Hoopla
Best For: Motivating Your Sales Team
Need a sales management software that helps get your team fired up about selling? Hoopla might just do the trick. The tool enables sales managers to run contests, display leaderboards, and stream results—all in the name of motivating your sales team.
Key Sales Management Features:
Contests: Contests are one of the best ways to motivate sales reps. Hoopla will help you stir up friendly competition via challenges, tournaments, races, and face-offs.
Leaderboards: Competitive sellers get off on comparing their results to their colleagues. Leaderboards in Hoopla make sure they always have access to this info.
Streaming: With Hoopla, it's easy to stream real-time news, messages, videos, leaderboards, and more to TVs on your sales floor. That way all sellers can see them.
Which Sales Management System is Right for You?
Once you implement your sales management software into your workflow, you and your team will become more productive, work together more effectively, and generate more sales.
So what are you waiting for? Choose a tool that has each of the must-have features listed above—prospect management, sales rep tracking, process automations, and an analytics dashboard. Then start using it. Your sales numbers will skyrocket when you do!
Manage an outside sales team? Then you can't go wrong with SPOTIO, the best solution for field sellers. Request a free demo today to see SPOTIO in action.