Sales teams have been using customer relationship management (CRM) software for years. Why shouldn't they? Studies prove that CRM usage produces an average ROI of 871%, i.e. $8.71 for every $1 invested. Not bad!
But many companies are beginning to realize that they need to do more than simply manage their leads and customers, they need to engage them.
To fill this need, innovators have created Sales Engagement Platform (SEP) to help organizations of all types better interact with their target audiences and move prospects through the buyer's journey in the most efficient way possible.
To be clear, SEP isn't replacing CRM. In fact, sellers achieve the greatest results when the two software tools are used in tandem. Keep reading to learn more about the benefits of a CRM + an SEP and how SPOTIO can help field reps bring these two sales solutions together.
The Benefits of a CRM + SEP
First off, why should you consider using both a CRM and SEP? Managing two different software solutions seems like a pain, right? Wrong! In reality, you'll experience three amazing benefits when you use CRM and SEP in tandem.
1. Prospecting
Few sellers enjoy prospecting. It's tedious work that takes away from the exciting aspects of a sales career like talking with leads and closing deals. But prospecting is 1,000% necessary. After all, without a consistent stream of potential buyers, you'll have no one to sell to.
The key is to optimize your prospecting efforts so that they're more effective and efficient. This is one area where CRM and SEP together really shines. An SEP + CRM enables sales managers to route leads to the right salespeople for outreach automatically.
2. Relationship Management
SEP software will automatically track your team's engagement efforts with each and every potential customer. Which leads opened which emails? How many prospects have answered sales reps' phone calls? And what sales tactics work best in in-person selling scenarios?
The answers to these questions (and others like them) can be stored in your CRM tool so that field sales reps can devise more effective sales strategies in the future.
3. Detailed Analytics
Modern sales is driven by data. The more you know about your prospects, the better you can sell to them. CRM + SEP will give you the most detailed analytics available. This is important since 90% of sales leaders lack confidence in their activity data.
The combination of CRM and SEP allows for complete visibility into every stage of the buyer's journey. You'll be able to easily track engagement metrics across multiple channels, see which field reps are most effective, and adjust sales strategies on the fly.
It's all possible because CRM + SEP gives sales teams the insights they need to make informed decisions. Knowledge is power, as the old saying goes.
What is SPOTIO?
SPOTIO is a mobile CRM and SEP software that gives field reps a convenient way to perform, track, and measure a variety of common sales activities. In other words, it's the ultimate tool for outside sellers and comes with handy features like:
Email Integration: SPOTIO offers 2-way integration with email providers such as Gmail, Outlook, and Hotmail so that every customer interaction that happens over email is captured for future reference. SPOTIO also allows field reps to create email templates and track engagement metrics in-app for the complete convenience.
Calendar Integration: As an outside seller, you're constantly making appointments to meet with new prospects. SPOTIO's calendar integration feature gives you the option to sync your Outlook and/or Google calendars to SPOTIO so that both prospect and appointment information are quickly located.
You'll also be able to create team calendars in SPOTIO that allow for shared appointments. This feature makes it easy to schedule meetings that work for each team member.
Text & Email Templates: Both sales managers and reps can create custom text and emails templates based on detailed engagement metrics. That way you know the communications you send have a high chance of getting read and responded to.
Once you've created and saved a template, it can be accessed via the SPOTIO mobile app and sent to new prospects at any time with just a few thumb taps.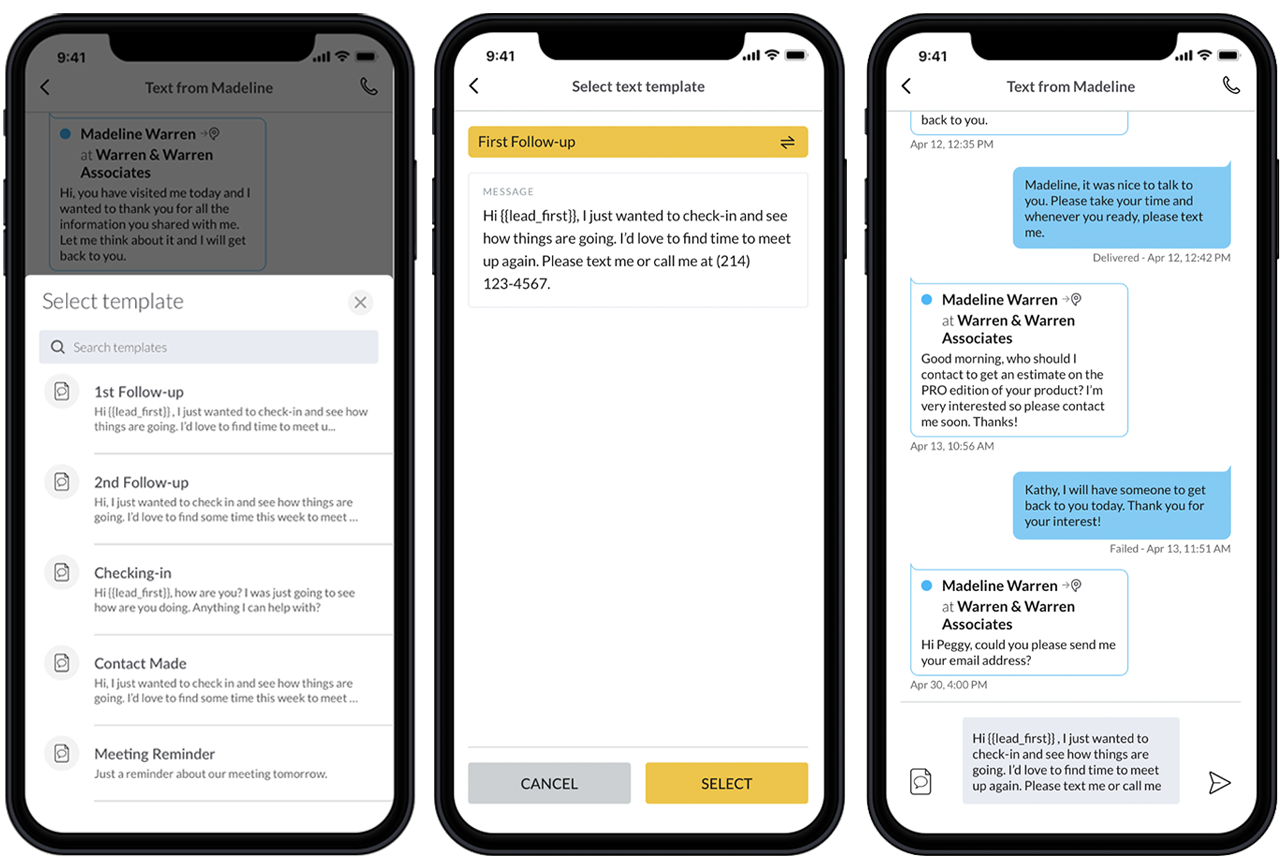 Calls & Texts: All call activities are centralized in the SPOTIO platform, making it simple to track your phone communications with all prospects. Additionally, every sent and received text message is automatically logged in our system. Want to know who you texted last month and when? Simply pull up the information in the SPOTIO app.
Engagement Analytics: SPOTIO includes a detailed analytics dashboard that features a real-time activity digest of all prospect interactions. Sales managers will also appreciate the ability to run reports based on rep, territory, and team, which allows for a holistic view of your company's sales activities, performance, and results.
The SPOTIO Advantage
As you can see, SPOTIO is chock-full of top-notch features. But how do these features translate to real-world success for field sales reps? That's what we'll discuss in this section:
Easy Access to Data
Time is money, as they say. By allowing field sales reps to access all of their sales data in one place, SPOTIO makes the sales process more efficient.
Imagine how much more productive you'll be when you can dig up contextual details for each of your prospects without having to scour multiple software platforms.
Multichannel Communication
Modern consumers have a plethora of communication channels at their disposal — and each person has a preferred option. This is why 80% of top sales teams use at least three comms channels and deliver a minimum of 15.5 touches per contact.
So, does your audience want to talk on the phone, text back and forth, or receive email offers from your brand? With SPOTIO you can monitor each communication channel you use and ensure your prospects are communicated with in the ways that suit them best.
Streamlined Follow-Ups
Using SPOTIO's templates feature that we mentioned earlier, you can streamline your follow-ups and increase your productivity as a field sales rep. How? By sending and responding to emails and text messages faster.
Communicating with speed may also help you boost your sales numbers. Who knows? A prospect may be ready to buy right now. If you wait too long to respond to their questions or close the deal, you might lose the opportunity to a competing brand.
Crystal Clear Visibility
If you manage a team of field salespeople, you know that visibility into rep activity is crucial to the success of your company. Without knowledge of which tactics are working and which are proving ineffective, you'll have a hard time developing a successful sales strategy.
SPOTIO acts as your eyes and ears on the ground. Once field rep activities are logged into the SPOTIO app, you'll gain a holistic and real-time view of your team.
The information you acquire can then be used to craft hard-hitting sales plans based on data. You'll also be able to better coach and train your team because you'll know exactly which sales techniques perform best and can pass this information along to your reps.
Battle Tested UX
We've talked a lot about SPOTIO's mobile app, which will allow you to access all of your sales data no matter where in the world you happen to be. But what about user experience? Won't it be frustrating to navigate a CRM software on a tiny phone screen?
We've designed the SPOTIO app to be easy to use on any sized mobile device. The thousands of field sales reps who use SPOTIO on a regular basis confirm that our app's user experience leaves nothing to be desired!
On desktop: SPOTIO Review – User Friendly and Accountability
Kick Your Field Sales Efforts Into Hyperdrive
CRM and SEP software are valuable tools in any field sales team's tool belt. But they become incredibly powerful when they're used together. In fact, you can expect to experience more efficient prospecting, build better relationships with your prospects, and receive more detailed analytics when you pair your CRM with a proven SEP.
If you're looking for a Sales Engagement Platform that's specifically designed for field reps, consider SPOTIO.
SPOTIO automates much of the tedious work that field reps have to do on a daily basis, while giving sales managers a bird's eye view of everything that's happening in the field. That way they can confidently plan sales strategies to move their organizations forward.
______________