COVID-19 has had a significant impact on sales revenue and the way companies sell to customers.
In a special edition of The CMO Survey (conducted in May 2020), the following insights emerged:
On average, respondents reported that sales revenues had dropped by 17.81%.
Nearly one in five respondents (19.5%) reported that sales had declined by 50% or more.
Nearly half (46.8%) said sales had fallen by 20% or more.
The survey also revealed that B2B companies fared better than B2C companies, and that the impact of COVID-19 on sales varied considerably across industry verticals, with Retail taking the biggest hit.
So, what exactly does the landscape look like for inside and outside sales reps in 2021?
We asked 30 inside and outside sales experts to share their opinions.
Read on for the key takeaways and their responses below.
How COVID-19 Will Impact Outside Sales in 2021
Let's start by looking at what our experts are predicting for outside sales teams in 2021 as they've been most affected post-COVID.
Outside teams will continue to embrace digital selling
The COVID-19 pandemic had a positive change in the way organizations operate their businesses. As a result, more companies and sales teams are now working either fully remote or partly remote, and that will continue through 2021.
According to new research from McKinsey & Company, 65% of B2B buyers say remote selling is either equal to or better than selling methods before the pandemic: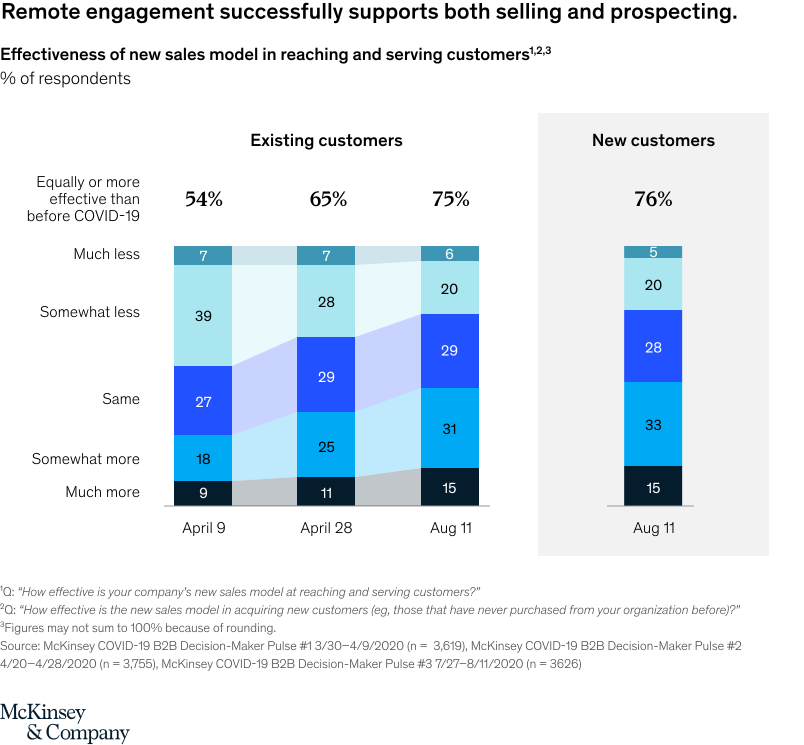 Plus, some organizations that were previously restricted to selling locally can now sell to new clients and customers outside of their local geographic area.
So, as long as outside sales reps embrace digital selling, they will remain competitive.
Prospects will expect initial calls to be virtual
Even when business "returns to normal" and prospects feel comfortable meeting sales reps face-to-face, virtual meetings will still occur.
Initial sales calls will likely be conducted as 20-30 min virtual meetings, followed at a later date by face-to-face interactions when sales reps are proposing a solution.
To ensure success, outside sales teams will need further training to be laser-focused in a video call setting.
Reps will experience "Zoom fatigue"
Because business has moved to video or phone, some sales reps will prosper, while others will struggle.
Previously, selling was mostly relationship-driven through meetings and interpersonal connections.
Now, working remotely, sales reps can conduct more meetings in the day, but more meetings do not equal more revenue. In fact, more meetings will likely increase the pace of sales burnout. Reps are moving straight from one call to the next without that breathing space to reset and prepare as they had between face-to-face meetings.
As business intensifies, many outside reps could experience "Zoom fatigue".
Outside teams will invest more in multichannel sales technology
Fewer outside reps will be seeing their prospects or clients in person during 2021. So they'll have to use a multichannel strategy –  video, phone, email, and social channels – more deliberately to account for a decrease in in-person contact.
Technology will help automate and keep these touchpoints organized. For example, SPOTIO can automatically capture all sales activity across multiple channels without disrupting your reps' workflow by:
Logging every visit, call, text, and email in real-time.
Keeping prospects engaged by following up on their preferred channels.
Tracking inbound, outbound, and missed calls.
Integrating with your calendar and email.
Connecting with your CRM.
As outside reps become hybrid reps, they'll have to be prepared to communicate effectively across multi-channels as they did in boardroom meetings. They'll have to become more like business consultants rather than sales reps.
Managers will rely heavily on activity management solutions
Now that teams are distributed and working remotely, it's no longer enough to track reps in the field. Managers need to understand ALL of the sales activities that are being performed and how they impact the pipeline.
With SPOTIO, you can capture every sales activity and discover the most significant impact on performance.
For instance, in the activity reports, you can:
Filter the data by activity type, users, territories, and more.
Draw actionable insights that guide your business forward, such as the number of visits it takes to get to a customer.
See where activity is dropping and where to drive higher customer engagement.
Managers will put talent where the money is
Accenture's report on The New World of B2B Sales says managers will have to "double down on high-value opportunities" by putting sales talent where the money is.
That means managers will have to evaluate their sales team, identify the most-talented sales reps, and assign them to engage the highest-value potential customer segments and opportunities.
It's no longer a case of quantity, but quality, which entails excluding more unqualified leads to focus on the real potential and ensuring new wins stay won.
Managers will look to expand new lead sources
It's safe to say that the Sales Playbook as we know it needs redefining. Sales reps will need to pay careful attention not only to the communication tools they use but, most importantly, to people and their emotions.
Furthermore, managers will need to look beyond all the usual places when sourcing leads, as they are likely no longer as effective. Instead, they'll need to tap into social selling, warm referrals from existing customers, purchased lead lists, and existing service interactions.
Reps will need to adapt as more buyers becoming gatekeepers
With more buyers becoming gatekeepers, reps will need to adapt their sales methods. For instance, how they start the conversation and follow up with voicemail messages is critical. Buyers will be swamped with offers, so reps need to be succinct and use a clear attention grabber that doesn't sound like every other rep out there.
Alice Kemper says reps need to be more conversational, along the lines of:
"Hi Jim, Alice Kemper with Sales Training Werks. We've successfully taken the boring out of remote sales training meetings and turned them into meetings reps actually want to go to and ask for more. With, of course, the primary outcome of increasing sales 5-35% in 10 short weeks, may I have a moment of your time to discuss how you can up-level your team in 30 minutes or less at your remote sales meetings?"
Reps will strive to make customers feel safe
For those reps who arrange face-to-face meetings, they need to make potential customers feel safe. Agents can demonstrate this by taking the appropriate safety measures, such as using a hand sanitizer and wearing a face mask, or even a full face visor.
It's all about making the customer feel safe and comfortable. Otherwise, they'll be on edge and not focusing 100% on what reps have to say.
Organizations will look to move upmarket
Before COVID-19, moving upmarket was previously an abstract goal for sometime in the future. However, organizations are now asking sales operations to re-evaluate target markets and segments and point the sales teams toward more "stable" higher value customers.
For smaller organizations with less stable budgets, the move upmarket is more pressing, which means they'll need to resegment accounts, work on new value propositions, and produce new sales materials.
Managers will train reps to be phone sales experts
Outside sales reps who previously used to meet with customers face-to-face will have to adapt. Sales managers will have to train and coach reps to become phone sales experts. And they will also have to identify new metrics to track the virtual calls.
INSERT DEMO CTA
How COVID-19 Will Impact Inside Sales in 2021
Let's move onto inside sales and see what our experts think needs to change for success post-COVID.
Reps will need to consider how they are perceived on camera
Pre-COVID, most inside sales teams worked the phones. But since the pandemic, video conferencing with tools like Zoom and Teams has become the norm. Reps now have to consider how buyers perceive them on camera – first impressions still count!
If sales reps don't dress professionally, video conferencing from their home creates the wrong perception. Balancing a laptop on the couch, with a mug of coffee, and dressed in loungewear isn't going to cut it, and may lead to lost sales.
Inside sales teams will focus more on early buyer education
COVID-19 has made buyers more cautious. They are conducting more research before getting budget approval and then reaching out to sales reps for more information to validate their research. So, inside sales teams will have to focus more on early buyer education.
If they want to convince prospects to buy their product or service, then they'll need to know their solution inside out so that they can demonstrate its value and get buyers excited.
Managers will look to automate handoffs
With inside sales reps working in remote environments, it's easier for things to fall between the cracks. What used to be a quick handoff to a colleague across the office has become a lot harder to coordinate as individuals are working their own schedules.
Therefore, sales managers will need to automate handoffs as much as possible to ensure the inside sales process flows smoothly.
Live chat will be used to close more B2B high-ticket sales
Since COVID-19, video and live chat have emerged as the primary channels for interacting and closing high-ticket sales with B2B customers.
Research from McKinsey & Company shows the dramatic change from traditional to digital sales channels:
Live chat increased 23% from 40% to 49%
Video conferencing increased 41% from 38% to 53%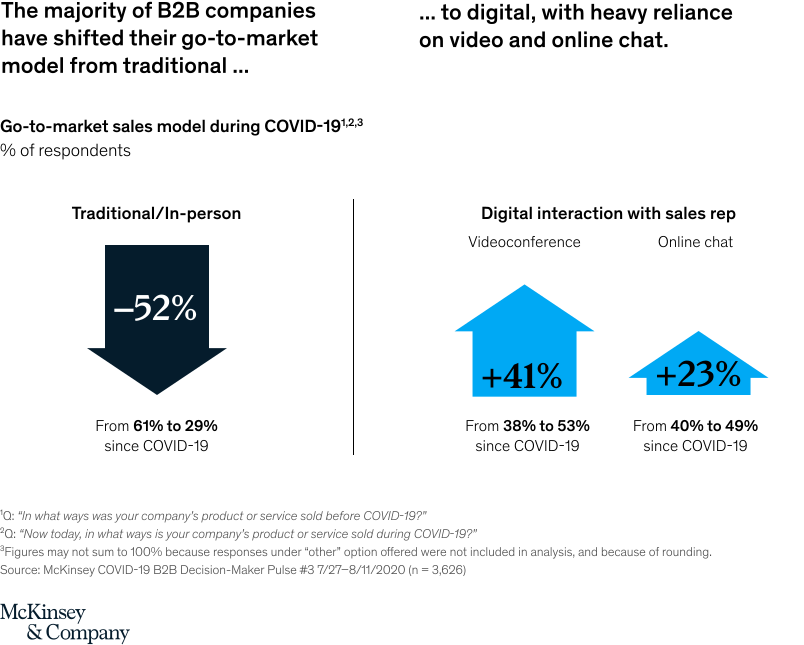 Furthermore, 70% of B2B decision-makers say they are open to making new, remote purchases over $50,000, and 27% would spend more than $500,000.
Inside teams will rely more on activity tracking technologies
Post-COVID, inside sales reps have had to work harder to establish trust and build a rapport with customers. Previously, it was all about achieving the highest number of conversions in the least amount of time. Now, it's reversed, with reps taking more time to engage and listen to customers.
Inside sales reps will rely more on the latest activity tracking technologies to understand when buyers are ready for the next interaction. And, provide the information for maximum personalization.
Knowing when buyers have opened an email or downloaded an attachment will allow inside sales teams to plan and execute their next move.
Companies will need strong sales and marketing alignment
When the pandemic subsides and things start to return to normal, customers will want to deal with those organizations they trust most – i.e. the brands that stood by them throughout the turmoil.
When customers are ready to spend, sales and marketing teams need to be aligned and prepared to launch new campaigns and provide the best possible customer experience.
Reps will focus more on personalization and testing
COVID-19 forced many organizations to change the way they behaved and interacted with customers. Sales reps had to spend more time getting to know customers and trying new tactics over the phone or video conferencing.
But there's an argument to say that sales teams have become a little stagnant following that initial burst of energy. If reps want to sell more, they'll have to re-energize and focus more on personalization and training to stay ahead of the game.
Managers will use technologies that promote accountability
With everyone working remotely, managers need to be using the latest technologies for reps to be more accountable. They'll need the right tools and training plans so that they can track their progress and motivate themselves. Managers also need to ensure the team culture and climate is supportive even though reps are working from home.
---
How to Prepare Your Sales Team
Whether you're managing an inside or outside sales team, you need to be prepared to help them achieve their targets.
Ensure you equip them with all the tools and technology they need to operate in a digital sales environment. Train them to show deeper empathy levels and make their presentations more personalized as they reach out to the new, more research-savvy buyer of 2021.
---