What kind of sales team do you use for your business? An outside sales team? Or an inside sales team?
If you are a business that sells expensive products and services to other businesses, then you'll need to focus more on your B2B outside sales strategy.
In the complex B2B buying environment, without this team in place, you'll struggle to get past the gatekeeper, connect with decision-makers, and move deals along the sales pipeline.
But what is B2B outside sales? What are the roles and responsibilities of the members of an outside sales team? How can you create an outside sales team and process that works?
You'll find all those answers, as well as actionable tips to help your business succeed with outside sales in 2023.
What is B2B Outside Sales?
B2B outside sales is a type of sales process where reps meet prospects face-to-face. The sales reps are usually assigned territories or regions to cover and generate leads.
Field sales is another term used to describe outside sales because it involves traveling to meet prospects at their offices, industry events, restaurants or other external locations.
Outside sales is akin to the traditional mode of selling where reps meet potential buyers at specific locations to personally interact and discuss the value of a given product or service prior to the point of purchase.

Although these B2B sales reps have offices, they spend most of their time in the field engaging and having meetings with prospects in their territory.
Because most of the work is performed in the field, outside sales reps are adept at setting face-to-face meetings, can quickly build relationships with prospects, are comfortable working autonomously, and are able to travel on short notice.
---
B2B Inside Sales vs. B2B Outside Sales
As you might have already imagined, B2B outside sales is different from B2B inside sales in many ways.
Here are some of the main distinctions that exist between the two:
Mode of communication: Outside sales requires that reps go out to meet prospects in person, and have face-to-face interactions. On the other hand, inside sales can happen from the comfort of an office over the phone or via email, where no physical interaction is needed.
Closing rates: Hubspot reports that companies that consist of more outside sales reps have a 30.2% higher close rate than companies made up of more inside sales reps.
Also, the deal size brought in by outside sales reps worth 130.2% more on average than deals from the inside sales team.
Sales cycle: Most outside sales teams sell products and services that are usually more expensive than the ones the inside sales team sell. And that is why it often takes longer for outside sales teams to complete a sales cycle.
Cost: The cost of running an outside sales team is higher than running an inside sales team for two major reasons. The first is that outside sales reps often sell more expensive products and services. And secondly, teams require more resources to support things like travel.
---
Where B2B Outside Sales Shines
You wouldn't pick up a razor blade to cut a tree, neither would you pick up a chainsaw to trim your nails. What's the point? Razor blades and chainsaws both have their uses – and so does B2B outside sales.
According to Glassdoor and Payscale, an average outside sales rep earns more than his/her inside sales rep counterpart.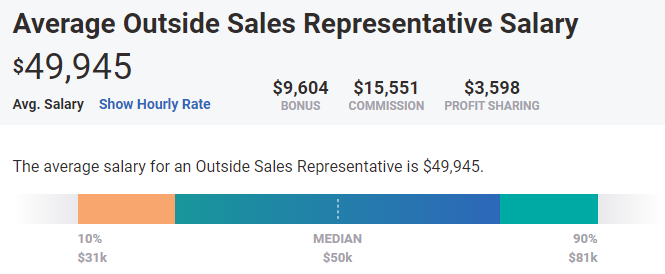 The extra cost means that these sales reps are extra valuable.
But how? Where do outside sales reps shine?
They shine bright in companies that sell expensive or high-end products and services. These reps shine even brighter when you're targeting C-level executives.
Selling high-end products requires multiple touchpoints, multiple decision makers, and multiple channels. Outside sales reps need to invest a lot of time reaching prospecting, setting appointments, and building trust.
---
3 Key B2B Outside Sales Roles
Just like every player has a role in a football team, different people have different roles within an outside sales team. These roles can be classified into 3 main groups – the sales representatives, sales managers, and sales operations.
Let's look at the roles they all play in the B2B outside sales process.
Sales Reps
The sales representative's main role is to act as the primary point of contact between a business and its customers. The sales rep is the person that goes out to meet prospects and tell them about a company's offerings and services.
Here are some of their responsibilities:
Selling a company's product and services.
Looking for and meeting with prospects in the field.
Keeping in touch with existing customers or clients.
Resolving customer queries and answering objections.
Developing strong relationships with prospects and existing customers.
Working with other team members to ensure that sales targets are met.
Outside sales rep KPIs:
# sales activities completed
# leads created
# opportunities created
# demos/ quotes
Sales quota attainment
Average deal size
Total revenue
Bonus resource: 12 Critical Sales Performance Metrics To Track
Sales Managers
Sales managers coordinate or manage the sales team so that they can meet their revenue target. This means that managers come up with sales plans and strategies for the sales team to implement.
Responsibilities of a sales manager include:
Hitting monthly, quarterly, or yearly sales targets
Managing the sales team (including the sales reps)
Develop strategies to generate more leads
Identify bottlenecks in the sales process
Hiring and training sales reps
Building and presenting reports
Outside sales manager KPIs:
# leads created
# opportunities
Lead-to-opportunity rate
Rep productivity
Rep turnover
Sales pipeline
Sales volume by rep
Sales volume by location
Sales cycle length
Total team revenue
Bonus resource: 14 Best Sales Productivity Tools
Sales Operations
Sales ops have the role of making things easy for your sales team. This means they handle all the admin and process optimization roles to ensure your sales reps meet their revenue targets.
Their other responsibilities include but are not limited to:
Managing sales CRM data
Choose sales technologies
Identify inefficiencies in the sales process
Creating sales forecasts
Evaluating team performance
Set up sales compensation and incentives
Here are some KPIs to help you know if your sales ops manager is working:
Sales time vs overhead time
Days to won
Days to lost
New hire ramp rate
Sales revenue
---
7 Steps for B2B Outside Sales Success in 2023
Now that we've covered the distinction between B2B inside and outside sales, and the different team roles, let's jump into some of key steps for success in 2023.
#1. Create an ideal customer profile (ICP)
There's no point creating a sales team when you don't know who you want to sell to.
That'd be like getting into a car and driving around town without any destination in mind. You'll waste your time and resources.
So first things first, create an ideal customer profile (ICP). An ideal customer profile helps you get a general overview of the customers you want to target with your products and services.
However, you should not confuse ICPs with user personas.
An ICP is a fictional type of company that would benefit from using your products and services. User personas are people that work within these kinds of companies.
Let's assume you're a SaaS company. Your ICP would be B2B SaaS and tech companies. Your user persona on the other hand would be specific individuals at these companies like the VP of Marketing or CMO.
So how can you create an ideal customer profile? Here is a simple 5-point checklist:
Create a list of your best customers
Note 5-10 of the businesses that get the most value from your products and services.
The value here doesn't necessarily have to be monetary (even though that is important). It could be value in the sense that your products and services help these businesses to become more productive, cut costs, better manage time, or generate leads.
Find the common thread across these customers
Do your best customers come from the same industry? Do they have similar budgets? How many employees do they have? What is their biggest challenge?
Note the answers to these questions and find the common attributes. It's important here that you don't overload yourself with unimportant attributes.
Find out more about these customers
You already know who your best customers are, and you've identified the attributes they all have in common. What next?
Find out more.
You can run a quick survey or interview of representatives from your best customers to gain more insight into how they use your products and services. You can also find the pain points they were trying to resolve and objections they had to overcome before buying from you.
Firsthand answers from customers will help you craft better messaging for future sales scripts and presentations.
Fill out your ICP template
The template looks something like this:
Source: propellercrm.com
#2. Prospect with ICP data
Now it's time to create prospect lists based on your ICP.
You'll get the best results if you use a rating system that allows you to arrange prospects based on how well they match your ICP.
For example, you could use a 3-tier rating system where prospects are grouped by best, good, and bad fits – where the best fits have the most similarities with your ICP.
When ready to start prospecting, outside sales professionals would find SPOTIO's Lead machine to be invaluable: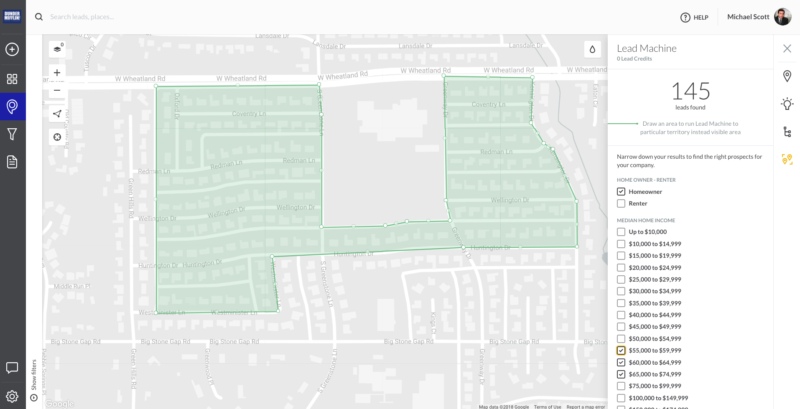 Just select a territory to generate a lead list, and use over 200 different data points to quickly filter out the most qualified prospects.
For example:
Teams can filter B2B prospects based on business type, revenue, years in business, and number of locations.
On the other hand, reps can filter B2C prospects using attributes such as homeownership, age and credit capacity.
Not only that, but you can also visualize all your leads on a map of your sale territory.
A feature like the Lead Machine will save reps hours of time trying to sell to unqualifying prospects.
#3. Define daily, weekly and monthly sales activities
For a B2B outside sales process to be successful, there needs to be consistent execution of daily, weekly, and monthly sales activities.
A big element of sales success (in any context) is nailing the elements you have direct control over. While you can't control who answers the phone or schedules a demo request, you can control how many emails and follow ups you send, calls you make, and on-site visits you complete.
Managers should ensure all reps are performing these key sales activities every day, week, and month in order to keep new prospects entering and moving through the pipeline.
SPOTIO provides managers with a real-time feed of all rep sales-based activity across every channel, and breaks down rep performance by win rate, leads won, value won and completed activities: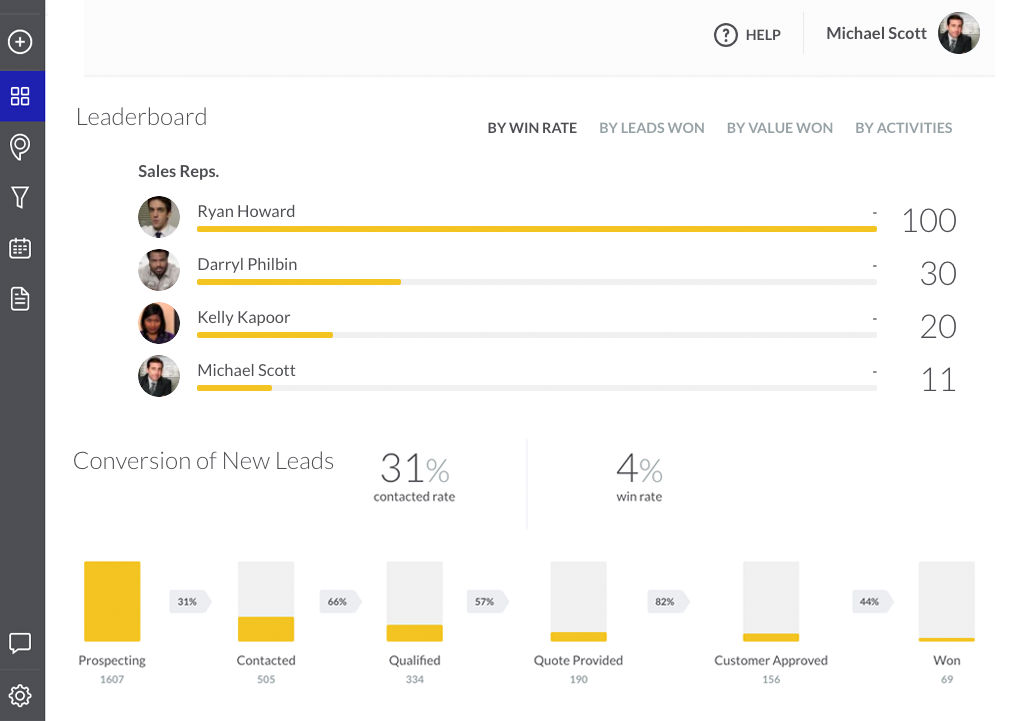 In addition, SPOTIO's rep tracker also provides GPS tracking so you can better hold reps accountable while out in the field. For example, you can locate reps on a map at any point in time, and verify on-site visits.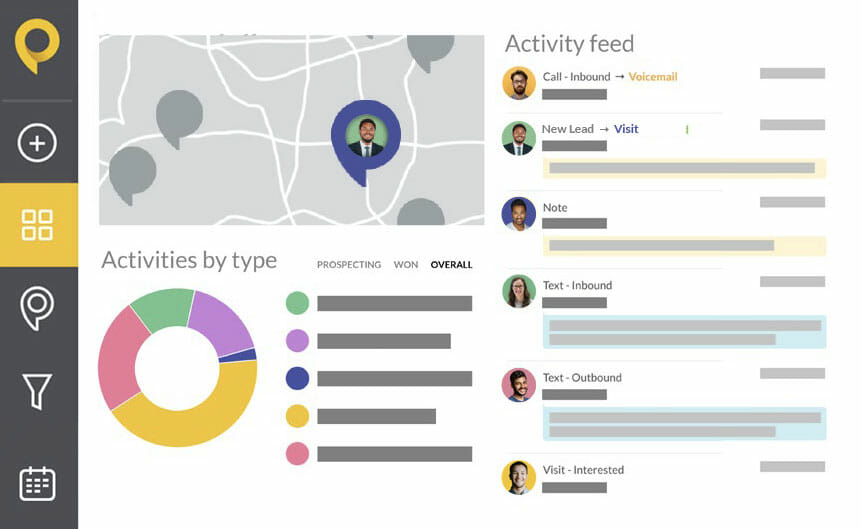 For teams that prefer a bit more privacy, the "Find My Team" feature can be turned off at any time.
These features enable managers to identify the top performers, nurture those in need of additional training, and even pinpoint which reps are underperforming due to a lack of effort.
Bonus resource: Sales Activity Reporting
#4. Assign sales territories (strategically)
Strategic sales territory planning is critical to a successful outside sales campaign.
While there are many facets to territory mapping, the top-level goal is to ensure reps have enough prospects to work with and don't encroach on each other's turf, while also making sure high-performing reps are assigned to the biggest accounts.
Get this step wrong and you'll have frustrated reps, higher turnover rates, and lower close rates on higher value accounts.
SPOTIO's territory mapping feature helps reps get the most value from each sales territory. Managers are able to cut and assign territories by geographic boundaries (state, county, city, zip etc), or by drawing on a map: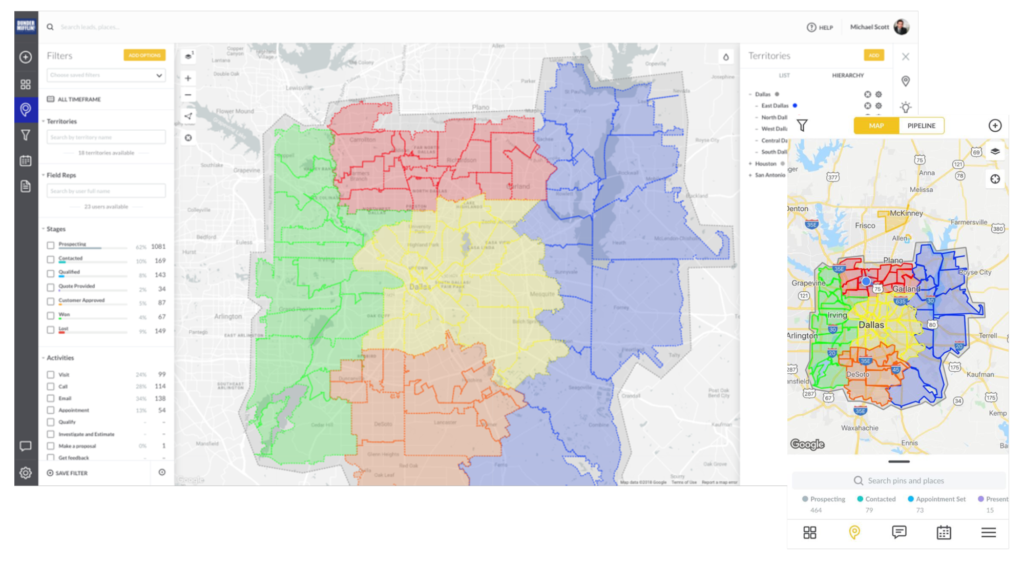 This helps prevent unwanted overlaps, and keeps reps focused on their own leads.
In addition, team members can see which territories provide the most leads and revenue:
This level of insights makes it easier to make strategic decisions for future growth.
#5. Plan smarter sales routes
Since B2B outside sales involve a lot of moving around, it makes sense to plan efficient sales routes.
With smarter sales routes, your reps would be able to spend more time meeting with prospects and closing deals, instead of wasting time on the road.
SPOTIO's route planning feature helps reps reduce windshield time by effectively planning all the day's meetings with a single tap:
Users can also set up meetings, update notes in real-time, and prospect new accounts in between meetings.
#6. Automate tedious sales tasks
Sales task automation helps save time and improve the quality of the data in your CRM.
Example of tasks that should be automated include:
Scheduling meetings
Updating CRM records
Answering calls
Data entry
Sales reps can automate tasks and simplify data entry with SPOTIO. This feature allows them to send data directly to the CRM, log prospect interaction in real-time, and take notes with talk-to-text among many other things.
#7. Track sales activity performance
Without an accurate view of sales performance, you're left flying blind as to whether or not your team is on track to hit sales goals.
With a performance report, you'd be able to track activities, leads, opportunities, sales, and revenue metrics at the rep, team, territory and company levels:
SPOTIO's sales tracking feature provides critical insights for outside sales teams. Managers can receive daily or weekly performance reports, and quickly spot bottlenecks and issues in the pipeline as they arise.
In addition, leaderboards provide motivation for reps to increase activity rates.
Level Up Your B2B Outside Sales Today
There are a lot of moving pieces when it comes to building a well-oiled B2B outside sales operation. Reps, managers and operations all play a critical role.
One of the key ingredients for success is having the right outside sales technology stack. A platform that can handle prospecting, multi-channel communications, territory management, route planning, task automation and sales tracking will help boost productivity and performance.
SPOTIO is the leading outside sales engagement platform that is used by 1,500+ teams to improve productivity and grow sales revenue.
Click here to book a demo to see how SPOTIO can skyrocket your B2B outside sales.