As a salesperson, you're always looking for ways to boost your productivity. This is especially true when it comes to building your prospecting list. But, building a list is easier said than done because identifying prospects in your target market and finding their contact information can be both difficult and time consuming.
Fortunately, there are sales prospecting tools that are designed for this specific purpose. The question is, which tool will fit your unique needs and budget?
In this article, we discuss three things to consider before investing in sales prospecting software. Then we list 12 top-rated options and their most important features. That way you can easily decide which tool is right for you.
Things to consider before investing in sales prospecting tools
The best sales prospecting tools for one team may be different from the best sales prospecting tools for you and your company.
Here are three things to consider before investing in any one tool:
Use cases: Are you in inside sales or outside sales? Choose a tool that was designed with your specific needs and sales motion in mind. Furthermore, consider the features you want your sales prospecting software to have. In addition to helping with identifying potential customers, does it also need to find and store contact information and help qualify leads? Try to make this decision before evaluating B2B prospecting tools.
Integrations: You might not use sales tools for prospecting just yet. But you definitely use other tools on a daily basis. (CRM software springs to mind.) Make sure the sales prospecting platform you invest in integrates with your current tech stack. If your chosen applications don't play nice together, you'll end up spending more time doing double-entry and trying to make things work than actually building your prospecting list.
Scalability: Finally, ask yourself, "Will this sales prospecting software grow with me?" This is super important! The last thing you want to do is find a new prospecting tool every few months because you outgrew the last one. If possible, plan ahead to find a solution that will work for you now and in a few years.
12 Best B2B Sales Prospecting Tools
Now that you know what to look for when it comes to sales prospecting tools, let's cover specific options that might fit your unique needs.
Best for: Field sales teams. SPOTIO is ranked #1 in the Field Sales category, and was a 2023 G2 Best Software Winner.
Are you part of a field sales team? Then you should definitely consider SPOTIO, a B2B sales prospecting tool that was specifically designed for field sellers.
Key prospecting features:
Lead Generation: With SPOTIO, it's easy to generate leads, thanks to our platform's Lead Machine feature. Just select your territory, then filter prospects based on 200+ commercial and residential data attributes.
Multichannel Communication: Now that you know who to contact, you need to, you know, contact them. Use SPOTIO to send and receive calls, emails, and text messages, as well as track in-person visits.
Appointment Setting: Once you contact a prospect, you need to book an appointment to speak with them. SPOTIO connects to a variety of calendar apps, so that setters can quickly and efficiently pass leads to closers.
Prospect Visualization: The data you store in SPOTIO can be visualized on a digital map. View leads as pins based on physical location. Then color code each pin to represent pipeline stage, visits made, or something else.
Easy CRM Integration: Every sales team uses a CRM. SPOTIO integrates with your tool of choice, which means you can easily pass information from your favorite sales prospecting software to your CRM with the click of a button.
LinkedIn Sales Navigator

G2 rating: 4.3/5 from 1,592 reviews
With 850 million members, LinkedIn is a valuable prospecting tool. LinkedIn Sales Navigator helps users get the very most out of the social media platform.
Key prospecting features:
Advanced Search: Pinpoint quality prospects with advanced search capabilities. If they're on LinkedIn, Sales Navigator will help you find them.
Lead Suggestions: Why go looking for leads when Sales Navigator can bring them to you instead? Receive customized lead suggestions.
CRM Integration: Connect Sales Navigator to your CRM of choice, so that the prospecting leads you uncover get saved, automatically.
Bombora
G2 rating: 4.4/5 from 138 reviews
Bombora is one of the best sales prospecting tools because it helps users identify prospect intent. Don't just listen to what your leads have to say, analyze their actions so that you understand them better and can close deals more consistently.
Key prospecting features:
Hot Leads: Learn which if your prospects are most actively researching what you sell. Then move them to the top of your priority list.
Better Outreach: When you know what your leads are researching, you can reach out to them in a more effective way, improving sales conversations.
Integrations: Bombora integrates with the tools you already use, including Salesforce, HubSpot, LinkedIn, Marketo, and Adobe.
Zoominfo
G2 rating: 4.4/5 from 6,065 reviews
Every list of B2B prospecting tools should include Zoominfo, given the popularity of the platform. Use it to get the data you need and build your prospecting list.
Key prospecting features:
Contact Data: Access Zoominfo's HUGE database of 65+ million direct dial phone numbers and 150+ million emails to get in touch with leads.
Buyer Intent: Learn which of your prospects are currently researching the kinds of tools you sell. This will help you score your leads effectively.
Website Tracking: Identify prospects that have visited your company's website. Then spend your time connecting with these individuals.
Datanyze
G2 rating: 4.2/5 from 439 reviews
Datanyze is a lightweight Chrome extension that gives sales reps the data they need to reach out and build connections with top prospects.
Key prospecting features:
Pinpoint Contact Information: Easily find a prospect's phone number and/or email address as you peruse their social media profiles.
Manage and Export Data: Tag prospects and companies to create segmented lists; then export your lists with a single click.
BuiltWith
G2 rating: 4.3/5 from 52 reviews
BuiltWith is one of the more unique sales prospecting tools on this list. Why? Because it was designed to help users understand the software their ideal customers use. With this information, you can target higher quality leads.
Key prospecting features:
Identify Tools: Learn which tools a specific prospect and/or company already uses to determine if you should reach out to them or not.
Pinpoint Leads: Use your current customers list to find similar individuals and/or companies to contact and develop relationships with.
CRM Integrations: Connect BuiltWith to many other tools, like Salesforce, HubSpot, Zoho, Marketo, and even Gmail.
Vainu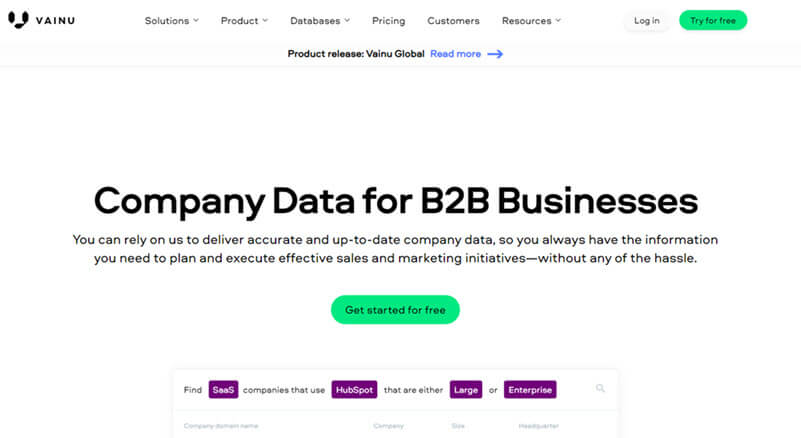 G2 rating: 4.6/5 from 180 reviews
Vainu is a quality piece of sales prospecting software, allowing users to identify quality leads in less time. Just make sure you have a healthy budget—it ain't cheap.
Key prospecting features:
Prospect Lists: Use an extensive selection of filters to easily sort through millions of companies and identify the best prospects for you.
Account Research: Don't just find quality prospects to contact, learn about them with Vainu's deep database of company information.
Automatic Prospecting: Short on time? Vainu will alert you when new prospects meet your criteria and automatically add them to your CRM.
Clearbit
G2 rating: 4.4/5 from 532 reviews
There are a lot of sales prospecting platforms out there. Few of them are as handy as Clearbit, which turns website traffic into quality leads, like magic.
Key prospecting features:
Visitor Targeting: Create ideal customer profiles using 100+ attributes. Then learn which of your website visitors meets your specific prospect criteria.
Visitor Intent: Identify the intent of your website visitors by analyzing the pages they visit. This will help you pinpoint your highest quality leads.
Visitor Outreach: Get notified via Slack, Salesforce, or email when quality prospects visit your site. That way you can reach out in a timely manner.
Overloop

G2 rating: 4.3/5 from 73 reviews
Overloop, formerly known as Prospect.io, helps small businesses build prospecting lists, engage leads, manage pipeline, and analyze their sales efforts.
Key prospecting features:
Email Finder: Use Overloop's Chrome extension to find emails while browsing LinkedIn. Or search domains for all associated email addresses.
Automated Outreach: Send cold emails, or get frisky and create multichannel campaigns featuring email, LinkedIn, and more.
Results Tracking: Are your prospecting efforts working? Use Overloop to analyze the results you achieve and implement a new plan if necessary.
LeadIQ
G2 rating: 4.2/5 from 382 reviews
LeadIQ helps users prospect smarter. Use this tool to identify lead data, track sales triggers, and even compose personal messages.
Key prospecting features:
Lead Data: Find and capture important prospect data in less time. Then automatically sync said data with your CRM platform of choice.
Sales Triggers: Learn everything you can about your prospects. Then use this information to contact your leads at the most ideal times.
Personal Messages: Speaking of making contact, automatically generate personalized messages, based on your value props, to send to prospects.
LeadFuze
G2 rating: 4.6/5 from 114 reviews
LeadFuze is a bit of a one trick pony, as far as salesowler prospecting tools go. BUT, the platform does its one trick extremely well, hence its legion of fans.
Key prospecting features:
Find Prospects: Pinpoint potential customers and their contact information. The more you do it, the smarter the LeadFuze app gets. Eventually, LeadFuze will be able to pinpoint quality leads for you, while you sleep.
Seamless Integrations: LeadFuze connects to a variety of other tools, like Salesforce, HubSpot, and Close. Don't use one of these CRMs? Not a problem. Connect LeadFuze to Zapier and integrate with your preferred app.
Owler
G2 rating: 4.3/5 from 188 reviews
Think of Owler as Google Alerts on steroids. You can use the sales prospecting software to track specific companies and get alerts when they're in the news.
Key prospecting features:
Follow Companies: Who do you want to sell to? Follow them online with Owler and get notified when they make new announcements.
Identify Prospects: Sort through the Owler database to find leads. Or use the competitor graph to see companies similar to your current customers.
Why Invest in Sales Prospecting Software?
As we've just seen, there are a bunch of sales prospecting tools on the market.
Before you decide which one is right for you, think about why you want to invest in one of these solutions in the first place. There are, in our opinion, three reasons:
Save time
The average sales rep spends a measly 23% of their time selling. The rest of their on-the-clock hours are spent on non-revenue generating tasks like data entry.
Sales prospecting software will help reduce the amount of time you spend on non-selling activities so that you can spend more time engaging prospects. The result? Better relationships, more sales, and greater success.
Find highly qualified leads
Sales prospecting platforms don't just save users time. They also improve their results by helping them uncover higher quality leads.
Don't call, email, or visit any ol' prospect. Use one of the apps we mentioned in this article to find leads who might actually buy from you. Then spend your time talking to these people and convincing them to sign on the dotted line.
Improve customer service
You and the rest of your sales team won't be the only ones who benefit from sales prospecting software. Your customer support team will get a leg up, too.
Think about it: all of the information your prospecting tools unearth will get added to your CRM software of choice. Other departments, including your company's support team, will then be able to access this information on a daily basis.
Imagine how much smoother the support process will be when reps know exactly what product a customer purchased and whether they've ever contacted the support team before—immediately after said customer reaches out to them.
Spend more time on the right prospects
Sales prospecting tools have the power to turn average sellers into department heroes because they help users pinpoint quality leads, find accurate contact information, and personalize communications—without forcing them to expend a ton of additional effort. The result? Way more sales than before!
We encourage you to invest in sales prospecting software ASAP. Just choose the platform that fits your needs and pull the trigger. You won't regret it.
Work in field sales? SPOTIO is definitely the best prospecting tool for you. Why? Because it was specifically designed for field sales teams.
Sign up for a free demo of our solution today to see it in action.