Sales project management is the process of creating and implementing sales strategies with the purpose of growing a company's customer base and improving its revenue numbers.
Sales project management duties are often handled by company sales managers, though some organizations have full-time sales project managers who take on this responsibility. Either way, sales project management is an important job because it ensures:
Sales strategies are designed, implemented, and updated as needed
Sales teams remain productive and focused on company-wide goals
Sales reps are held accountable for their performance, good or bad
The sales department as a whole is operating in an efficient manner
In this article, we'll explain why you need to invest in a traditional project management tool and a sales performance solution to achieve sales project management success.
Why You Need Project Management and Sales Performance Tools
Project management for sales is important. Fortunately, there are tools you can use to make sure you and the rest of your department get it right. You just need to get a little creative.
As of this writing, "sales project management tools" isn't a category on G2, Capterra, or any other notable software review site that we know of. This means that you need to use traditional project management tools and sales performance tools together.
Let's talk more about that…
What's a Project Management Tool?
A project management tool is exactly what it sounds like: a piece of software that helps users manage projects effectively. Some of the most popular solutions in this category include Asana, Airtable, Zoho Projects, Monday.com, Wrike, and Trello.
What's a Sales Performance Tool?
A sales performance tool, sometimes referred to as a sales performance management tool, is, you guessed it, any tool that helps sales managers evaluate the performance of their reps.
Once you add this kind of solution to your company's technology stack, you'll have the data you need to evaluate rep activities and the results of each. With this information, you can then develop winning sales strategies for your department that propel your company forward.
SPOTIO is an industry-leading sales performance tool for outside sales teams. Request a free demo today to see SPOTIO in action and decide if it's right for your team or not.
Traditional project management and sales performance tools can be used in tandem to help you and your team achieve objectives. Here's a quick example to illustrate:
Company leadership has decided that it's time to grow operations after the COVID-19 pandemic. In practical terms, this means that you and the rest of the sales department will expand into new territories. To keep you on track, you invest in a project management tool.
Inside your project management tool of choice, you create a couple of different projects:
Establish a customer base in three new territories
Hire three new sales reps to cover these territories
Make sure each reps hit quota within the first four months
You then decide to set milestones for each project, such as "research potential territories," and "create listings on job board websites," and "onboard new hires."
Now that your goals have been established and you've created projects inside your PM software, you can track your team's efforts to achieve them with a tool like SPOTIO, which will tell you how often your reps contact leads and much more.
Two tools, used together to accomplish the same goals. See how that works?
How to Use SPOTIO and Project Management Tools in Tandem
We've given you a taste of what you can do with a proven project management tool and SPOTIO. But let's dive a bit deeper and explore specific use cases.
1. Cut and Monitor Territories
Project Management Software: You want to expand your business, which means moving into new territories. In your PM software, you create the project "Create New Territories" as well as specific milestones like "Research Areas," "Cut Territories," and "Assign Reps."
SPOTIO: The first thing you need to do is research different areas to make sure they contain viable leads. SPOTIO's Lead Machine will give you the data you need.
All you have to do is select an area on a map and choose from 200+ different filters to narrow down your target audience. For example, if your company serves residential customers, you can narrow your search down by home purchase date, age, credit capacity, and more.
Using this technique, you'll be able to learn where your customers are. You can then use SPOTIO to cut territories based on geographic boundaries or by drawing on a digital map, and assign each new territory to the most qualified rep on your team.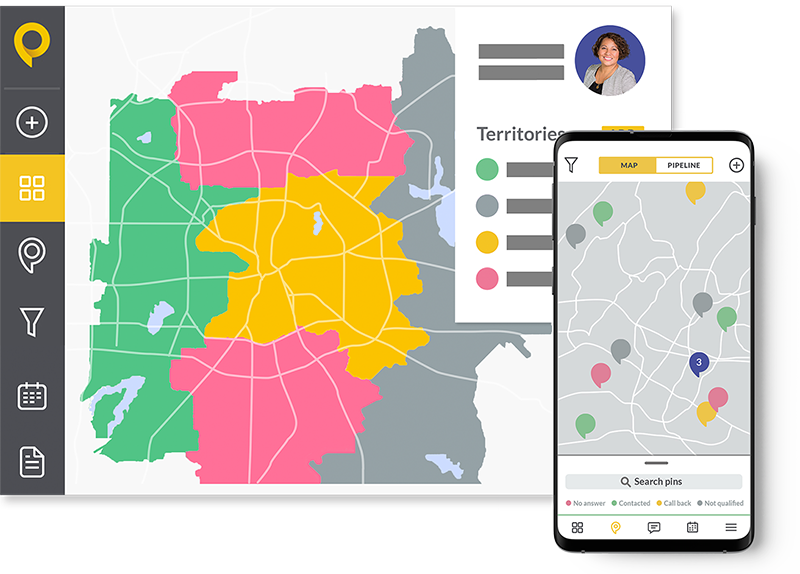 As time passes, SPOTIO will automatically track the performance of each territory. That way you'll know which ones perform best and why, and can adjust your strategy accordingly.
2. Track Sales Rep Activities
Project Management Software: Now that you've cut new territories, it's time to assign them to your sales reps and watch them perform. In your PM software, you create the projects "Monitor Sales Rep Performance" and "Adjust Strategy as Necessary."
SPOTIO: Goals are great, but they won't do you any good without action. Fortunately, SPOTIO automatically tracks sales rep activities so you can determine the root cause behind their results. Are they underperforming? SPOTIO will tell you if it's due to a lack of effort or poor training. Are they selling like gangbusters? SPOTIO will help you discover their secret sauce.
For instance, SPOTIO's Multichannel Communication feature will automatically log every business-related visit and call your reps make, as well as the emails and texts they send. It will then store the data for sales managers to analyze.
We should also mention Autoplays, a SPOTIO feature that automates the follow-up process so that reps always contact prospects at the ideal times.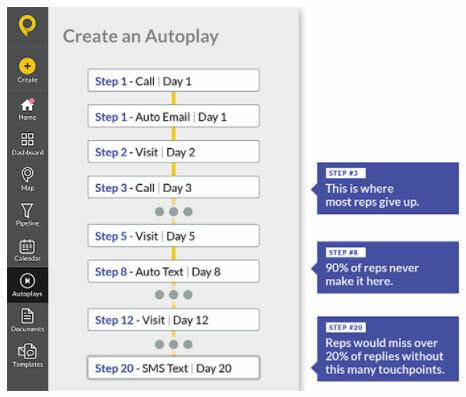 Most sales reps give up too easily. They contact a potential customer one, two, or three times and then assume that the prospect isn't interested when they don't hear back. But a study from Brevet reveals that 80% of sales require five follow-ups.
So before you log back in to your PM software and tackle the "Adjust Strategy as Needed" project, check SPOTIO to make sure your reps are following-up with prospects.
3. Boost Sales Rep Productivity
Project Management Software: PM tools help keep teams on track by clarifying objectives and identifying milestones between goals. But what if your reps start to fall behind? You'll need to investigate why and pinpoint potential solutions, which you can do with SPOTIO…
SPOTIO: The average sales rep only spends 37% of his or her time selling. The key to hitting the goals in your project management software is to increase rep productivity.
SPOTIO has a few different productivity-boosting tools:
Automatic Tracking: SPOTIO automatically logs prospect interactions in real time. This means that reps don't have to waste time updating CRM records.
Messaging Templates: Why write every email and text from scratch when reps can create customizable templates in SPOTIO and save themselves hours of work?
Autoplays: As mentioned earlier, SPOTIO's Autoplays allows reps to create automated sequences that fire off at predetermined times, ensuring peak productivity.
eContracts: To make sales, reps need access to legally-binding contracts. SPOTIO includes eContracts so that your reps can close deals on the spot.
Route Planning Tools: Finally, SPOTIO uses technology to plan the most efficient route between prospects. Reps just need to tell SPOTIO where they want to go and our software will do the rest, while automatically tracking their mileage.
SPOTIO has been proven to boost sales rep productivity by as much as 46%. Imagine how many projects your team will complete when it's backed by SPOTIO technology!
Win at Sales Project Management
There's no way around it, sales project management is super important. To keep your sales projects on track, invest in a traditional project management tool and SPOTIO. Then use them in tandem as we described above and watch your team's success skyrocket!
Ready to get started with SPOTIO? Sign up for a free demo today and one of our experienced product specialists will show you the ins and outs of our industry-leading solution.