When you're trying to generate leads outside of your territory, things can get a little overwhelming. Not only must you locate those quality leads, but you also need to nurture them along so that they become completed sales.
Fortunately, there are tools and techniques available to make it easier to close the sales leads you've generated.
Industry Verticals

To generate more leads, try expanding into vertical markets where you're more likely to encounter customers who need your solution or product. You can expand your business by categorizing the leads you want to target based on territory and product type so that you know what message to cultivate when you contact them.
Route Optimization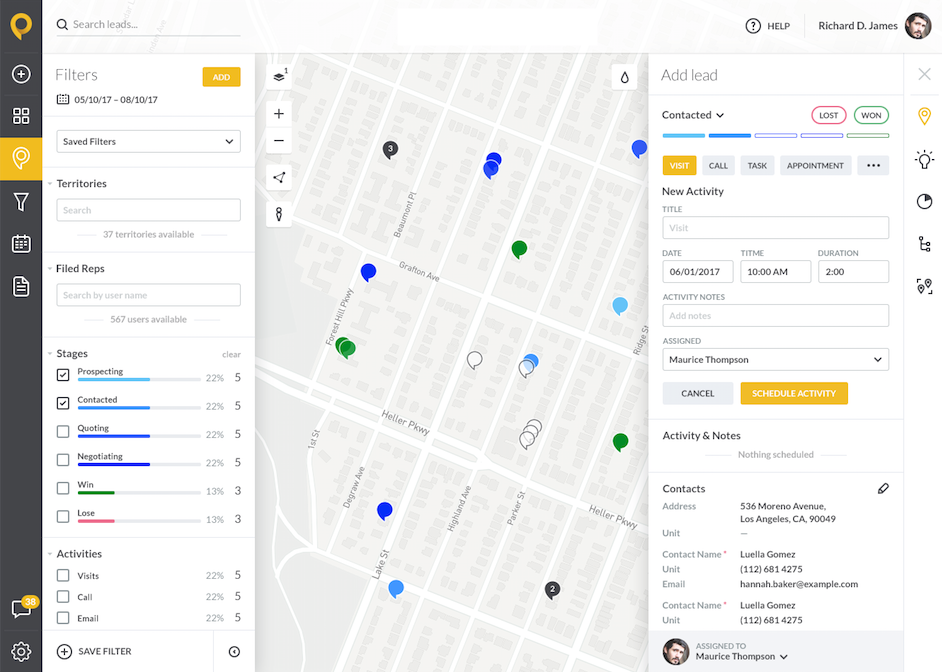 Once leads are categorized, it's time to figure out your route. This involves planning your day and strategizing the order in which you will visit potential outside sales customers.
With SPOTIO's route optimization tools you can put together the ideal schedule to maximize your time in the field. Plan routes based off meeting time, meeting length, and distance in between meetings just to name a few.
You can also optimize the best order in which to visit your leads to ensure you always arrive on time when you meet a lead.
Geocentric Campaigns
As you expand your reach and cultivate stronger vertical marketing strategies, you need to collaborate with your marketers so you can generate a geocentric campaign. Develop a strategy to engage outside sales leads in various locations by tailoring your message in a way that resonates more effectively with the respective audiences at each location.
While working on your outside sales engagement strategy, you'll want to analyze your sales data regularly using a CRM to reach more potential leads and generate increased outside sales business.
This CRM data will help you locate untapped opportunities. It will also allow you to visually review and locate places where you can sell to similar audiences.
Educate

The best way to capture more outside sales leads is to focus on helping your prospects solve their problems.
A simple way to do this is to answer their questions, resolve their concerns, and educate them about how you can help. Doing so will position you as a reliable and authoritative leader in the industry, and not as a pushy salesman.
You need to be a highly-trained rep who knows every aspect of your company and market, especially when tackling territories and areas where prospects are not yet familiar with what your company can offer them.
These prospects will have even more questions than local prospects because they don't know if they like you or trust you yet.  Answering their questions and becoming the go-to resource for your prospects will help you to develop trust and eventually close the sale.
Establish Relationships
No matter what industry you're in, it's important to establish a relationship with your prospects. In a new territory, you're going to have to work harder to nurture your leads and to prove that you are an authority in your field. You'll want to show them that they can trust you even though they may not yet know much about you.
Why should they trust you?
Because you're an industry authority and you are willing to teach everything they need or want to know about who you are and what your product or service you offer. Many buyers need additional information. They might want to compare different options or speak with an attorney or another business partner before they make a decision.
To that end, as a sales rep, you can use SPOTIO to keep active notes for each of your leads so that you know where they are in the sales pipeline, what questions they have about your company, and what information you can give them each time you reach out to them.
How Can You Improve your Outside Sales Lead Generation?
The way you end calls with your leads is very important. An average rep will only attempt to reach a prospect twice. However, when you break it down in terms of numbers, only 2% of sales are made through the first contact and only 3% more are made through the second contact. Stopping after the second attempt means your chances of making a sale are a measly 5%.
Leads need to be contacted on a regular basis – anywhere between 8 – 12 times over a 10 – 14 days period. Do this, and you will increase your chance of a sale to 90%.


Given that it requires so many attempts to reach and establish connections with your outside sales leads, you need to use an automated sales engagement system to make the most out of your time. Having a good sales cadence means using the correct number of attempts, across different mediums and spaced out appropriately with customized content.
You can use SPOTIO's tools to reduce the amount of time you spend creating these contact attempts. You can do things like setting up all reminders and automatic check-ins.
You can also create automated follow-up messages for your email campaigns and to address your lead's unopened emails.
Referrals are Important


Being in unfamiliar territory with people who don't necessarily know much about your company or your product doesn't have to be a waste of time just because one lead doesn't pan out.
Studies indicate that 91% of people contacted who don't follow through with a sale would give a referral if prompted. But, only 11% of reps ask for a referral.
Even more striking is the fact that these additional referrals usually result in follow-up appointments 80% of the time. This means that in order to generate more outside sales leads you should ask each of your leads for a referral at some point in the call attempt process, especially if your lead does not pan out.
Conclusion
Generally, outside sales lead generation is now more accessible and manageable than ever. If you utilize careful planning and preparation and you are willing to dedicate your time long-term you can successfully reach more potential leads in less time.
_______
Questions or comments? Contact SPOTIO at [email protected] or comment below.
SPOTIO is the #1 field sales acceleration platform to increase your revenue, maximize your profitability, and increase your team's productivity.
Want to see a product demonstration? Click here to see how SPOTIO can take your sales game to the next level.