Sales conferences can be an invaluable source of education and training. But, which ones are the right for your team?
A well-outlined conference does more than help your sales staff sharpen mission-critical selling skills and techniques (although, they definitely do that too). Relevant conferences and seminars deliver an invaluable opportunity for your salespeople to meet and engage with potential prospects, network with industry partners and affiliates, and gain inside access to the very latest market innovations that can help them grow their book of business (aka directly impact your company's profit margins).
Not sure which sales conferences will yield the biggest ROI for your team? Look no further. 
The 15 Best Sales Conferences to Attend in 2020
Sales 3.0 Conference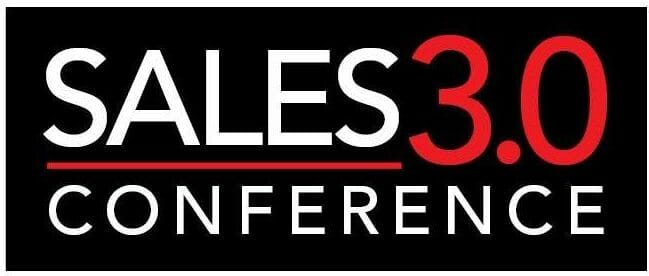 Dates: March 10-11, 2020 | June 9-10, 2020 | October 13-14, 2020
Locations: Orlando, FL | Toronto, ON | Las Vegas, NV
Tickets: Orlando | Toronto | Las Vegas
This two-day session is designed specifically for sales, sales operation professionals, and sales enablement leaders. Each Sales 3.0 Conference offers executive-level speakers who deliver strategic insight and best practices tactics that accelerate performance and drive bottom-line growth.
Sandler Summit
Dates: March 4 – 6, 2020
Location: Orlando, FL.
Tickets: Purchase here
This year's Sandler Summit will be held at Orlando's Rosen Centre, where you'll have an opportunity to network and engage with over 1,000 sales, leadership, and management professionals from across the globe. Immerse yourself in a two-day intensive, high-impact training and networking seminar that's led by some of Sandler's leading sales training innovators.
Sales World
Dates: June 11, 2020 | September 17, 2020 | November 19, 2020
Location: San Jose, CA | Randolph, MA | Dublin, IE
Tickets: San Jose | Randolph | Dublin
In case you haven't noticed, we live in a Digital Sales World. Designed for inside/in-field reps and sales leaders, this conference offers tools, tips, and strategies to tap into the power of digital innovation to improve selling performance and increase overall revenues.
10X Growth Conference
Dates: February 21 – 23, 2020
Location: Las Vegas, NV
Tickets: Purchase here
How could you possibly miss out on the self-proclaimed Largest Business Conference On Earth? The 10X Growth Conference showcases some of the world's most successful and innovative entrepreneurs who share their insight and tips with sales professionals across every corporate level. The star-studded lineup of keynote speakers includes Grant Cardone, Kevin Hart, Magic 'Irving' Johnson, and Snoop Dogg, making it a must-attend event.
Unleash 20
Dates: April 7 – 9, 2020
Location: San Diego, CA
Tickets: Purchase here
Not only is this conference held at a luxurious spa…it's also hosted on its own private island. Don't worry, Unleash 20 offers more than tropical weather and gorgeous scenery. Here, sales leaders and professionals from around the globe train, network, and listen to elite speakers as they sharpen their leadership skills and strategies.
Rainmaker 2020
Dates: June 24 – June 26, 2020
Location: Nashville, TN
Tickets: Purchase here
This three-day seminar designed for sales management provides exclusive trends, tips, and techniques from some of the biggest innovators and thought leaders in the industry. Rainmaker 2020 offers proven strategies to help you build essential partner relationships and grow your business.
Sales Leadership Summit
Dates: April 14 – 16, 2020
Location: Chicago, IL 
Tickets: Purchase here
Touted as the Inside Sales Leadership Event of the Year, the Sales Leadership Summit gives managers, leaders, and executives access to the innovation, tools, and resources needed to sharpen their own sales skills and bring their team of Account Executives to the next level of selling.
IN

BOUND 2020
Dates: August 18 – 21, 2020 
Location: Boston, MA
Tickets: Purchase here
Hosted by HubSpot, Inbound 2020 brings together industry thought leaders and professionals for a four-day curriculum designed to not only grow your business but help change how you do business. Equal parts enterprise and empathy, this conference can inspire your sellers to not only do their best but also to be their best.
Traction
Dates: August 5 – 6, 2020
Location: Vancouver, BC
Tickets: Purchase here
Traction Conference delivers world-class speakers and actionable selling strategies to fast-track business growth and launch team performance. Over the course of two days, you and your account reps will connect with executives from Fortune 500 companies, major media contributors, and high-impact startup founders as you hone your skills and grow your professional networks.
LeadsCon
Dates: March 30 – April 1, 2020
Location: Las Vegas, NV
Tickets: Purchase here
Known as The World's Largest Performance Marketing Conference And Exposition, LeadsCon gathers industry-leading innovators for a two-day session dedicated to essential practices like field performance, lead generation, and networking. Developed for marketers and sales professionals, this conference and exposition offers keynote speakers, workshops, and breakout sessions for optimized results and success.  
D2DCon
Dates: January 19 – 21, 2023
Location: Salt Lake City, UT
Tickets: Purchase here
The largest In Home Selling conference in the country for Door-to-Door, B2B, and Referral based selling. At D2DCon, sales managers and business owners come together for a highly informative three days focusing on leadership, recruiting, sales and business development. Attendees learn how to grow business from industry greats. How valuable is D2DCon? So valuable that D2DCon is one conference the SPOTIO team never misses!
The Trust Enablement Summit
Dates: October 25-27, 2022
Location: Virtual
Tickets: Purchase here

The Trust Enablement Summit focuses on Sales Enablement professionals across the globe and consists of a mix of speakers at all levels of experience, ages, and backgrounds. The goal is to prepare, educate, and learn from the next generation of enablement professionals. Experts share best practices and insights between generations and understand how each consumes information, learns, and thrives.
Solar Power International
Dates: September 14 – 17, 2020
Location: Anaheim, CA
Tickets: Purchase here
As the largest solar event in North America, Solar Power International is not to be missed. SPI brings a wealth of resources and knowledge into one place. Hobnob with with distributors, contractors, engineering firms, architects, builders/developers, investors and financiers. In addition to learning from the industries best, the tradeshow floor gives you the opportunity to meet with top suppliers and manufacturers so that you can discover new solutions and ideas to help you business thrive. The extensive draw this event pulls is one of the many reasons SPOTIO is looking forward to attending this years' show.
REV2020
Dates: March 9 – 11, 2020
Location: San Francisco, CA
Tickets: Purchase here
Ignite your passion for delighting customers and maximizing revenue with 3 days of leading-edge insights from the best minds in the industry.
Seismic Shift

Dates: November 5 – 7, 2020
Location: San Diego, CA
Tickets: Purchase here
Seismic Shift is a hand-on event, leaving you with invaluable knowledge on how to enable your business to align ales and marketing teams in order to provide the best customer experience.
What are your plans for sales conferences in 2020? Tell us what events you or your team will attend in the comments section!
______
Questions or comments? Contact SPOTIO at [email protected] or comment below.
SPOTIO is the #1 field sales acceleration and mobile CRM  designed specifically for outside sales managers and reps to squeeze every drop out of their field sales efforts.
Want to see a product demonstration? Click here to see how SPOTIO can take your sales game to the next level.