Looking for practical outside sales tips you can start using today? Read on.
In this post, we've pulled together some of the best sales tips to help you stay ahead of the competition and close more deals in 2021.
We cover everything from prospecting intelligently, to following-up methodically, leveraging existing customers effectively, and using the best technology to get the job done as efficiently as possible.
Let's start!
14 Practical Outside Sales Tips and Techniques
Here are our best tried and tested outside sales tips and techniques to keep your team on top.
Tip #1: Define monthly, quarterly, and annual sales goals
You can't form a sales plan or process if you don't know where you are going, and by what time.
By establishing clearly defined goals, sales reps are able‌ ‌to‌ ‌focus‌ ‌on‌ ‌success. But, you have to set the right type of goal. That's where SMART goals come in:
Specific: clear and unambiguous, stating precisely what is expected.
For example, instead of saying "sell more" or "knock on more doors",  you say "sell x-amount more than last quarter" or "increase door knocks by 10 per day".
Measurable: concrete criteria for measuring progress toward goal attainment.
For example, "make customers happier" is not measurable, but "increase sales by 17% by the end of the next quarter" is.
Attainable: challenging and stretching, but ultimately can be achieved.
For example, "increase door knocks by 10 per day" is achievable, but "increase door knocks by 500" is unrealistic.
Relevant: in alignment with the individual and team goals.
For example, the goal is aligned to your business and also meets your customers' requirements.
Time-related: a committed deadline.
For example, there needs to be a time-bound date. "Increasing door knocks by 'X' amount by 'X' date" is how you set a SMART sales goal.
Setting SMART goals holds you accountable, keeps you motivated, and gives you a way to measure success.

Tip #2: Set minimum daily sales activities
Sales managers need to use data to set minimum sales activities each rep must complete to‌ ‌continue‌ ‌filling‌ ‌the‌ ‌pipeline.
These are not lead or sales-based metrics, but instead, capture the "controllable" elements of the sales process. For example, the number of calls, emails, follow-ups, onsite visits, and voicemails, that directly generate leads, demos, meetings, and sales.
Managers should have an idea based on historical sales activity data how many daily activities need to be completed to fill the pipeline with enough quality leads to hit revenue targets.
Daily sales rep reports inform managers how much effort reps are putting in each day to‌ ‌continue‌ ‌filling‌ ‌the‌ ‌pipeline. Typically, these metrics include:
Number Of Prospects
Number Of Contacts
Number Of Visits
Number Of Follow-Ups
Number Of Referral Requests
Lead Response Time
Number Of Upsells
Looking to keep your field sales reps more accountable for their daily sales activities?
Use a tool like SPOTIO's activity management software to track rep location and monitor activities:
Tip #3: Automate administrative tasks
There's no hiding from the fact that outside sales reps have to deal with a load of tedious and time-consuming administrative tasks:
Here's the kicker: nearly two-thirds (64.8%) of reps' time, on average, is spent in non-revenue-generating activities, leaving only 35.2% for sales-related functions.
Although that's a significant proportion, it's possible to get a handle on administrative tasks by introducing automation.
In fact, you could boost your sales reps' productivity by 46% by automating administrative tasks.
For example, you could automate tasks and simplify data entry:
Automatically log every prospect interaction in real-time.
Automatically capture visits (check-ins and check-outs) with geofencing.
Quickly send texts and emails on the go with messaging templates.
Close deals on the spot with e-Contracts.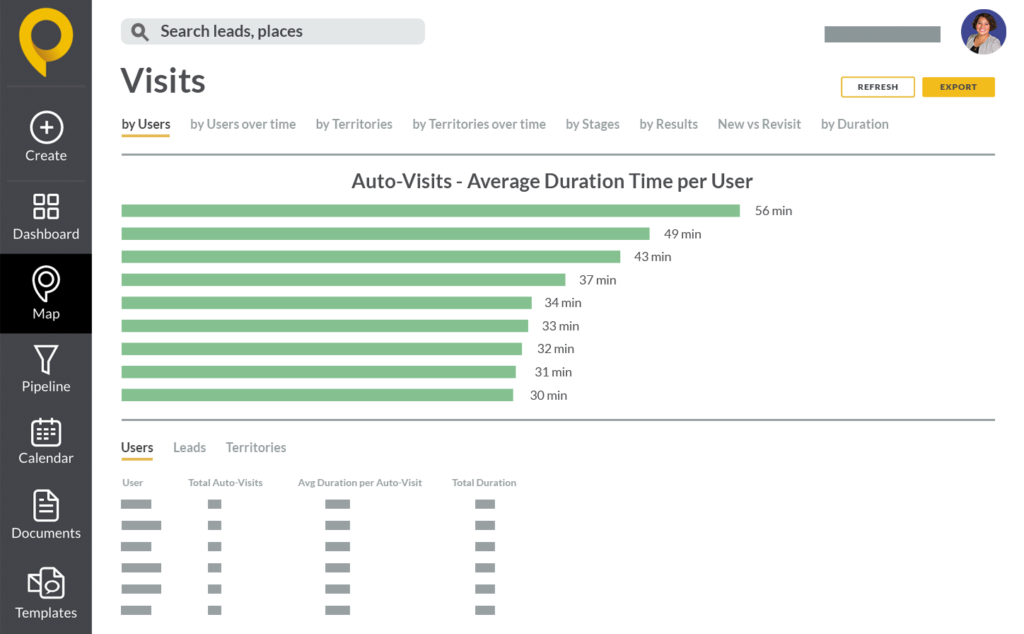 Image: SPOTIO's task automation feature automatically logs visits and other admin tasks. 
Tip #4: Understand your product's value proposition
A big part of being confident in the field is fully understanding your product's value proposition better than anyone else.
It's not enough to simply know your product's name, a few features, and some catchy strap-lines you got from the marketing department. Prospects can probably find that level of information on the web themselves.
Instead, you should drill-down and familiarize yourself with the specifications, metrics, and value-adds that differentiate your products from those of your competition. Talk to colleagues in your product development, engineering, or manufacturing teams to get the low-down.
Once you know the features, turn them into benefits. Prospects want to know how they are going to benefit from your product or service. So, try to understand the purpose and specific problem each feature is designed to solve.
Understanding your product's value proposition not only makes you more confident but also helps you understand your customer's pain points, and lets you map your product's benefits to their requirements.
Tip #5: Use ICP data to prospect intelligently
Reps need to spend time working on quality leads that fit the ideal customer profile to increase their chances of closing a deal.
Not all leads are created equal, so it's imperative that reps pitch the gatekeeper or decision-maker, so you can close a sale rather than getting passed around the company.
SPOTIO's sales intelligence tool, Lead Machine, lets you filter by 200+ data attributes and disqualify bad prospects before your reps waste their time. Simply choose a territory to generate a lead list, and use filters to weed out unqualified prospects and identify the right leads.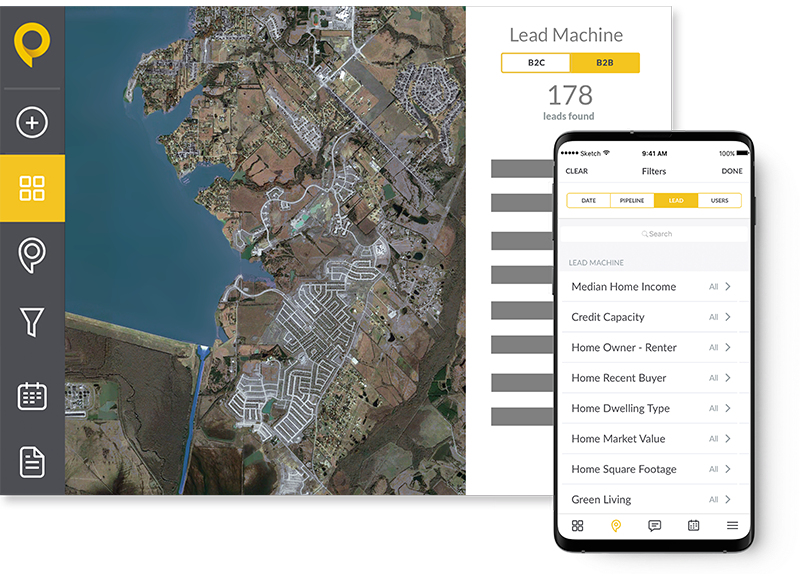 Tip #6: Map strategic sales territories
By mapping out strategic sales territories and allocating balanced workloads between reps, you can help boost team sales.
Team leaders use sales territories to segment customer segments for each rep within‌ ‌clear-cut‌ ‌boundaries. They can be divided using geography and other factors such as sales potential, referral source, or product type.
Bottom line: You can ensure your top-performing sales reps are working the most valuable territories, ensure each rep has enough leads to work, and that reps are not encroaching on each other's territory.
You can map strategic sales territories more efficiently with SPOTIO:
Assign sales territories by geographic boundaries (state, county, city, zip) or drawing on a map.
Allocate sales rep resources to cover each territory completely.
Prevent unwanted overlaps and keep reps from bumping into each other.
Give your team clarity around who owns which territories.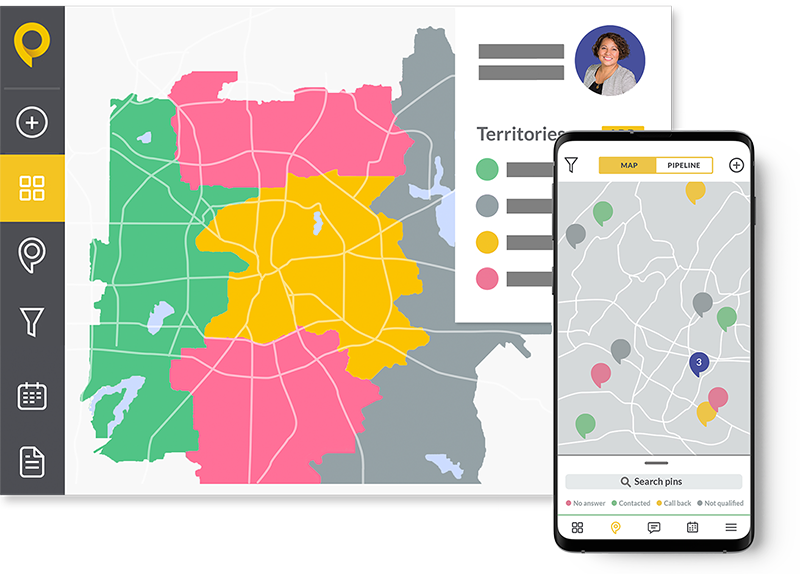 An example of a sales territory in SPOTIO
Tip #7: Minimize windshield time
Less time on the road means more time selling.
Route planning software helps you find the quickest route and saves your outside sales reps from planning sales routes manually. You can:
Minimize windshield time and quickly find the best route to any meeting.
Map and plan your day in the field and route for all the day's meetings with a single tap.
Find the most efficient route for multiple stops by lassoing map pins with your finger.
Route optimization reduces the time sales reps spend route planning and gets them focused on closing deals.
Tip #8: Develop an effective voicemail script
Cold calling is one of the most challenging aspects of prospecting. Especially when you consider that, on average, 90% of cold calls result in a voicemail.
Given that a prospect is unlikely to answer your call, you need to develop the knack of leaving an effective voicemail.
When you're creating your voicemail script, focus on getting your prospect's interest so that they'll want to call you back. Keep your message short (20 seconds or less) and upbeat. At this stage, don't even think about selling – you just want to get a callback.
Test a couple of voicemail scripts to see what works best. You may end up with a few variations to suit different scenarios.
Tip #9: Take a consultative selling approach
It's important to remember that benefits sell, not features – in other words, you don't sell the drill, you sell the‌ ‌hole‌ ‌in‌ ‌the‌ ‌wall.
You can incorporate this concept into your sales strategy by taking a consultative approach to selling.
Instead of telling prospects what they need, a consultative approach engages prospects through thought-provoking questions, helping them identify their pain points. In the end, prospects guide themselves to make their own decisions.
One of the main characteristics‌ ‌of‌ ‌effective‌ ‌consultative‌ ‌selling is the ability to ask pain-based questions, like the Sandler pain funnel:
Tell me more about that …
Can you be more specific? Give me an example …
How long has that been a problem?
What have you tried to do about that? And did that work?
Start by building credibility and demonstrating that you understand what's going on with their business.
Tip #10: Dial in your follow-up sequence
If you want to consistently close deals, you'll have to follow-up with your prospects and customers regularly.
Studies show that 80% of sales require five follow-ups after the initial contact, but 44% of salespeople give up after the first one.
You can follow up with a quick email, a telephone call, an in-person coffee chat, or even share a piece of content that you think would be valuable to them – whatever it takes to stay top-of-mind.
It's not rocket science – it's just a case of making an effort to keep in touch, stay ahead of the competition, and increase your chances of closing deals.
Tip #11: Plan for objections
Objections aren't pleasant, but they're a part of the sales process. And as long as you're prepared, you can turn an objection into a win.
The‌ ‌most‌ ‌successful‌ ‌salespeople‌ ‌are‌ experts ‌at‌ ‌handling‌ ‌sales‌ ‌objections. They get to the root of problems and turn them on their head to propose a solution that works for everyone.
Consider‌ ‌your‌ ‌sales‌ ‌strategy‌ ‌as‌ ‌a‌ ‌game‌ ‌of‌ ‌chess. You have to be three steps ahead of your customers and anticipate what moves they will make, both good and bad. If you have a plan in place for every potential objection, countering these concerns and steering the conversation becomes second nature.
Follow this three-step process to handle any objection.
Pause: Once the objection is aired, take a moment to consider your reply rather than reacting immediately.
Repeat/confirm their objection: Repeat what they just said in the form of a question. For example, "If I understood correctly, you have a concern around the responsiveness of customer service, is that right?" 
Pause and wait for their response to clarify the question. Then put their mind at ease with the proper solution to their grievance.
The less you talk, the better: Being clear and concise demonstrates your confidence, which will put the potential buyer at ease. The more you blabber on, the less engaged your prospect becomes.
Letting them talk shows that you care about their needs and are interested in helping find a resolution to their pain points.
Tip #12: Centralize multi-channel communications
Outside sales, especially post-covid, requires a truly multi-channel approach – calls, emails, visits, social media comms, texting, and more. All of these channels can become a nightmare for tracking who you have contacted, when, and what was said.
Using outbound call center software can help simplify this process, helping your sales team to better focus on getting sales.
And without quality data, you're forced to guess when it comes to forecasts and sales coaching.
SPOTIO automatically captures every visit, call, text, and email in one multi-channel dashboard, so you can:
Log every visit, call, text, and email in real-time.
Keep prospects engaged by following up on their preferred channels.
Track inbound, outbound, and missed calls.
Integrate with your calendar and email.
Connect with your CRM without disrupting your reps' workflow.

Tip #13: Leverage your existing customer base
Your existing customer base is one of your most valuable assets when it comes to prospecting and selling.
Acquiring new customers is up to 25 times more expensive than retaining existing ones. And the likelihood of selling to an existing customer is as high as 60-70%.
Leveraged correctly, you can generate 80% of your revenue from just 20% of your existing customers.
One way to leverage your existing customer base is through upselling and cross-selling. Both are effective as you've already established a relationship with your customer. The key is offering the right additional product or service at the right time.
You can also leverage your existing customers for referrals. As a trusted consultant, your clients will happily recommend you to other people in their network.
Tip #14: Motivate reps with sales leaderboards
Sales reps thrive off competition, and nothing keeps them more motivated than a sales leaderboard. You can
Create various leaderboards for metrics you want to improve, such as appointments, knocks, leads, calls, wins, conversions, and revenue.
Give sales reps real-time insight into how they stack up against peers.
Run separate competitions and performance incentives.
Tips to Improve Your Outside Sales Performance
As long as you're open to new tips and techniques, there are always plenty of ways to maximize your outside sales performance.
From automating tedious administrative tasks to mapping strategic sales territories and motivating your outside sales reps, the SPOTIO platform can streamline productivity and improve sales performance.
---