GPS Prospecting gives today's competitive marketing teams distinct advantages. Using location-based services to secure yourself a stream of new opportunities, leads and new territories should be at the forefront of sales and marketing.
From assessing optimal routes to discovering untapped potential within existing areas of business, using GPS often rewards one with massive potential.
We'll be taking you through a comprehensive look at what GPS prospecting is, and how you can use it to leverage mapping for maximum advantage in your business.
What Is GPS Prospecting?
GPS prospecting involves using your GPS data to plan efficient routes, work territories effectively, and hold sales reps accountable for their performance. This means more deals won, higher productivity, and better overall territory management.
Once a CRM with tracking and mapping software is integrated, all of your maps show the location of your customers, leads and opportunities. All current GPS data is also shown such as nearby points of interest.
With complete company data enriching all pins displayed, there is no better platform for improving sales and sales productivity.
Considering GPS Prospecting?
If you're considering implementing CRM software with built-in GPS prospecting, then you should be asking yourself the following questions:
Do your sales teams attract enough new opportunities and leads?
Are you happy with the current closing rate of your teams?
Is the automation and optimization of sales routes and cycles of importance to you?
Can staff currently access real-time on-demand insights from the whole company database?
What is the limit of sales tracking in your business, and can it improve?
How flexible is your field sales management platform, and would you like more control?
Whose time-management, efficiency, and productivity could be better with support?
Every business benefits from the insights and control of a proven platform. Sales technology is no longer optional in today's markets.
Instead, GPS prospecting and location-based sales optimization are becoming essential to gaining a competitive edge.
Refining Territory Management
An abundance of external data sources can be captured by all robust tracking software. Leading platforms function as both CRM software and GPS prospecting tools.
All of the information in the world won't help an agent unless the company system aggregates business intelligence in ways that all levels of staff can use and understand.
This is what makes mapping such an asset.
Sales can build lists of target companies according to any predefined criteria while assessing the viability at a glance. Every pin, point of interest, or prospect is categorized and ready to contact.
From a singular territory management interface, sales intelligence delivers key data regarding corporate information, company roles, and other background information exactly when and where it's needed.
Leverage Location Data for Optimal Sales & Marketing
In today's connected world, almost everything is networked. Data can be harvested from customer interactions with metrics being captured in real-time. As more and more customer engagement information is amassed, the more automation becomes necessary.
With the help of GPS prospecting tools like SPOTIO, analytics are segmented, sorted, and reported in any way that suits your unique approach and business model. With data visualization available to all levels of staff, there's no easier way to anticipate the needs of your customers, and determine what needs to be done to make the sale and win loyalty.
The Benefits of GPS Prospecting
Team leaders and managerial staff are capable of tracking the exact location of their sales reps in real-time. As mentioned, accountability is a clear asset – enhancing performance and ensuring that productivity is kept as a constant priority. In time and with the right sales leadership, field reps will soon see the rewards of efficiency first-hand.
The more engaged you get your reps in the planning and strategy behind each sales cycle, the more driven they are to perform.
With basic information like the shortest route, scheduling appointments on the fly, and customer mapping – it's easy to see what needs to be shifted to get the most out of each day.
Territory Management and Your GPS
Every sales rep knows the value of time. Yet, just because you're pushing 60 to 80 hours a week in the field, this doesn't mean that you're banking big. Field sales team tracking let's management fill schedule gaps with opportunities that are nearby, and those that suit their sales abilities best.
Companies focused on strategy will love the way that opportunities, leads, and customers are visually displayed. Combine this with total performance tracking, and you'll soon see how remote monitoring using a CRM with a GPS tracker can help any sales department streamline and plan their workflows better.
Plan the Optimal Route, Always
One of the forerunning benefits of good GPS prospecting practices are the route planning improvements. With the all territories mapped out and potential areas of business highlighted and color-coded, territory analysis is made easy affording one superior insights. This translates into both fuel and time-saving benefits, while at the same time elevating service levels to all new highs.
Your reps are always spending the right amount of time at each stop, while taking the safest, most productive route overall. There's no dwindling away time and resources when every route is planned out and optimized for not only basic factors like fuel, but for advanced criteria such as territory balance barriers, demographic suitability, and sales potential as well.
Adding Prospecting to Existing Mapping Strategies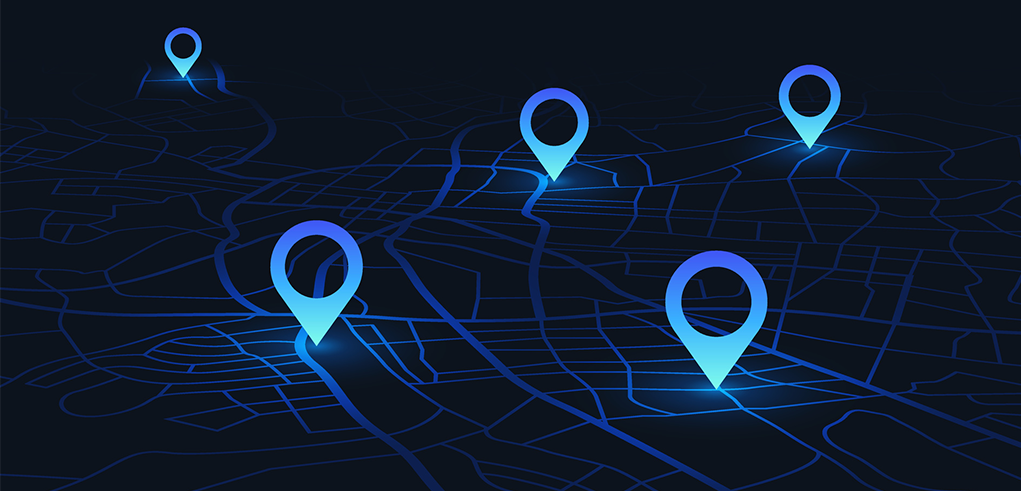 The time in between opportunities is vastly untapped, but very few reps have enough room in their schedule to begin working new customers and optimizing their tactics.
If the company software doesn't factor in qualifying criteria for leads and opportunities automatically, it seldom ever gets done. Every business focused on sales performance and scaling marketing growth will soon need to start considering feature-packed territory management software.
There is no better way to supplement or start a marketing campaign across any range of channels. Visualize your customers and the way that your staff interacts in real-time, and on-demand decisions begin to take the place of estimations and projections.
Track Progress Based on Location
SPOTIO's sales rep tracking via GPS serves as the perfect example of a platform that promotes good GPS prospecting practices. One has to remember that it's just as vital to analyze and manage sales rep performance and assignments as it is to optimize territories.
Prospecting means looking for opportunities in not only new, uncharted areas but in existing avenues of business as well.
With the right software at your aid, you'll know exactly where your reps are at all times.
Location verification spurs an environment where accountability breeds healthy competition. It also lets keen team leaders shift appointments and fill in schedule-gaps with visits that save time and resources rather than extending traveling time and creating additional burden.
Information-Enriched Mapping
As you work your territories towards total market penetration, the many benefits of effective management technology begin to emerge. You will be able to know where reps are working with extreme accuracy.
For example, sales rep tracking from SPOTIO lets you know that your reps are within a 300 foot radius from their pin. Pins deliver real-time knowledge concerning the location and status of your reps. Everything is timestamped, all data is captured, and analytics are made easy.
Recognize Best Practices For Sales & Marketing
With the help of GPS tracking, management can track leading team members discovering valuable data concerning their approach. You can identify best practices in use by top-performing sales staff, replicating these measures across the rest of your teams. Modeling success is straightforward with intelligent software.
Management can assess both real-time data and historical records thanks to the way that all automated check-ins are timestamped, and all company data is captured, backed-up and secured.
Supercharge Your Sales Cycle
One of the best things about good GPS prospecting software is just how easy it makes selling. With SPOTIO, reps' hone in on a neighborhood while evaluating their prospects. All pins visible are enriched with up-to-date information, including any historical data if available.
Just before your sales reps heads out into the field, all the information needed to pitch the perfect sell is right at their fingertips. You determine the qualifying criteria, and given the visual nature of GPS prospecting itself, an enhanced view for critical thinking and optimal decision making is guaranteed.
______
SPOTIO is the #1 field sales acceleration platform designed specifically for outside sales managers and reps to squeeze every drop out of their field sales efforts.