Feature

Autoplays gives sales teams a new way to drive prospect and customer engagement, eliminate the guesswork out of the sales reps day to day process and ultimately ensures that leads never fall through the cracks.
When a lead is added to an Autoplay, sales reps can take their current sequence of sales activities and create automated workflows. Companies can create multiple Autoplays and test their automated field sales motions to see which one drives the best outcomes, improving revenue by maximizing overall team engagement.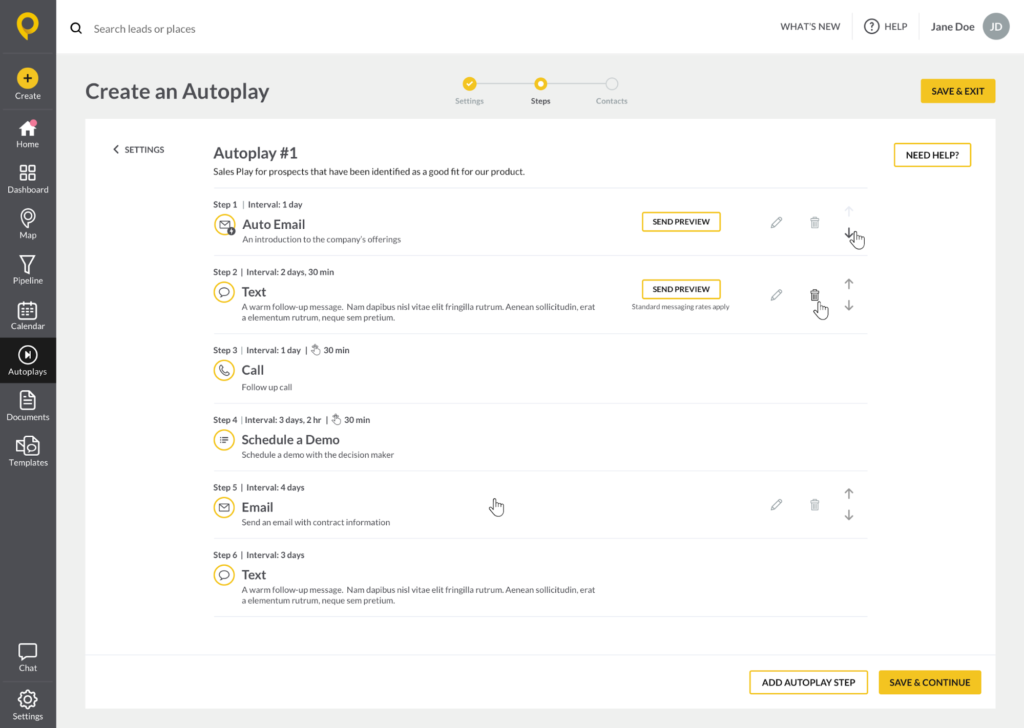 With the enhanced Home/Agenda screen in the SPOTIO web app, sales leaders can see, at a glance, the level of engagement on any given day for their sales reps.
Now, sales reps start their day with a clear view of their agenda based on where any given lead is within the Autoplay sequence.
Additionally, sales reps can move leads into different Autoplays based on their stage as they disposition lead in their sales pipeline. This ensures every lead gets the right message and proper amount of attention it deserves, while keeping the sales rep organized as they go about their day.
Benefit
Autoplays ensure that reps have complete clarity into what they must do each day to succeed and they can be confident they are always following through; improving visibility for both the sales rep and the sales manager.
The Autoplays feature is integrated with the SPOTIO Multichannel Communication feature, which provides your team the ability to send automated texts and emails.
With Multichannel Communication, teams can create predefined email and text templates to ensure that the most effective messaging is being delivered to your leads. By connecting with buyer's on their channels and strategically sequencing activity, sales rep can expect improved sales outcomes.
The Result 
Adding Autoplay sequences to a field reps sales process automates a series of touch points which will prevent leads from falling through the cracks. In addition, it tells reps who they should engage with, the best way to engage with them, and when it's time to reach back out.
Streamline activities, increase efficiency, and improve customer engagement. With Autoplays, you can let the SPOTIO automate this process for you, saving time and putting the reps focus back on selling.
To learn more about, schedule your demo here.