When sales reps have access to intuitive and simplistic mobile sales technology, they'll actually use it. And when reps use technology how it was meant to be used, managers get the information they need to make informed and strategic decisions. This results in increased productivity and more success.
With ease of use and streamlined rep efficiency at the forefront, SPOTIO has released improvements to its mobile app.
Let's take a look at some key areas of our latest release…
Leaderboard Update
Benefit
With additional metric options, the more metrics you can access and the better you can manage your team.
Feature
We've added new KPI metrics options to the leaderboard. Now, users can choose what KPI's you want to see on your leaderboard. These new KPI's:
New Options for Metrics
Visits Logged

Leads Created

Stage Count
New Filters Options:
Timeframe (predefined values)

Territory

User

Stage Count
Insight
With a more robust list of metrics users can choose to see on the leaderboard, sales managers can easily see how reps are doing in the field.
Google Places Layer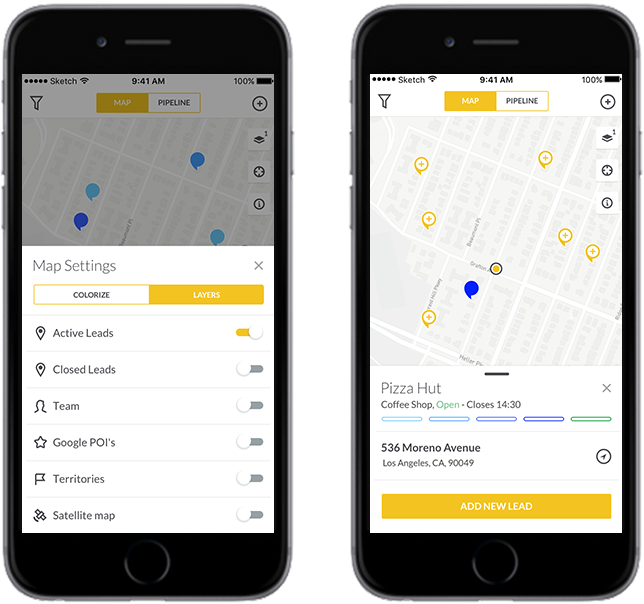 Benefit
From the Map Settings, users can activate a layer to visualize Google Point of Interests (POI).
Feature
When users activate the Google Places layer:
When a user clicks POI pins, the map will display pins that are populated with company name, POI type and the businesses close/open time

User can create new leads based off a POI
Insight
SPOTIO's native integration with Google Places makes it easy for reps to find, filter, and target businesses in their territory.
Landscape Mode for Tablets

Benefit
Having the option to view the SPOTIO app in both landscape (horizontal) and portrait (vertical) mode means you can use the app in any screen orientation you prefer.
Feature
When using a tablet version of the mobile app, users can turn the screen to view it in tablet mode.  
Giving field reps the power of a CRM from their mobile device is a huge competitive advantage, and thanks to this new product release, SPOTIO users will thrive.
________
Questions or comments? Contact SPOTIO at [email protected] or comment below.
SPOTIO is the #1 field sales acceleration and performance management software that will increase revenue, maximize profitability, and boost sales productivity.
Want to see a product demonstration? Click here to see how SPOTIO can take your sales game to the next level.