What's your gig? Do you drive a truck for a living? Maybe you manage a field sales team.
Whatever the case may be, you need access to the best route planner software so you can get where you need to go without hassle. The problem? There are a lot of options available.
In this article, we'll discuss what routing software is, how it differs from everyday navigational apps, and the eight best tools in this category. That way you can make an educated decision.
Does that sound like a plan? Great, let's get started!
What is a Route Planner?
Route planning software is a tool that helps users get from Point A to Point B in the most logical and efficient way possible. To do this, routing software uses complex computer algorithms, as well as real-time road and weather conditions, to determine an optimal route.
It's important to realize that there are different kinds of route mapping software on the market.
Some are designed for personal use. Google Maps is a good example. Millions of people use this app to help them navigate to the grocery store, doctors appointments, etc.
Other route planners are made for delivery purposes. A trucking company might use a tool like Samsara to ensure its drivers get where they need to go, when they need to go there.
Finally, we have tools like SPOTIO, which are specifically designed for field sales teams and helps sellers pinpoint the best routes between the prospects in their respective pipelines.
All this to say, the best route planning software for you will depend on your unique needs.
Why Use Route Software Over Navigational Apps?
Most people lump routing software like SPOTIO and navigational apps like Google Maps into the same category, which is why we mentioned both apps in the section above.
It makes sense. Both apps help users get where they need to go in as little time as possible. But, the truth is, these are different tools and should be treated as such.
In general, routing software gives users access to higher-end features than free apps like Google Maps. For example, most route mapping software will allow users to enter the locations they want to travel to and click a button. The app will then automatically generate the most efficient route between stops. (Let's see Google Maps do that!)
True routing software can also track mileage—a tedious activity that most sales reps hate doing. A tool that does it for them will ensure this important task actually gets done.
So, why use route software over navigational apps? Because you plan to use it for professional purposes. You're a delivery person. Or a sales rep. Or manage people that are. And you want the very best tools to ensure productivity and profitability.
How to Choose the Best Routing Software
You've decided to invest in route planner software and started looking for options on Google. That's when you realize that there are a ton of apps available to you. Which one should you choose?
Here are five things to look for when choosing the best routing software for you:
Use Case: First, what is the app in question designed to accomplish? You don't want to purchase trucking software if you manage a sales team, or vice versa. If the app you're looking at wasn't made for your desired use case, scratch it off your list.
Automations: Route planner software should make life easier for you and/or your team. Look for an app that includes automations. SPOTIO, for example, allows users to lasso areas of a digital map with their finger, then auto-generate optimal sales routes.
Integrations: Small businesses use 73 apps to run operations. Large businesses use 175. It's safe to say that routing software won't be the only tool in your company's tech stack. Look for a solution that will integrate with other tools to streamline processes.
Price: How much can you afford to spend on the best routing software? Consider your current budget, but don't forget about future costs, too. You don't want to invest in a cheap tool now, only to have to replace it in six months when your team grows.
Reviews: Finally, check sites like G2 and Capterra to learn what other people think of the route optimization software you're considering. Never purchase an app with bad reviews. Chances are, it earned those bad reviews and you should stay away.
Pretty simple, right? To make things even easier for you, we've reviewed eight of the top route mapping tools on the market. Keep reading to learn about each app.
SPOTIO
Best for: Field sales teams.
G2 Rating: SPOTIO is ranked #1 in the Field Sales category, and was a 2023 G2 Best Software Winner
SPOTIO is an industry-leading field sales engagement platform, complete with task automation, territory management, multichannel communication, in-depth sales reporting, and, yes, route planning features. If you're in field sales, you really can't go wrong with this tool, which has been proven to boost sales rep productivity by as much as 46% and revenue by 23%.
(Note: For this article, we'll focus exclusively on SPOTIO's routing planning capabilities.)
Top Routing Features:
One-Click Routes: Automatically design optimal routes between prospects with the click of a button. Simply enter the addresses you need to reach and let SPOTIO do the rest.
Area-Based Mapping: Access the SPOTIO mobile app, then lasso multiple prospects with your finger, so that SPOTIO can quickly find the most efficient route between them.
Simplified Mileage Tracking: SPOTIO will automatically track the miles reps drive every day and send the information to your CRM of choice.
Location Intelligence: Identify potential customers on your predetermined routes and make use of every minute in the field with SPOTIO's native Google Places integration.
Routing Logs: The sales routes that SPOTIO generates are logged for future reference. Managers can easily see where their reps have gone on any given day.
Seamless Integration: Connect SPOTIO with all of your favorite tools, including CRMs like Salesforce, HubSpot, and Pipedrive; email platforms like Gmail; and many others via Zapier.
Onfleet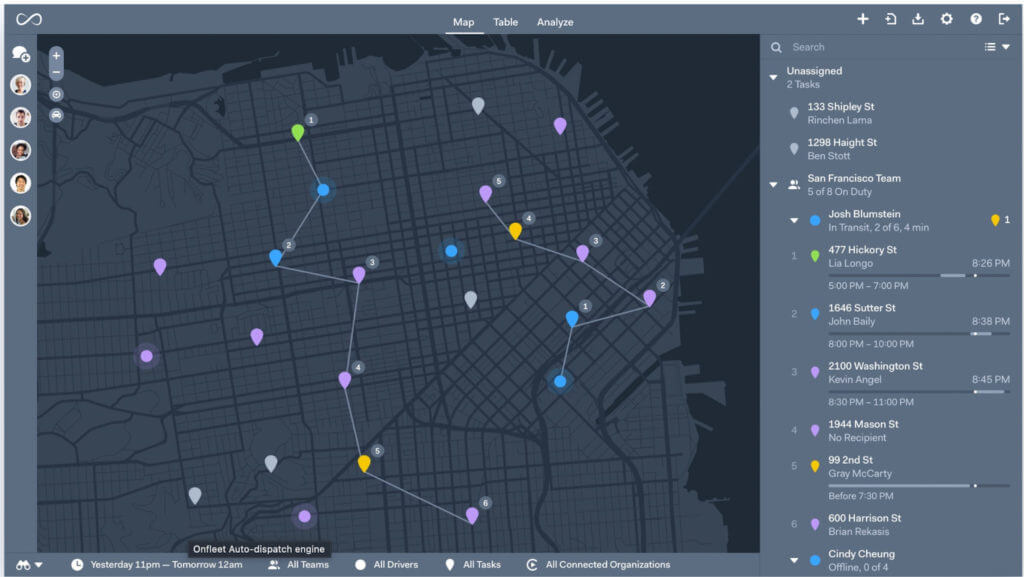 Best Used For: Last Mile Delivery
G2 Rating: 4.4 / 5 Stars – 63 Total Reviews
Onfleet is a last mile delivery solution for companies in a variety of industries, including the retail, grocery, and construction industries. With this tool, delivery companies can easily manage individual drivers, delivery routes, and vehicle capacity on web and mobile apps.
Top Routing Features:
Generate efficient routes between delivery stops. Onfleet takes into account factors like the current time, location, and capacity of individual vehicles in a fleet.
Send customers automatic updates on their deliveries. Onfleet will distribute real-time SMS notifications so customers always know where their packages are.
Allow customers to communicate with drivers, dispatchers, and call centers. (Note: Onfleet anonymizes calls to help keep customer data safe and secure.)
RouteXL
Best Used For: Free Route Optimization
G2 Rating: 4.2 / 5 Stars – 3 Total Reviews
RouteXL is a simple app that small delivery companies can use to simplify operations. Want to find the fastest route between 20 stops without paying an arm and a leg for the privilege? RouteXL will let you do it for free. That's right, easy to use and cheap. We like that. Just don't expect RoutXL to bowl you over with an extensive features list, as it doesn't have one.
Top Routing Features:
Enter up to 20 addresses into RouteXL and the software will generate the fastest route between them for free. (You'll need to pay to route between more than 20 addresses.)
Distribute optimized routes to drivers in one of four ways: print the route on paper, email the route to specific individuals, send a link that can be accessed on a smartphone, or integrate RouteXL with WEBFLEET for TomTom Pro devices.
Samsara
Best Used For: Long Haul Trucking
G2 Rating: 4.3 / 5 Stars – 18 Total Reviews
Samsara is an all-in-one fleet management tool. Managers can use it to check in on their drivers and vehicles in real time. And drivers can use it to navigate from one stop to the next. The Samsara system also features hardware tools, like cameras, to increase driver safety.
Top Routing Features:
Design routes for drivers that get them where they need to go in as little time as possible. Then easily send the routes to drivers' mobile phones.
Always know where a driver is, thanks to real-time GPS tracking and updates. Communicate with drivers, too, via in-app messaging features.
Track each driver's hours of service (HOS), so they always know when to pull over. Doing so helps trucking companies avoid expensive violations.
Integrate Samsara software with Samsara hardware and create a complete system that elevates driver efficiency and safety, as well as company profits.
Route4Me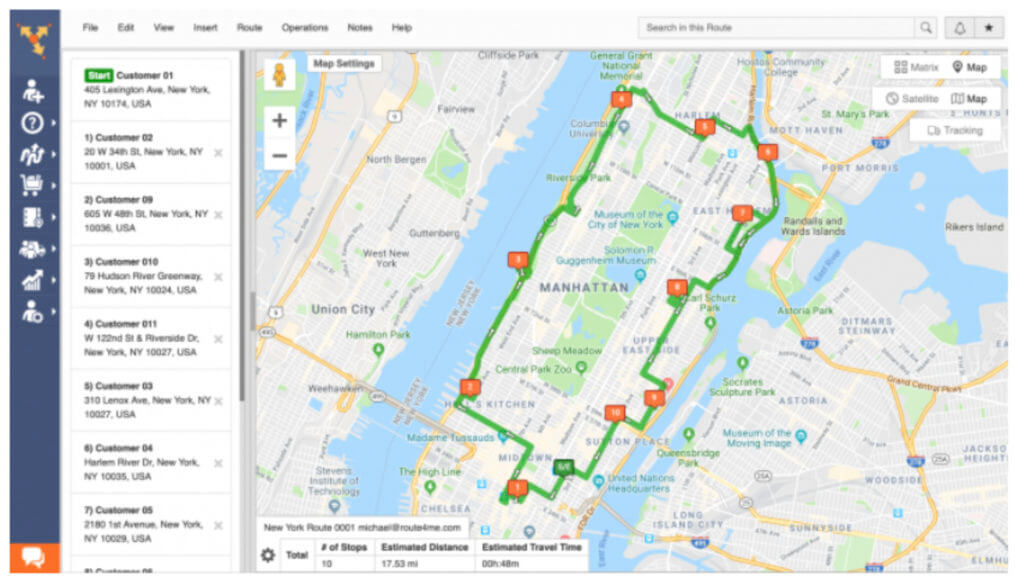 Best Used For: A Customized Routing Experience
G2 Rating: 4.6 / 5 Stars – 26 Total Reviews
Route4Me is a popular software for route optimization. With it, users can type, copy, or upload lists of stops and Route4Me will generate an optimized route between them—in 10 seconds or less! Unfortunately, the app doesn't let users delete stops once they've been added.
Top Routing Features:
Automatically find ideal routes for multiple drivers. Simply upload stops, then let Route4Me work its magic for 10 seconds (even if you've added dozens of stops.)
Work with Route4Me's expert team of routing professionals to customize the routing process and ensure it fits every business requirement.
Access Route4Me on a variety of tools, including desktop and laptop computers, Android and iOS smartphones, and even enterprise-grade Zebra devices.
Routific
Best Used For: Exemplary Customer Service
G2 Rating: 4.6 / 5 Stars – 17 Total Reviews
Routific is a great option for those looking to optimize the local delivery process. An investment in this tool gets you route optimization and monitoring features, real-time customer updates, and even proof of delivery messages—all inside one convenient app.
Top Routing Features:
Generate efficient routes for drivers using real-world factors like delivery windows and types, vehicle capacity, priority stops, vehicle speeds, driver breaks, and more.
Easily customize routes with drag-and-drop functionality. Or let Rutific handle this using the factors described above (delivery windows, priority stops, etc.)
Send customer real-time updates via email or SMS. That way they always know when to expect their package. Once it's delivered, collect signatures and/or photos in-app.
Generate end-of-day reports to understand how drivers performed. Armed with this information, implement better strategies and achieve greater success.
Upper Route Planner
Best Used For: Reducing Delivery Expenses
G2 Rating: 4.7 / 5 Stars – 7 Total Reviews
With Upper Route Planner, small to medium size delivery companies can optimize routes and reduce expenses, among other things. Better yet, the app can be used on computers, as well as iOS and Android devices, so drivers always have access to the most efficient routes.
Top Routing Features:
Plan fully-optimized, multi-stop routes for every driver in a fleet—all in just a few clicks. Address information can be added from an Excel spreadsheet for ease of use.
Add customer details to the Upper Route Planner system, including names, addresses, phone numbers, and emails, to better manage repeat customers.
Add parcel information to each package in the delivery truck. Doing so will help drivers save time and increase the accuracy of every delivery they participate in.
Run detailed reports on the day's deliveries that include delivery notes and proof of delivery information. Then use this information to improve operations.
MapQuest
Best Used For: Personal Use
G2 Rating: N/A
We'll be honest, Mapquest isn't an ideal routing software for professionals. It lacks high-end features that the other tools on this list include. That said, if you only need a route optimization software for personal use, or to make occasional business deliveries, each with just a few stops, MapQuest may fit the bill. The tool has been around for a long time and can be trusted.
Top Routing Features:
Find the quickest route between locations. MapQuest considers current traffic patterns to design the most efficient routes for each of its many users.
Save more money. Mapquest can be used for free, albeit with limitations. Those looking for a simple routing solution that won't break the bank will appreciate this app.
Which Routing Software is Right for Your Business?
The best route planner software will make your field sales team, delivery business, or trucking operation more efficient. The key is to find the right solution for your needs.
If you're looking for a sales oriented routing software, take a long, hard look at SPOTIO. Our platform was specifically designed for field sales teams. As such, it has all of the features you need to boost sales, including task automation, multichannel communication, and routing.
Sign up for a free demo of SPOTIO today to see our industry-leading app in action.