Create Digital Business Cards With SPOTIO
Business cards have existed, in one form or another, since the 15th century. But it wasn't until the 17th century that they became widely used for advertising purposes.
These days, business cards are the pieces of paper we hand out to potential customers and pass around at industry conferences, only to find them at the bottom of the trash bin an hour later. Seriously, when's the last time you actually saved a traditional business card?
While business cards contain important information, most people have developed an aversion to paper, which means it's time for this old school contraption to get a modern upgrade.
What is a Digital Business Card?
Digital business cards (DBCs) are similar to traditional business cards, except with the convenience of digital storage and delivery.
They contain identical information: the name of the professional handing them out, the company they work for and the services said company provides, contact details, etc. But they aren't made out of dead trees. Instead, they exist on the supercomputer in your pocket.
Here's an example of a digital business card you can create with SPOTIO: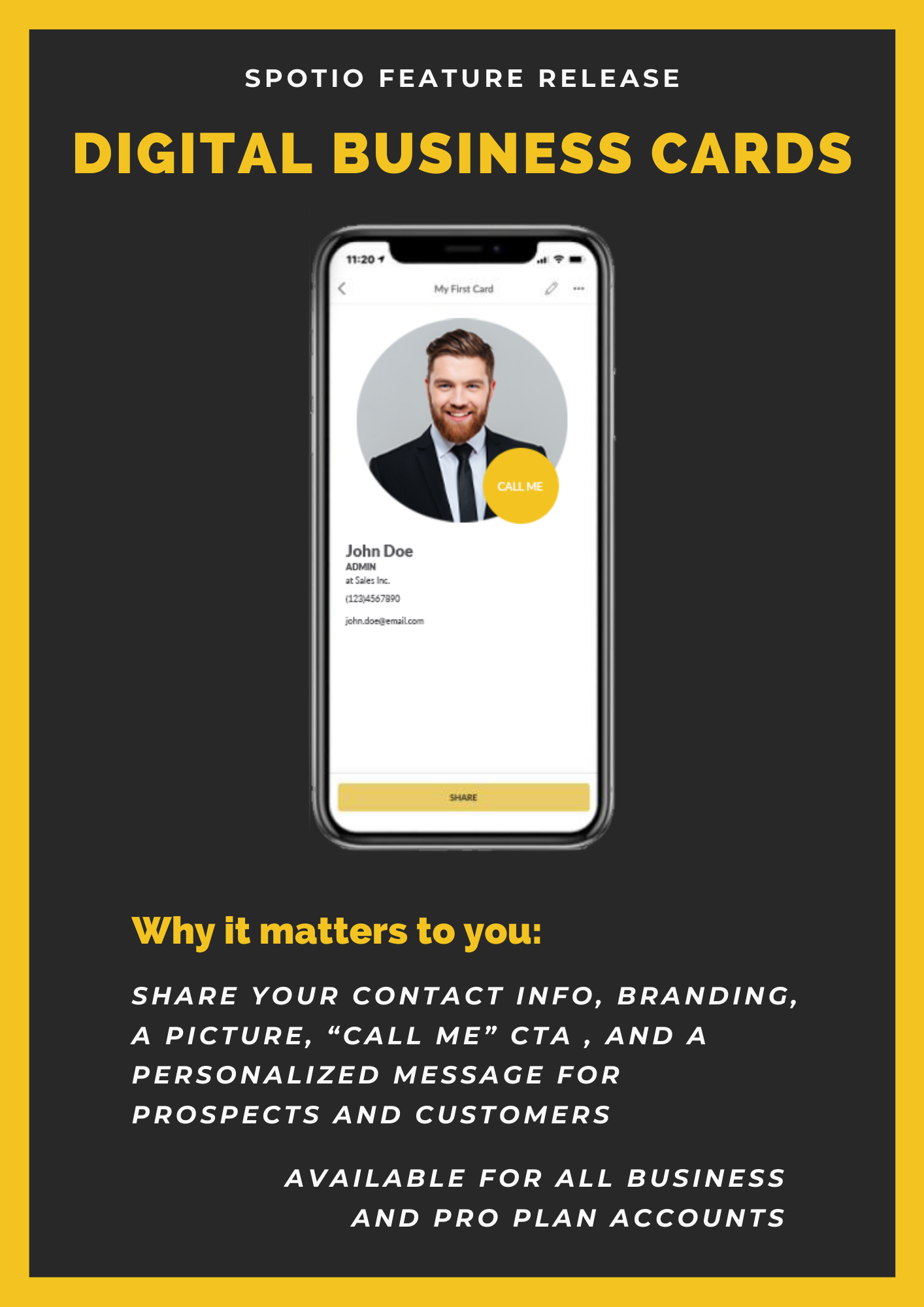 Once you have your own digital business cards, you'll be able to share them with prospects, automatically update them when needed, and even boost customer satisfaction.
What Makes Digital Business Cards Great?
Digital business cards are the way of the future. Don't believe us? Here are three benefits you'll enjoy as soon as you ditch the paper cards and embrace the digital ones:
Digital Business Cards Are Super Convenient
You don't have to print digital business cards, which will save you time and money. All you have to do is login to your SPOTIO account and send your card to whoever wants it.
Once it goes through, your recipients will be able to access the card on their phones (say goodbye to overstuffed wallets!) and easily call/email/text you back with the click of a button. If that's not the very definition of convenience, we don't know what is.
Digital Business Cards Are Always Up to Date
Remember the time you spent an entire day designing a top-notch business card?
It was two-sided, full-color—the whole nine yards. You were so jazzed to start passing them out that you didn't double-check for typos. You just slammed the "Buy Now" button.
A week later, one thousand new business cards arrived in the mail. You opened the box, barely able to contain your excitement, and gazed in awe at the work of art in your hands. They looked so good you had to show them off. So you ran downstairs to present a copy to your spouse, who, upon seeing it for the first time, remarked, "You spelled your name wrong."
What, that's never happened to you? Just me, then…
Regardless, you'll eventually need to update your business card's details. Maybe your company changed locations. Maybe you have a new phone number or email address.
To update the information on your digital business cards, you simply login to your SPOTIO account and make the necessary changes. Easy peasy, lemon squeezy.
Your Prospects Prefer Digital Business Cards
Here's the cold, hard truth: nobody wants your paper business card.
Studies show that 88% of business cards get thrown away in less than a week. It's not surprising. Paper business cards are a pain to store. They're also easy to lose, which means that even if a prospect does want your card, they might not be able to find it when it matters.
You're much better off sending them a digital business card, which won't take up any space on their phones and will be easy to locate when they're ready to give you a call.
How to Create a Digital Business Card in 5 Steps
At SPOTIO, we aim to make life easier for field sales reps. To that end, each of our "Pro" and "Business" users will have access to default digital business cards inside our platform.
In other words, if you sign up for either of our "Pro" or "Business" plans, we'll create a digital business card for you that contains your first and last name, your profile picture, the name of your company, the number listed in your SPOTIO account, and your integrated email address.
In addition to this default card, "Pro" and "Business" users will be able to create extra digital business cards that contain customized information. To do so, follow these 5 steps:
Create Your Digital Business Card
Step 1:

Log into the SPOTIO mobile app.

Step 2:

Click the "Gear" icon at the top left corner of your screen. This will take you to the "Settings" page. Then tap into the section titled "Business Cards".

Step 3:

Click the "+" icon in the top right corner of the "Business Cards" page. Doing so will take you to the "New Card" page where you'll be able to design a new DBC.

Step 4:

Enter your information in the appropriate fields. Your options include your first name, last name, phone number, email address, title, a headline, and an image. (Note: your business card must include a phone number or email address to be saved.)

Step 5:

Click the "Save" button at the bottom of your screen. Then make your way back to the main "Business Cards" section to see your custom DBC.
Share Your Digital Business Card
Digital business cards will only benefit your sales career if you share them.
SPOTIO gives you multiple ways to do this. For example, you can share your DBCs internally, which is ideal for setter-closer sales models.
You can also send them directly to prospects. All you have to do is click on the business card you'd like to share, then click the "Share" button at the bottom of your screen. Next, click the arrow in the "Lead" section of the "Share Business Card" page to choose the lead you'd like to send your DBC to. Then choose how you'd like to send it to them: text, email, or QR code.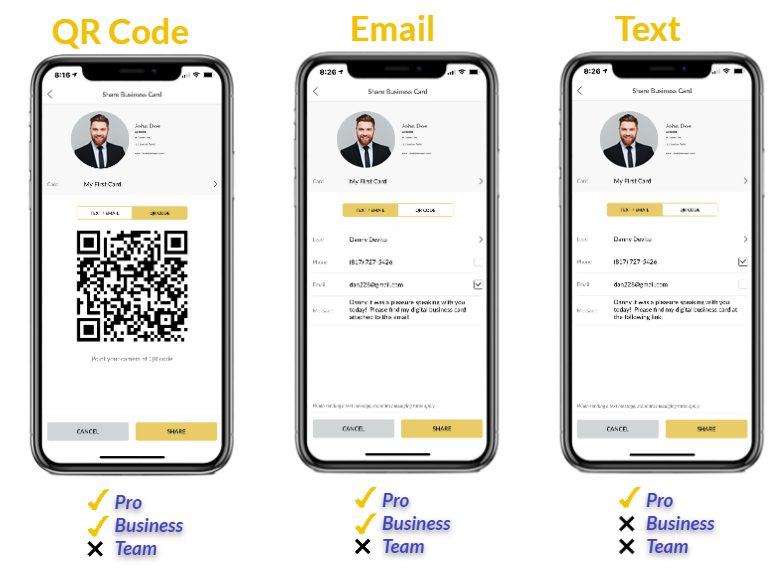 Pretty simple, right?  Learn more tips by accessing the "Digital Business Cards" Knowledge Base article here.
Make More Sales With SPOTIO's Digital Business Cards
SPOTIO's digital business cards are easy to create, easy to send, and easy to update when necessary. They're also preferred by a vast majority of customers. So what are you waiting for? Get started in the SPOTIO app today to create your own DBCs!
If you're not a SPOTIO customer yet, what are you waiting for? Sign up for a free demo of SPOTIO today to see it in action and decide if it's the right tool for your team.